Elevate Your Sandwich Game with the Unbeatable Air Fryer Grilled Cheese Sandwich.
Jump To Recipe
Welcome, fellow cheese lovers! Imagine biting into the crispiest, golden-brown bread with ooey-gooey melted cheese oozing from the inside. Dream no more because I am about to change your grilled cheese game forever with an air fryer and a secret ingredient – mayonnaise!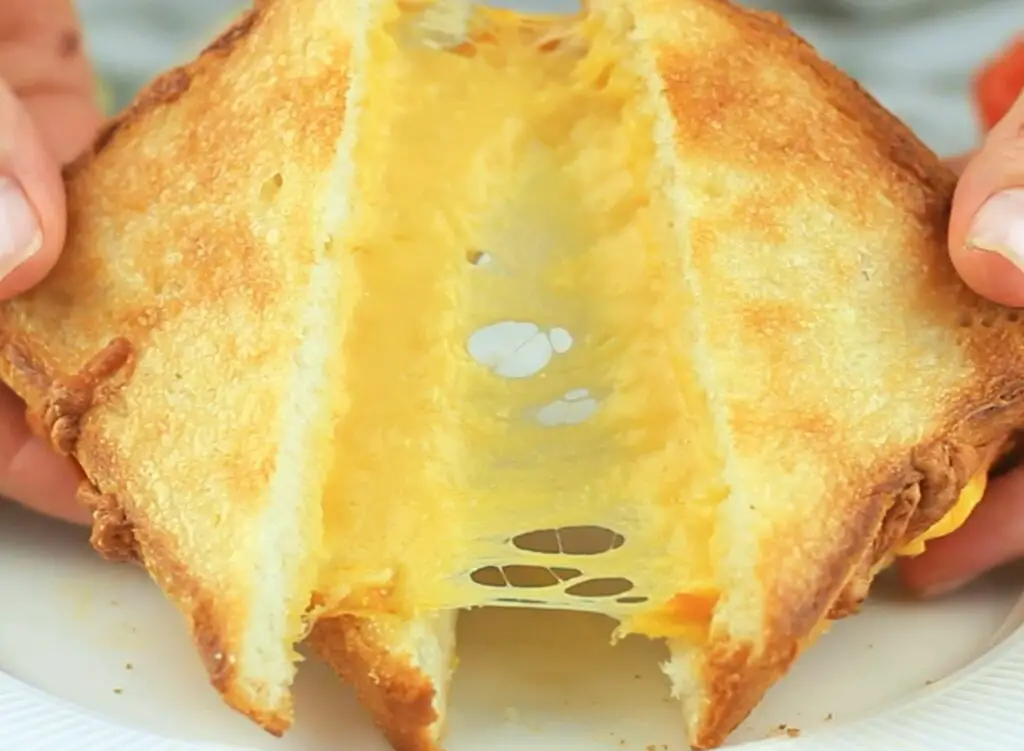 In this recipe, I'm going to guide you step by step through a straightforward yet exceptional method that harnesses the power of the air fryer to create a grilled cheese sandwich with a truly unbeatable crunch.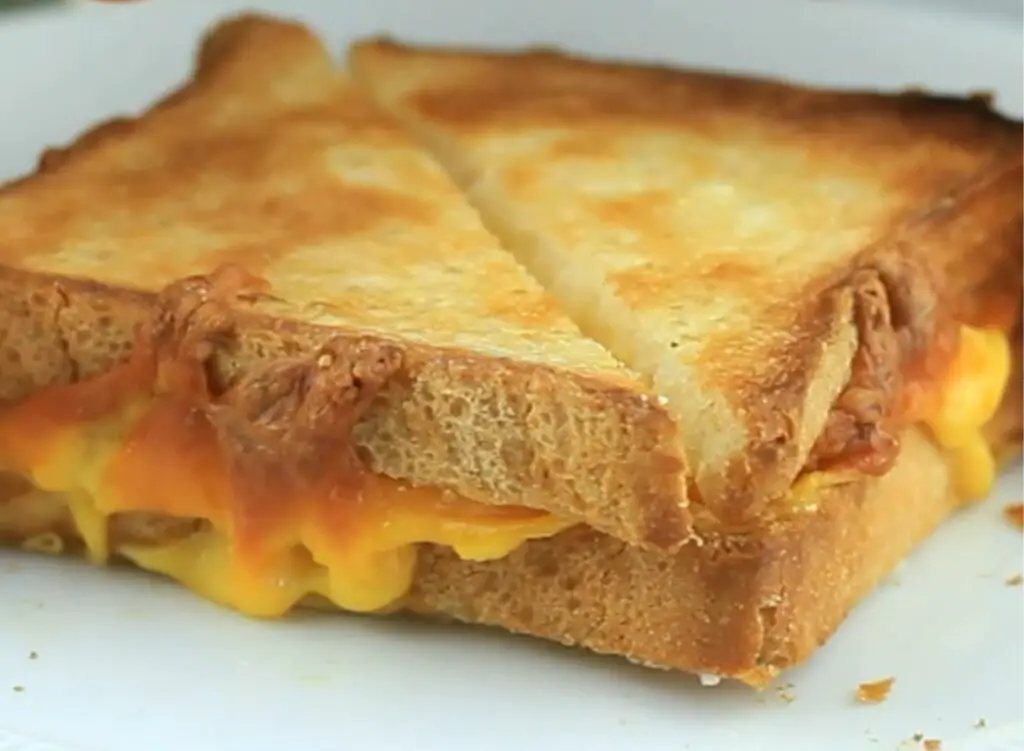 But wait, there's more: I'll let you in on the life-changing mayo hack that elevates the flavor and texture of your grilled cheese sandwich to unthinkable levels.
Get ready to savor the grilled cheese of your dreams, and let's dive right in!
Why Do I Put Mayo on Grilled Cheese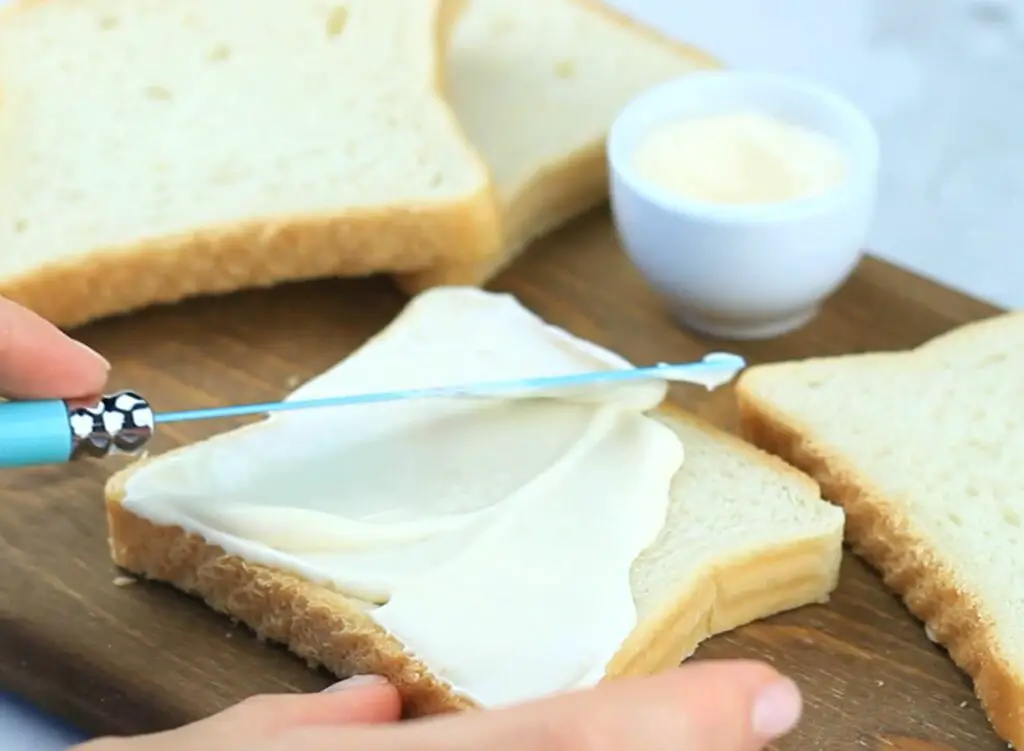 You have probably seen many grilled cheese sandwich recipes that tell you to use mayonnaise, but they don't tell you why.
Well, using both mayonnaise and butter on the bread while making a grilled cheese sandwich can be game-changing. With its higher smoke point, Mayonnaise ensures a crispy texture and allows the cheese to melt perfectly inside without burning the bread. The butter brings in a rich, creamy flavor that complements the light tanginess of the mayonnaise.
This combination results in a beautifully golden brown sandwich, crispy on the outside and gooey on the inside, with an enhanced, balanced flavor profile.
What You Need To Make Crispy Grilled Cheese in Air Fryer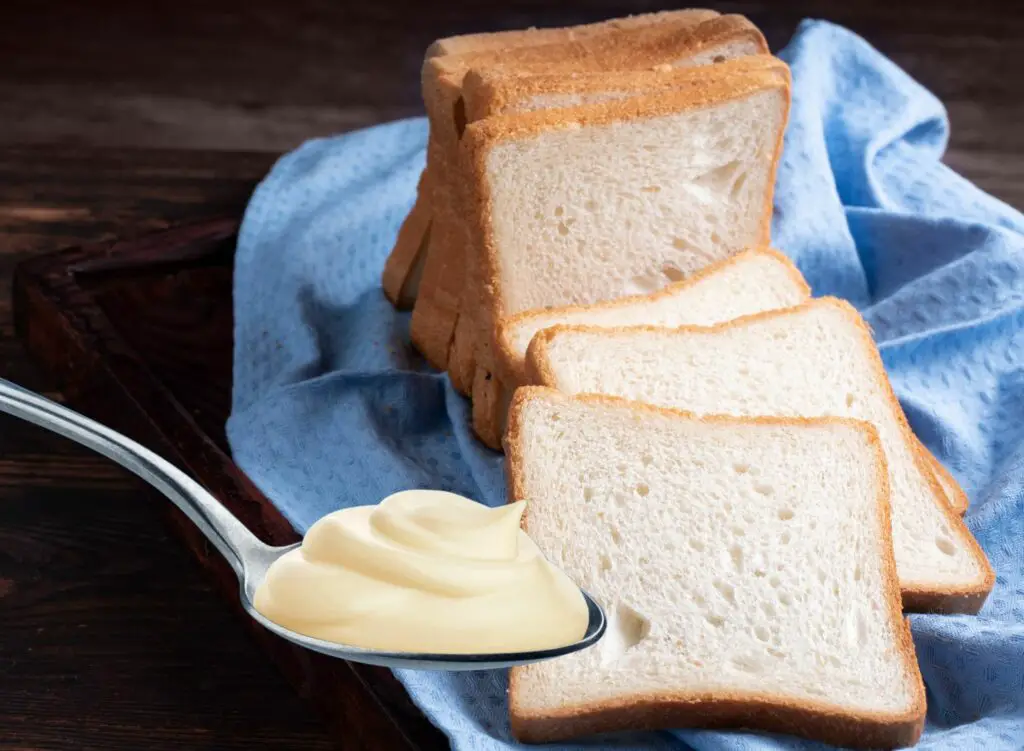 Luckily, a grilled cheese sandwich can be made with very basic ingredients that you probably already have in your kitchen. No fancy bread or expensive cheese is required, although they can definitely elevate the experience.
For bread, anything goes – from classic white bread to hearty whole wheat. Sourdough seems to be a popular choice for its texture and tang. Or, my favorite, leftover homemade rye bread.
When it comes to butter, I like to use salted butter, which adds an extra touch of flavor.
For the cheese, choose something that melts well, like cheddar, Monterey Jack, Pepper Jack, Swiss cheese, or provolone, or even some crumbled blue cheese.
Now, let's talk mayo. Yes, mayonnaise! It's the secret ingredient for achieving that perfect golden, crispy exterior. Just a spread of regular full-fat mayo can make all the difference.
How To Make Crispy Grilled Cheese in Air Fryer?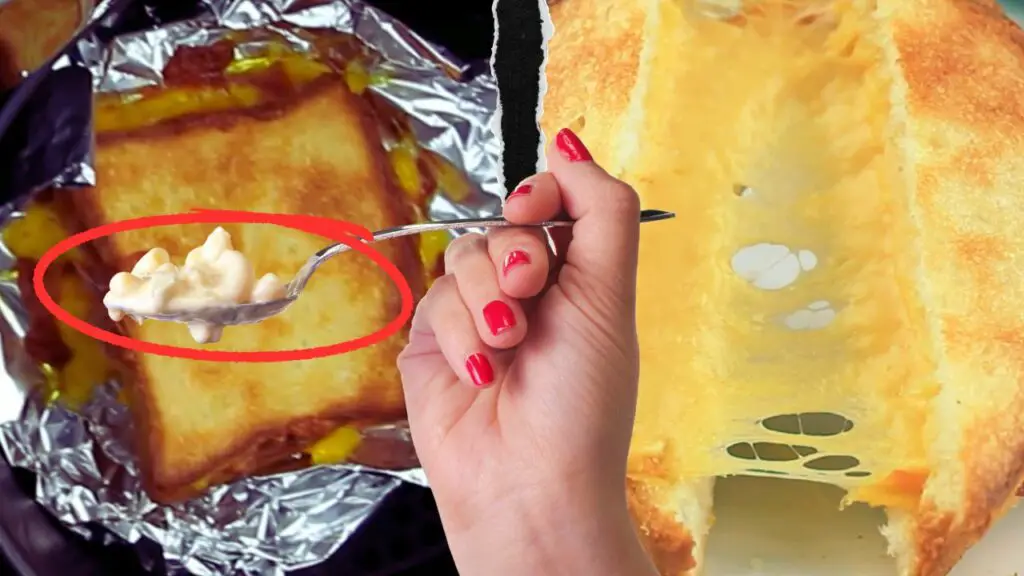 Let's make the ultimate air fryer grilled cheese sandwich.
Step 1: First things first, grab a slice of your favorite bread. Slather one side with room-temperature butter – oh yes, we're starting strong.
Then, flip it over and spread a good amount of mayonnaise on the other side. Trust me; this is the golden ticket to Crispy Town.
Step 2: Now, let's get cheesy! Pile on your favorite slices of cheese on the buttered side. We're talking American, provolone, Monterey Jack, Swiss, cheddar – go wild. The cheesier, the better.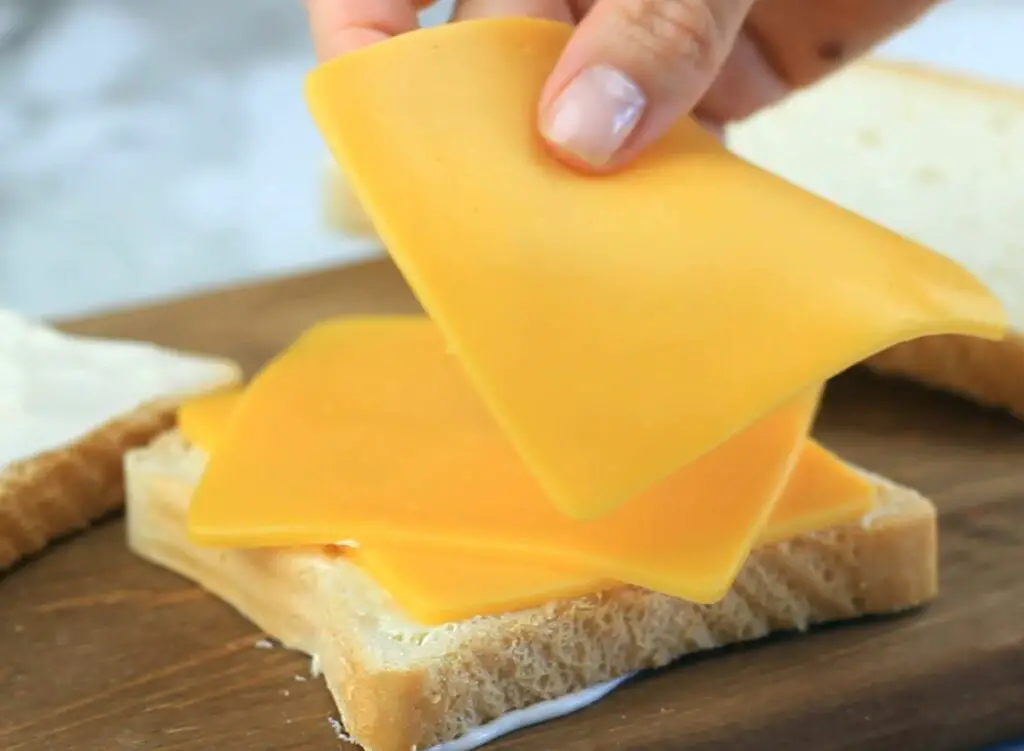 Step 3: Take another slice of bread and do the same – butter on one side and mayo on the other. Place it on top of the cheese with the mayo side facing out. We're building a masterpiece here.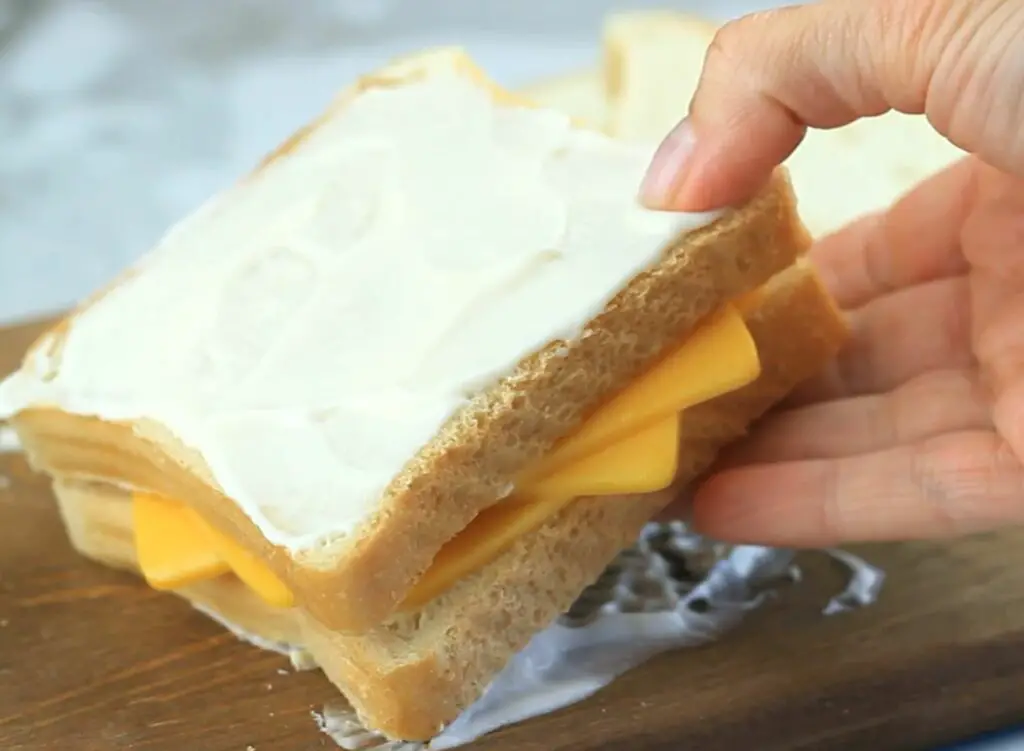 Step 4: Air fryer time! But wait, let's save ourselves some cleaning hassle. Line the air fryer basket with a piece of aluminum foil. Trust me, in the future, you will be thankful.
Step 5: Gently place your glorious sandwich into the air fryer basket. Set the air fryer to 365°F (that's 185°C for my metric pals) and let it work its magic for 4 minutes.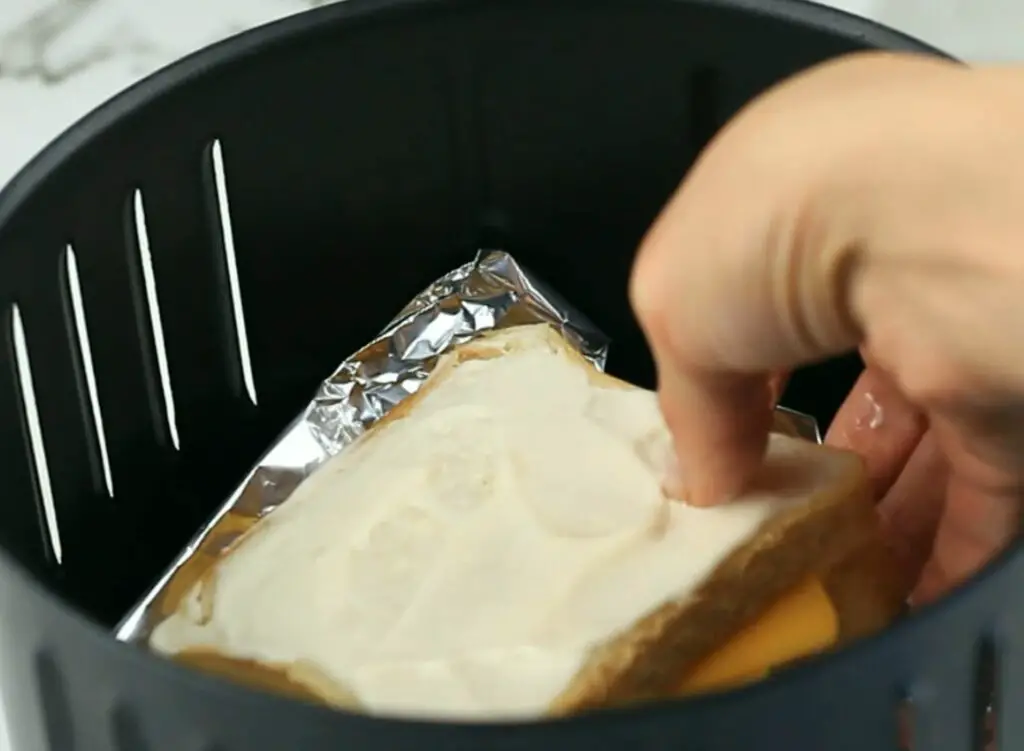 Step 6: Alright, we're not done yet. After those 4 minutes are up, carefully flip the sandwich over in the air fryer basket. We're going for golden perfection here.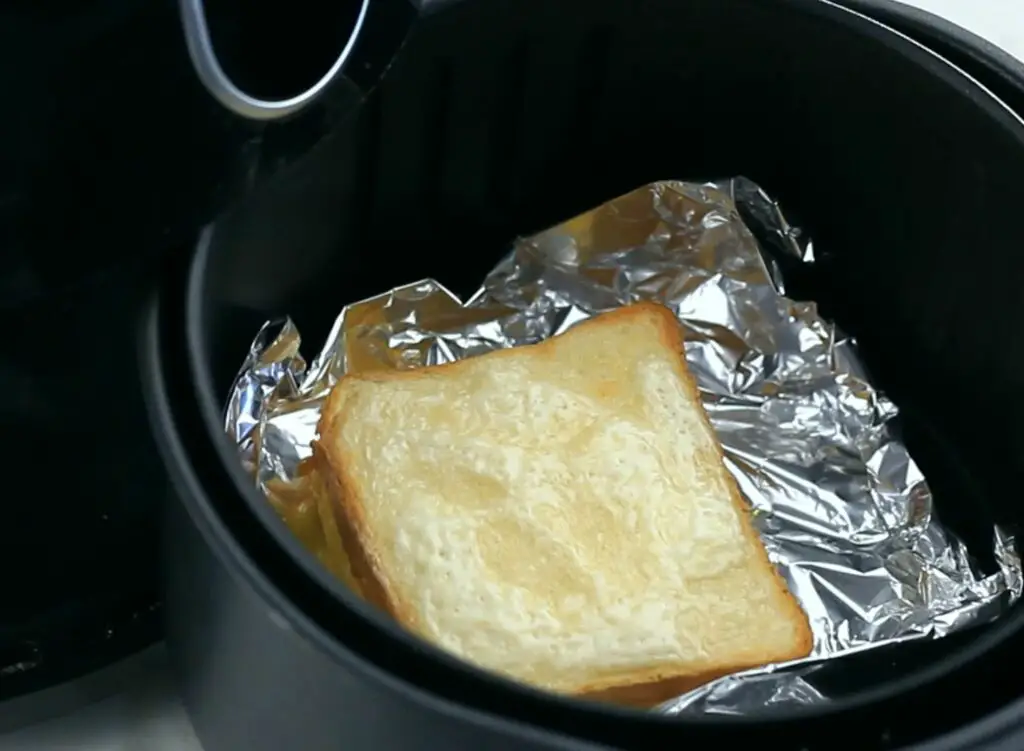 Air fry for another 3-4 minutes.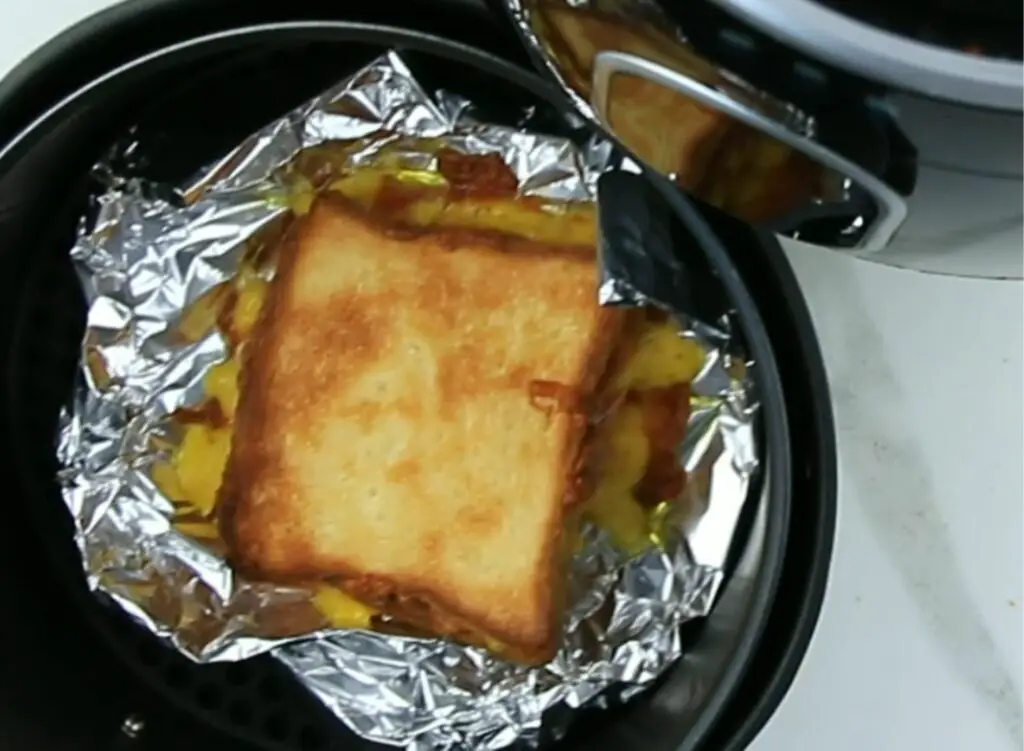 And voila!
Behold the crispy, golden, buttery glory that is your air fryer grilled cheese sandwich, with cheese so oozy it's practically begging to be eaten. Seriously, is your mouth watering, or is it just me?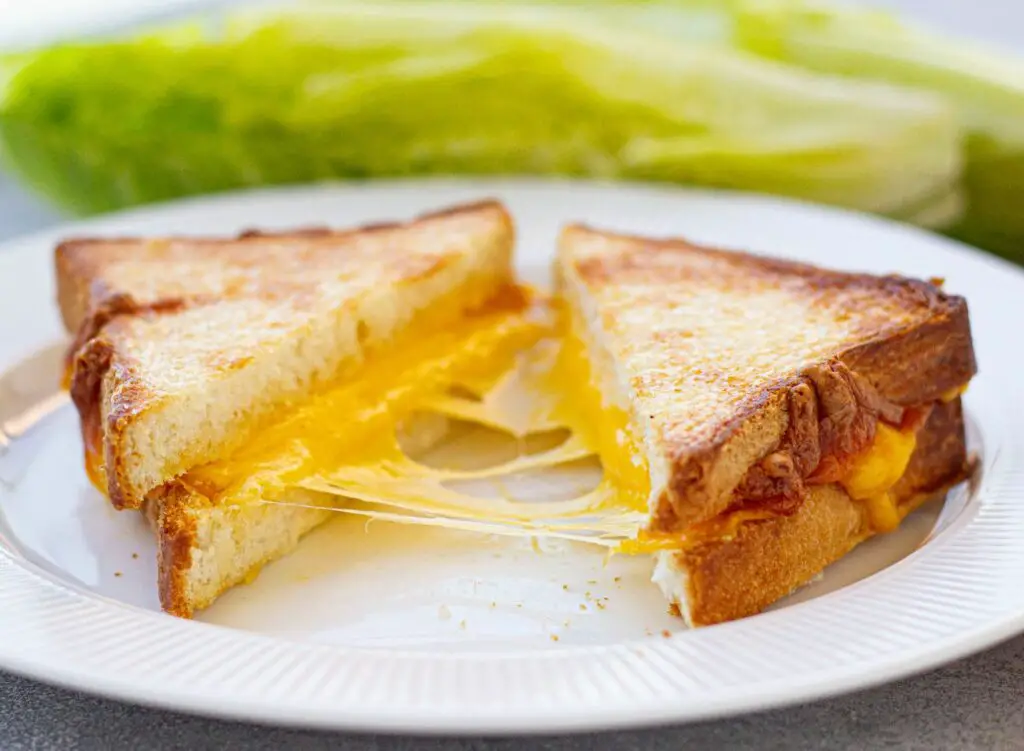 Enjoy!
Top Tip: Air fryers circulate hot air, which can cause lightweight ingredients to fly around. Use a toothpick to secure your sandwich so it stays together while cooking.
Variations and Customizations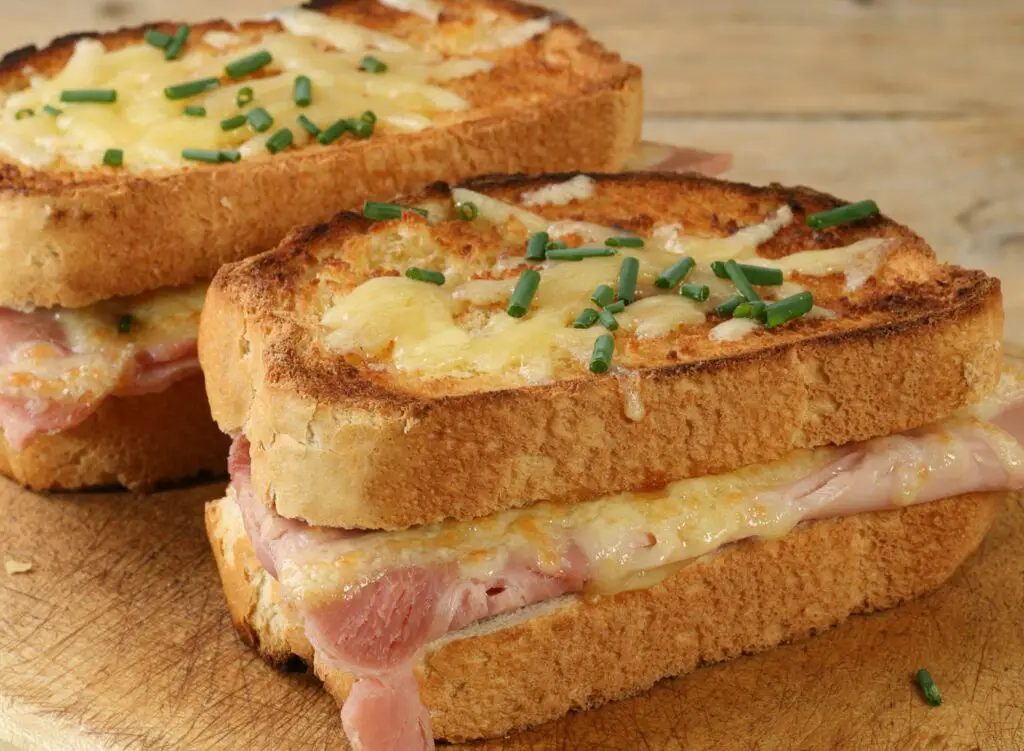 There's no need to stick to the basics when it comes to grilled cheese. With a plethora of ingredients at your fingertips, it's time to get creative and make a grilled cheese sandwich with a twist!
Here are some ways you can mix and match ingredients to take your air fryer grilled cheese to the next level:
Bread:
Sourdough: Its tangy notes are the perfect counterpart to creamy cheese.
Multigrain or Whole Wheat: Go for a wholesome edge with the added texture of grains.
Rye: Its unique flavor pairs well with strong cheeses.
Brioche or Challah: For a luxurious twist, this soft, slightly sweet bread is perfect.
Cheese:
Gouda or Smoked Gouda: With a creamy texture, these cheeses melt like a dream. The smoked version adds a rustic touch.
Provolone: Its excellent melting qualities and mild tang make it a versatile choice.
Swiss: This cheese brings nutty nuances to your sandwich.
Pepper Jack: Spice things up with the gentle heat of pepper jack.
Additional Fillings:
Tomatoes: Thin slices bring a touch of freshness and juiciness.
Bacon: A classic addition that adds crunch and a smoky flavor.
Corned Beef: Adding corned beef to this sandwich would bring a savory depth and succulent tenderness that perfectly complements the crispy exterior and melted cheese.
Avocado: A few slices of avocado bring richness and creaminess.
Caramelized Onions: Their sweetness adds depth and complexity.
Spinach and Feta: Give your sandwich a Mediterranean flair with spinach and crumbled feta.
Apple Slices and Dijon Mustard: This combo's sweetness and tang are unexpectedly delightful.
Pesto: Adding pesto from a jar to this sandwich effortlessly elevates the flavor profile with its rich, herby, and cheesy punch without the hassle of making it from scratch.
Ham: Thin slices of ham add a savory, salty dimension that pairs excellently with cheese. This is my kids' favorite combination.
When customizing your grilled cheese, remember it's all about harmony. While it's fun to experiment, make sure the cheese remains the hero of your sandwich. Choose ingredients that complement each other and let the cheesy goodness shine through.
Grilled Cheese Sides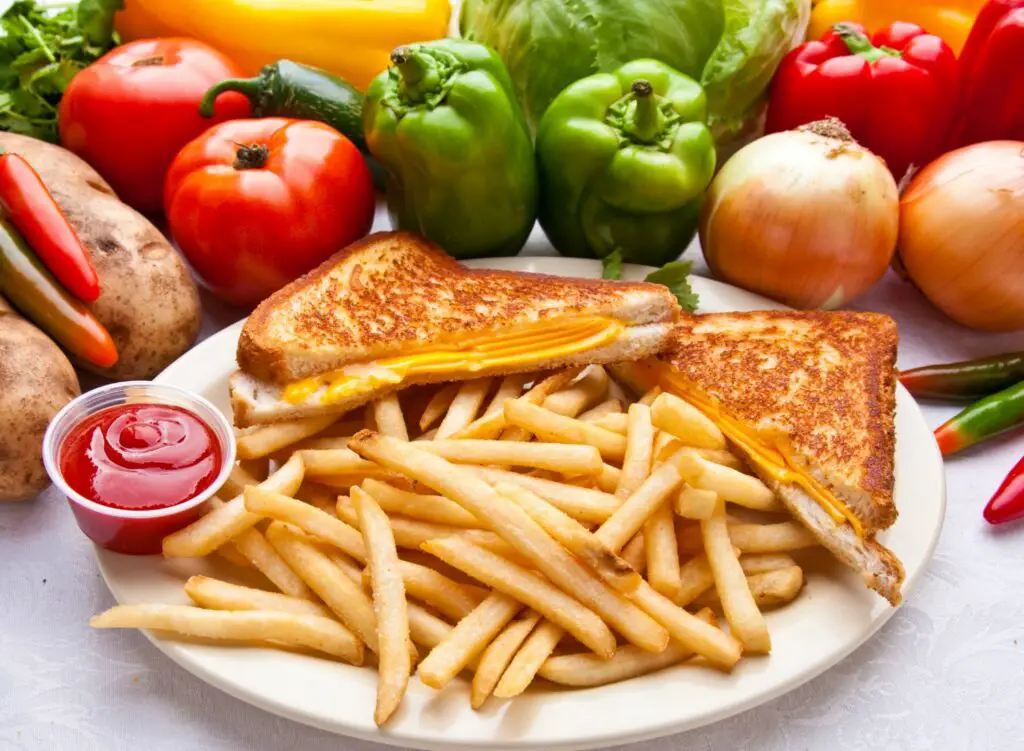 A grilled cheese sandwich is undoubtedly delicious on its own, but pairing it with the right side dish can elevate your meal to the next level.
Here are some fantastic sides that complement the cheesy goodness of your sandwich:
Leek Soup: The subtle, sweet flavor of leeks combined with a creamy broth makes leek soup an excellent companion for your grilled cheese sandwich. Dip the crispy edges of your sandwich into the soup for a comforting and satisfying meal.
Low-Carb Air Fryer Onion Rings: Okay, I know the grilled cheese is a bit on the indulgent side, but that's where these low-carb onion rings come in to save the day. They're super crispy, and let's face it; we could use a bit of balance, considering the cheesy heaven we're indulging in. Bonus points for the lower carb count, which is always a win!
Air Fryer French Fries: You can never go wrong with grilled cheese and fries when it comes to classic pairings. Making them in the air fryer reduces the guilt and ups the crisp factor. Sprinkle some sea salt or your favorite seasoning to add an extra punch.
These sides add variety and excitement to your meal and make it more fulfilling. Whether you're looking for something hearty like leek soup, or a crispy side like air fryer onion rings or french fries, these options are sure to make your grilled cheese sandwich experience even more delightful.
Air Fryer Grilled Cheese Recipe – Crispy Outside, Gooey Inside!
Course: Snacks, Breakfast
Cuisine: American
Difficulty: Easy
Get set to level up your sandwich game! In this recipe, we're creating an air fryer grilled cheese sandwich that's golden and crispy outside with lusciously melted cheese inside. But here's the twist: we're using a mayo hack for an unbeatable richness and crunch. Simple, quick, and mouthwateringly good – let's get cooking!
Ingredients
2 slices of bread (your choice – white, whole wheat, sourdough, etc.)

2 tablespoons of room-temperature butter

1 tablespoon of mayonnaise

Slices of cheese (American, Monterey Jack, Pepper Jack, Provolone, Swiss, or Cheddar)

Aluminum foil for lining the air fryer basket
Directions
Preparation: Start by preheating the air fryer to 365°F (185°C) for about 5 minutes. This ensures that the air fryer is hot enough for the sandwich to start cooking immediately.
Butter & Mayonnaise Spread: Take one slice of bread and spread a layer of room-temperature butter on one side. On the opposite side of the same slice, spread a layer of mayonnaise. The mayonnaise will help in achieving a perfectly crisp texture.
Add Cheese: Place the slice of bread with the buttered side facing up on a clean surface. Lay several slices of your chosen cheese on top of the buttered surface. You can also mix and match cheeses for a combination of flavors.
Top It Off: Take the second slice of bread and spread a layer of mayonnaise on one side. Place this slice on top of the cheese with the mayonnaise side facing outward.
Air Fryer Preparation: To make cleaning easier and to prevent any cheese from sticking to the basket, line the air fryer basket with a piece of aluminum foil
Cooking Time and Temperature: Place the sandwich in the air fryer basket and cook at 365°F (185°C) for 4 minutes.
Flipping the Sandwich: After the initial 4 minutes, open the air fryer and carefully flip the sandwich using a spatula. Close the air fryer and cook for an additional 3-4 minutes until the bread is crispy and golden brown and the cheese is gooey and melted in the middle.
Serving: Once done, carefully remove the sandwich from the air fryer basket (cheese will be melted and hot) and let it cool for a minute or two. Slice it in half and serve immediately while the cheese is still melted and oozy. Enjoy your delicious air fryer grilled cheese sandwich!
Notes
Use Room Temperature Ingredients: For even melting and cooking, use room-temperature butter and cheese. This will help the cheese melt at the same rate as the bread gets crispy.
Experiment with Cheese: Don't just stick with one type of cheese. Combine cheddar with Monterey Jack, or try using Gouda or Swiss for different flavors and textures.
Don't Overcrowd: If making more than one sandwich, make sure not to overcrowd the air fryer basket. Leave some space for air to circulate for even cooking.
Check on It: All air fryers are different. Start checking your sandwich a minute or two before the recommended cooking time to ensure it doesn't overcook.
Preheat the Air Fryer: Just like a traditional oven, preheating your air fryer for a few minutes before cooking can lead to better results.
Add Fillings with Care: If you like extras in your grilled cheese, like tomatoes or meats, be sure not to overstuff. Too many fillings can prevent the cheese from melting properly.
Planning Ahead and Storage:
Prepare in Advance: Got a busy schedule, or hosting a get-together? Assemble these sandwiches ahead of time and pop them in the fridge. When hunger strikes, or guests arrive, all you need to do is air fry them to crispy perfection.
Storing Leftovers: Have some leftover grilled cheese? Just seal them in an airtight container and keep them in the fridge for up to three days. To reheat, simply toss the sandwich back into the air fryer for a couple of minutes until warm and crispy again.
Read Also: 11 Uncommon Things To Cook In An Air Fryer (And 4 You Should Not!)
In Summary
Here are some compelling reasons to make your grilled cheese sandwich in an air fryer with mayo:
Ultimate Crispness: The mayo adds a unique texture to the bread, giving it an extra-crispy exterior when air fried.
Flavor Enhancement: Mayo enhances the flavor of the sandwich, adding a tangy touch that pairs wonderfully with the cheese.
Even Browning: Mayo helps the bread achieve an evenly golden-brown color, giving your sandwich a mouthwatering appearance.
High Smoke Point: Unlike butter, mayo has a higher smoke point so that it won't burn easily in the air fryer.
Quick and Easy: Using an air fryer to cook your grilled cheese sandwich is simple and fast, freeing up your stovetop for other tasks.
Perfectly Melted Cheese: The air fryer cooks evenly, ensuring perfectly melted cheese every time.