Jump To Recipe
Are you ready to take your snack game to the next level? Say hello to low-carb air fryer onion rings no breadcrumbs style, the healthier, crunchier alternative to the fast-food classic.
I'm talking about super crispy onion rings with all the crunch but none of the guilt. You're about to create a snack so scrumptious that you'll forget breadcrumbs ever existed.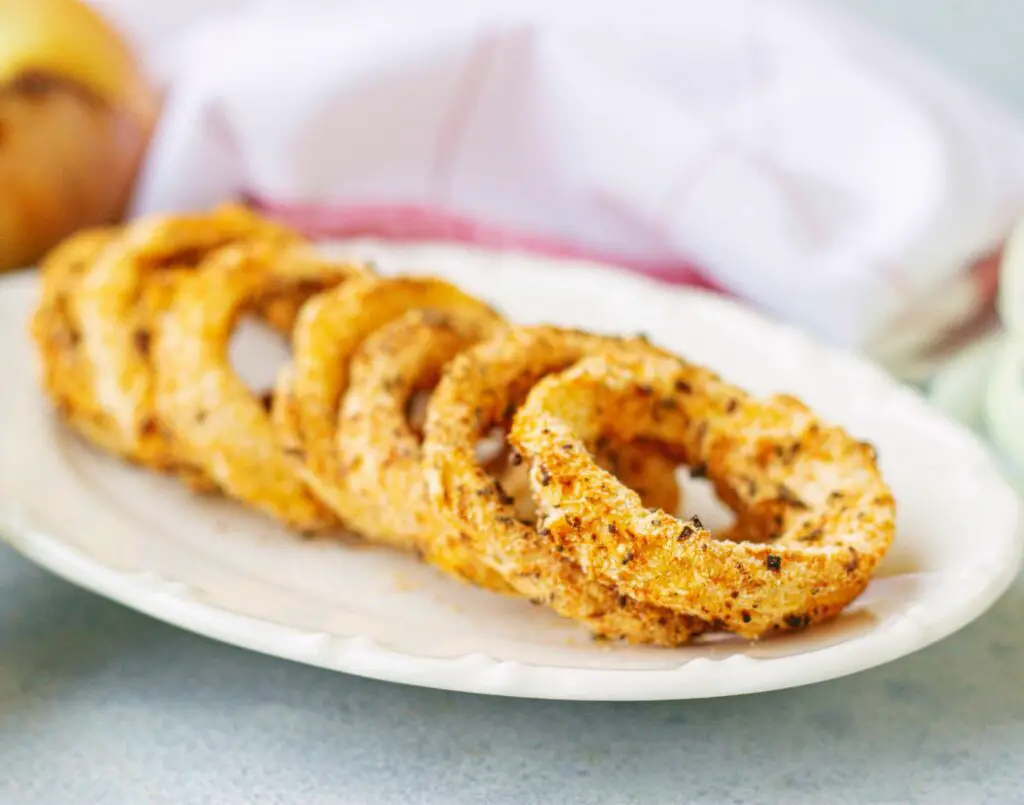 Grab that air fryer, and let's whip up a batch of these delightfully crispy air fryer onion rings. Spoiler alert: You might never go back to traditional onion rings again!
Why I Swapped My Deep Fryer for an Air Fryer To Make Onion Rings
You know, making the swap to air frying was like finding a hidden cheat code. Not only am I winning at the health game by cutting way back on oil, but my kitchen's not looking like a greasy crime scene anymore. No more fussing with hot oil or cleaning up sticky messes.
Plus, the speed of this little kitchen gadget? Lightning fast! Crispy, golden onion rings at the push of a button.

Ingredients Breakdown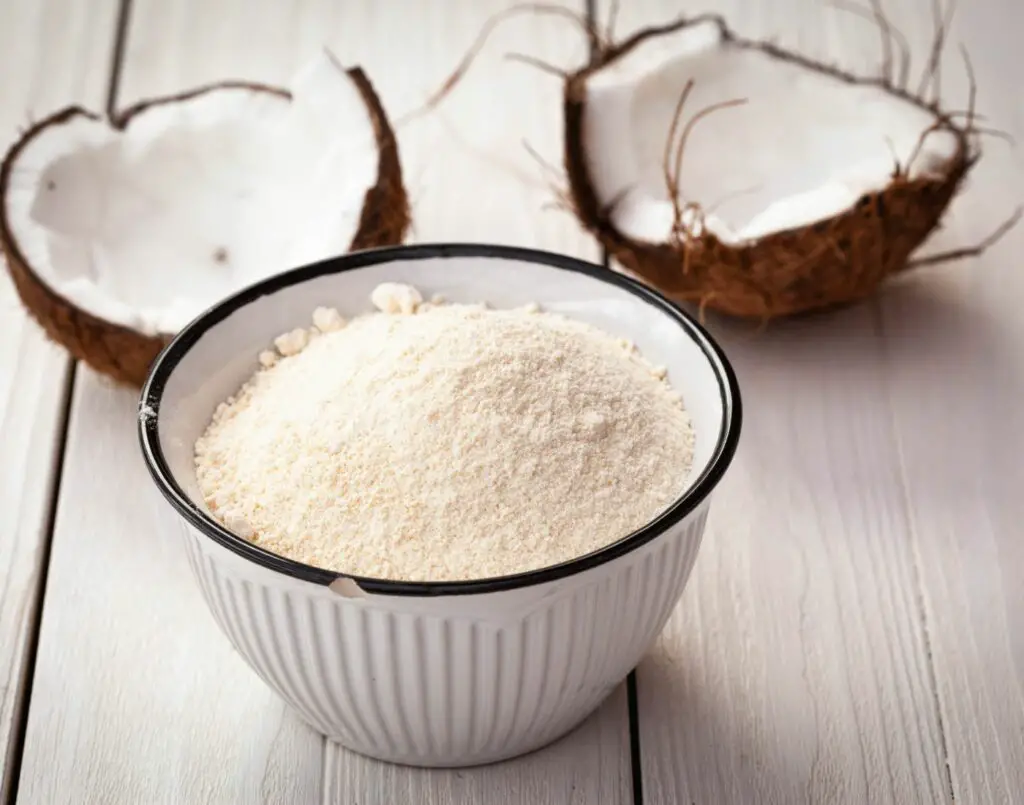 Here's the list of ingredients that will turn those ordinary onions into low carb crunchy delights:
2 large onions: These are the stars of the show! Choose large, firm onions with smooth outer layers. They're going to provide the perfect base for our onion rings.
1 cup coconut flour: Here's our healthy swap for traditional flour and breadcrumbs. Coconut flour gives a nice texture and flavor to our onion rings, plus it's low-carb and gluten-free!
2 large eggs: Acting as our binding agent, the eggs will help the coconut flour and parmesan cheese adhere to the onion rings, ensuring that delicious coating stays put.
1 cup grated parmesan cheese: This adds a superb flavor boost and promotes a beautiful golden crust when air fried. Who can resist that cheesy goodness?
Salt and pepper to taste: These seasonings will enhance the flavors of the onion and parmesan cheese.
Cooking spray (optional): The cooking spray helps prevent the onion rings from sticking to the air fryer basket.
And that's it! With these simple ingredients that you probably already have in your kitchen, you can create mouth-watering, crunchy onion rings.
Got 'em? Awesome! Now let's do this.
Top Tip – The Perfect Onion Pick For Onion Rings: Sweet Vidalias provide a delicious mix of sweet and savory in your rings. If you prefer a punchier taste, go for yellow onions. Reds might be a bit strong for the onion rookie, so tread lightly.
Read More Here: How To Pick Onions At The Grocery Store (7 Popular Varieties).
How To Make Air Fryer Onion Rings No Breadcrumbs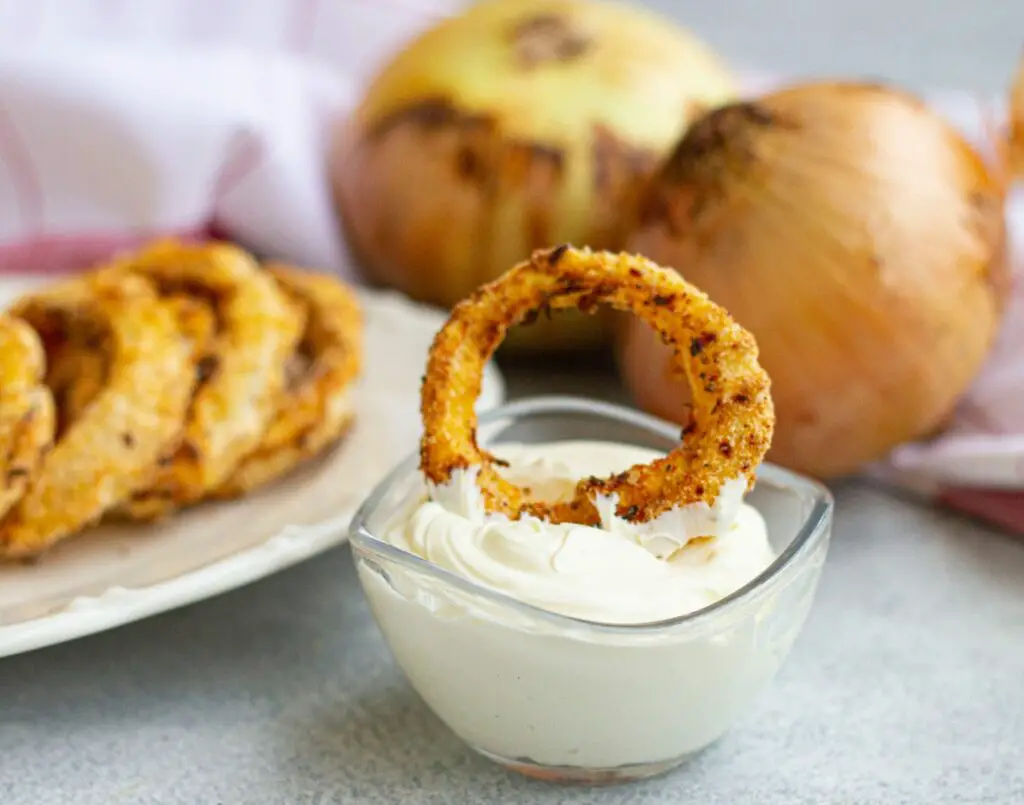 Step 1: Prep Your Onions
First things first, let's peel and slice our onions. You'll want to cut them into about 1/2-inch thick rings. Separate the rings, keeping the hearty, bigger ones for your masterpiece. Don't ditch the small and broken ones – they're perfect for throwing into a stir-fry or salad or use in this low-carb turkey meatloaf. We waste nothing here!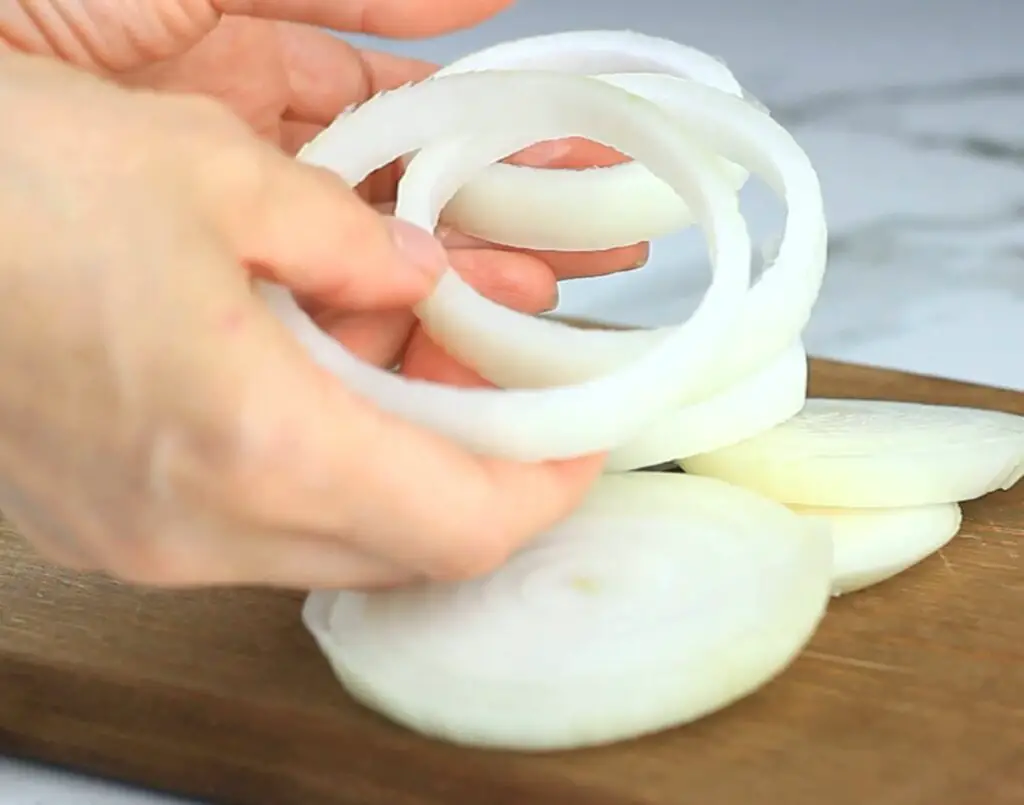 Top Tip For Getting The Perfect Slice: A mandoline slicer can be your best friend when it comes to cutting perfectly even onion rings. If you don't have one, just take your time with a sharp knife to ensure uniform rings.
Step 2: Set Up Your Breading Station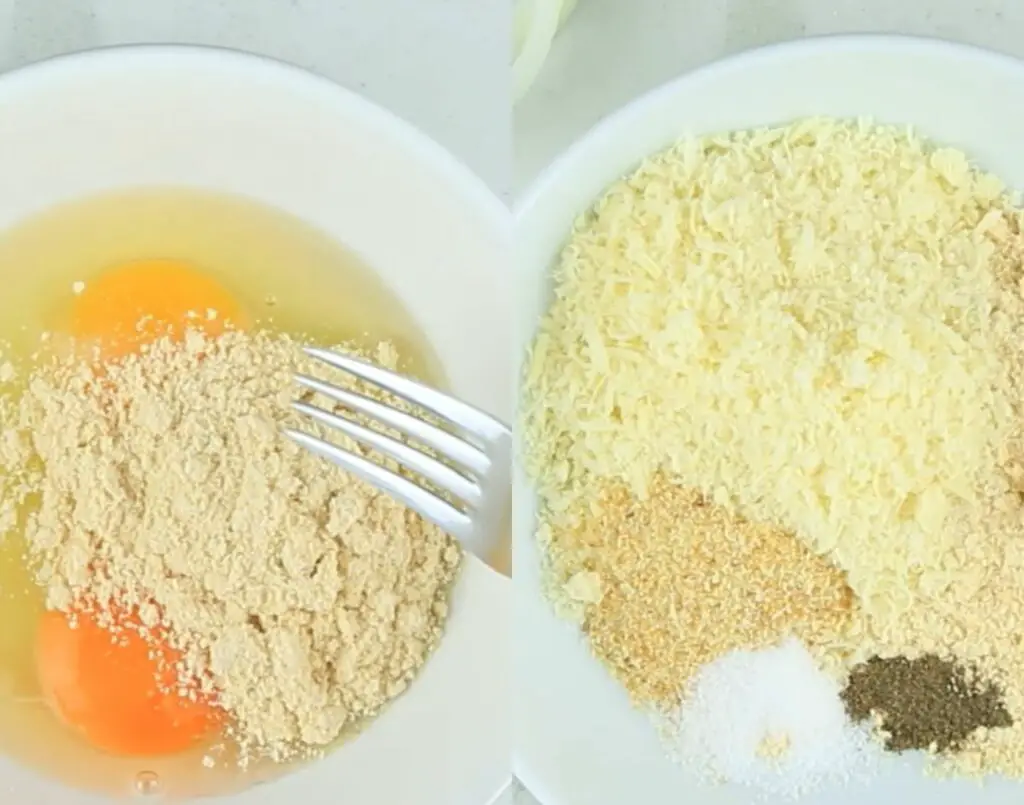 Now, time for our 'breading'. In one bowl, whisk the eggs. In a second bowl, mix your coconut flour, grated parmesan cheese, salt, and pepper. This is where the magic happens, folks. Your onions are about to get a fabulous makeover!
Step 3: Dip and Dredge
Next, we'll take each onion ring and dip it into the beaten eggs, making sure it's fully covered.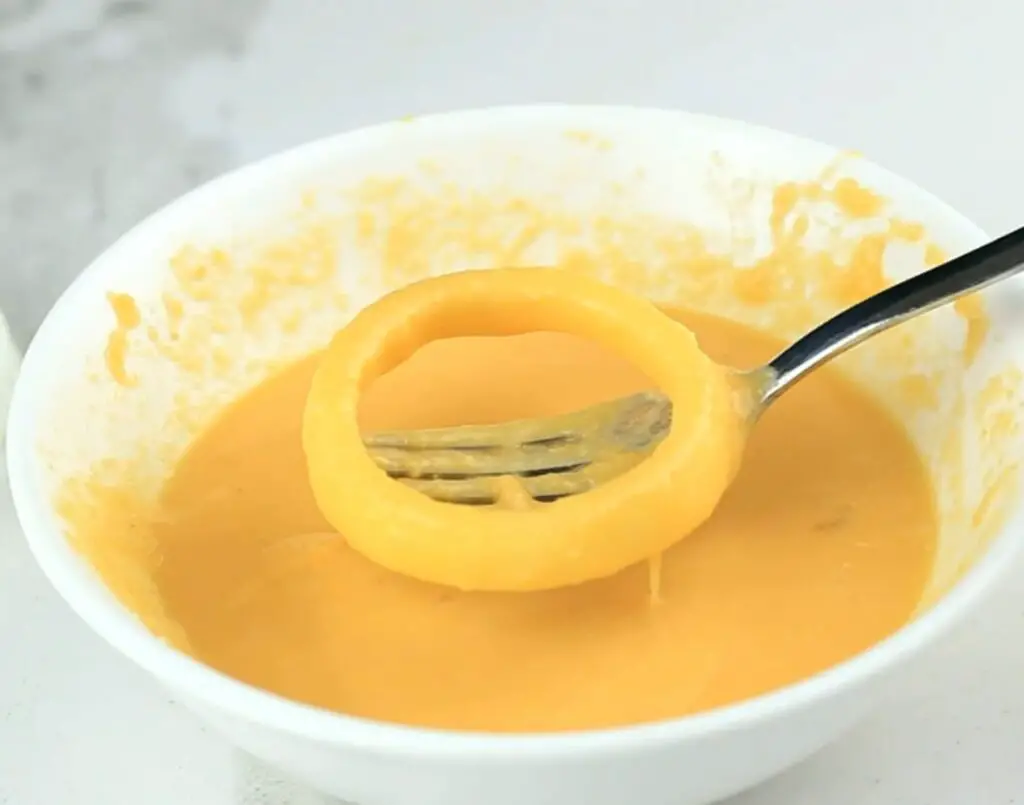 Then, roll it in the coconut flour and parmesan mix. Make sure each ring is well coated – this is what gives us that irresistible, crispy golden crunch. Plus, who doesn't want extra cheese?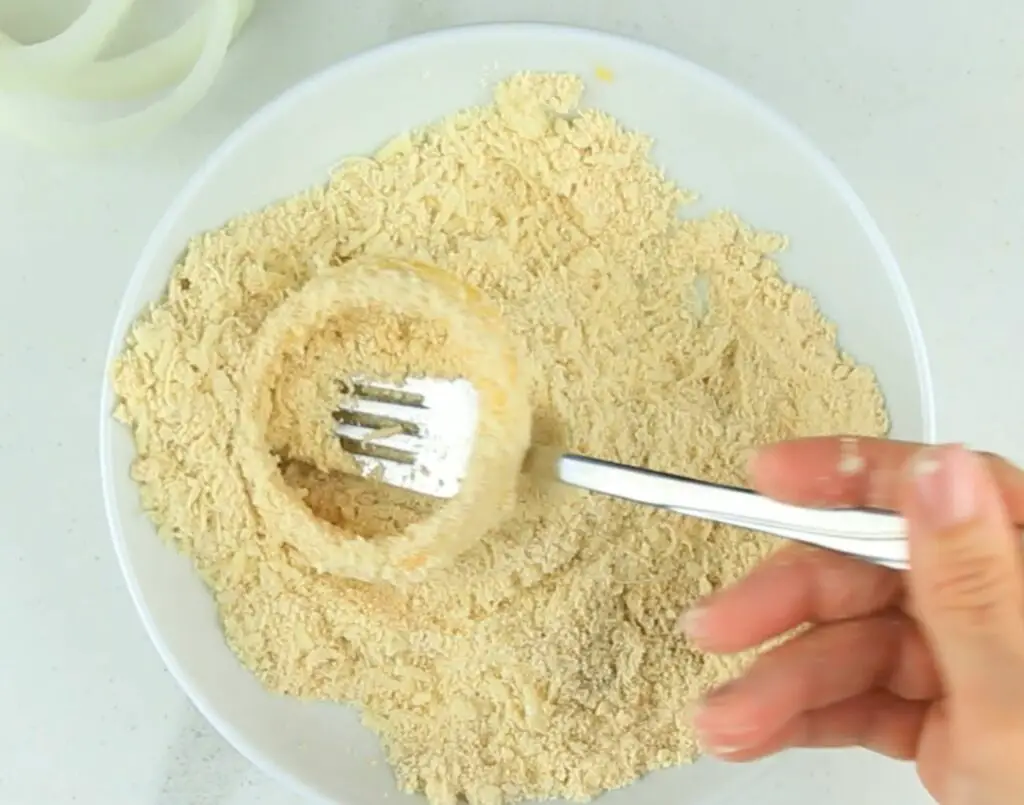 Step 4: Prep Your Air Fryer
While you're prepping the rings, don't forget about your air fryer. Preheat it to 380°F or 195°C. Pro-tip: this is a great time to give your air fryer basket a quick spray with your cooking spray. It helps prevent sticking and promotes even cooking.
Step 5: Arrange and Air Fry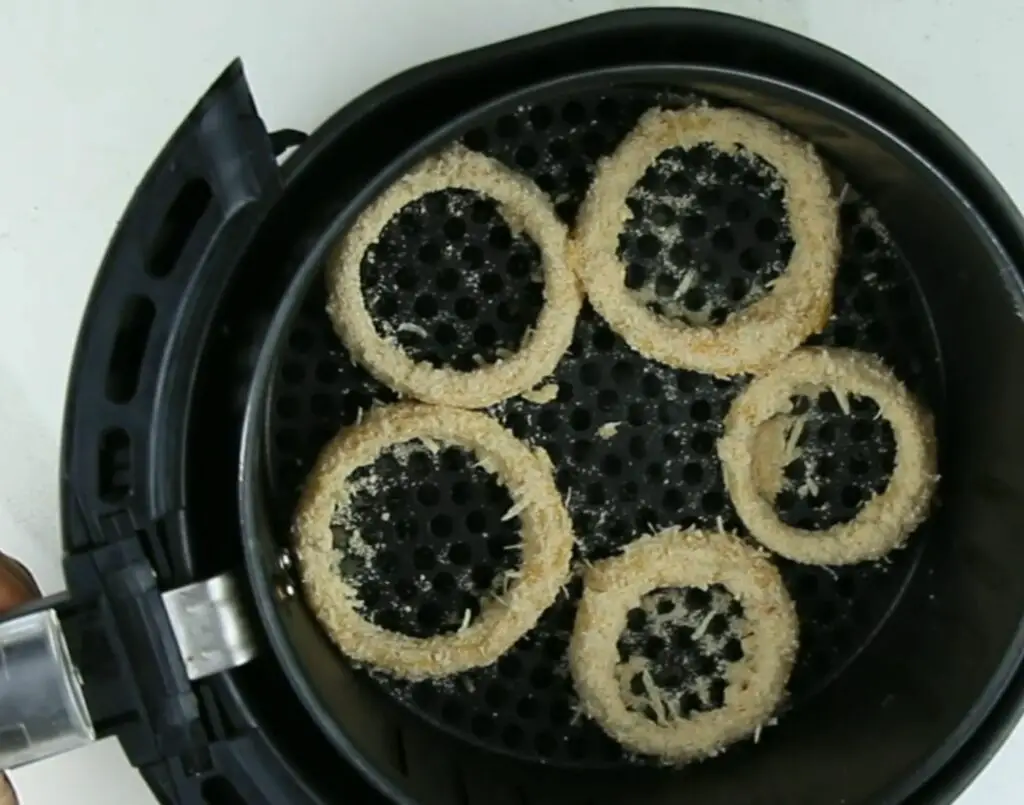 Once preheated, arrange the rings in your air fryer basket in a single layer. Be sure not to overcrowd the air fryer basket – they need some space to crisp up perfectly. You might need to work in batches, depending on the size of your air fryer.
Now, air fry those onion rings for about 10 minutes or until golden and crispy. Halfway through, take a moment to flip the rings to ensure an even color.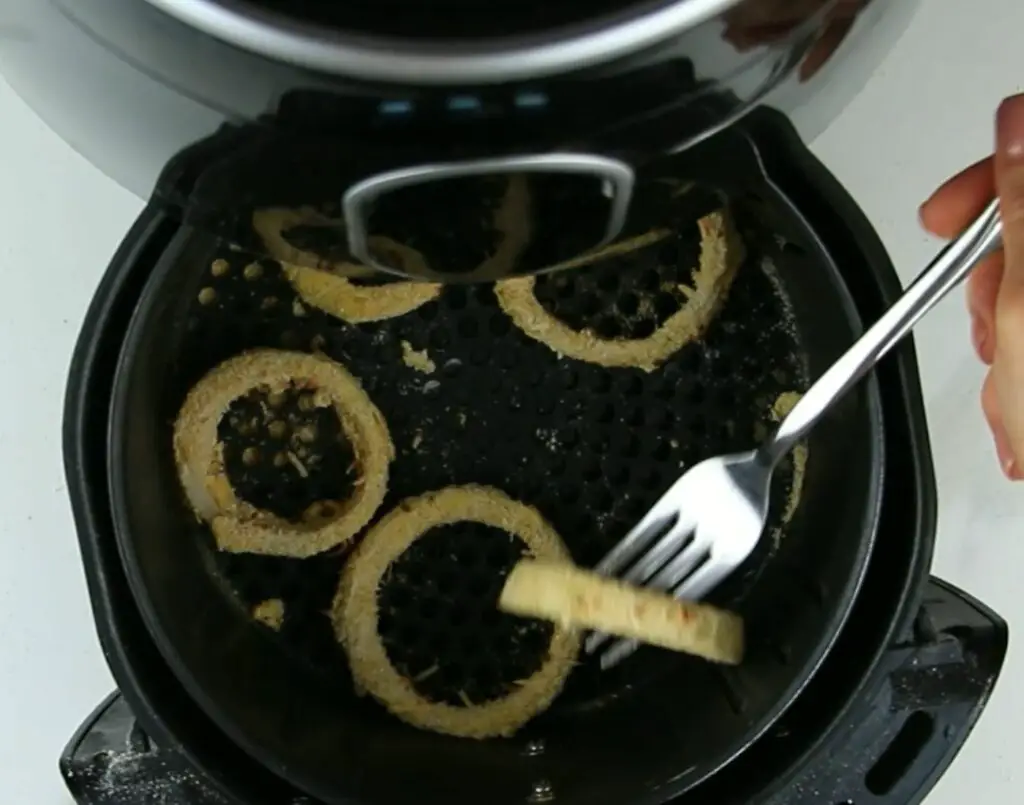 And voilà! Your heavenly air fryer onion rings are ready to be devoured.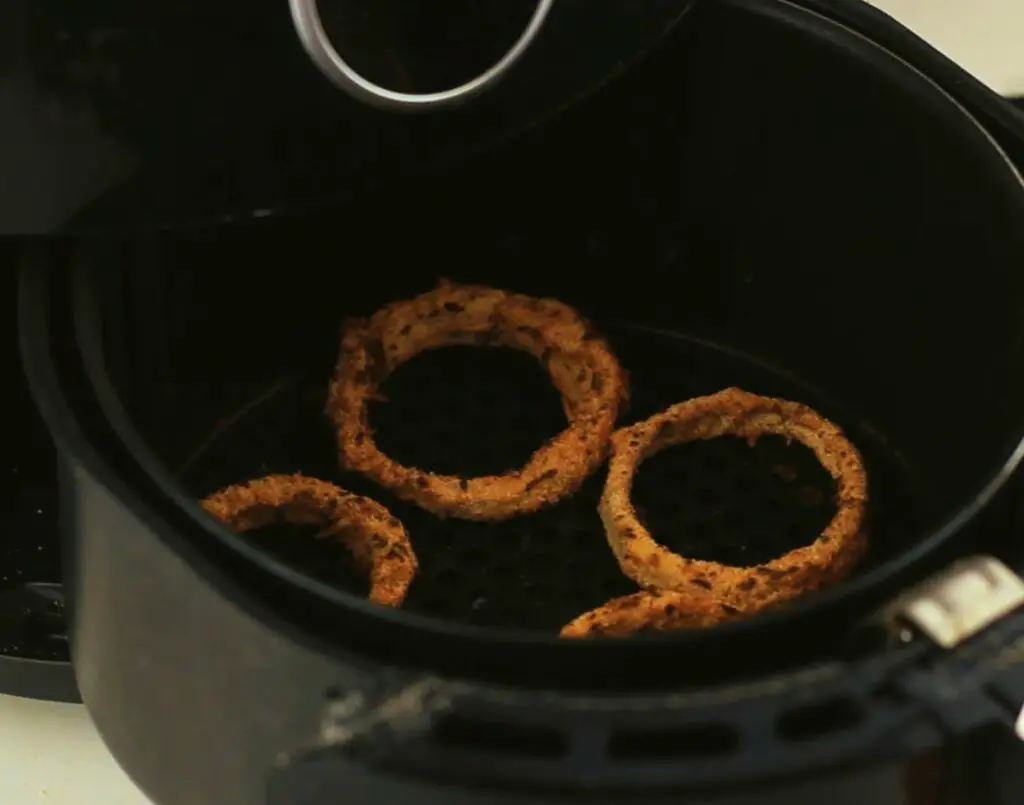 Serve these up with your favorite dipping sauce, like ketchup or sour cream, and watch them disappear! They're perfect as a low-carb snack, a side dish, or as an epic burger topping. The versatility is endless!
With this recipe, you've got the power to whip up a batch of delicious, healthier onion rings anytime you fancy. No guilt, just pure, unadulterated onion ring joy.
Make Them In An Oven Instead
If you don't have an air fryer, you can still rock these onion rings in your oven! Here's how:
Preheat your oven to 425°F (220°C). Prep a baking sheet by lining it with parchment paper or a silicone baking mat.
Follow my dipping steps in the recipe. Lay the onion rings on the baking sheet, ensuring they don't overlap.
Bake for about 10-25 minutes, flipping halfway, until they're golden and crispy. You might miss the air fryer's ultra-quick cook time, but the end result is very similar.
Don't Have Coconut Flour? Don't worry.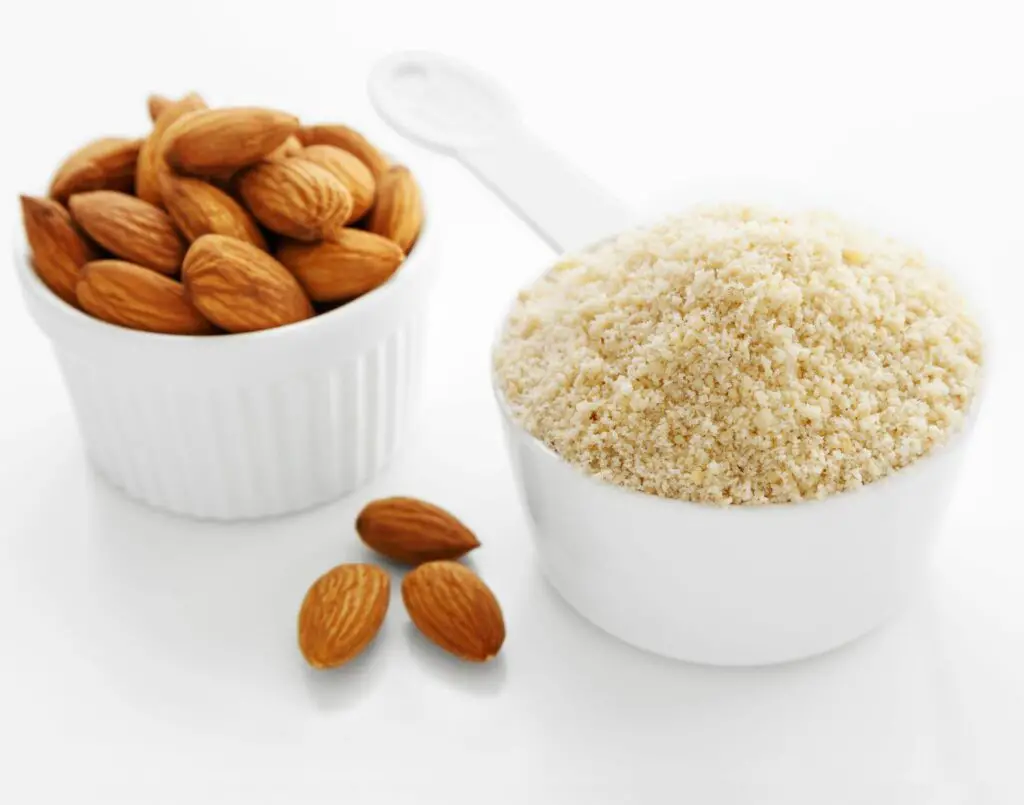 You've got a few options if you're looking to keep these air fryer onion rings low-carb but need an alternative to coconut flour:
Almond Flour: This low-carb alternative is made from ground almonds and brings a slightly nutty flavor to your onion rings. However, bear in mind that it may not stick to the onions as easily as coconut flour, and it's not a 1:1 substitution.
Flax Meal: Also known as ground flaxseeds, flax meal is a fabulous low-carb option for your onion rings. It has a somewhat nutty flavor and may provide a different texture, making your onion rings slightly heavier.
Psyllium Husk Powder: A great source of soluble fiber, psyllium husk powder can add some crunch to your onion rings. Be aware it absorbs a lot of water, and it's not a direct 1:1 substitute.
Protein Powder: Unflavored protein powder might seem unconventional, but it's a low-carb alternative that could work with your onion rings. It might lead to a denser coating, and the exact ratios would need to be played with.
With each of these substitutes, your onion rings may come out with a unique flavor and texture, bringing a delightful spin to the original recipe. Don't shy away from trying these alternatives – your next favorite onion ring variant could be just one experiment away!
Are These Air Fryer Onion Rings Keton Friendly?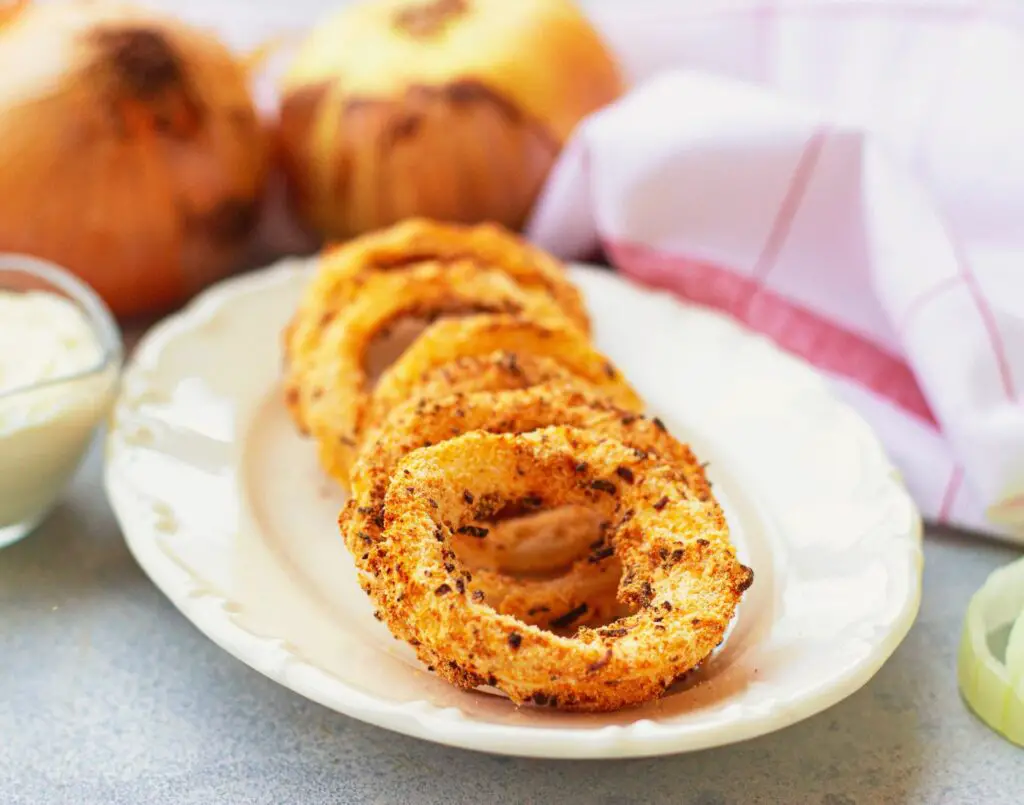 Onions do contain carbs, but in moderation, they can fit comfortably within a keto diet.
Let's break it down: a large onion holds around 12-14 grams of net carbs (that's total carbs minus fiber). If you're playing by the keto rules, you're probably aiming to stay below 20-50 grams of carbs daily.
But hey, let's talk about our low-carb air fryer onion rings here.
With this onion ring recipe, we're only using a smidge of onion per serving and no breadcrumbs, and no wheat four. This means you're looking at about 4 grams of net carbs from onion and about 8 grams of carbs from coconut flour, giving you about a total of 12 grams of carbs per one serving, compared to 45 grams of carbs that you get from a serving of regular onion rings made with breadcrumbs.
So, in short, these onion rings are absolutely keto-compatible and totally primed to treat your taste buds! Remember, this recipe gives you 3 servings, so one serving of these onion rings is perfectly portioned to maintain it!
Make Them Vegan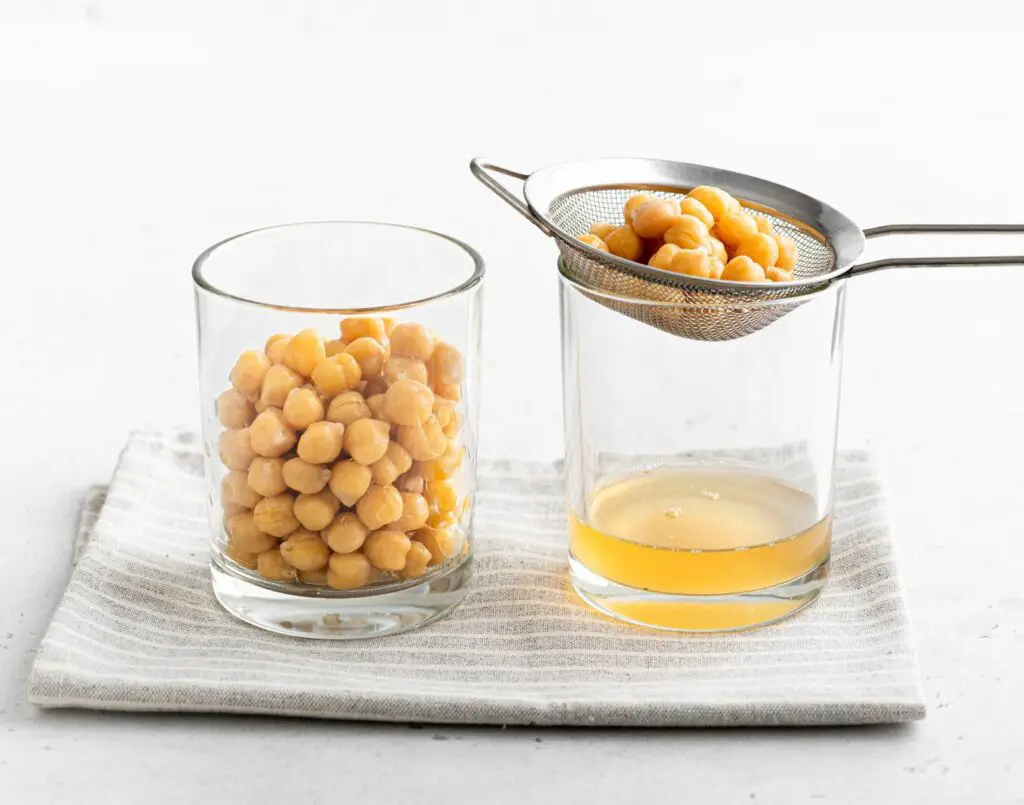 Making these air fryer onion rings vegan-friendly is quite easy. All you need is a couple of tweaks to the recipe:
Egg: Swap the egg for aquafaba, which is the liquid from a can of chickpeas. It works great as a binder, just like eggs. Use 3-4 tablespoons of aquafaba to replace one egg.
Parmesan Cheese: Replace the parmesan cheese with nutritional yeast. Nutritional yeast has a unique nutty, cheesy flavor, making it a perfect stand-in for parmesan in our recipe.
Low-Carb Air Fryer Onion Rings Recipe (No Breadcrumbs)
Course: Snacks, Sides
Cuisine: American
Difficulty: Easy
Ready for a guilt-free indulgence that packs a punch of flavor and crunch? Look no further! This Low-Carb Air Fryer Onion Rings Recipe No Breadcrumbs is set to revolutionize your snack game. With no breadcrumbs in sight and the magic of air frying, you will get onion rings that are perfectly crispy, low-carb, and unbelievably simple to prepare. This recipe is all about enjoying the bite without worry, and trust me, it's as delightful as it sounds. Let's dive in and get those taste buds tingling
Ingredients
1 large onion

2 eggs

1/2 cup of coconut flour

1 tablespoon of coconut flour for the egg mixture

¾ cup of shredded Parmesan cheese

1 tsp of garlic powder

Salt to taste

Ground black pepper to taste
Directions
Begin by peeling and slicing the large onion into ¼-inch rounds. Then, gently separate the slices to form individual onion rings.
In a bowl, whisk together the eggs and 1 tablespoon of coconut flour until the ingredients are well combined.
In another bowl, combine 1/2 cup of coconut flour, ¾ cup of shredded Parmesan cheese, 1 tsp of garlic powder, salt to taste, and a pinch of ground black pepper. Stir the ingredients until they are well mixed.
One by one, immerse each onion ring into the egg mixture using a fork, ensuring that they are entirely covered.
Transfer the egg-coated onion ring into the coconut flour mixture, making sure they are fully covered.
Once coated, carefully transfer the onion rings into an air fryer basket in a single layer. It's important not to overlap them to ensure even cooking.
Air fry the onion rings in batches at 380°F or 195°C for 10 minutes.
At the 5-minute mark, carefully flip the onion rings using a pair of tongs and place them back in the air fryer to continue cooking.
Your onion rings are ready when they are crispy and golden brown.
Serve the onion rings warm with your favorite low-carb dip.
Notes
Slice the onions evenly: Make sure your onion slices are of equal thickness. This helps them cook evenly and makes them easier to handle when you're applying the egg and flour mixture.
Adjust the batter consistency: If the batter seems too thick and stiff, you can thin it down with some cream or water until it has a pancake-like batter consistency.
Fry in batches: Do not overcrowd the air fryer basket. Leaving some space between the onion rings ensures that they fry evenly and the oil temperature doesn't drop too quickly.
Choose your cheese carefully: The recipe uses Parmesan cheese, a hard cheese that holds up well to heat and adds a nice flavor. If you choose to substitute another cheese, make sure it's one that will behave similarly.
Remember, practice makes perfect. The first batch may not turn out perfect but keep trying, and you'll get the hang of it. Enjoy your low-carb cooking journey!
Mix up the Flavors: Feel like spicing things up? Add a dash of paprika, or even some cayenne pepper into your flour mix. Onion rings don't always have to play it safe!
How to Reheat Onion Rings in Air Fryer?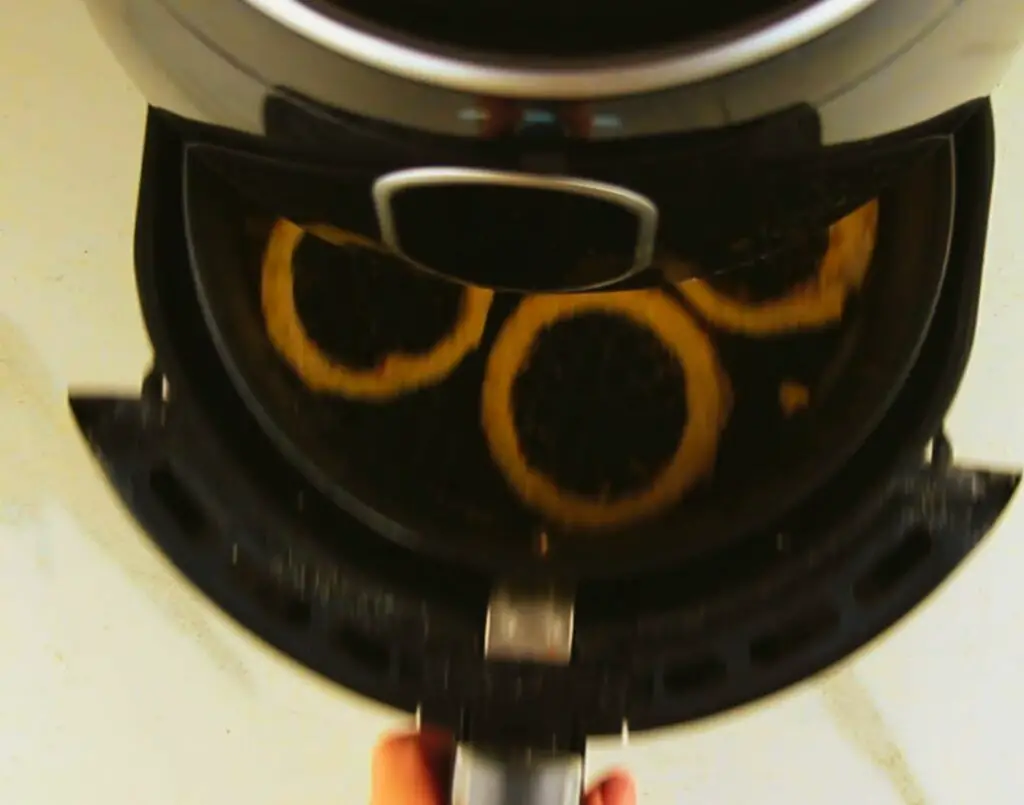 These crunchy air fryer onion rings are best when eaten straight away. However, if you need to keep them for later, simply cool them down, then spread them out on a baking sheet to flash-freeze them for about an hour. This prevents the rings from sticking together. Once they're frozen, shift them to a zip-top bag or airtight container, squeezing out as much air as possible before sealing. Don't forget to mark the date!
To reheat, put the frozen onion rings in the air fryer at 380°F or 195°C for 10-13 minutes, and they will be crispy and delicious again.
In Conclusion
There you have it; our very own low-carb air fryer onion rings no breadcrumbs. Quite a game changer, isn't it? Who said healthier can't be tastier? We've given the old breadcrumbs a miss, using coconut flour instead, and what a crunch it's delivered! All thanks to our trusty air fryer!
So, let's keep the good times rolling, transforming our favorite treats into healthier delights, one onion ring at a time.