If you're looking to make a delicious snack that makes your kitchen smell absolutely amazing, these healthy cinnamon roasted almonds are great options.
Whether you are vegan, following Keto or any other low cab diet, or just trying to cut down on regular sugar, one of these recipes below will meet your dietary requirements.
These roasted almonds are crunchy and irresistible, made perfectly delicious without any sugar! These protein-rich nibbles are perfect for snacking, parties, and gift-giving and are super easy to make.
1. Healthy Cinnamon Roasted Almonds Without Sugar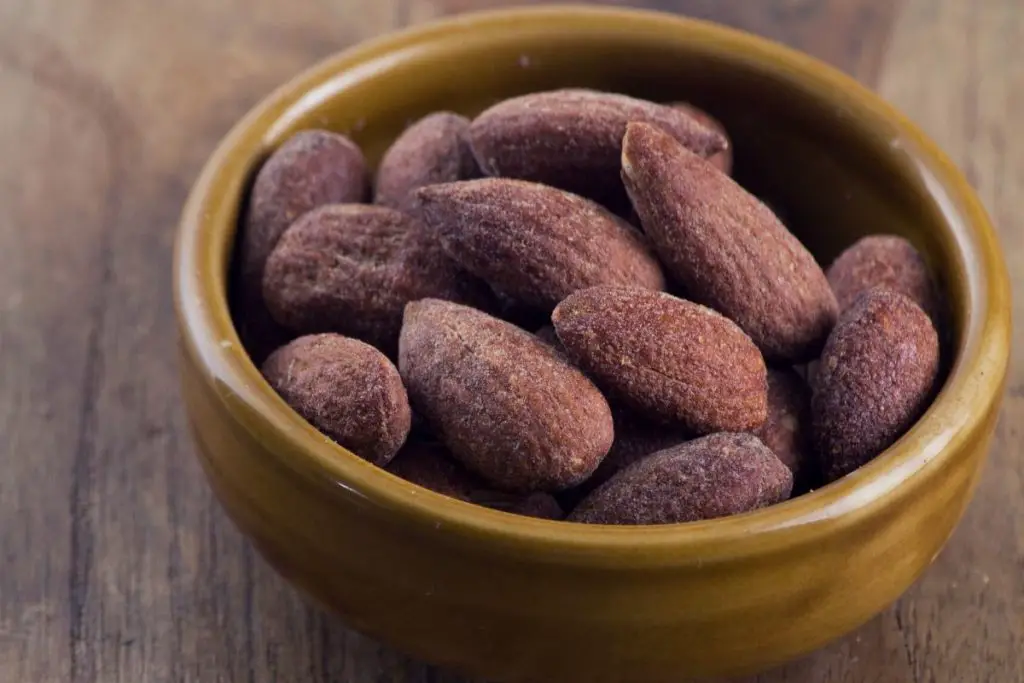 These cinnamon roasted almonds are near addictively good. They smell delicious, are packed with healthy fat and rich antioxidants, and have a satisfying crunch with each bite.
It is one of the healthiest recipes on this list as it contains no sugar or any other sweeteners. Although this recipe doesn't use any sweeteners at all, the almonds still have a lightly sweet and salty, warm, and slightly woody flavor from cinnamon and nutmeg.
The following recipe is easy, quick, and incredibly delicious. Basically, you use the egg white to bind the flavorings onto the almonds. Here is how to do it.
Ingredients:
Egg whites.
A dash of water.
Whole raw almonds.
Ground cinnamon.
Pinch of salt, to taste.
Grated nutmeg (optional).
Instructions:
Preheat your oven to 250°F (120°C) and line a baking sheet with parchment paper.
Whisk egg whites with water in a large bowl until the mixture turns frothy.
Add the cinnamon, salt, and nutmeg and whisk again.
Subsequently, add the almonds and stir them until they are completely coated with egg withes.
Place the almonds on the baking sheet and inside the oven.
Bake for approximately an hour, making sure to stir them regularly.
Let the almonds cool.
Store in an airtight container.
For the full recipe and more detailed instructions, notes, and additional modifications, make sure to drop by RachelCooks.
2. Healthy Sugar-Free Cinnamon Candied Almonds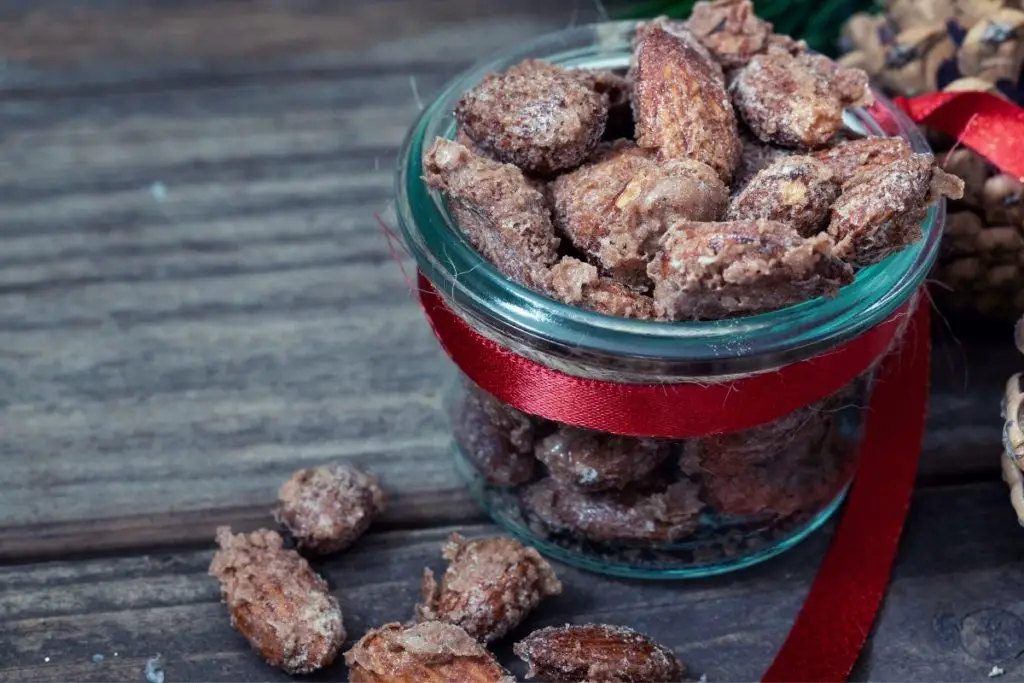 A sugar-free récipe for candied almonds? Yes, it exists! Better yet—it is also keto, paleo, and vegan.
Crunchy and delicious, these candied cinnamon almonds will be your new favorite snack since they are easy to make, carry, and enjoy. Better yet, they taste and feel just like regular candied almonds, which means you get all the flavor more healthily.
Ingredients:
Sweetener of choice, preferably granulated. Monk fruit is the ideal option.
Vanilla extract.
Cinnamon, preferably Saigon if you like the strongest flavor.
Raw almonds.
Water.
Instructions:
Warm a large pan or cast-iron skillet on the stovetop over medium heat.
Once hot, pour one cup of your preferred sweetener alongside a tablespoon of cinnamon, a dash of water, and vanilla extract.
Mix carefully until thoroughly combined and dissolved.
Add the almonds to the mixture carefully, moving them around until fully coated.
Stir regularly until the sweetener crystalizes on the almonds' surface.
Remove from heat once the sweetener crystalizes on the almonds' surface.
Let the almonds sit for three minutes, then gently break them apart with a spatula.
Once the almonds have cooled, coat them again with the remaining sweetener and cinnamon, then store them in an airtight container.
If you'd like to know the specific amounts and additional notes on recommended ingredients, visit The Big Man's World for more!
3. Stevia Cinnamon Roasted Almonds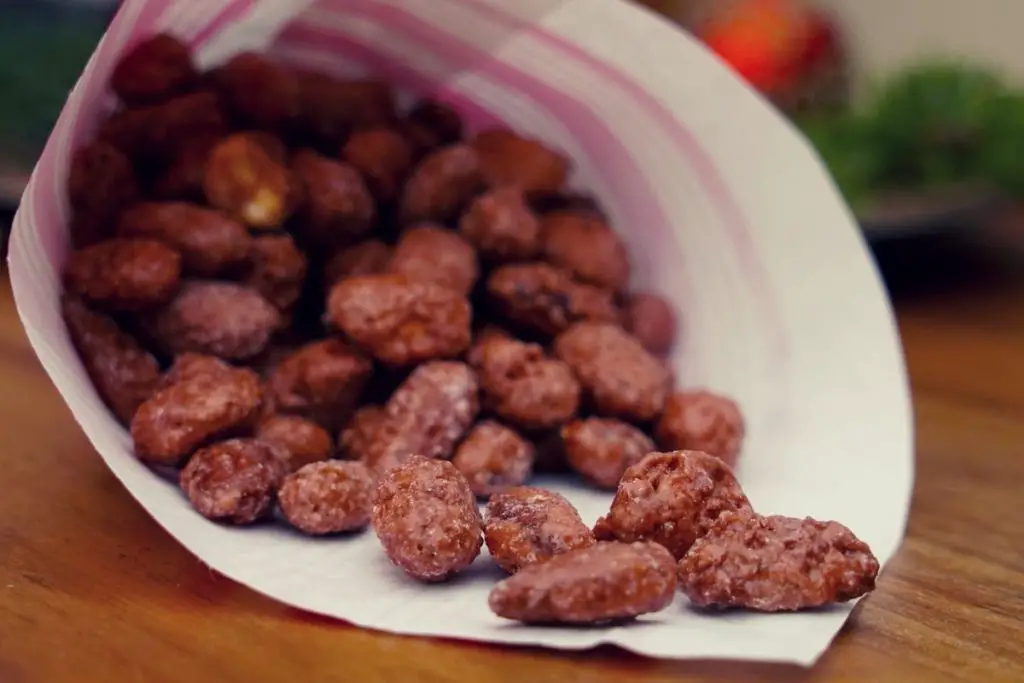 Stevia remains one of the most popular natural sweeteners, and not without reason. Its versatility is astounding, and it also can help you make some truly delicious healthy cinnamon roasted almonds.
Some people may not like the slight licorice-like taste of stevia but don't worry, cinnamon and vanilla will perfectly balance it out.
It's as easy as stirring some almonds in a mixture and letting them cook in an oven. The result? A sweet and flavorful crunch unlike any other—no need for sugar.
Ingredients:
Raw almonds.
Ground cinnamon.
Vanilla extract.
Powdered or granulated stevia.
Egg white.
Instructions:
Preheat the oven to 250°F (120°C) and line a baking tray with parchment paper.
Separate the egg white from the yolk, pour the white into a clean bowl, and whisk until frothy.
Pour the stevia slowly, whisking until smooth.
Add the vanilla extract, cinnamon, and salt.
Once everything is incorporated, stir in the almonds and make sure they get an even coat of the mixture.
Place on the baking tray, distributing them evenly.
Place inside the oven and bake for 45 minutes, stirring every 15 minutes.
This amazing low-carb keto recipe is fully available at Yummy Inspirations; go check it out!
More About Stevia: Is Stevia Better Than Aspartame?
4. Honey Roasted Almonds With Cinnamon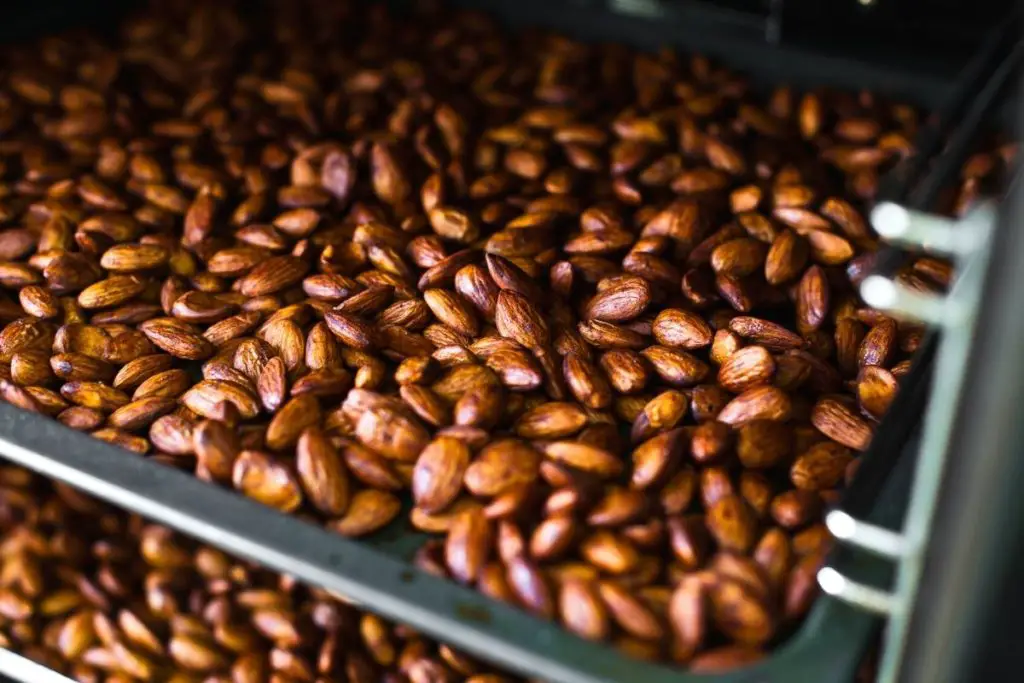 There are many flavor matches made in heaven—and after trying this recipe, you'll see honey matches almonds and cinnamon just a tad bit too well.
The slight floral notes of honey add an additional layer to the spice of the cinnamon and earthy notes of almonds, elevating the deliciousness of cinnamon roasted almonds just a tad bit more.
Ingredients:
Raw almonds.
Extra virgin olive oil.
Honey.
Ground cinnamon.
Salt, to taste.
Instructions:
Preheat the oven to 350°F (180°C).
Line a baking sheet with parchment paper.
Pour all ingredients together in a small bowl and mix until each almond is completely coated.
Pour the almonds on top of the baking sheet, making sure they are not stacked on top of each other.
Bake for 10 to 15 minutes. The almonds should be toasted and fragrant, not burnt.
Take out of the oven and set aside to cool.
Use an airproof container to store in the fridge.
For foolproof tricks and other additional bits of wisdom, check the original recipe at Trial and Eater.
5. Low Carb Spicy Roasted Almonds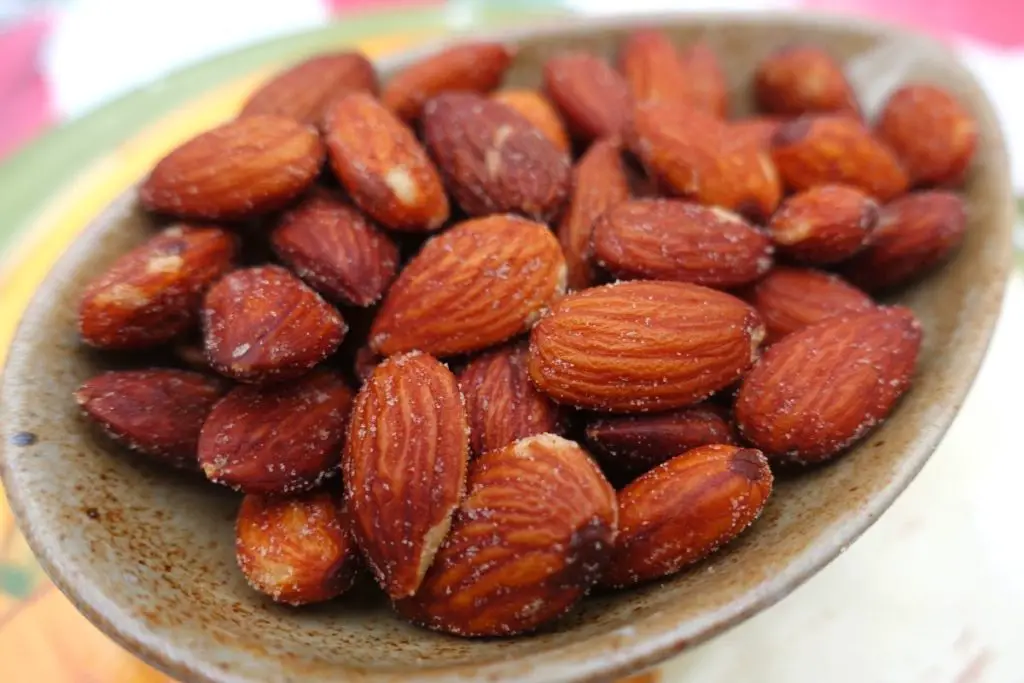 This savory low-carb roasted almonds recipe is simple and unparalleled in its flavor combo. Why? It packs quite a punch—not just because of the cinnamon.
In fact, it adds a blend of aromatic and sharp spices to add an extra kick to this long-time favorite snack. The result is a flavorful, spicy, and slightly savory snack that will add more energy and healthy fats without the extra sugar.
Ingredients:
Raw almonds.
Olive oil.
Garlic powder.
Paprika.
Cayenne.
Cinnamon.
Salt.
Instructions:
Preheat your oven to 325°F (162°C). Line a cookie sheet with baking paper and set it aside.
Mix all spices, oil, and almonds in a larger bowl until the almonds are evenly coated.
Spread the nuts over the cookie sheet, ensuring none are on top of one another.
Bake for 15 to 20 minutes, stirring semi-regularly.
Remove from the oven once they're toasted and set aside to cool.
The Gracious Pantry has a full list of ingredients, tips, and tricks to perfect this recipe—check it out!
6. Vegan Cocoa Cinnamon Roasted Almonds – Keto Friendly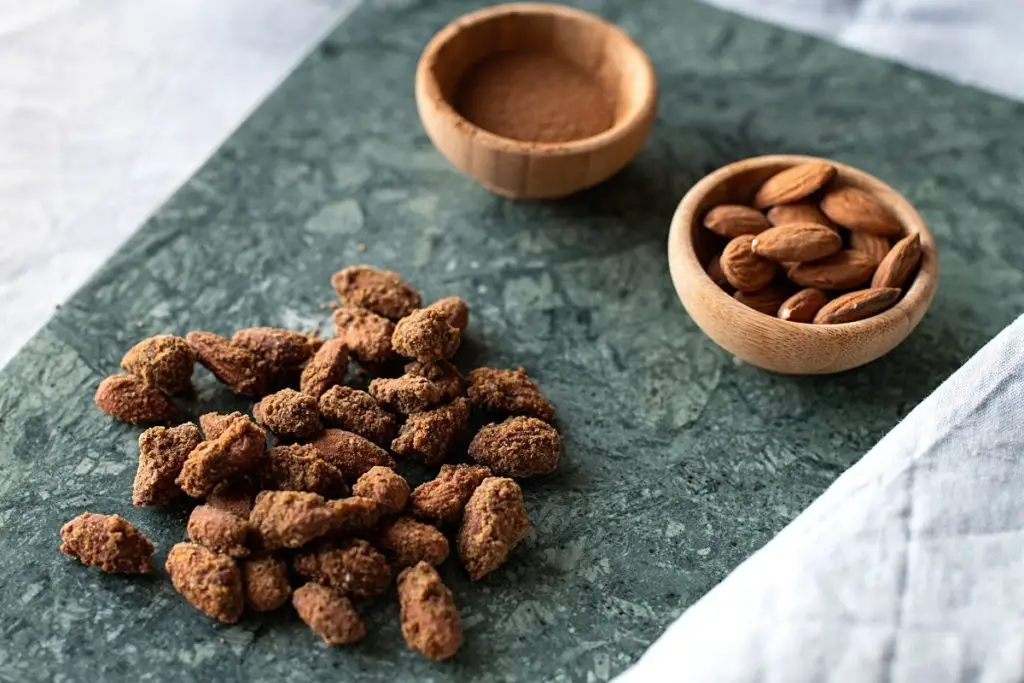 Crunchy, sweet, spicy, and just a light touch of bitter—these cinnamon roasted almonds incorporate a hint of cocoa powder to add chocolate goodness to a vegan and keto-friendly recipe.
Best part? These almonds can be low carb or even paleo, depending on your sweetener of choice!
Ingredients:
Raw almonds.
Coconut oil.
Cinnamon.
Sea salt.
Cocoa powder.
A preferred sweetener like swerve, stevia, or monk fruit sweetener.
Instructions:
Preheat your oven to 375°F (190°C) and line a baking sheet with wax or parchment paper.
Place the raw almonds on top, distributing them evenly across the sheet.
Bake 10 minutes until lightly toasted and remove from oven.
Set aside to cool.
Place a large pan over medium heat and melt the coconut oil.
Add one teaspoon of cinnamon, half a teaspoon of sea salt, and one tablespoon of your preferred sweetener.
Mix until combined, and the sweetener has caramelized, then remove from heat.
Incorporate the toasted almonds into the mixture and coat them evenly.
Place the coated almonds on the baking sheet again. Sprinkle them with the leftover sweetener and sift the cocoa powder on top.
Set aside to cool.
For sweetener recommendations, detailed measurements, and other miscellaneous goodies, take a look at Beauty & the Foodie!
7. Maple Cinnamon Roasted Almonds
Spicy, fragrant, crunchy, and slightly sticky. Maple cinnamon roasted almonds are addictingly delicious, mainly because they are sweet, yet not overwhelmingly so.
This recipe is simply a perfect autumn and winter snack that is delicious enough to be a year-round treat and easy to make even for the laziest chefs.
Ingredients:
Raw almonds.
Maple syrup.
Vanilla extract.
Ground cinnamon.
Salt flakes.
Instructions:
Preheat the oven to 320°F (160°C) and cover the baking sheet with parchment paper.
In a small bowl, whisk maple syrup, vanilla, cinnamon, and salt until combined.
Incorporate the almonds in the mixture bowl, ensuring they receive an even coat.
Pour the almond mixture onto the baking sheet. Distribute each almond evenly on the surface.
Place the baking sheet in the oven and bake until golden—approximately 10 minutes—while stirring occasionally.
Take a look at some secret tips and tricks at Better With Cake!
In conclusion, there are many delicious and healthy cinnamon roasted almond recipes that don't use any sugar. These recipes are perfect for people who are looking for a healthy, protein-rich, and crunchy snack that is also sweet, smoky, salty, and satisfying. So, next time you are looking for a snack, try one of these amazing recipes!
Read Also: Tahini vs Almond Butter – Should You Be Nuts About Seed Butters?