For all the cocoa lovers out there who are in dire need of a warm cup of hot chocolate but don't have any cocoa powder, fear not—these nine recipes below are perfect for you. So, here is how to make hot chocolate without cocoa powder.
You can easily substitute cocoa powder with some simple ingredients that you may already have in your kitchen.
Don't fret; you are not settling for the second-best. These recipes are not only delicious and easy but also relatively healthy. 
What Can I Use Instead Of Cocoa Powder?
There are many substitutions for cocoa powder. Some alternatives are dark chocolate, carob powder, ground cinnamon, turmeric powder, espresso powder, and chocolate couverture. You can also use muscovado sugar, molasses, fudge sauce, or carob spread.
Ready for your next favorite choco-treat? Check out the best roundup of rich and creamy hot chocolate recipes below that are using these cocoa powder alternatives among their ingredients.
1. Rich And Creamy Cinnamon Hot Chocolate
An all-time classic, creamy, and rich cinnamon hot chocolate can warm you during a cold winter night without any cocoa powder required. Milk, cinnamon sticks, brown sugar, and some dark chocolate are all you need. And yes, don't forget to add some marshmallows.
Check out the video below how you can make this delicious and comforting drink without using any cocoa powder and with just a few simple ingredients
Top Tip: Although you may use cinnamon powder if it is all you have available, it's better to use cinnamon sticks, as letting simmer alongside the milk will infuse its flavor into the beverage.
2. Hot Chocolate With Chocolate Bar
Making hot cocoa with chocolate bars results in a delectably decadent beverage with profound flavors. The texture is rich and thick—all thanks to the cocoa butter found in the bar. 
Best part? All you need is milk, double cream, and a chocolate bar. Heat the milk without burning, pour the chopped chocolate pieces and double cream, and you're done!
Take a look at the full recipe and ingredients in Hotel Chocolat here. 
Top Tip: A high-quality bar is quintessential for a delicious result. To guarantee a layered cocoa flavor, make sure to verify for a high cocoa percentage that is above 40%.
3. French Hot Chocolate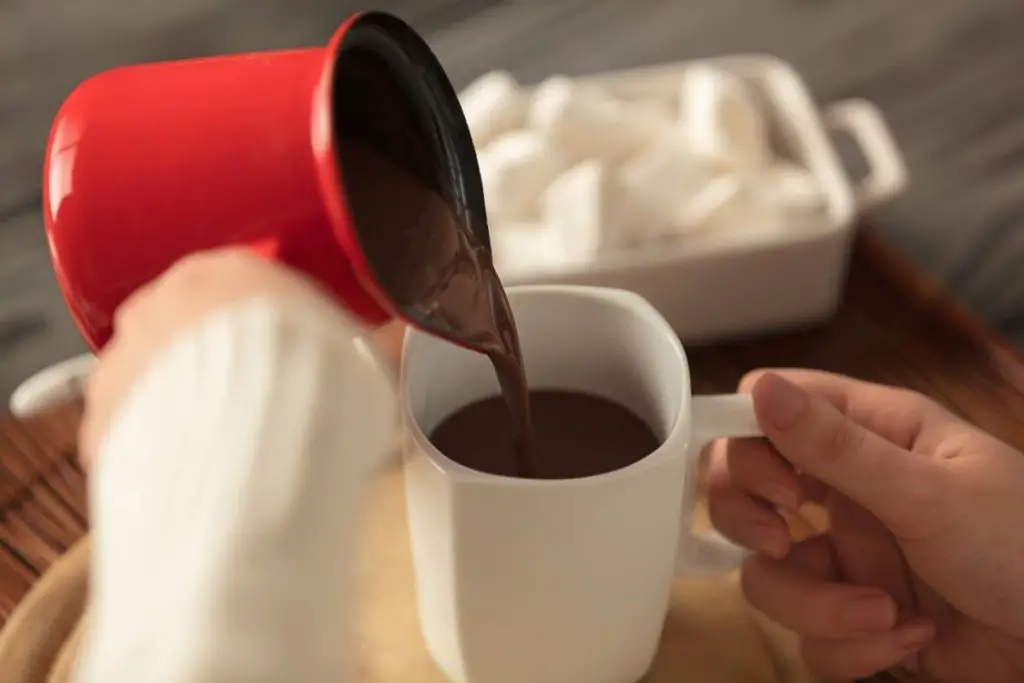 A more evolved version of the aforementioned beverage is the French Hot Chocolate, an authentically European experience for your senses.
It boasts of a bittersweet flavor and a very thick and creamy texture, making it an appealing option for the chocoholics among us.
The ingredients list in this recipe is minimal—milk, heavy cream, powdered sugar, and your preferred chocolate.
Only five minutes lie between you and your creamy and delicious European drink, and Well Plated by Erin has the complete recipe here. 
Top Tip: To ensure your French hot chocolate is true to its Parisian equivalents, avoid milk chocolate bars and focus on dark or bittersweet options with a cocoa percentage over 70%.
4. Low Carb Keto Hot Chocolate Recipe
Hot chocolate can become your ideal low-carb keto beverage with just a little bit of out-of-the-box thinking, metaphorically and literally.
Forget about store-bought sugary cocoa and cacao powder mixes—a homemade low-carb keto hot chocolate only requires a few ingredients: cream, almond milk, keto sweetener (like monk fruit or stevia), vanilla, and your preferred sugar-free keto-friendly chocolate bar.
Find how to make this delight here at Wholesome Yum!
Top Tip: You can add any low-carb keto sweetener like Stevia, Sucralose, Erythritol, Xylitol, and Monk Fruit in the quantities you choose. Better yet—don't add any to enjoy the chocolate's natural bittersweet flavor.
5. Golden Milk Turmeric Hot Chocolate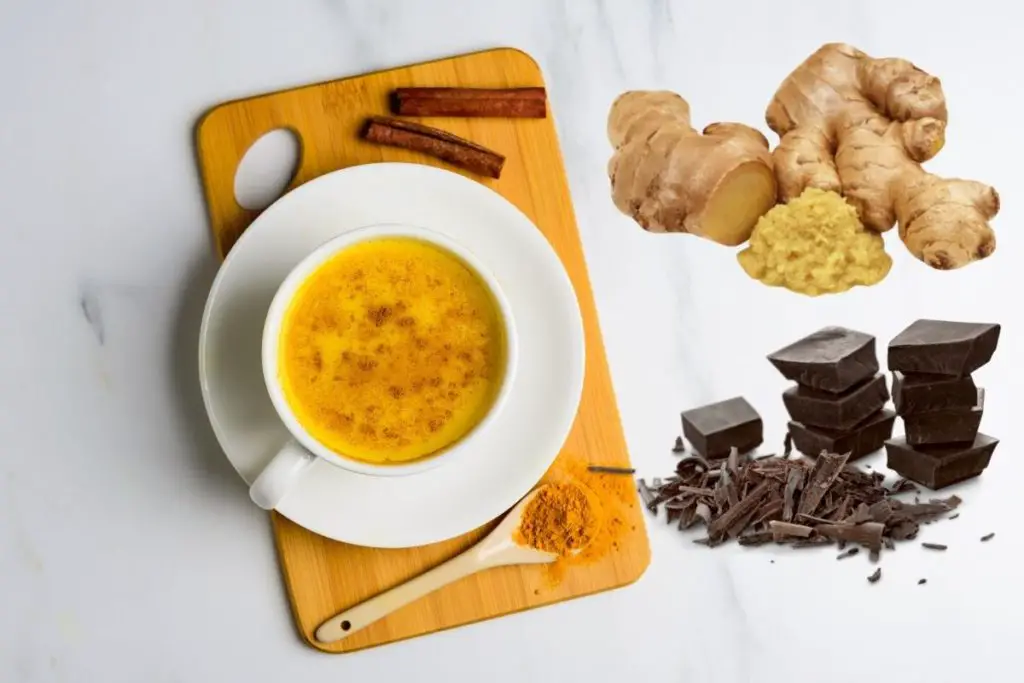 Boasting of a gorgeous golden color, this hot chocolate gives a shared spotlight to the rich flavor of cocoa and a touch of turmeric magic. The result is wholesome, a slightly bittersweet drink with spice undertones that bring forward the earthy notes of chocolate. 
All it requires is water, full-fat coconut milk, turmeric, cinnamon, ginger, and the richest dark chocolate bars you have.
Best part? It's easy to transform it into a vegan beverage; check the recipe at Lindt's website here.
Top Tip: If you enjoy the aroma and flavor of spices, consider adding a pinch of ground black pepper or piperine to the blend. Likewise, feel free to enhance the beverage with allspice for an ultimate fall and winter hot chocolate.
6. Vegan Coconut Matcha Hot Chocolate
Another vegan delight that choco-lovers cannot ignore is this delectable combination of chocolate, coconut, and matcha. The bittersweet flavor of chocolate chips blends seamlessly with matcha's earthy, grassy flavor. 
How to make it? Easy—heat coconut milk, add the matcha powder and natural vegan chocolate chips, and the choco-magic is done!
If you are someone that is skeptical about the taste of matcha then don't worry, this recipe will make your matcha taste absolutely delicious.
Bessie Bakes lists full instructions here. 
Top Tip: The polyphenols in cocoa and the catechins found in matcha green tea are both powerful antioxidants and anti-inflammatories, making this beverage an extra healthy version of hot chocolate.
7. Bulletproof Hot Chocolate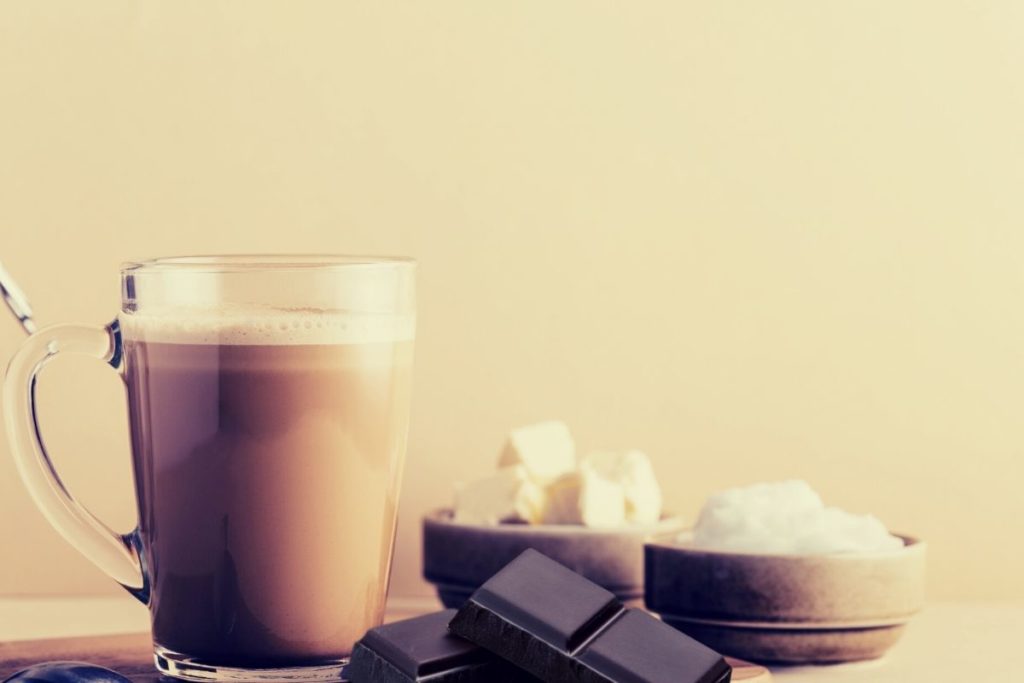 For those unaware, a "bulletproof" beverage is a high-calorie drink made with extra doses of healthy fats to provide energy and fullness. As such, bulletproof hot chocolate is exactly that—choco with lots of good fats and extremely popular among low carb and fitness community.
This version requires milk, cream, and dark chocolate of at least 85% cocoa, bring to a simmer and enjoy.
For a complete list of ingredients and instructions, visit Easy Keto Living. 
Top Tip: Since the goal of "bulletproof" drinks is to add extra healthy fats for a more fulfilling meal, you can incorporate coconut oil, MCT oil, clarified butter (also known as ghee), or whatever may be your preferred option in addition to the cream.
Read Also: How To Make Bulletproof Mushroom Coffee? (Creamy, Rich, And Nutritious)
8. Warm Spiced Carob Milk
But what if you don't have any cocoa at home? Powder, chocolate bar, or otherwise? Then rest assured, I have the solution for you—Warm Spiced Carob Milk. It has all the flavor of chocolate, but without the chocolate. 
A perfect dairy-free and vegan option, it requires carob powder, almond milk, and maple syrup. You can incorporate ground cinnamon, ginger, and cloves for an extra touch of spice.
Get the full recipe at Go Dairy Free!
Top Tip: Carob is earthier than chocolate and slightly sweeter. The flavor is not identical, but it is somewhat similar. It does not contain caffeine or other stimulants, yet it has extra dietary fiber. 
9. Couverture Hot Chocolate
Making hot cocoa with a chocolate bar is good, but opting for couverture chocolate elevates the preparation into a sophisticated blend with a glossy finish and a layered flavor profile that is intense, yet perfectly balanced.
The trick lies in melting the chocolate and mixing it with pouring cream. After combining both and letting the mixture set, you add the hot milk for a perfect finish.
Take a look at the full recipe at Broadsheet. 
Top Tip: Couverture chocolate has a shiny and crisp finish thanks to its higher cocoa butter percentage, so this type of hot chocolate is rich in healthy fats.
Choco-Craving Satisfied?
The recipes above are proof cocoa powder is not all there is to hot cocoa. Take a look at the tips on each website, and feel free to customize and combine flavors. Who knows? You might be on track to discover your next predilect cocoa-powder-free hot chocolate alternative.