French toast is that sweet, buttery, crispy treat that can easily rival waffles or pancakes on your breakfast table. It's on brunch menus around the world, and the internet is littered with endless variations of the bread-and-egg combination. 
Who wouldn't love to eat cinnamony French toast for breakfast, creamy soft on the inside, crunchy and caramelized on the outside, drizzled with maple syrup or honey?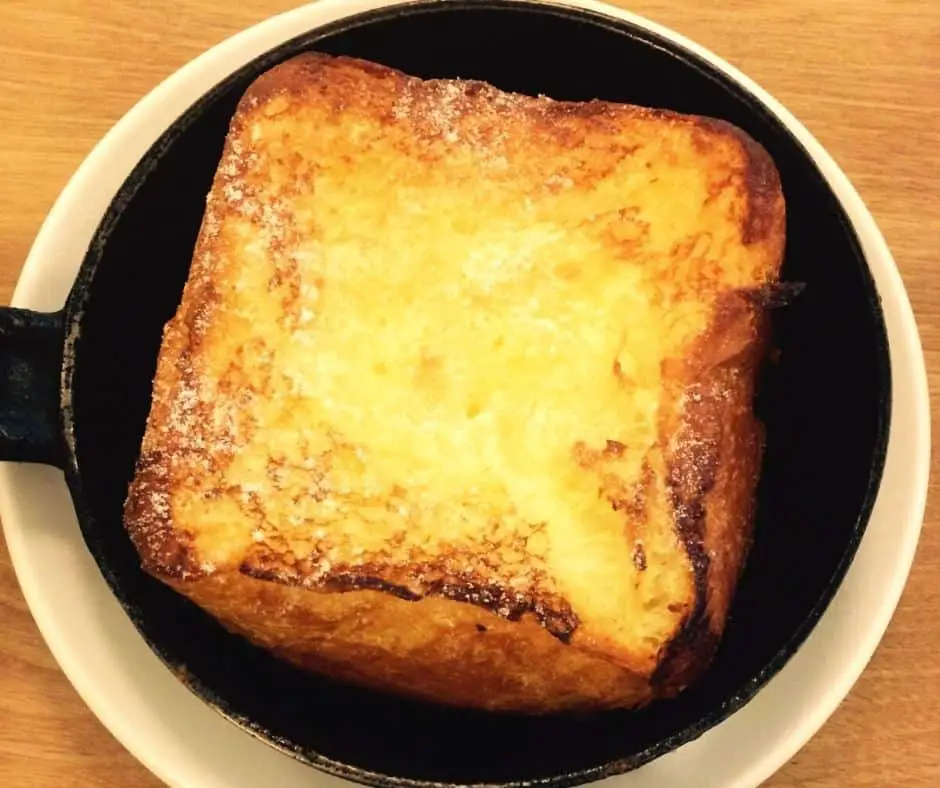 I am sure that most of us would, but what if you have run out of bread, are trying to cut down on carbs, or have an intolerance to wheat or gluten. Yes, French toast is certainly not the best option for people who can't eat bread or follow a low-carb diet. 
But why does every French toast variation and substitution always include bread?
Although the bread is the base of the dish and is needed to make a classic french toast recipe, you would be glad to know that some clever substitution and bread-free alternatives can closely resemble the real thing.
9 Delicious No-Bread, Low-Carb French Toast Ideas
Below I will cover some imaginative, creative, and absolutely ingenious food writers and bloggers who have created incredible alternative French toast recipes that don't use a morsel of typical wheat flour bread. 
I bet you're curious to find out how to make French toast without bread and what these recipes include instead? Read on to find out!
1. French Toast Made From Cooked Oatmeal
A two-in-one breakfast recipe! Baked Oatmeal French toast is such a great, convenient way to make breakfast in advance or eat it on the go; just pour the cooked rolled oats mixture into a dish and leave it to set. Slice it up into squares or bars, and you have a quick breakfast to grab in the morning.
This recipe takes it to another level, though, by combining healthy moist oatmeal bars with the sweet, spiced flavors of French toast. 'Voila!' Here it is, oatmeal french toast, made entirely without bread.
This recipe is also very nutritious, gluten-free, vegan, and super-duper yummy. Squares of baked Oatmeal are dunked into vanilla and cinnamon-scented custard, then fried until golden and crunchy.
Check out how to make this easy and nutritious recipe in the video below.
Although oats are gluten-free; however, they are best avoided if you are coeliac as they sometimes can be contaminated by other cereals. So always check the package for the 'Gluten-Free' label. 
Calories: 77kcal | Carbohydrates: 11.1g | Protein: 3.3g | Fat: 2.3g | Fiber: 1.5g | Sugar: 1.6g
Check out all the ingredients and the full recipes in the description below the video.
2. Grain-Free Paleo French Toast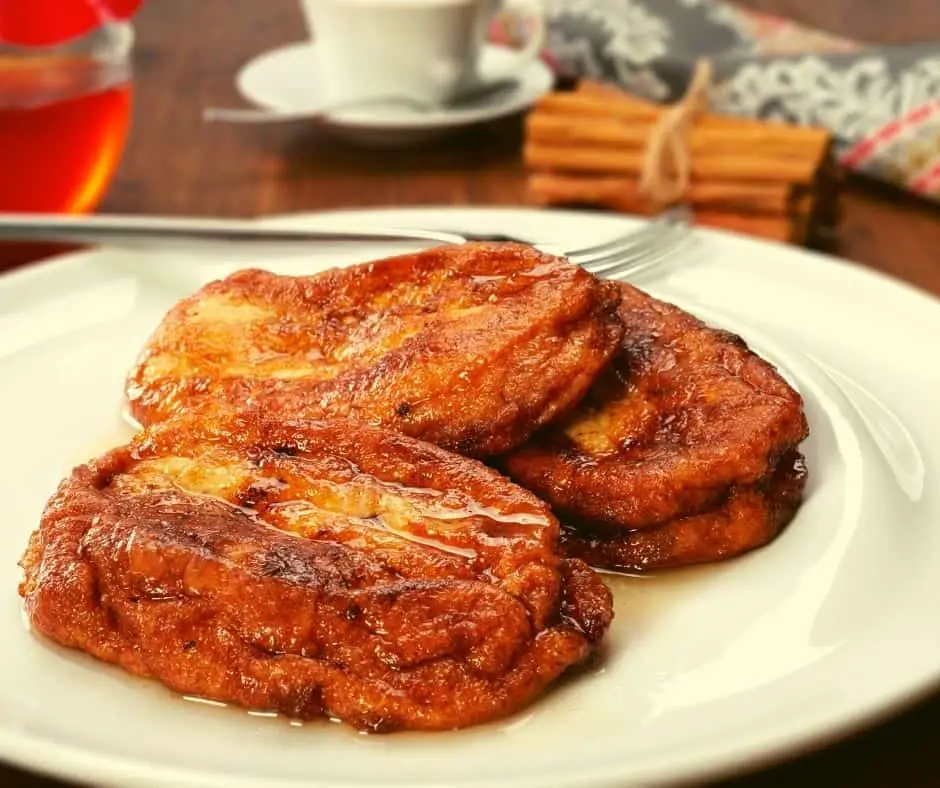 French toast is famous for its soft, squidgy, almost creamy center. Bread isn't the only ingredient to create that delectable texture. No, in fact, a particular vegetable can too.
This recipe substitutes the bread for eggplant. Yes, you read that correctly! Let me explain.
The Paleo diet is based on the hunter-gatherer style of eating – while we cannot be 100% certain, researchers are confident that back in the day, we ate a lot of whole foods such as meat, fish, different types of eggs, and vegetables. The diet did not include grains, so along with pasta and wheat, bread does not make the cut!
So, why not substitute bread for an ingredient included in the Paleo diet, which is also relatively bland, so it supports the other flavors rather than dominating them? This is where the eggplant comes in.
When prepared properly, eggplant is soft and creamy, not watery or bitter. It bolsters sweet cinnamon and vanilla just as well as any savory flavors.
Why not give it a go?!
Check out the recipe at Empowered Sustenance. 
3. Sweet Omelet/Breadless French Toast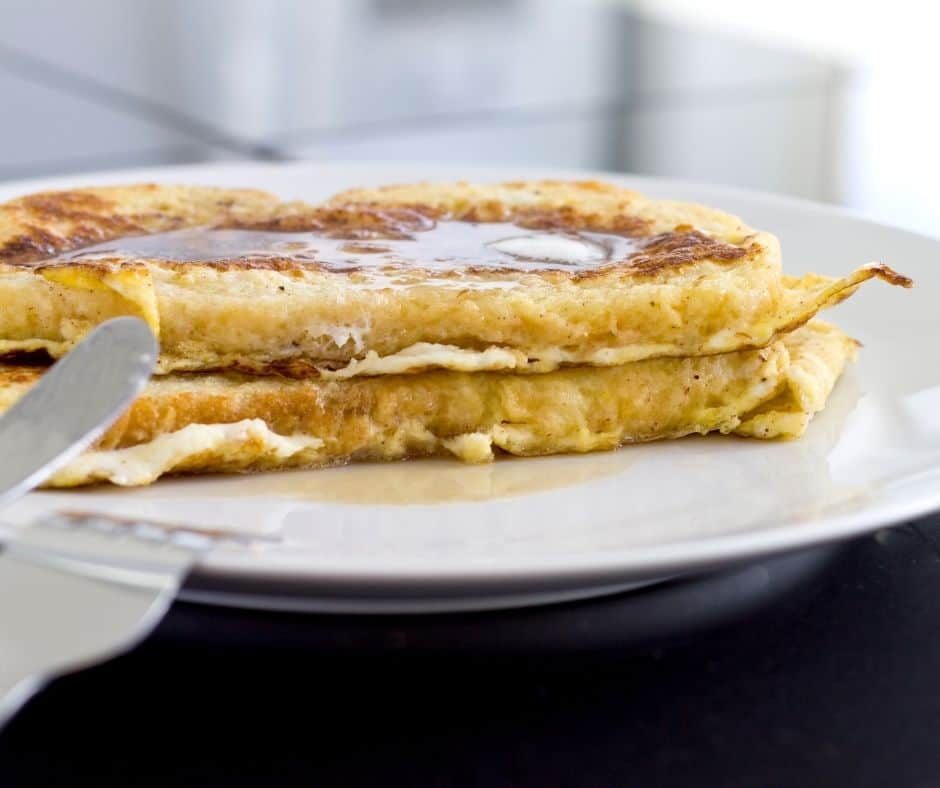 If you're looking for a French toast recipe that literally contains no bread or anything that even resembles bread, you have found it!
This recipe for a sweet omelet is basically the French toast egg mixture poured in a pan and gently cooked until soft, fluffy, and caramelized.
Naturally, we are well accustomed to creamy, gently cooked savory omelets, maybe full of cheese or mushrooms. Sweet omelets, on the other hand, are a bit more unusual.
Much like a French clafoutis, a quick batter is mixed together with eggs, milk, sugar, and a little flour, then as it cooks, it puffs up slightly in the pan, a bit like a soufflé. To make it gluten-free, simply substitute the flour for brown rice flour, or remove it completely.
Calories: 189kcal | Carbohydrates: 12g | Protein: 11g | Fat: 10g | Saturated Fat: 4g | Sugar: 9g 
Check out the recipe at Imagelicious. 
4. Low-Carb Keto French Toast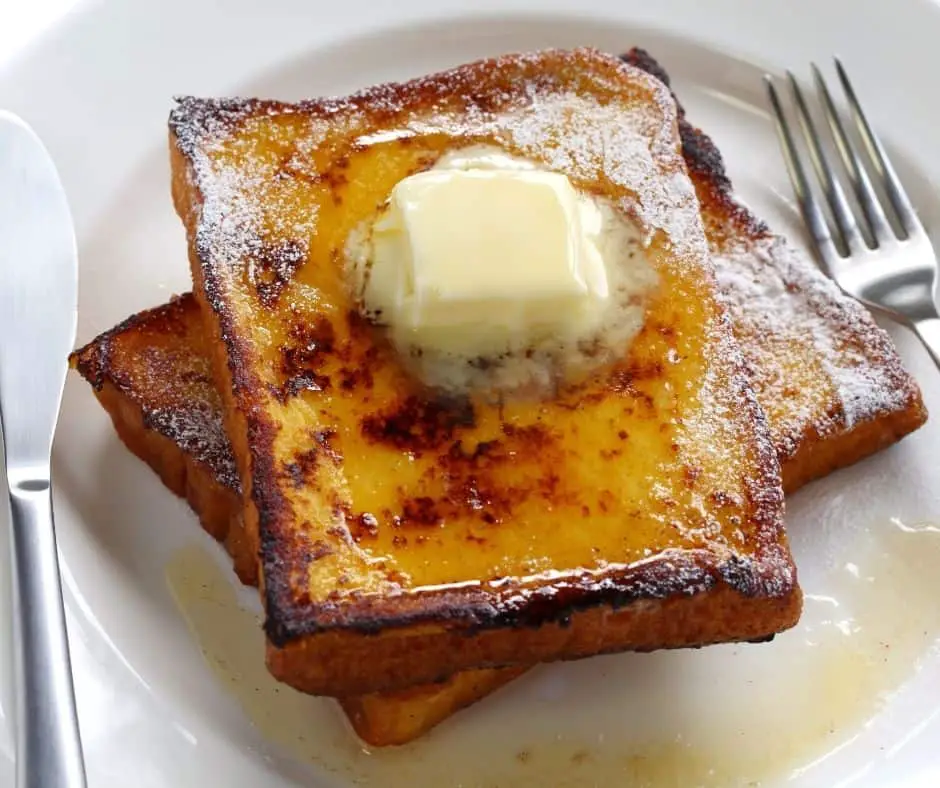 In case the previous no bread Keto French toast recipe intrigued you, here's another. This fluffy bread looks too light and springy to be low-carb!
The Keto diet is incredibly famous these days, and more and more people are searching for low-carb or zero-carb bread replacements. Instead of boosting your diet with carbohydrates and sugars, the Keto diet requires you to eat fats such as dairy, oils, nuts, and eggs.
This easy one-bowl Keto bread is made with coconut and almond flour, cinnamon, oil, and eggs. This eggy-batter fluffs up in the oven to become light and bouncy bread, ready for your French toast cinnamon custard!
Calories: 239kcal | Carbohydrates: 5g | Protein: 7g | Fat: 23g | Saturated Fat: 13g | Fiber: 2g | Sugar: 1g 
Check out the recipe at That's Low Carb.
5. Keto French Toast With Cinnamon
You wake up with French toast cravings (we've all been there), but you're out of your usual low-carb bread from the store. Now, you can 'bake' an easy coconut-flour bread in the microwave, and it's all done in less than five minutes.
Time to try a 90-second Keto bread recipe; however, this is for French toast! So, technically it is not bread-free french toast per se, but it is super low car and keto-friendly. 
This recipe is so quick and effortless that you can't even call it 'baking.' 
Meanwhile, coconut flour is low-carb, high in fiber and protein, so this French toast is healthier than most but looks and tastes surprisingly close to the real thing.
All you have to do next is soak the 'bread' slices it in your egg mixture, fry it in butter, and serve! The ideal lazy but delicious low-carb breakfast.
Calories: 502kcal | Carbohydrates: 11g | Protein: 13g | Fat: 45g | Saturated Fat: 26g | Fiber: 5g
Check out the recipe at Healthy Recipes.
6. 3-Ingredient Savory French Toast
Don't let the word sandwich fool you; this french toast is made entirely without bread. 
While we all know French toast as a sweet start to the day, many people enjoy it savory, either simply with a squirt of Ketchup or as an elaborate slap-up sandwich with bacon.
Here is a delicious savory and bread-free French toast recipe to add to your collection. 
Like the Paleo eggplant French toast recipe above, this method uses a flavorless vegetable. This time, though, it's cauliflower!
You have probably realized by now how much I like cauliflower from my other clever cauliflower rice recipes on this site. 
By mixing cooked riced cauliflower with egg and cheese, you can shape some patties (in square shapes if you want them to resemble bread slices) and bake them until firm, crisp and golden. 
Plus, cauliflower is incredibly good for us, full of vitamins, fiber, and anti-oxidants.
Instead of starting your day with a high-carb and high-sugar breakfast, try this cauliflower French toast.
Check out the recipe at The Kansas City Dietician 
7. Keto French Toast Egg Puffs – No Bread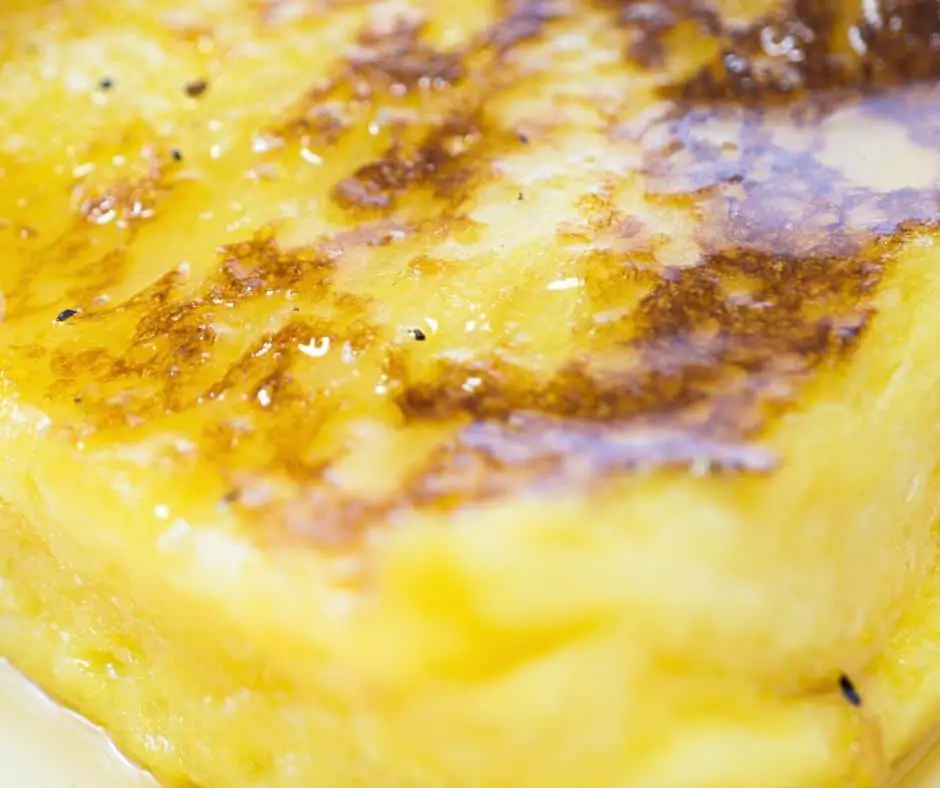 These puffy, eggy Keto French Toasts are kinda cross between cream cheese pancakes and low-carb french toast. So technically, these are toasted fluffy custard puffs baked in a muffin tin.
Similar to the Sweet Omelet above, these French toast egg puffs are the cooked egg mixture. However, there are some differences. In this case, there is added cream cheese, making it resemble a Keto cream cheese pancake. Plus, these have more structure and bite, meaning they can soak up a steady stream of sugar-free maple syrup.
And who wouldn't want to douse their French toast in syrup?
Calories: 256kcal | Carbohydrates: 3.3g | Protein: 11.5g | Fat: 21g | Fiber: 0.8g 
Check out the recipe at Peace, Love, and Low Carb.
8. Easy No-Bread French Toast
Those 90-second alternative Keto bread recipes are too special for me to not include another!
Breakfast is the ideal time for this low-carb bread substitute – to have with eggs, bacon, avocado, you name it – so it's best to have as many 90-second low-carb bread recipes up our sleeves as possible for when emergency strikes and our cravings demand we need bread now!
This 90-second Keto bread recipe adds a teaspoon of cream cheese for creaminess and spices it with cinnamon and nutmeg to complement the French toast flavors.
Once the bread is whizzed around the microwave, it doesn't take long to soak and fry, and then it is ready for devouring with fruit, powdered sugar, and syrup.
Calories: 352kcal | Carbohydrates: 6g | Protein: 12g | Fat: 30g | Saturated Fat: 17g | Fiber: 2g | Sugar: 1g 
Check out the recipe at Kasey Trenum.
9. Tortilla French Toast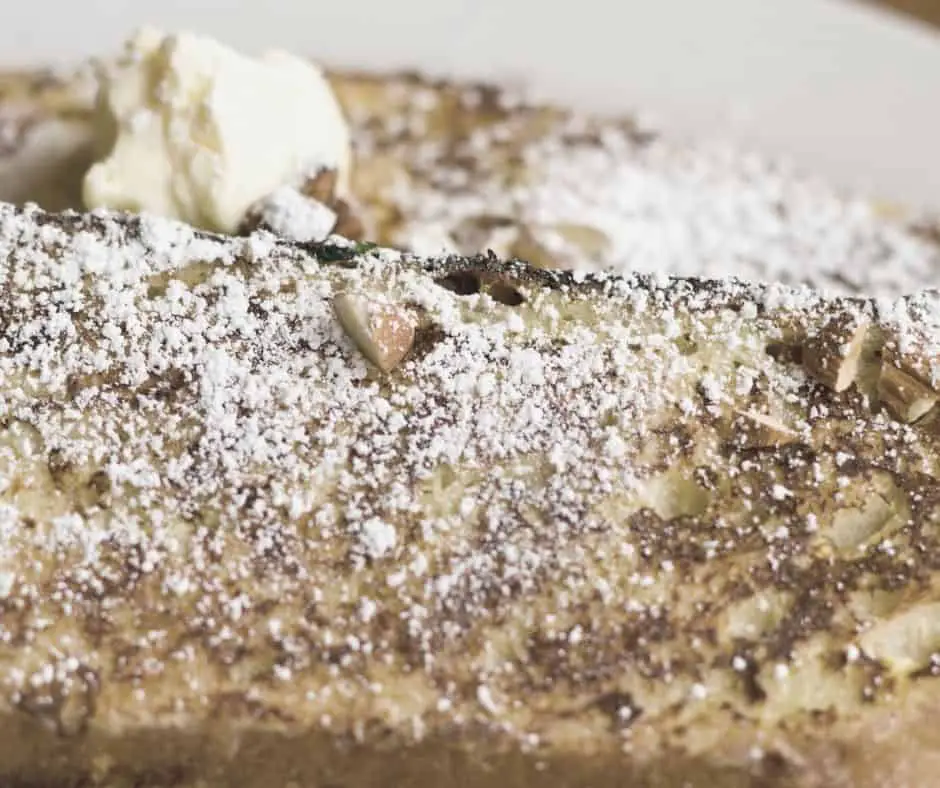 And finally, to round up, here's a sugar-dusted bread-free finale! Sorry, not the healthiest but technically no bread.
Tortillas are traditionally made with corn, so they are excellent gluten-free substitutes for bread. Therefore, they can be used as an ingredient in French toast.
So, this is quite clever and yummy. Dip a tortilla in the custard and fry it like a crepe until caramelized and golden in patches. 
As tortillas are known for being as flat as pancakes, French toast's soft and creamy texture is lost. However, these are made extra special by tossing them in sparkling cinnamon sugar. 
Cinnamon-scented sweet tortilla, crisp with sugar, and perfectly delicious, filled with fruit and maple syrup-like a sweet burrito.
Ok, I know, it does look nothing like classic eggy bread, but it sure tastes like it, almost. 
Check out the recipe at Cookpad.
Read Also: The Best Protein Pancakes Recipe