I am sure you will agree that if you are into fitness and healthy eating, there are a lot better ways to start the day than with a stack of fluffy pancakes. There are other options, like oatmeal, smoothies, eggs, protein shakes, etc.
The thing is, pancakes are a very carb-heavy breakfast. Three 7″ pancakes, a few slabs of butter, and a drizzle of syrup can add up to 1000 calories, half the energy you need in a day.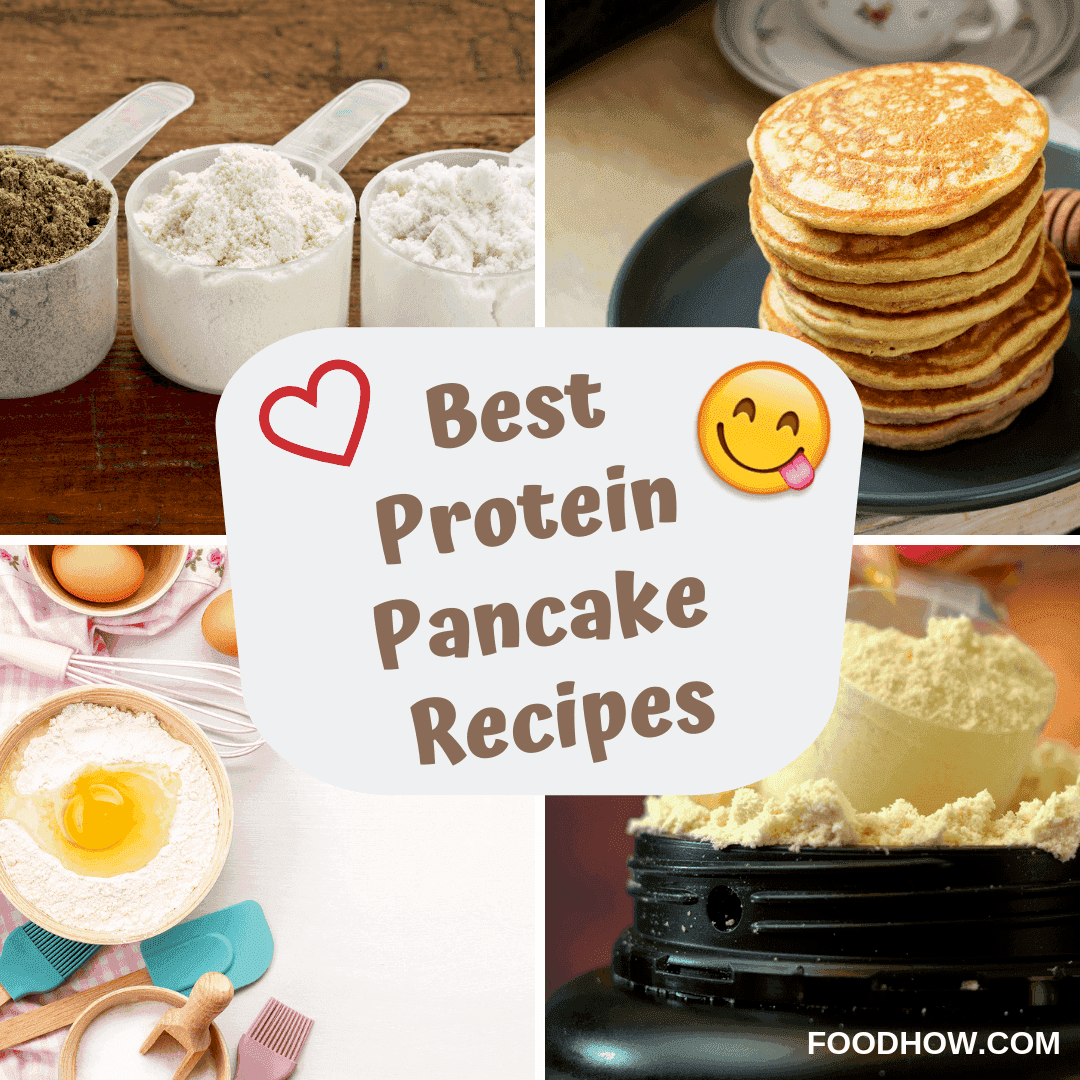 And sure, it's great to start off with a kick, but unless you're up for a 1.5-hour run before noon, your body will store some of that energy in your belly (and thighs if you're me). Excess sugar gets stored in the fat cells, making you gain weight and appear flabby.
But we all do love pancakes; America's darling has a place in everyone's heart and is sure to bring back childhood memories.
So, is there a way to upgrade pancakes and get them in tune with a healthy diet? 
Full of empty carbs and a minimal amount of protein, pancakes just don't seem like a good choice, whichever way you look at it.
But let's not be pancake haters; let's be pancake makers and see what can be done. Where there's a will, there's a way.
If you think about it, pancakes are a blank canvas and can be the vehicle for very healthy ingredients. Protein pancakes are the right kind of pancakes, and they're just as delicious as your good old' flapjacks, and quite often more so!
Mixing and matching ingredients like whole flour, oats, healthy food powders, bananas, protein powders, and various grains, you can make a superfood out of your pancakes. And there's good news; you don't have to reinvent the wheel; I have done the research for you.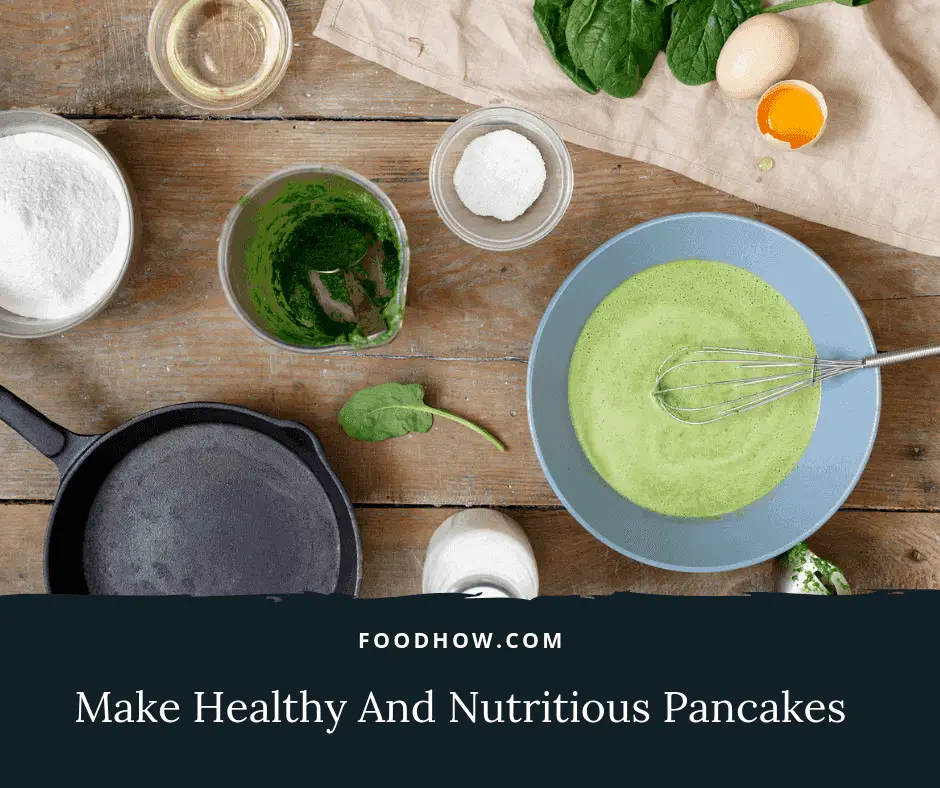 Here are the best protein pancake recipes on the web.
But first, I would like to share my own recipe that I have invented for my cheat days. Feel free to save it, use it, share it, or modify it any way you like. But don't just try my one; try them all and tell me in the comments below which ones are your favorite.
Blueberry Protein Powder Pancakes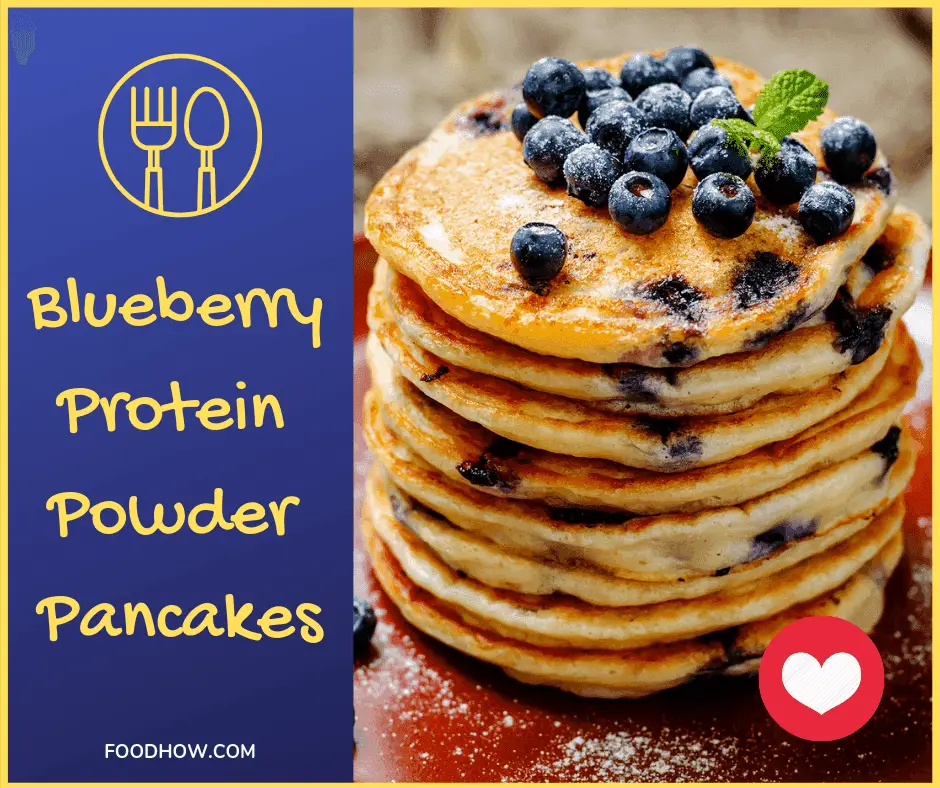 Ingredients
Serves 2-3 (2-3 pancakes per serving)
2 scoops vanilla whey protein powder (or pea protein powder)
2 teaspoons baking powder
1 tablespoon almond flour
Pinch of kosher salt
2 large eggs, whites, and yolks separated
1 tablespoon 2% milk
¼ cup softened unsalted butter
1 teaspoon vanilla extract
2 tablespoons unsalted butter for cooking
¼ cup fresh blueberries
Directions 
Whisk the dry ingredients of this protein powder pancake recipe together. This includes protein powder, baking powder, almond flour, and salt.
Add the egg yolks, milk, ¼ cup of unsalted butter, and vanilla extract to the dry ingredients. Stir to combine.
Use an electric mixer to beat the egg whites on medium-high speed in a separate bowl until stiff peaks form. This step of the protein powder pancake recipe ensures light, fluffy pancakes.
Fold the beaten egg whites into the pancake batter.
Add half of the 2 tablespoons of butter to a large non-stick skillet and melt over medium-low heat.
Pour the batter into the skillet in ¼ cup portions.
Scatter a few blueberries on top of each pancake.
Let cook undisturbed until bubbles begin to form on the surface.
Flip and let cook for another minute or so.
Transfer the cooked pancakes to a serving platter, melt the remaining butter in the skillet and repeat until all pancakes are done. 
Serve with Yacon Syrup, maple syrup, or a drizzle of honey.
Oatmeal Protein Pancakes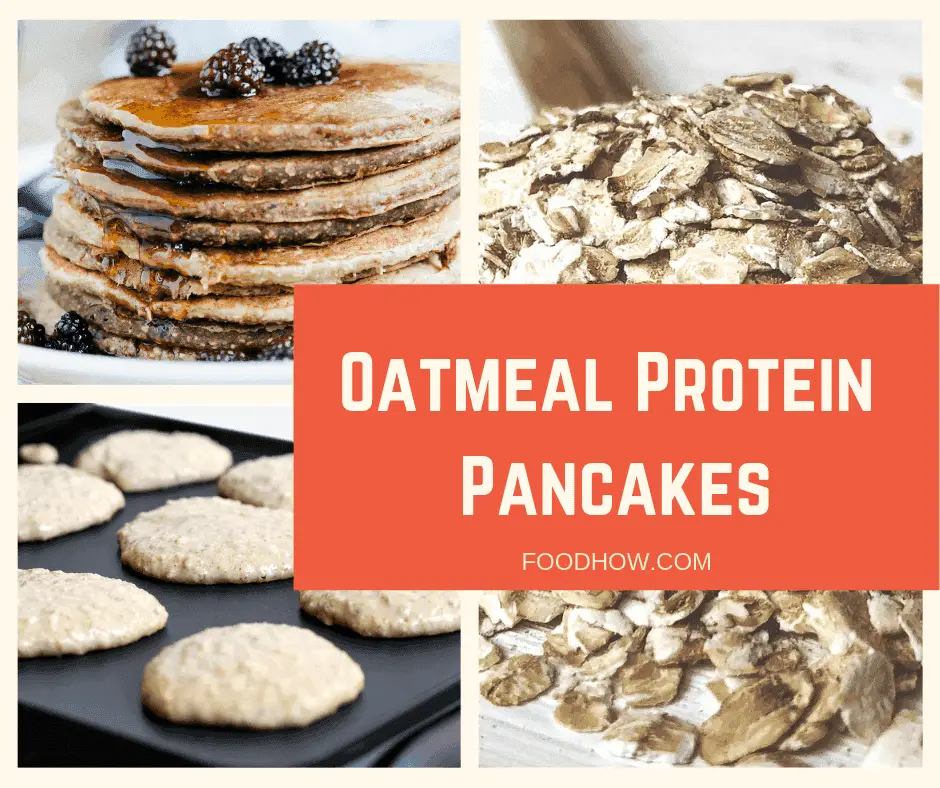 Banana Oatmeal Protein Pancakes
Blended oats, eggs, bananas, and cinnamon make up this simple and healthy pancake recipe. All in all, it's only four ingredients.
The oats give the starchy texture of the pancakes, and the egg is the glue that keeps it all together.
A ripe banana gives added thickness, sweetness, and goodness to it. These are easy and super-fun and great for children also. 
Be warned, they are thicker and tougher than the pancakes you may be used to, but they are an easy way to sneak in more protein into your breakfast.
Check out this nutritious recipe here>>>
Easy Oat And Protein Pancakes
This variant uses egg whites and protein powder to make a higher protein, leaner version of pancakes. It is low in sugar and so is relevant to diabetics and prediabetics. This recipe includes uncooked oats as one of the main ingredients. They can be stored in the refrigerator and eaten anytime!
You can find a list of ingredients and cooking instructions for this recipe here>>>
Superfood Protein Pancakes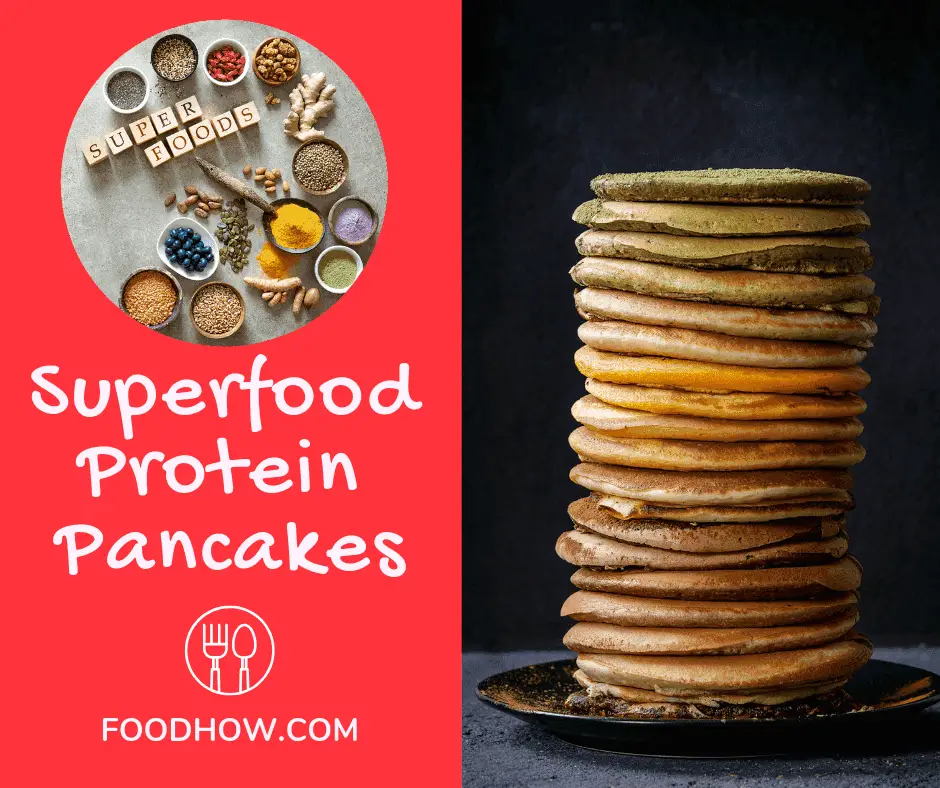 Superfoods are more popular than ever. These nutrient-dense foods that provide a host of health benefits are a must-have addition to your healthy eating regime.
While so many people are already enjoying their benefits, others may struggle to incorporate them into their daily diet. One of the great ways to add these nutrient-rich foods to your menu is by including them in your pancakes. 
There are many amazing superfoods to choose from. Here is a list of my favorite superfoods that are perfect for making Super Pancakes. So, choose one or more of these and create delicious pancakes that taste amazing and have some great health benefits.
Below are a few of my favorite superfood pancake recipes I would urge you to try out:
Matcha Protein Pancakes By Healthy Nourished Life
These contain four great superfoods, oats, eggs, spirulina, and Matcha, and are sure to give you a kickstart to your day.  Spirulina is a super green food that contains chlorophyll and gives you a burst of energy when eaten.  
Matcha powder is also a superfood that gives sustained energy and alertness.  Put these two superfoods together with traditional eggs and oats, and you've got a powerhouse of nutrition! Get the recipe here>>>
Golden Root Turmeric Protein Pancakes
Try these golden turmeric high-protein pancakes, as these are so very delicious. And turmeric has been used for centuries, not just for pancakes, but it has been used for color, and flavor, to preserve foods, and also as a remedy for so many conditions.
Turmeric is a wonder food and has been commonplace in eastern, primarily Indian kitchens for centuries.
Whoever came up with the idea to add turmeric to their pancake mix was an absolute genius. It not only gives them such a beautiful golden color but also makes them super healthy and delicious.
And as modern science knows, turmeric is one of the healthiest food herbs on the planet and has numerous medicinal benefits.
I have written an article here about turmeric and why you would never stop once you start using it. You probably won't stop making these pancakes either once you have tried them.
Get this delicious and easy-to-make recipe here>>>
Savoury Protein Pancakes
The following recipes use high-protein plant foods such as quinoa and broccoli because they are dense in protein.
The recipes contain ingredients that make the pancakes more savory and less sweet.
Savoury High Protein Quinoa Pancakes
The first recipe uses chicken, egg, and quinoa, all three high-quality proteins, and blends them together to make a supercharged protein pancake with a lot of flavors.
Check out this delicious yet different Savoury Quinoa Pancakes recipe here>>>
Broccoli Pancakes
This second one is vegan, using blended broccoli, egg-white substitute, and other plant foods that still pack a protein punch.
Get the list of ingredients and directions for this Broccoli Pancake recipe here>>>
Spinach Protein Pancakes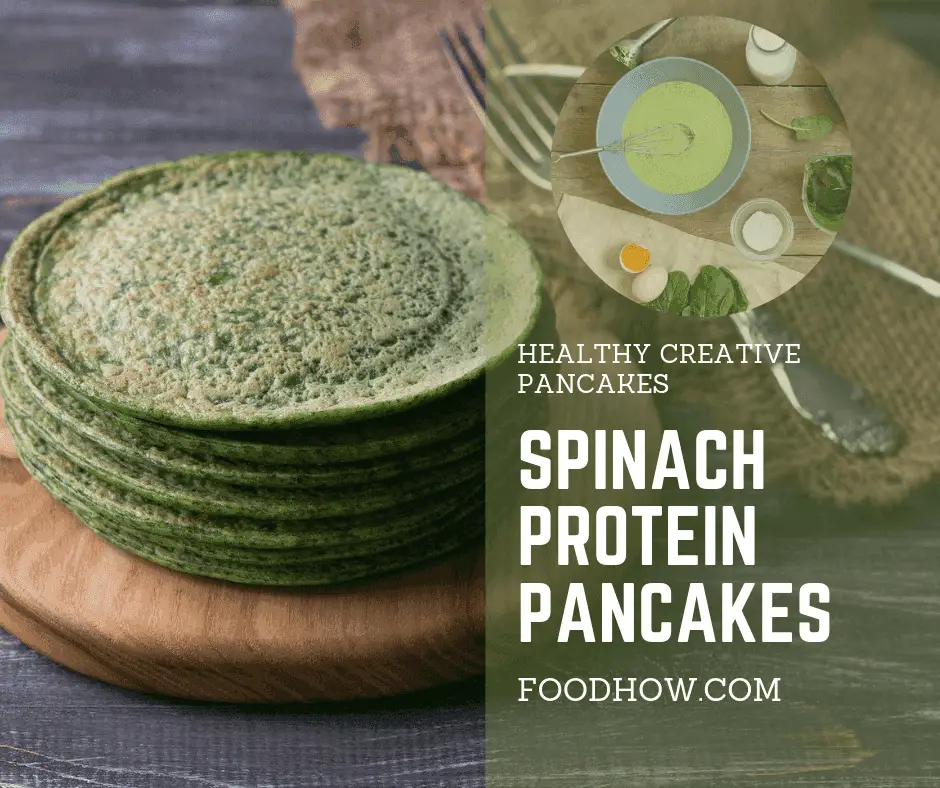 Protein And Veggies – Spinach Pancakes
This recipe is a festive green pancake considering St. Patrick's Day is coming up. It features natural, vegan ingredients like almond milk, banana, spinach, quinoa flour, protein powder, coconut flour, and even 2 large eggs thrown in.
This trendy pancake is sure to be popular with younger people who are environmentally conscious.
Get the recipe with the directions and ingredients here>>>
Spinach Banana Pancakes
This second recipe will be a hit with bodybuilders and those trying to build attractive physiques. The recipe calls for egg, spinach, oats, banana, and whey protein powder.
They are high in protein, and the writer says you can't even taste the spinach, which is true, as I have made these twice now, and I absolutely loved them.
Get the recipe here>>>
Dairy-Free Protein Powder Pancakes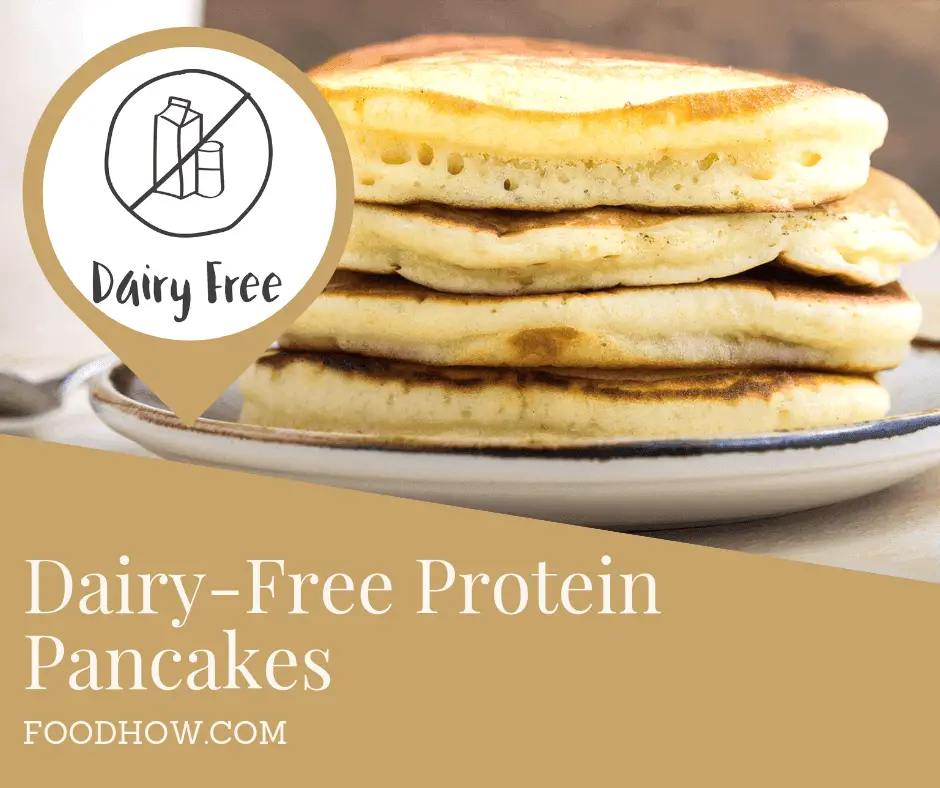 No-Dairy Protein-Packed Pancakes
Simply Whisked seems like a stylish and new website that is for the fit and fabulous. But their pancake recipe is deceptively simple. Just eggs, rolled oats, almond milk, and soy protein. Simple and easy!
You'll find a dairy-free recipe here>>>
Green Dairy-Free, Gluten-Free Protein Pancakes
The second link features a recipe that I also really like. It is a twist on the traditional; the main ingredient is chickpea flour, common in India, and also spinach, protein powder, and stevia, as well as a few minor additions.
Check out this recipe here>>>
High-Protein Gingerbread Pancakes
You don't need to wait for Christmas to try these Gingerbread Pancakes.
Healthy Ginger, Nutmeg, And Cinnamon High Protein Pancakes
These are high-protein pancakes that feature eggs and cottage cheese, but they are not boring at all. Instead, they feature a lot of different spices to kick it up a bit. The flavor and aroma are enticing, like fall in New York or a coffee shop serving up pumpkin spice lattes.
So you have it all, protein, a good quality cooking oil, and plenty of spices to impart flavor to the pancake. This may be a reader's favorite.
Learn here how to make these yummy ginger, cinnamon, and nutmeg pancakes, and find all the other ingredients here and here also>>>
Low Carb Protein Pancakes
Cutting down on carbs? No problem, you can still enjoy pancakes for breakfast. Here are a few really nice Low Carb Protein Pancake recipes for you to enjoy.
Fabulous Low-Carb Breakfast Recipes
These ones are obviously, once again, for people in fitness and in bodybuilding. Easy to make, containing whey protein powder, egg whites, clarified butter for greasing, baking powder, and stevia sweetener.
That's it. The first one is from a bodybuilding website. You know it is quality approved to pack on maximum muscle and minimum fat. 
It may not be the most flavorful of all these pancake recipes, but it gets the end result, a lean, attractive body and minimum carb intake.
Get these low-carb recipes here and here>>>
Sweet Potato Pancakes 
If you have been looking for a more creative post-workout protein meal that is really delicious yet healthy, then these Sweet Potato Pancake recipes are just for you.
Creative Post-Workout Protein Meal
There also may be a hit with all the foodies the world over. Sweet Potato is a delicious starchy vegetable, and this rendering is sweet and savory. These recipes feature a bit more labor-intensive cooking methods (compared to the other ones) but deliver a delicious and warming end result. 
Sweet potatoes are first peeled, chopped, boiled in water, then mashed, and then blended with other fine ingredients, including eggs, vanilla extract, buckwheat flour (gluten-free), and cinnamon. Then they are sautéed in coconut oil, which is one of the best for health.
I made the first one, and I really liked it, and I am planning to make the second recipe soon.
Check out these Sweet Potato recipes here and here>>>
Protein Pancakes Without Eggs
Some people are vegan or just don't like eggs for some reason.  So they invented a pancake recipe for them too.  
Nutritious, Fluffy, And Perfectly Soft Egg-Free Pancakes
The recipe from runningonrealfood.com uses flour and other traditional ingredients that may take more time but are worth it to those who don't use animal products.  
The second recipe, from rhiansrecipes.com, uses more quintessential pancake ingredients like oats, bananas, almond milk, vegan protein powder, baking soda, baking powder, and coconut oil for frying.
The extra ingredients make sure the pancakes are light and fluffy, and there is a whole list of qualities these pancakes have on the website which attracts the reader to try this vegan recipe.
Read Also: 17 Best Egg Substitutes
Cottage Cheese Protein Pancakes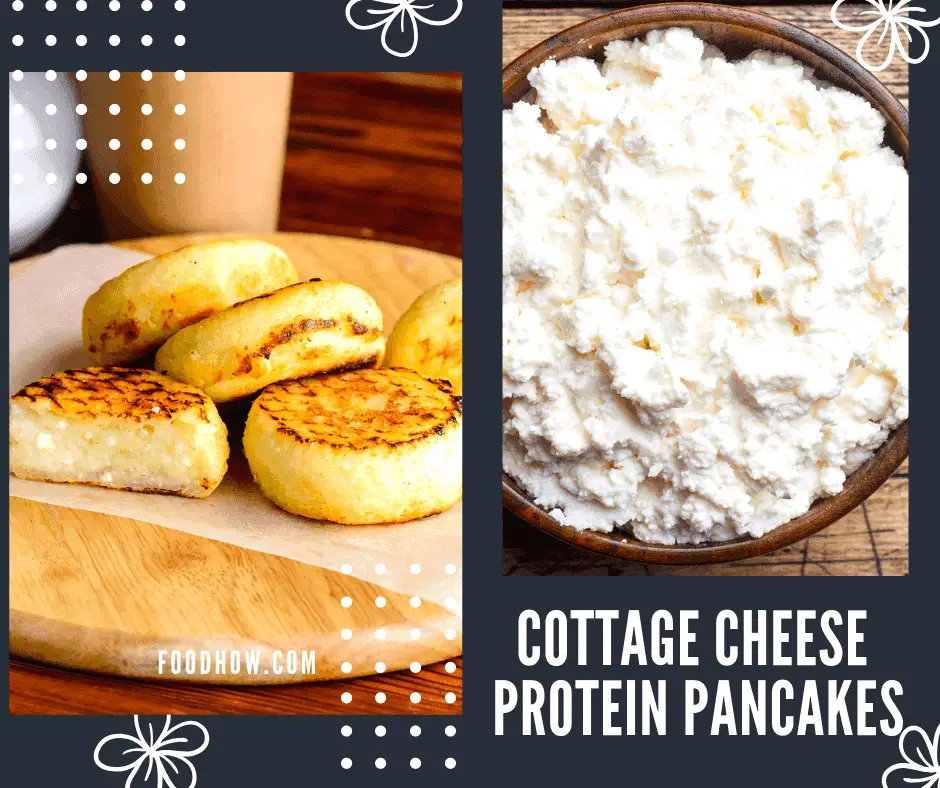 Cottage Cheese is full of protein, and it is just perfect for pancakes. Try these healthy high-protein recipes below:
How To Make Cottage Cheese Pancakes (2 recipes)
Some people like to get protein from dairy products naturally, and the best dairy product for protein is without a doubt cottage cheese. It's been popular with low-carb dieters for decades. These two recipes use cottage cheese in their pancakes.  
The first recipe is classic low carb, full of cottage cheese, eggs, and coconut flour, and cooked in butter and salt, with a few spices to liven it up. Get the recipe here>>>
The second recipe, from theworktop.com, is classic but moderate. It calls for eggs, cottage cheese, oats, and baking powder.
I also love it with added maple syrup and some ground flaxseeds for healthy Omega 3s and a teaspoon of vanilla extract for intense flavor. You should really try both of these recipes!
Chocolate Protein Pancakes
Chocolate Pancakes don't sound so healthy, but these ones actually are. Try these Chocolate Protein Pancake Recipes below.
Healthy Mummy Chocolate Protein Powder Pancake Recipe
The first recipe from healthymummy uses typical ingredients like eggs, whole flour, and milk but also uses her patented chocolate protein powder and some real cacao also. A very indulgent flavor and yet is high in protein and fit for an active lifestyle.
Big Double Chocolate Glorious Stack
The second recipe uses a whole treasure trove of ingredients to form decadent high-protein chocolate pancakes. Ingredients like eggs, oil, flour, buttermilk, bananas, and also protein powder, and a few other ingredients.
From my personal experience, I can tell you that the end result is very tasteful, but it's quite a chore to make pancakes this good.
You'll find the instruction here>>>
Fluffy Protein Pancakes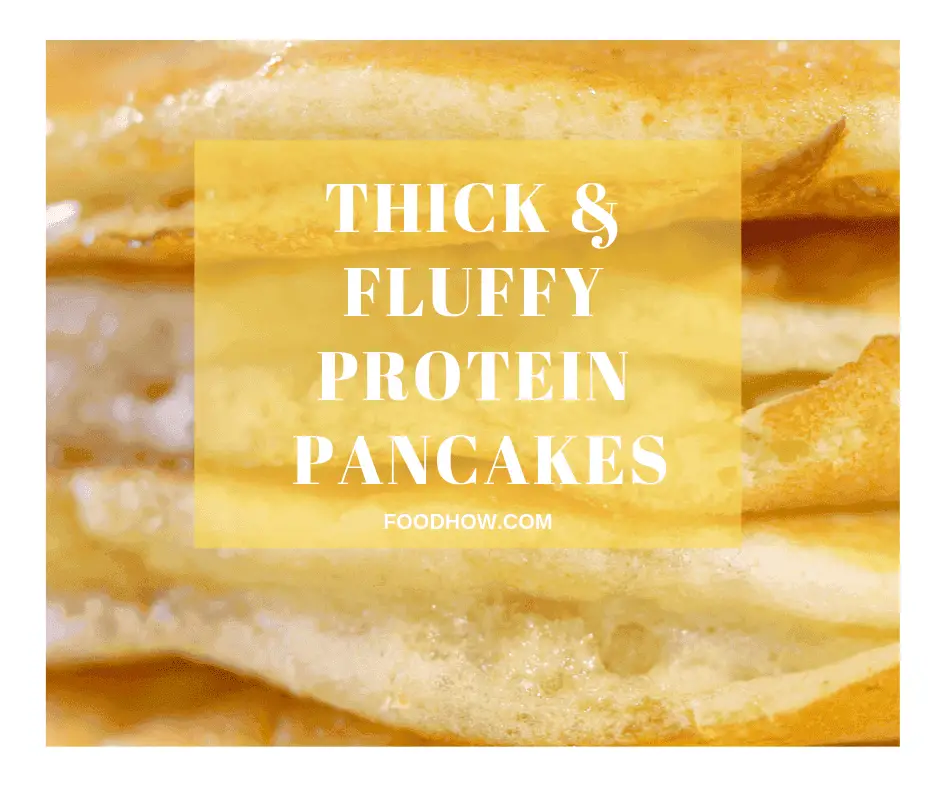 Who doesn't like thick and fluffy pancakes, especially if they are full of healthy and nutritious ingredients?
However, with all these protein pancake recipes, the problem is making them fluffy. Some of the aforementioned recipes call for cream of tartar or baking soda, or both. 
One Giant, Super Fluffy High Protein Pancake
In the first recipe, peanut butter, oat flour, and the patented SunWarrior plant protein powder give it fluff and nutrition, and the standard ingredients that include baking soda and baking powder. 
You can learn how to make this super fluffy recipe here>>>
Simple Fluffy Nut Flour Pancakes
The second recipe is really fluffy almond flour pancakes here. This recipe is much more simple, more economical, and more streamlined.
Its base is almond flour, but it also features eggs, baking powder, low-carb sweetener, and almond milk.
This recipe consists of healthy, natural ingredients and is not too complicated to have on hand at any time, whether for breakfast, lunch, or dinner.
Protein Crepes Recipes
Well, If you don't like thick and fluffy pancakes, then don't worry; I got something right for you. Try these awesome Protein Crepes Recipes below.
Easy 2 Ingredient Protein Crepes
Just as advertised, the first recipe really consists of only two ingredients, egg whites and vanilla protein powder. It is simple and straightforward, and with a little practice, could be a practical solution to the question, How to make crepes healthy?
Find the instructions here>>>
Whey Protein Crepe Recipe With Flax Seeds
The second recipe also uses egg whites and protein powder but adds a bit of complexity with almond milk, berries as a topping (a low-carb fruit), and flaxseed for fats and stevia for sweetener. Not a bad development past the first recipe, but still practical and minimalistic. 
Ingredients and directions can be found here>>>
Delicious, Healthy, And Natural Pancake Syrup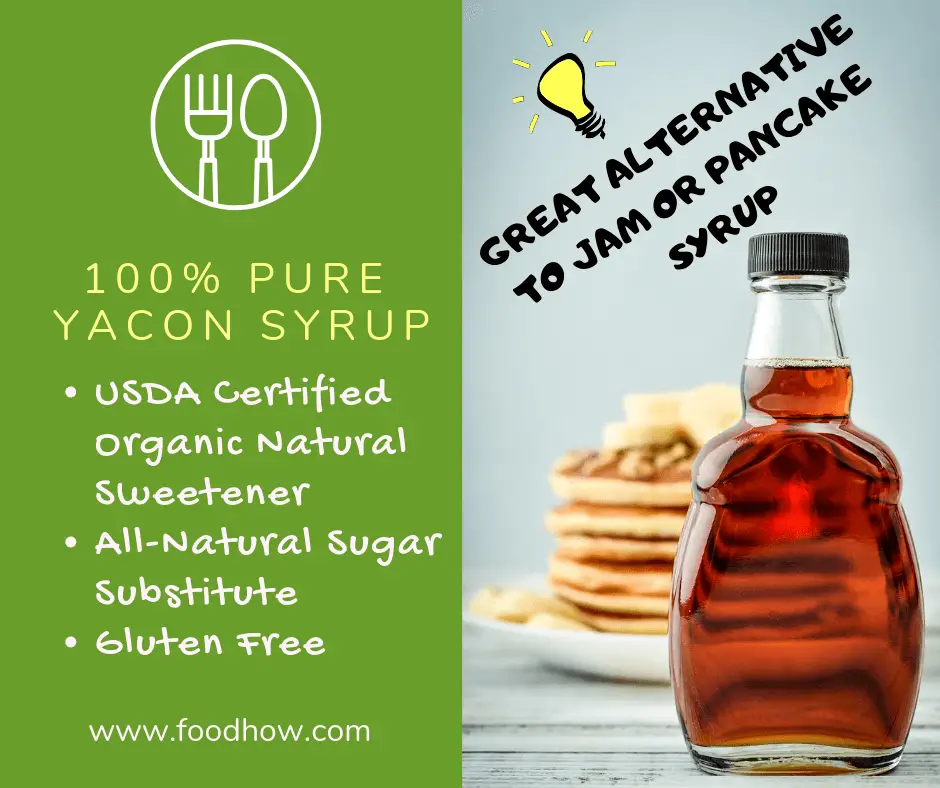 If you're avoiding sugar and also artificial sweeteners, you may find it difficult to find the right replacement for your pancake syrup. That was exactly the problem I had. I didn't want to sabotage all the effort making these healthy pancakes and then covering it with sugary syrup or jam.
So I was rotating between honey, maple syrup, and sugar-free syrup, which is not that bad but not ideal either.
As I was trying to keep my daily calories low and follow a nutritious, healthy, chemical-free lifestyle, I wanted something more suitable to enjoy my pancakes guilty free. And then, I discovered something that was absolutely perfect, a natural sweetener with a low-calorie count, delicious tastes, and prebiotic abilities.
Yacon Syrup is natural, organic, low calorie, and really healthy, I have been using it ever since. This is really the perfect option for your healthy pancakes.
You can get it here >>>
Now you know, pancakes are back. And they're reclaiming their well-deserved spot as America's favorite breakfast; because they are healthy now and so good. Cook for your loved ones; cook for you. Every day can be pancake day. Fill your house with that awesome smell, and have a great day.