If you're looking for the best tried and tested recipes for brown rice flour cookies, this delicious and comprehensive list is exactly what you need. There is certainly no missing out when you are on a gluten-free diet or searching for healthier alternative baking ingredients. Although, you do not have to be gluten-free to enjoy these delicious bakes. 
I'm on a mission to show people that just because a recipe uses gluten-free flour doesn't mean it will fall apart or taste bad. Instead, these recipes below will show how delicious and easy it can be to enjoy freshly baked cookies using no wheat flour at all. 
Before I get to the recipes, check out my own, super easy, gooey, and chewy brown rice flour cookie recipe in the video below.
I have hand-picked and baked all the recipes in this blog post, and I can vouch for their excellent texture and flavor. Of course, they all use gluten-free brown rice flour and many other nourishing ingredients.
Plus, you can even find a couple of these recipes suitable for vegans, nut-allergy sufferers, and even one of my favorite super simple 3 ingredient recipe. 
What Is Rice Flour?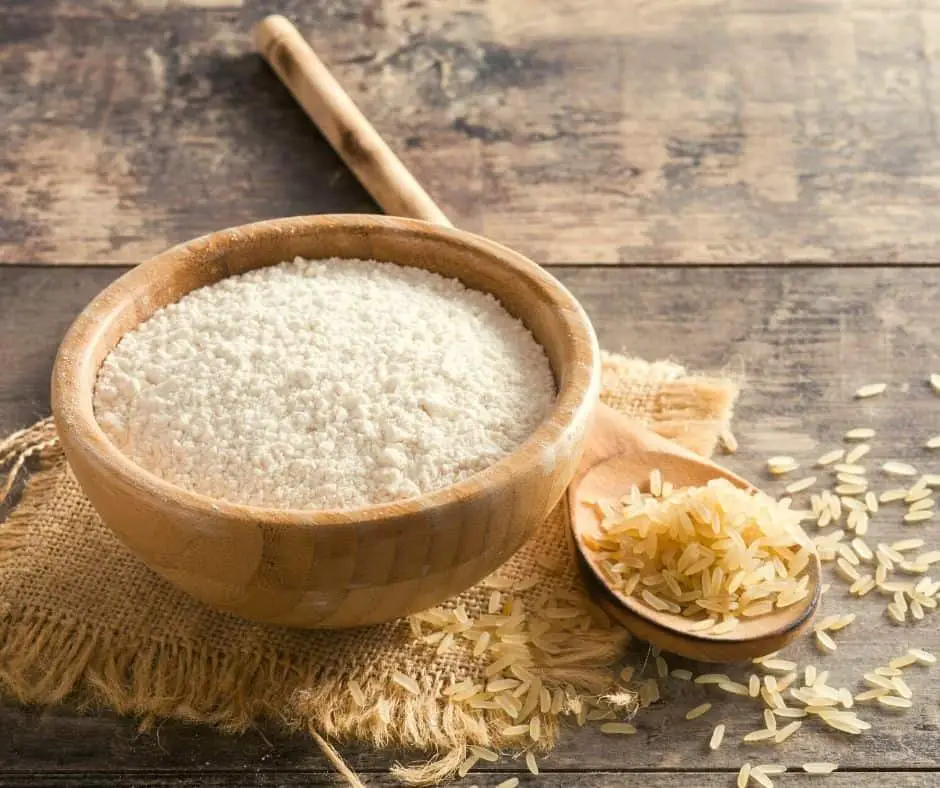 Rice flour is a common substitute for wheat flour in gluten-free baking. It is quite cheap and pretty easy to find due to the popularity of the 'free from' aisle in most supermarkets. I have been buying this locally produced Anthony's brown rice flour on Amazon below. 
TAP ON IMAGE TO VIEW PRICE
It is made from finely milled brown rice and has a mild but slightly nutty taste. Due to the texture, this non-glutinous rice flour is often used in desserts and baked goods such as macaroons, shortbread, waffles, pancakes, and many other baking recipes. 
Brown rice flour is the most commonly used rice flour and gluten-free flour substitute in baking due to its more optimal flavor and texture. 
3 Main Types Of Rice Flour:
White Rice Flour. Ground from medium-grain or long-grain white rice, great for overall gluten-free baking.
Brown Rice Flour. Grate for shortbread, cookie, and biscuit recipes.
Sweet Rice Flour. Milled from short-grain glutinous rice, aka "sticky rice. Great for making Asian desserts and dumplings and an excellent thickener for gravies and sauces.
Is Brown Rice Flour Good For Baking? 
Yes, it is a must-have for any gluten-free baker! 
Brown rice flour is a nutritious, fibrous, and affordable baking ingredient and superior thickening agent typically available in most supermarkets. Most rice flour is also neutral in flavor. This allows for the additional ingredients in your recipe to shine through in your bakes. 
However, it is worth noting that not all brands of rice flour yield the same taste. Some may have a more nutty or earthy texture which may come through in your bakes. If you find your cookies taste strongly of the rice flour, you may wish to try a different brand in the future.
Rice flour is a popular ingredient in many baking recipes. Its coarse nature adds a lovely crisp texture, which is why it works so well in cookies.
Can You Use Brown Rice Flour Instead Of All-Purpose Flour?
Yes and no. Although all flour from grains is made up of starch, protein, and fat, each flour works differently. Consequently, you have a slightly different set of basic 'rules' to abide by when baking with rice flour.
If you are attempting to swap rice flour for all-purpose flour in a recipe that is not designed to use gluten-free flour, you may run into some issues. 
For one, you can't simply swap the flours in the same quantity. This is because rice flour, by nature, doesn't absorb as much liquid. Therefore your bakes can become greasy or unduly crumbly with a gritty chew.
However, these 7 delicious recipes below for brown rice flour cookies have been created to play to the strengths of this gluten-free flour.
But before I get into the recipes, here are some helpful baking tips for using this gluten-free flour.
Tip For Baking With Brown Rice Flour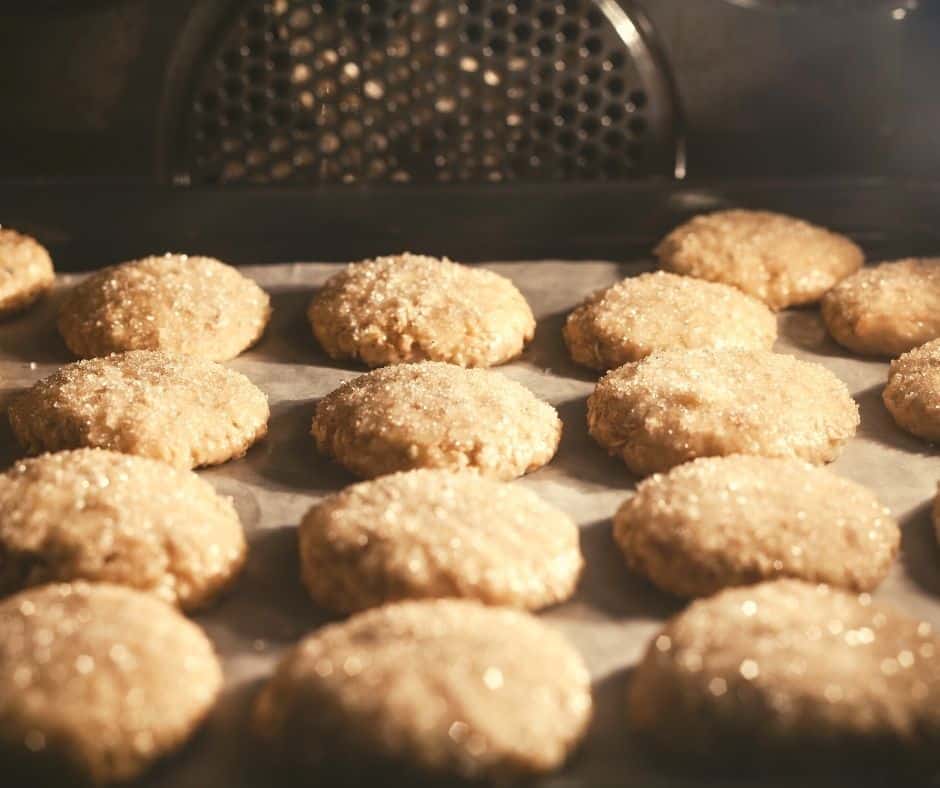 Here are my top tips for troubleshooting recipes that use gluten-free flour:
Brown rice flour won't absorb liquid and fat like all-purpose flour does. Therefore, you may find your cookie recipes more moist and greasy than you are used to. To help this, you can let your dough or batter rest for a few minutes to give the flour time to hydrate fully.
As brown rice flour contains bran, store open bags in an airtight container in the refrigerator. This keeps the oils and fat in the flour fresh. You could also store the flour in the freezer if you seldom use the flour.
Along with using chilled flour, it may also help to cool your dough in the fridge before baking. Allow 30 minutes of cooling time to improve the texture of the cookies.
Rice flour can result in the cookies turning out a little dry or crumbly. Unfortunately, this is normal. However, if you find this is regularly occurring in your baking, you might want to consider adding in ingredients to add moisture. Ideas include fruit such as apple sauce or soaked dried fruit. You may also wish to try cooking with your oven on a slightly lower heat than recommended to reduce the drying out. Another way to reduce the crumbly consistency is to use additional binding ingredients such as eggs or for a vegan alternative, try any of these 17 egg substitutes for baking.
7 Delicious Brown Rice Flour Cookies Recipes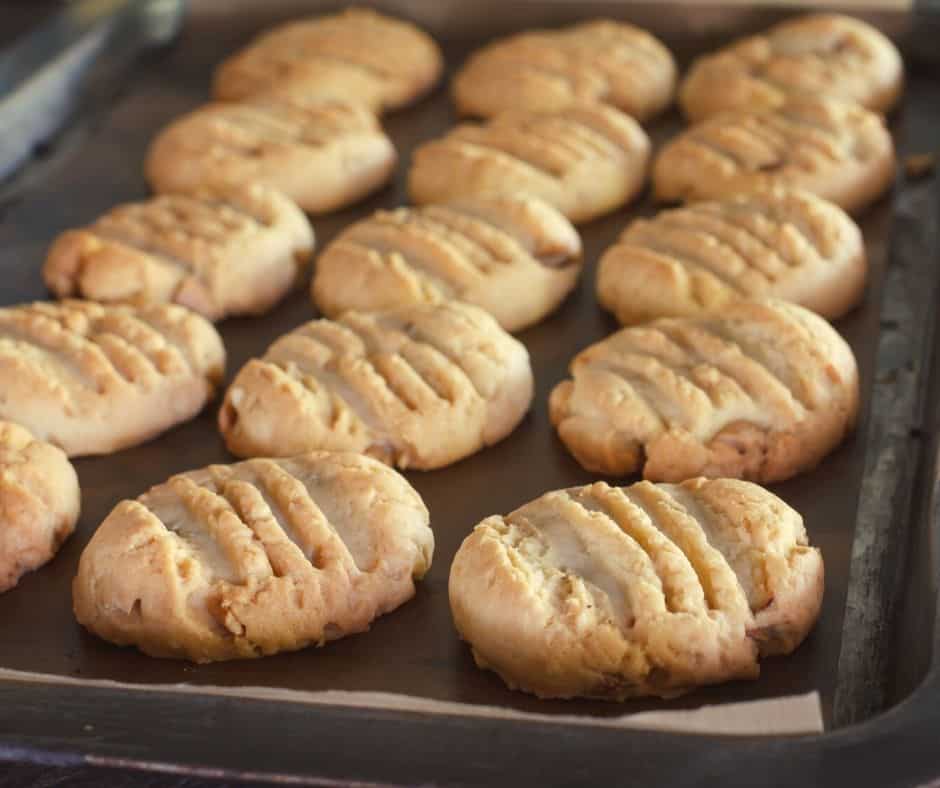 So, here are my 7 top favorite brown rice flour cookie recipes on the internet. 
1. Brown Rice Flour Chocolate Chip Cookies
Of course, I had to start this list off with my favorite recipe. You'd never even know these extra chocolatey cookies were gluten-free. 
The best part about these cookies is the ancho chili powder that enhances the chocolate flavor. Plus, if you want even more chocolate, use a mix of dark chocolate and white chocolate chunks for a triple chocolate treat. 
One substitution you could make to enhance this recipe to your taste buds is to use coconut oil instead of olive oil. You can, of course, use chocolate chips instead of chunks for a more delicate result.  
​​Gluten-Free 
10 Ingredients 
Check out the full recipe on Eat Good 4 Life. 
2. Brown Rice Flour Oatmeal Cookies
This recipe is a must-try for newbie bakers. Even though it uses 11 ingredients, it couldn't be simpler to follow. In just 30 stress-free minutes, you can pull out these crunchy, snappy, biscuity cookies from the oven. 
I love these chocolate chip cookies because the high-fiber brown rice flour, nuts, and oats will keep you full for longer. 
If you don't have egg replacement powder, you could opt for flax or chia seeds. Including these seeds will also add some healthy fats and extra protein to your bake. 
I did swap the canola oil to rice bran oil in my recipe. 
​​Gluten-Free 
​​Vegan 
11 Ingredients 
Check out the full recipe on Eggless Cooking. 
3. Vegan Shortbread Cookie Recipe 
As rice flour is an ingredient traditionally used in shortbread, it is no surprise that this vegan shortbread recipe made this list of the best brown rice flour cookies. 
The brown rice flour adds that 'snap' like texture to the cookies. However, please do not be tempted to use white or sweet rice flour, as this will not achieve that iconic crunchy shortbread texture. 
Although these biscuits are vegan, they remain buttery, with coconut oil as the primary fat contributor. 
​​Gluten-Free 
​​Vegan 
6 Ingredients 
Check out the full recipe on Rhian's Recipes. 
4. Easy Sesame Tahini Cookies With Brown Rice Flour (Only 3 Ingredients)
Imagine melt in the mouth nutritious cookies that can go from cupboard to batter to baked and ready to eat in under 20 minutes. Well, now you can make this a reality with this fool-proof recipe with only 3 ingredients: brown rice flour, tahini, and maple syrup. 
Tahini is a paste made from toasted sesame seeds ground to a paste similar to nut butter. Even if you may not have heard of tahini before, you may have tried this ingredient in hummus. 
This sesame paste is highly nutritious and is jam-packed with healthy fats, antioxidants, and essential vitamins and minerals, such as thiamin, vitamin B6, phosphorus, and manganese. 
​​Gluten-Free 
​​Vegan 
3 Ingredients 
Check out the full recipe on Sue Maree P. 
5. Classic Chewy Cookies Recipe (With Flour Substitute)
This deliciously chewy cookie recipe is a perfect example of how to substitute regular wheat flour for a gluten-free alternative.
Although most rice flour cookies are crispy and make that beautiful 'snap' sound when broken, these cookies are the perfect balance between chewy and crispy. 
You could even use raisins or cranberries instead of the chocolate as the dried fruit works well in combination with the oats and cinnamon in the batter. 
These substitutions are great for holiday baking to bring out the winter warming flavors. 
​​Gluten-Free 
11 Ingredients 
Check out the full recipe on Barefeet in the Kitchen. 
6. Old Fashioned Butterscotch Brown Rice Flour Cookies 
This recipe is for you if you prefer an old-fashioned thick and puffy cookie rather than a biscuit-like snap typical of rice flour cookies. 
As mentioned in the troubleshooting section of this post, gluten-free recipes often need additional binding ingredients. As this recipe is vegan and gluten-free, it does not use eggs but rather xanthan gum powder. This helps to prevent oil/fat separation in the mix to avoid that greasy bake. 
These cookies are sweetened with organic coconut sugar; however, I did use this natural stevia powder instead.
Best served warm from the oven or gently heated with a scoop of ice cream and vegan butterscotch or caramel sauce. 
​​Gluten-Free 
​​Vegan
9 Ingredients 
Check out the full recipe on Organic Grains. 
Read Also: 11 Delicious No-Bake Low-Carb Cookie Recipes You Must Try!
7. Gluten-Free Chocolate Chip Cookies Recipe (High Fiber)
These chewy vegan cookies made with brown rice and tapioca flour are crammed with protein, fiber, and healthy fats that anyone will enjoy. And anyone can as this recipe is suitable for many different dietary requirements, including gluten-free, vegan, and nut-free. Thus, making these a fantastic choice for catering for friends and family with allergens or dietary preferences.
The extra twist of flavor and texture from the cinnamon and psyllium husk alongside the crunch of the pumpkin seeds works perfectly against the softer melt-in-the-mouth chocolate chips.
Plus, you can make this in one bowl for minimal mess.
​​Gluten-Free 
​​Nut-Free 
​​Refined Sugar-Free
​Vegan-friendly
11 Ingredients 
High Fiber
Check out the full recipe on Moon and Spoon and Yum.