There are tons of green smoothie recipes out there that are great for weight loss, but what about a red smoothie? Beetroot is one of the most effective vegetables for increased exercise performance – and arguably the most underrated smoothie ingredient that I would like to encourage you to try out.
Beetroots and beetroot juice are known for their distinct red color and unique earthy taste; this root vegetable is not only tasty but also packs a ton of essential vitamins and minerals. 
For instance, beetroot is low in calories, high in water, nitrates, betanin, antioxidants, and folate, making it ideal for those looking to incorporate low-calorie yet nutritious foods into their diet. 
Beets are exceptionally high in Nitrates, which our body converts to Nitric Oxide. Nitric Oxide dilates the body's blood vessels, which is necessary for optimal oxygen delivery and blood flow. 

WebMD
This vegetable also contains decent amounts of protein and fiber, which promote weight loss since they help curb a person's appetite, leaving them with a sense of fullness despite not eating much. 
Here Are 11 Nourishing And Delicious Beetroot Smoothie Recipes For Weight Loss
Consuming beetroot juices and beetroot smoothies are quite a good idea if you're currently on a weight loss journey and want to liven up your current smoothie routine and turn your body into a hyper-efficient fat-burning machine
Although you can blend nearly anything into a smoothie, the key is to strike the balance of fruits, vegetables that have shown to have some fat-burning benefits.
So, here is a round-up of 11 delicious, yet effective beetroot smoothie recipes for weight loss that can turn your body into a hyper-efficient fat-burning machine.
1. Beetroot Spinach Smoothie To Get Rid Of Belly Fat
It may not seem like the most palatable drink, but trust me when I first made this Beetroot Spinach Smoothie it was so good, I couldn't wait to make some more of it! 
This recipe gives you the perfect balance of nutrients that have been shown to demonstrate weight loss benefits and all that with just minimal carbs.
Its ingredients are all easy enough to obtain and preparing it takes less than ten minutes. My little NutriBullet was perfect for the job, but any blender will do. 
This beetroot spinach smoothie also makes a great breakfast, with a single glass left me satisfied and ready to take on the day. 
The flavors of this Beetroot Spinach Smoothie were particularly mouth-watering, and I especially love the pops of rhubarb, turmeric, and ginger that really elevate its taste. 
Finally, the black pepper. It may seem like an unusual ingredient to add to your smoothie but black pepper not only helps lower your cholesterol levels but piperine, which is the active ingredient in black pepper is shown to boost the absorption of nutrients like curcumin. (Don't worry, it won't ruin the taste).
Read more here Why Piperine And Turmeric Is Such A Powerful Blend!
I'm not going to lie – this is becoming one of my favorite go-to breakfasts! 
Ingredients: 
Raspberries
Spinach leaves
Half an avocado
Thumb of ginger
Thumb of turmeric
Small cucumber
One medium beetroot
Handful of frozen rhubarb
Pinch of black pepper
Check out this Beetroot Spinach Smoothie recipe on my YouTube channel here.
2. Pre-Workout Beetroot Smoothie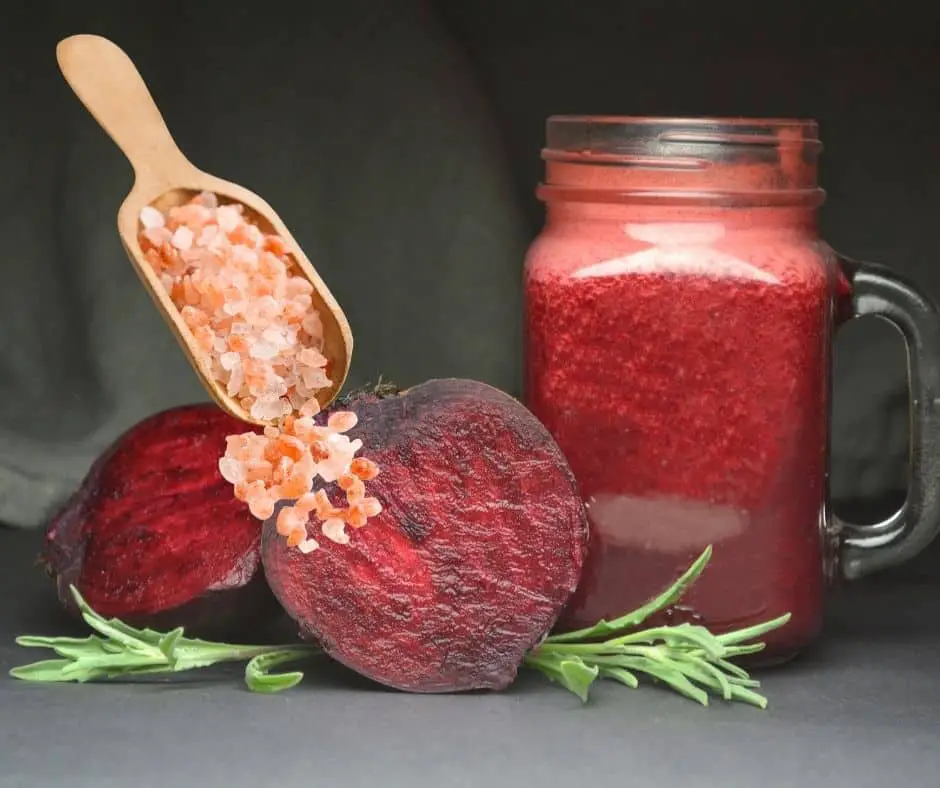 Like many others, I'm always on the lookout for foods and healthy recipes that will leave me feeling powerful enough and stimulate my brain and mental sharpness to take on the most challenging workouts and provide my body with the nutrients to do so. 
This Pre-Workout Beetroot Smoothie didn't disappoint! Its variety of ingredients are known for their nutritional properties that cleansed my body while boosting my energy levels and enabling me to take on the day's challenges with ease. 
What is really great about this recipe is that it includes Himalayan pink salt. You may think why would anyone wants to add salt in their smoothie, but it actually has a very valid purpose.
Himalayan pink salt help balance electrolytes in your body, which supports your muscles, helps with nerve and muscle function, hydration, etc.
During a heavy workout with a lot of sweating or when doing an extended fast, our body loses a lot of electrolytes, and Himalayan pink salt will provide you with potassium and calcium, the two other most important electrolytes.
Check out how I make my own zero-carb and zero-calorie electrolyte powder that contains the vital minerals that our body needs and is perfect for fasting and weight loss. 
The drink also contains a small yet welcome hit of caffeine from green tea. 
Besides its energizing properties, the flavors of this Pre-Workout Beetroot Smoothie were also something that I fell in love with. 
The combination of sweet and nutty flavors was the perfect pick-me-up in the morning, and I can honestly see myself enjoying a glass of this smoothie over my regular pre-workout powder. 
If you are about to do a challenging workout out or just need a pick-me-up in the morning, this recipe will give you a natural boost in energy.
Ingredients: 
Beetroot or Beetroot Powder
Raw Pine Pollen Powder
Frozen or Fresh Strawberries
Yerba Mate
Green Tea
Check out this Pre-Workout Beetroot Smoothie recipe from Wild Warrior Nutrition. 
3. High Protein Beetroot Smoothie For Weight-Loss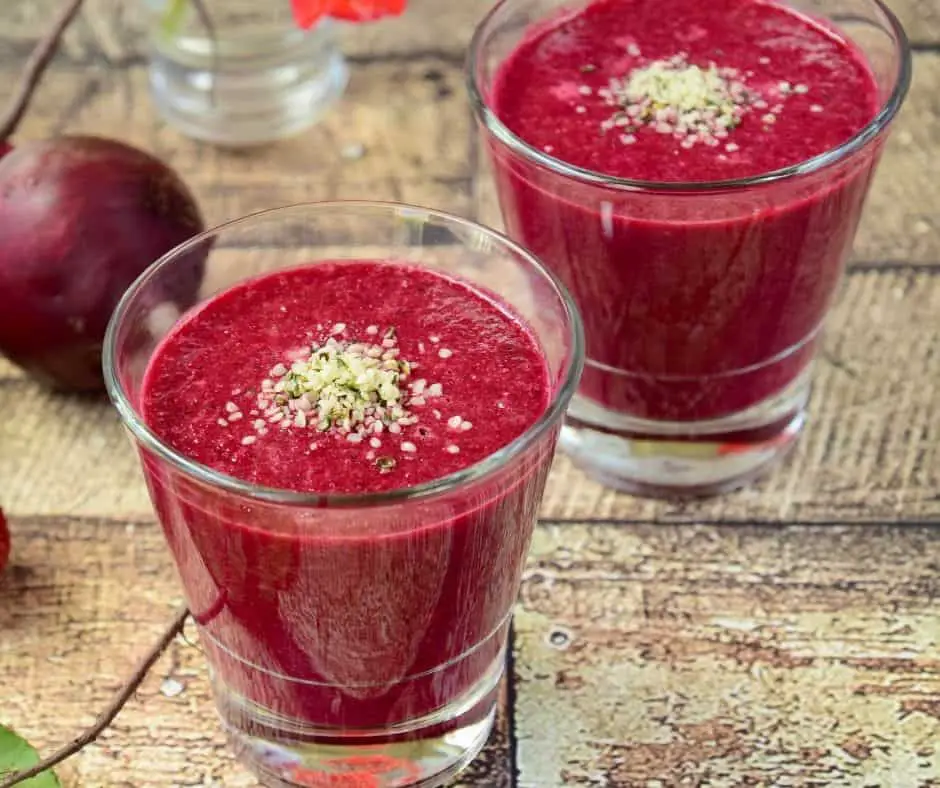 Who doesn't love chocolate? So when I saw that this High-Protein Beetroot Smoothie makes use of chocolate-flavored protein powder, I knew that I just had to try it out! Also, this unorthodox flavor combination seemed quite intriguing to me. 
After weeks of drinking nothing but this for breakfast, I can honestly say that this delivers on its promise of a beverage packed with flavor and nutrients.
At a mere 400 calories and 35 grams of protein, this beverage is also perfect for those trying to shed some weight while maintaining their muscle mass. 
In addition to the nutritional properties of beetroot, the inclusion of protein powder makes it a great post-workout shake for anyone who is into exercise and fitness. 
If you don't want to use whey protein, then check out these 10 great plant-based protein sources that work really well with this recipe.
The hemp seeds are also a great source of protein and omega fatty acids, both of which play a crucial role in helping you lead a healthier lifestyle, gain some muscle, and stay toned. 
While the final product may not appear as vibrant as the others I've included this recipe on the list because this High-Protein Beetroot Smoothie is definitely worth trying out.  
Ingredients: 
Beetroot
Baby Kale
Frozen Blueberries
Frozen Banana
Chocolate Protein Powder
Cinnamon
Unsweetened Almond Milk
Shelled Hemp Seeds
Check out this High-Protein Beetroot Smoothie recipe from POPSUGAR Fitness UK. 
4. Beetroot And Carrot Smoothie For Weight Loss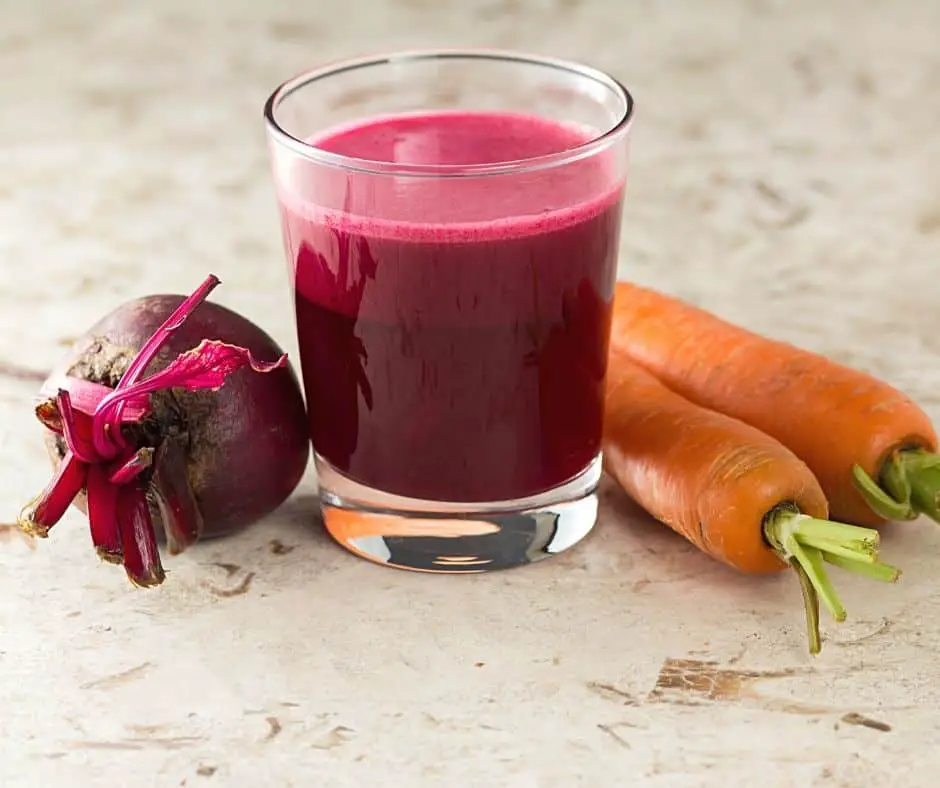 Full disclosure – I'm not the biggest fan of carrots, but when I saw this recipe for a Beetroot Carrot Smoothie, I was so down to try it, mainly because I was sure that the addition of ginger and spinach would take its flavor to a whole new level. 
And boy, was I right! This drink was so bright and exciting that I felt instantly refreshed after drinking it, despite the hot and humid weather we currently have going on. I've only done this recipe with pears, and while I love its taste, I can't wait to try it with apples.  
The phenomenal taste of this Beetroot Carrot Smoothie is just one of the many reasons why I'm in love with it. For one thing, I am pretty positive that it delivers on its promise of helping with weight loss. After drinking it, I noticed that I felt lighter and less bloated, but I am not discounting my twice-weekly high-intensity boot camp here. 
I also felt very satisfied afterward, despite it being the only thing that I had for breakfast. Without a doubt, those of you on a weight loss journey like I am should give this recipe a chance. 
Ingredients: 
Beetroot
Carrot
Spinach
Apple
Pear
Ginger 
Check out this Beetroot Carrot Smoothie recipe from Wendy's Way to Health. 
5. Weight Reduction Berry Beet Smoothie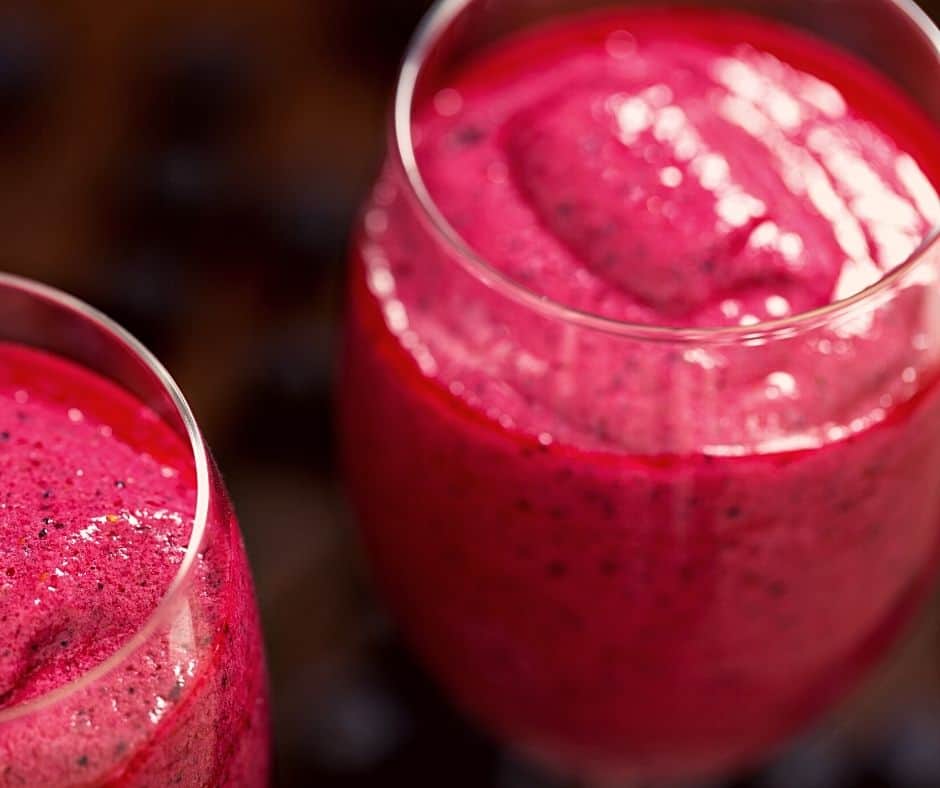 No matter what kind they are, berries are my absolute favorite summer treat, so you can imagine my excitement when I learned about this recipe!
The beetroot's subtle earthy flavor, the distinct sour notes of the blackberries, and the sweetness of the really ripe bananas all made for a mouth-watering combination that had my taste buds begging for more. 
This Berry Beet Smoothie isn't just delicious, but it's incredibly nutritious too. In particular, it contains a ton of antioxidants and liver-cleansing nutrients that help reduce inflammation while simultaneously promoting weight loss. 
Maybe it was just in my mind, but my body felt lighter and "cleaner" after trying it out for few days. I highly recommend this recipe, especially for those looking to get some extra protein! 
Ingredients: 
Beetroot
Frozen Blackberries
Banana
Coconut Yogurt
Walnuts
Almonds
Almond Milk
Check out this Berry Beet Smoothie recipe from Amber's Natural Nutrition. 
6. 5 Ingredient Slimming Banana Beet Smoothie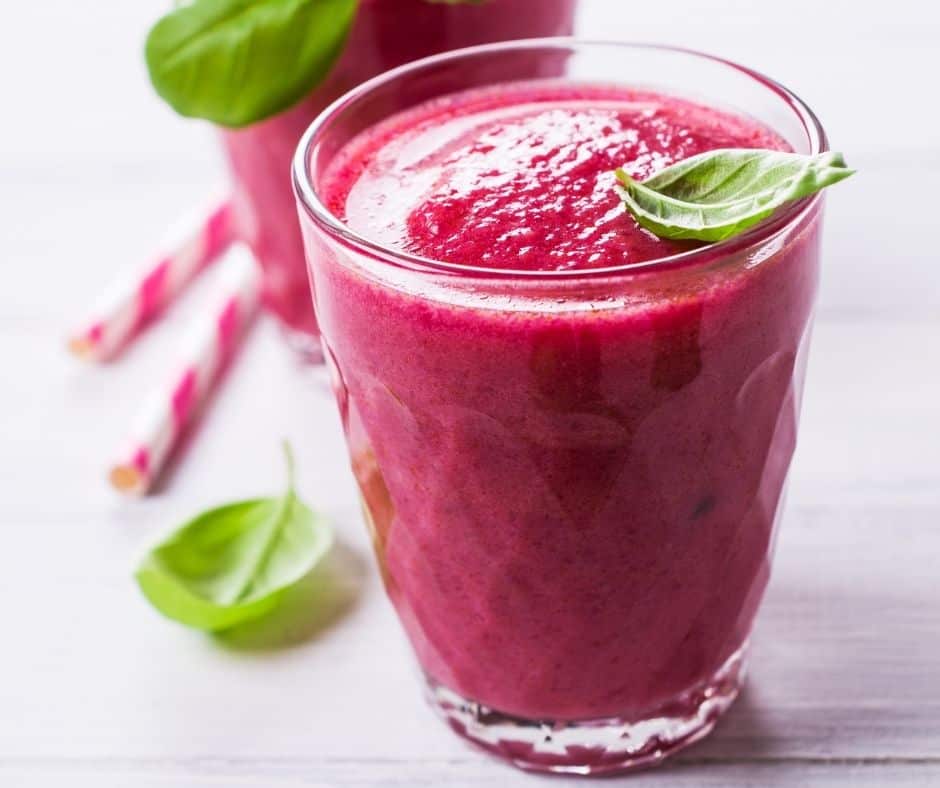 Incredibly creamy with deliciously sweet notes, this Beet Banana Smoothie was the perfect way to start my morning. 
All its ingredients balanced out the earthy flavor of the beetroot; for instance, the banana was a nice contrast to the vegetable's natural bitterness while celery toned it down. Both the milk and yogurt also made the drink very filling, giving me enough fuel to last until lunchtime. 
In addition to the beetroot, this smoothie recipe also calls for other ingredients that make it deliciously thicker and add even more benefits. 
For example, bananas contain large amounts of fiber and potassium, which help speed up metabolism, while celery is known to help reduce bloating, thanks to its high percentage of water and electrolytes.  
I also added some frozen rhubarb to the mix because I had quite a lot of it left over from the last rhubarb season, and it worked surprisingly well. 
Ingredients: 
Beetroot
Banana
Celery
Milk
Yogurt
Honey
Check out this Beet Banana Smoothie recipe from Whisk Affair.
7. Detox Beetroot Smoothie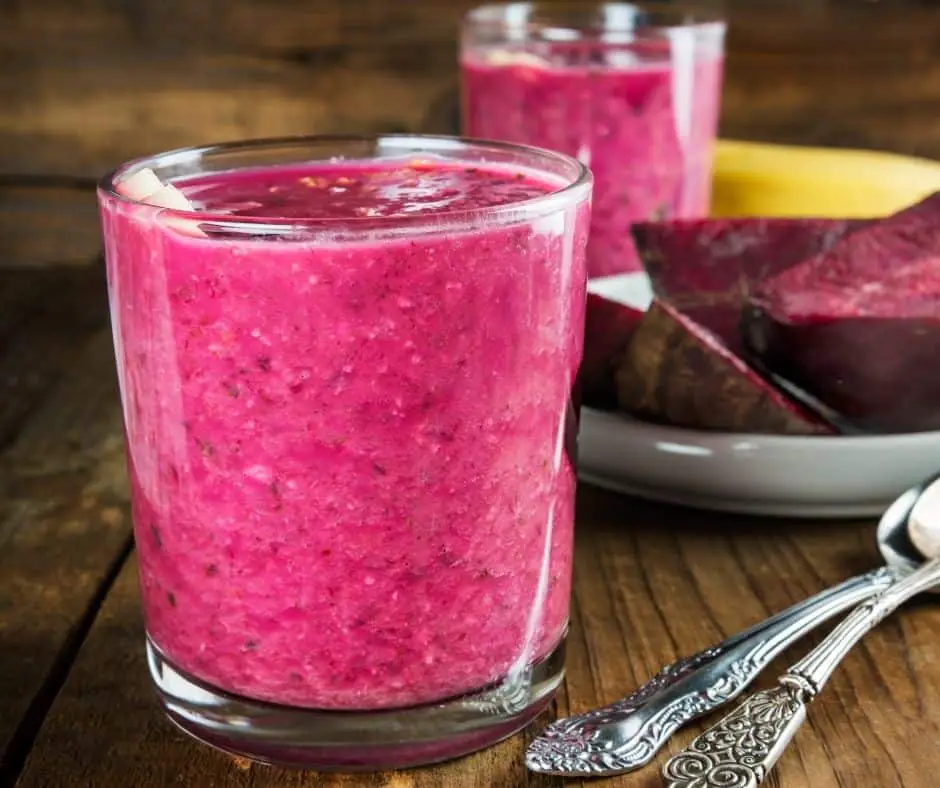 Another perfect combination of beetroot and berries, this Detox Beetroot Smoothie uses the tasty root vegetable alongside strawberries and bananas, making for a bright and fruity drink that was instantly refreshing.
I also loved the detoxifying properties with my own addition of Spirulina to the blend.
While the vibrant flavors of this Detox Beetroot Smoothie make it the perfect on-the-go breakfast, I also liked having it as an afternoon snack, especially whenever the temperatures soared so high that I felt like my insides needed cooling off too. 
According to the recipe, it can also be frozen into popsicles, which I'm so excited to try out. 
Ingredients: 
Beetroot
Frozen Strawberries
Frozen Banana
Apple Juice
Mint
Shredded Coconut 
Check out this Detox Beetroot Smoothie recipe from Minimalist Baker. 
8. Fat Burning Raw Beet And Ginger Smoothie
One of my top favorite beetroot-based smoothies so far, this Raw Beetroot and Ginger Smoothie had layer upon layer of flavor. 
The vegetable's earthy and slightly bitter notes went perfectly with the tartness of the apple and the distinct spicy taste that only comes from fresh ginger. 
It wasn't as light as the other recipes that I've tried out; however, it was definitely still packed with flavor and left me feeling full and satisfied.
The nutritional benefits of this Raw Beetroot and Ginger Smoothie are unparalleled. Not only does it boost energy levels, but it also detoxifies the liver, increases blood circulation, and improves muscular function among other things. 
All these promote weight loss too, which is undoubtedly appealing for all those trying to slim down. 
Ginger, in particular, has also been proven to be effective at cleaning the liver and colon from nasty toxins, ensuring that only healthy nutrients are left in your body. 
Ingredients: 
Beetroot
Organic Apples
Lemon Juice
Ginger
Cucumber
Chilled Coconut Water
Spinach or Kale or Beet Greens
Stevia or Honey
Check out this Beetroot and Ginger Smoothie recipe from Just Beet It. 
9. Low-Carb Beet Smoothie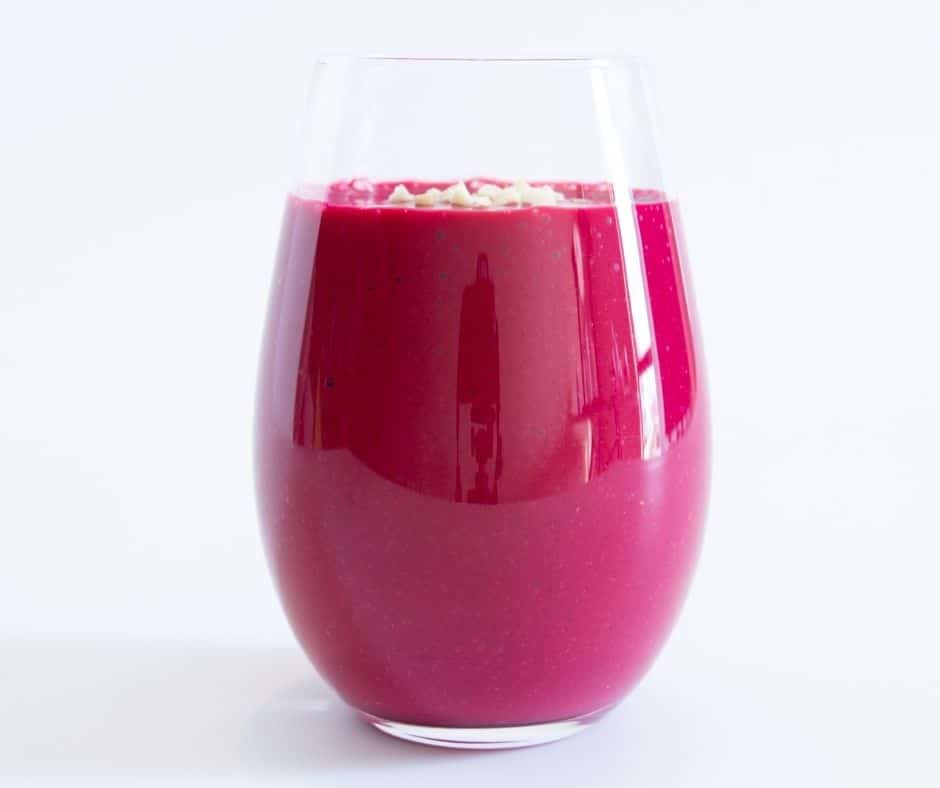 If you're sticking to a strict low-carb lifestyle, then this Low-Carb Beet Smoothie should be a staple in your kitchen. 
A delicious blend of healthy fats and tasty vegetables, this drink is made for the perfect breakfast, allowing you to power through your day with ease. 
While the recipe calls for Xylitol and Coconut Oil, both ingredients can be swapped out for stevia and MCT Oil, respectively. I have to say, though – I love the sweetness of stevia a lot more, so I'm not too keen on start using Xylitol. However, both of them are keto-friendly. 
Regardless of my personal preferences, this Low-Carb Beet Smoothie is worth trying out, and I highly recommend that you do so! 
Ingredients: 
Beetroot
Xylitol
Celery
Cucumber
Coconut Oil
Almond Milk 
Check out this Low-Carb Beet Smoothie recipe from Carb Manager. 
10. Easy Keto-Friendly Avocado Beet Smoothie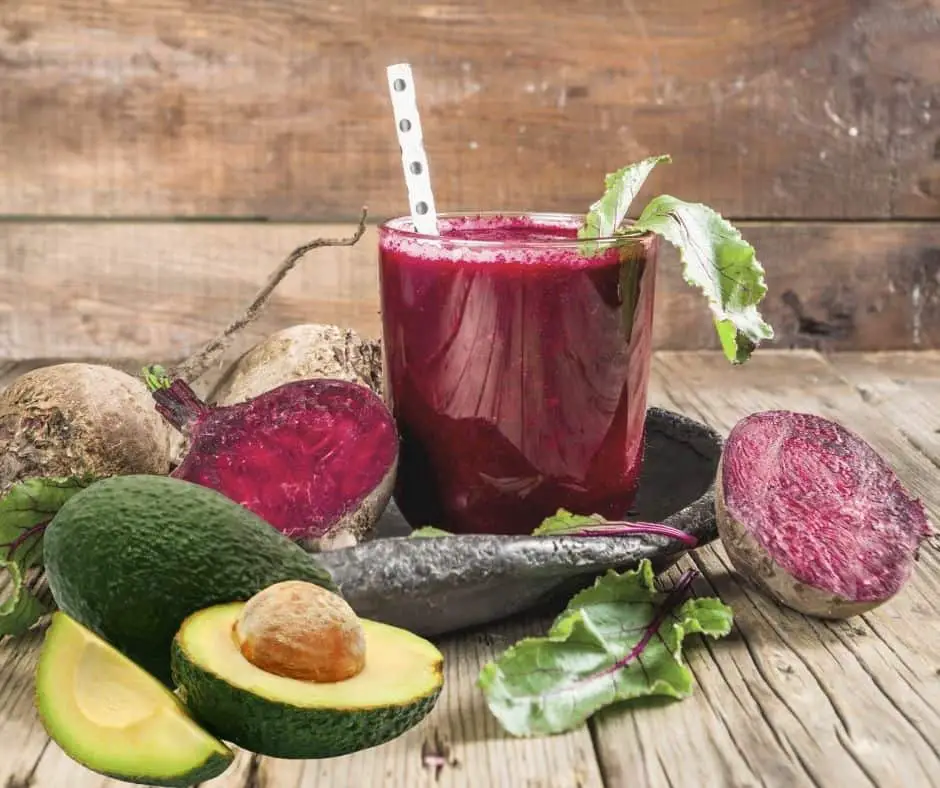 Those on the keto diet or following a low-carb lifestyle can enjoy the delicious and refreshing taste of beetroot-based smoothies too. 
Thanks to its blend of creamy, bright, and fruity flavors, this recipe for a Keto-Friendly Avocado Beet Smoothie is certainly included in my weekly smoothie rotation. 
The end result looked absolutely beautiful too, with the marbled effect of having the avocado part sandwiched between the distinct reddish-pinkish shade of the root vegetable. 
Keep in mind that this keto smoothie is far from sweet; however, if you aren't a big fan of its original nutty and earthy flavor, then you can opt to add sweeteners or other fruits, like raspberries and strawberries. 
I haven't done this yet because I love the combined taste of avocado and beetroot and trying to keep the carbs to a minimum, but I'm looking forward to experimenting with some other ingredients soon. 
Ingredients: 
Beetroot
Avocado
Unsweetened Vanilla Almond Milk
Shelled Hemp Seeds
Check out this Keto-Friendly Avocado Beet Smoothie recipe from A Girl Called Adri. 
11. Fat Buring Green Tea Beetroot Smoothie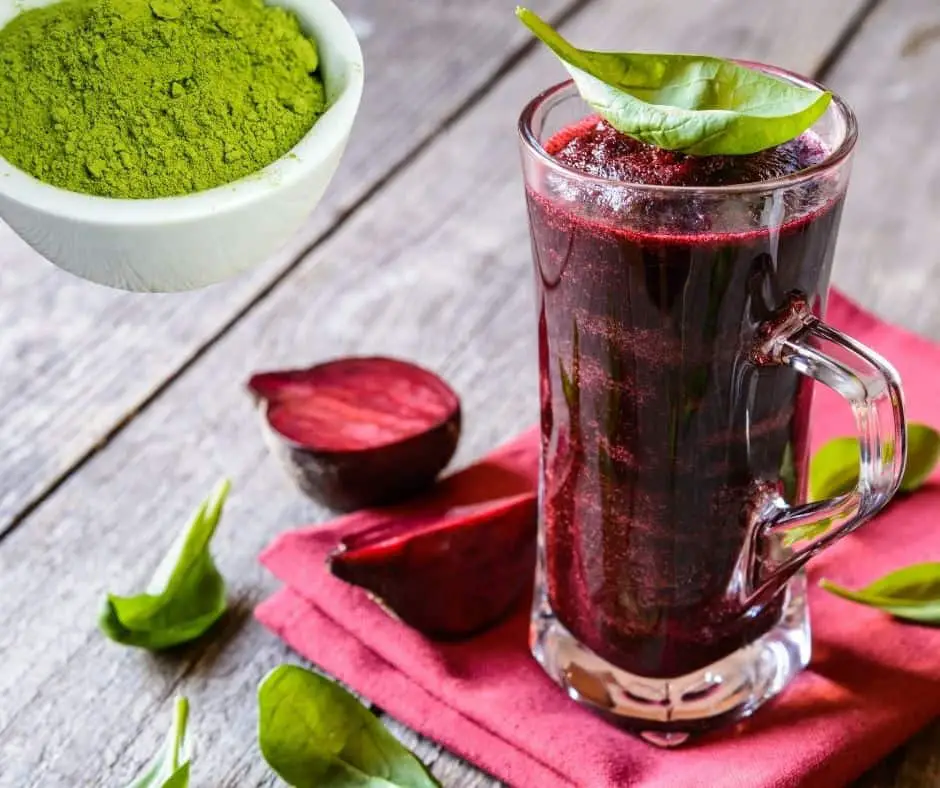 Matcha and Spirulina are both known for having flavors so unique that people will either love them or hate them, with no in-between. 
Fortunately, I'm part of the group that can't get enough of their taste, which is why I was so excited to try this Green Tea Beetroot Smoothie. It honestly didn't disappoint and made for the perfect on-the-go energizing and detoxifying breakfast.
There are a ton of nutritional benefits to enjoying this Green Tea Beetroot Smoothie.
For one thing, green tea, especially matcha green tea, helps speed up metabolism and boost the body's fat-burning process. That is why green tea extract is such a popular workout supplement among bodybuilders, figure competitors, runners, and others looking to shed some pounds and stay lean.
Spirulina also promotes weight loss through detox, with those who regularly consume it showing an improved body mass index (BMI) after just three months. 
If you're looking for a tasty and nutritious way to slim down, then this recipe is for you!
Ingredients: 
Beetroot
Frozen Blueberries
Kale, Coconut Water
Lemon Juice
Matcha Powder
Spirulina Powder
Check out this Green Tea Beetroot Smoothie recipe from Love Beets. 
Related Article: 9 Best Health And Weight Loss Blogs For Information And Inspiration