There is a vast selection of store-bought frostings you can choose from, maybe even too many. Whether you are coating a cake or decorating cupcakes, this ready-made thick, fluffy mixture from a tub can save your day. 
Popular store-bought brands like Betty Crocker buttercream and cream cheese frosting and Duncan Hines creamy vanilla or Pillsbury supreme chocolate frosting can give you a rich and beautifully finished cake, but unfortunately, not all canned frosting is created equal.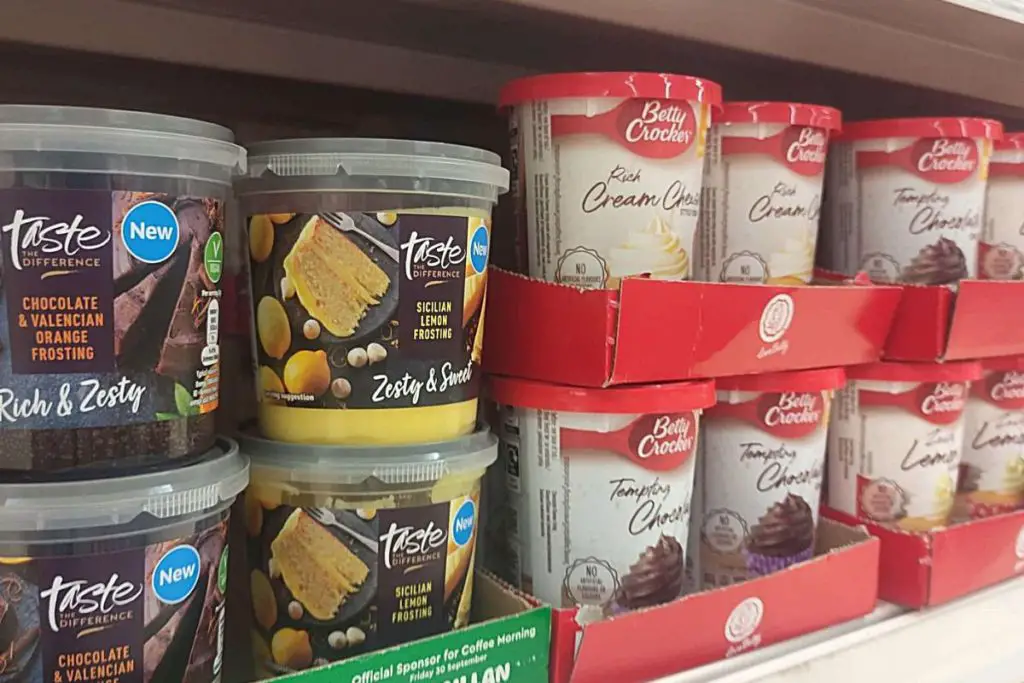 Some are too sweet or overly gritty, and some can be sloppy or wet-looking or just a little too hard or too soft to all-out artificial tasting.
But don't worry; here are some clever tips and tricks on how to make store-bought frosting better and make it your own.
12 Ways To Make Canned Frosting Look And Taste Good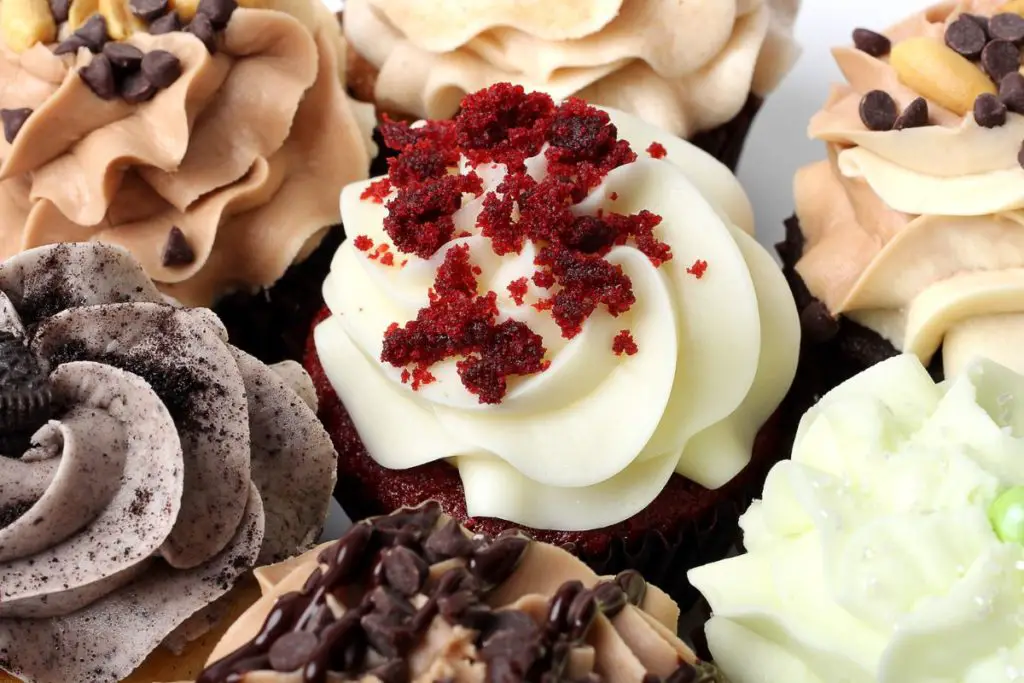 Depending on the brand, store-bought frostings have different ingredients and consistencies. To improve the taste of the frosting you have, you'll sometime just have to experiment and find what works and what doesn't.
Having said that, here are some tried and tested ways to make your canned frosting taste better and even more like homemade.
1. Add A Pinch Of Salt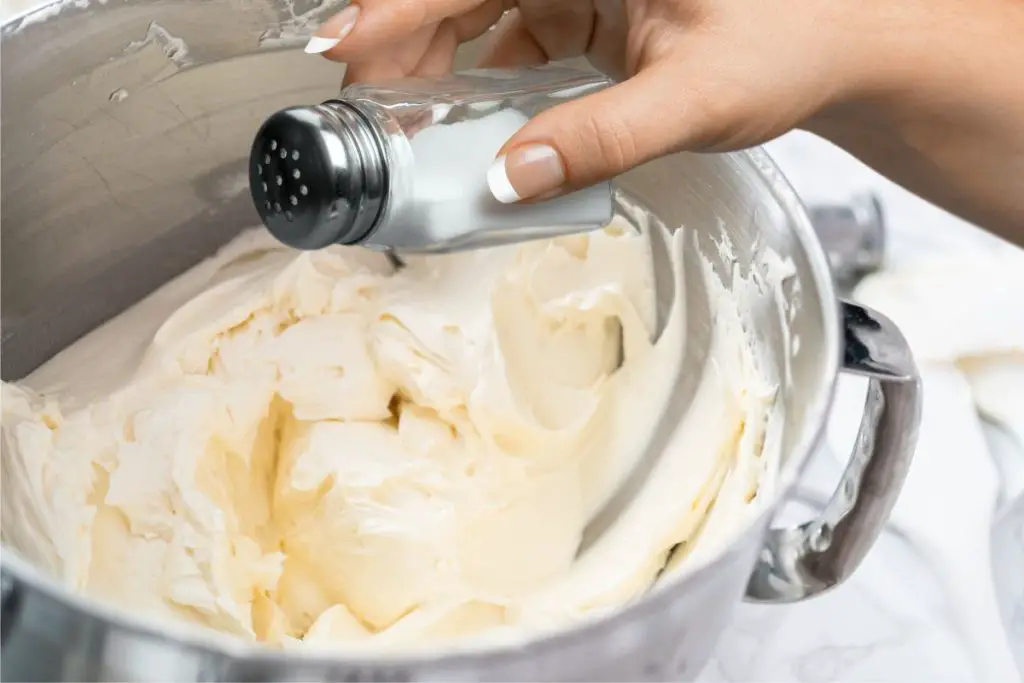 Canned store-bought frostings are often packed with sugar and are overly sweet. To make them less sweet, add a pinch of salt. Adding a tiny pinch of salt can also help boost the flavors of other ingredients like chocolate, butter, and vanilla, giving the frosting some depth and making the flavors pop.
Just be careful when using this hack; start adding just a tiny pinch and add more as you taste and mix. If you add too much salt, there is no turning back. 
2. Whip It Well
Canned frostings are denser and thicker than homemade ones, which makes them tough to spread or squeeze through the piping bag! To make it more fluffy, light, and smooth, the easiest thing to do is to whip it. 
Just scoop it out of the tub and into a mixing bowl and whip it for two to three minutes using a spatula or an electric mixer. But, be careful not to overmix. Overbeating could make the frosting split, runny, or too airy. 
3. Add Some Citrus Juice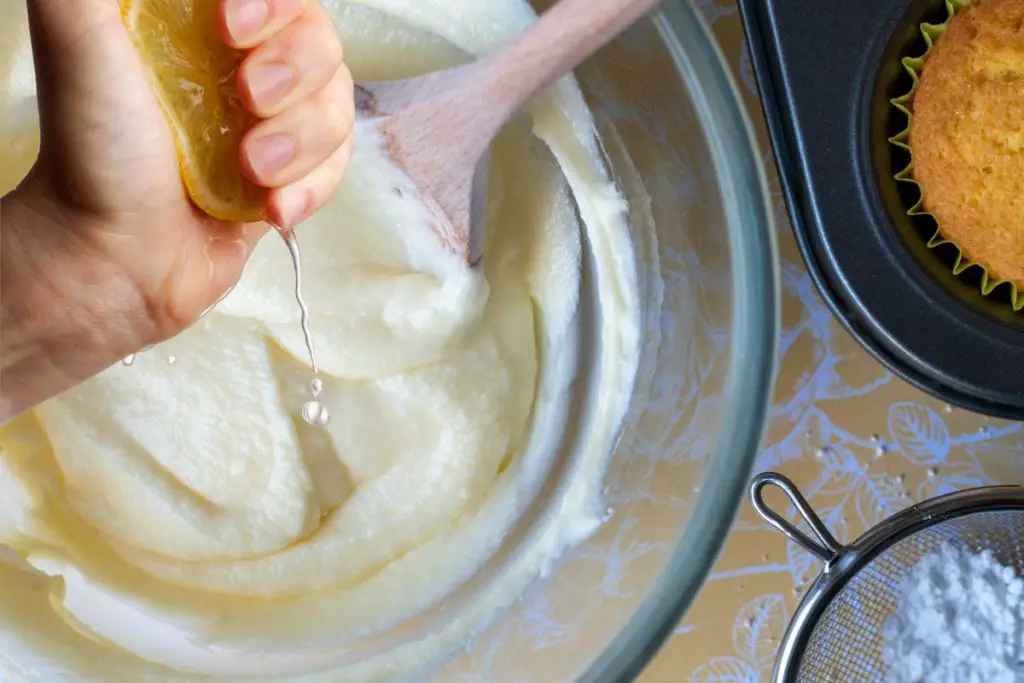 If you want some tart and citrusy flavor, you can add citrus juice to your canned frosting. Depending on what you like, you can use orange, lemon, or lime juice. Concentrated and freshly squeezed, both work well.
If the frosting becomes watery after adding the juice, you can add some powdered sugar. The sugar will thicken the frosting and also avoid making it too sour.
4. Mix In Some Whipped Cream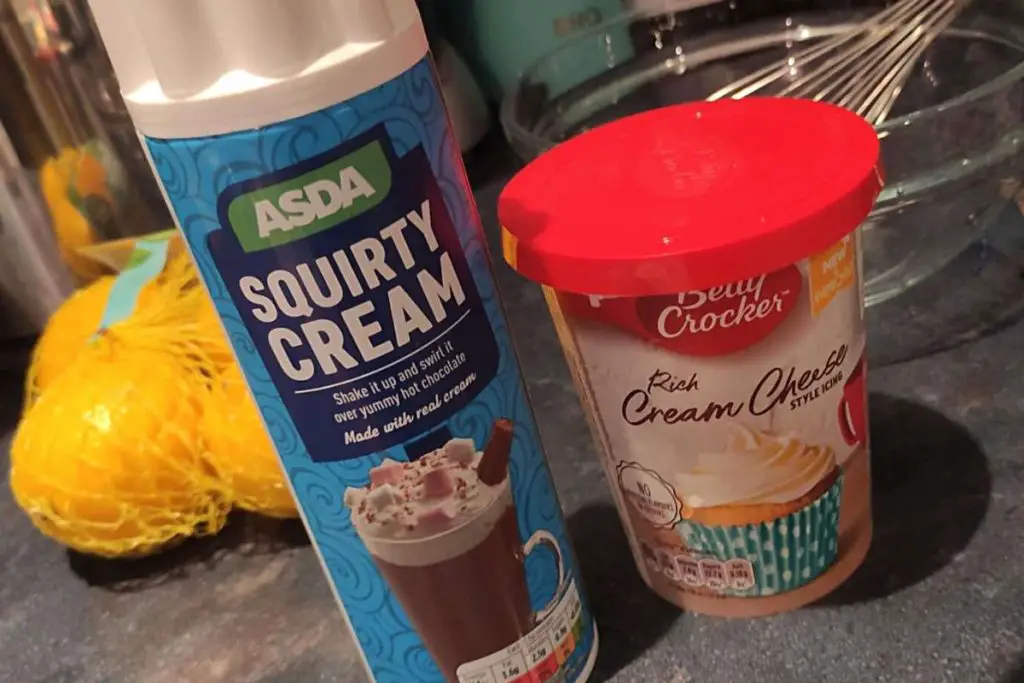 Adding some whipped cream is another way to make your store-bought frosting fluffier, and for the best results, you may need to add equal parts of whipped cream with the frosting.
You can use homemade whipped cream, but the store-bought canned whipped cream or Cool Whip works as well. Just keep in mind that canned whipped creams can have a very thick texture. Thus, if you use them, you could be making the frosting too dense or sometimes too watery.
If you don't have whipped cream or you want to avoid dairy, you can use any of these 12 whipped cream substitutes here.
Similar to the other addition above, just keep adding and mixing it in very gradually so you would have better control of the texture you want to achieve.
5. Add Cream Cheese To Your Canned Frosting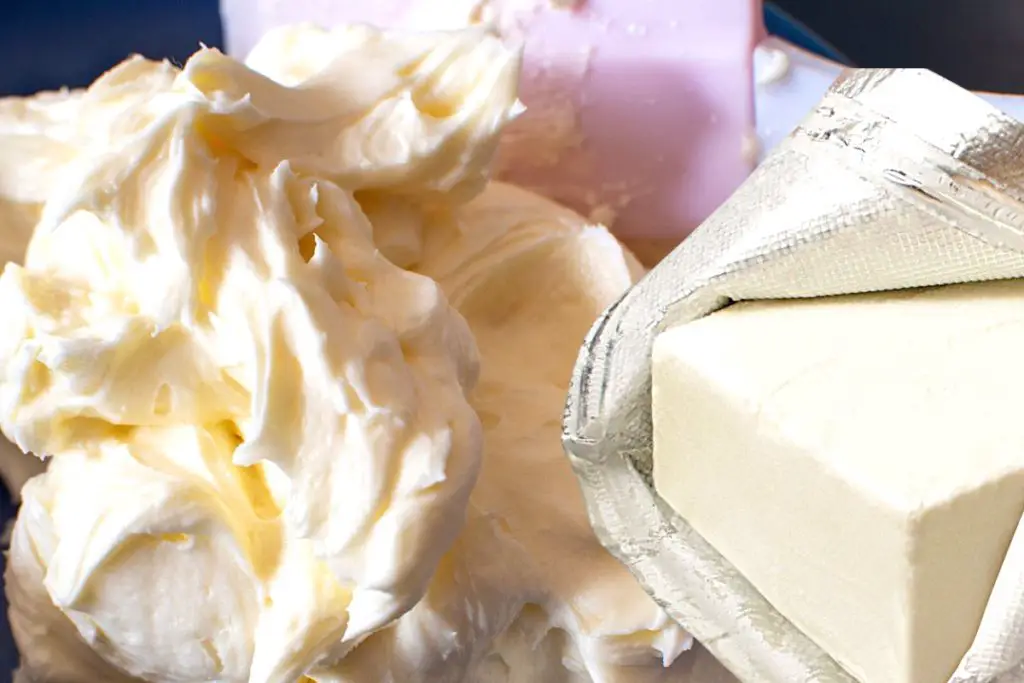 Cream cheese does two things; first, it adds a creamy density and rich texture to your frosting, and on the other hand, it introduces an extra bit of sourness and makes the frosting less bland.
For every 16 oz (2 cups) of frosting, add about 4 oz (half a cup) of chilled cream cheese and slowly keep mixing. Gradually add more cream cheese if needed.
Moreover, if you don't like the taste of cheese in your frosting, you can add a drop of pure vanilla extract to mask the taste.
Similar to adding whipped cream, adding cream cheese will help you extend the frosting a bit if you think you just don't have quite enough to cover all the cupcakes you made.
Do keep in mind that after adding cream cheese, you need to store the frosting and the cake in a refrigerator.
6. Add Some Food Coloring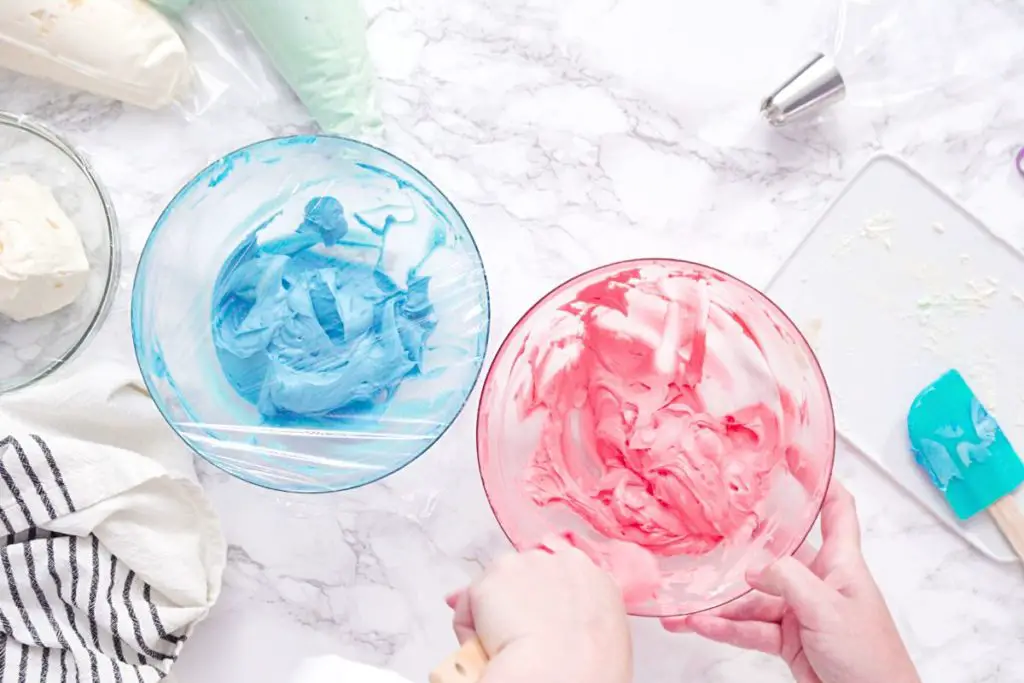 One way to add some extra flair to store-bought canned frosting is to add food coloring. This can be a great way to make your baked goods more visually appealing.
By adding a few drops of food coloring, you can easily change the color of the frosting to match the theme or decor of your event.
If you need different hues of icing, separate your white frosting into different bowls and then color each one differently. The possibilities are unlimited!
Liquid food colorings are inexpensive and simple to apply, and only a few tiny drops can produce strikingly vibrant color and make your frosting stand out.
Unfortunately, the majority of synthetic food colorings are usually produced using petroleum-based chemicals but don't worry; you can successfully use these natural food colorings that I have covered in this article: How To Color Cake Mix Using Natural Food Coloring.
7. Make It Crunchy
Did you know that humans are more inclined to crunchy food than soft and smooth ones? According to the research, crispy food can stimulate the senses of taste, smell, and hearing all at once, giving us a more pleasant feeling while eating.
Although I can certainly agree with the crunchy food theory, I usually don't like any crunchy bits in my frosting, and I rather prefer it smooth and creamy instead. But that is just me, so if you want to add some extra crunch to the mix, then there are a plethora of choices to choose from.
You can add crushed roasted almonds, chocolate chips, coconut flakes, and even crumbled cookies or meringue to give a crunchy texture to your frosting.
A very popular choice that everyone seems to be using right now is Lotus Biscoff and Oreo cookies. Just crush some up and add it to the frosting, and you can sprinkle some on the top as well.
I recommend adding about a half cup of crispy treats to a tub or can of 16 oz (1 lb or 453g) frosting. But it's all up to you, don't be afraid to experiment with the flavor and quantity. But I would suggest making a small test batch first to see if it mixes well and looks nice, so you won't waste the whole tub of frosting if it goes wrong.
Note: You'll need to whip the store-bought frosting well before adding any of the above ingredients. Otherwise, the frosting might be too dense and won't spread that well.
8. Nut Butters Works Well Too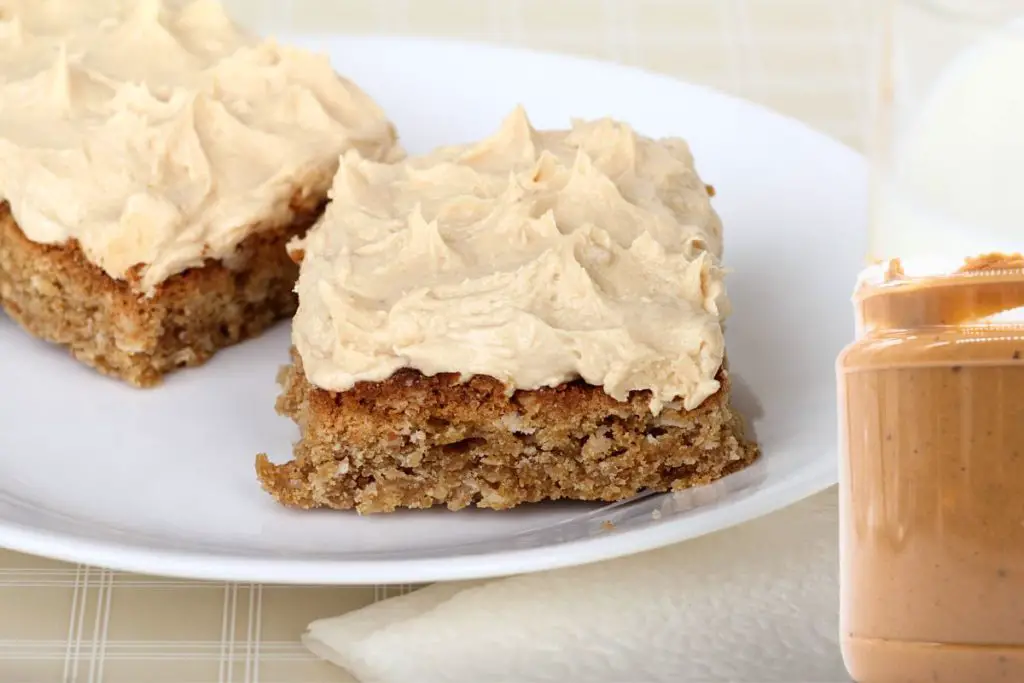 Peanut butter can make your frosting rich, thick, smooth, and certainly interesting. You can also use it in place of salt to bring down the sweetness. But be warned, it will transform the taste. As I said before, make a small test batch first to see if you like it.
Both crunchy and creamy nut butter can be used but if you don't want any crunchy pieces in the forcing, then only use smooth ones.
To avoid making the flavor overpowering, start by adding half a cup of nut butter to a can of frosting. Add more as you taste, mixing until you reach the desired consistency.
I have learned that to make it easier to incorporate it into a ready-made frosting, beat the nut butter with some regular butter in a bowl until smooth and creamy, and then mix it into the frosting.
You can use almond, cashew, peanut, and hazelnut butter, all of which will give their own unique taste to the frosting.
9. Add Chocolate Flavor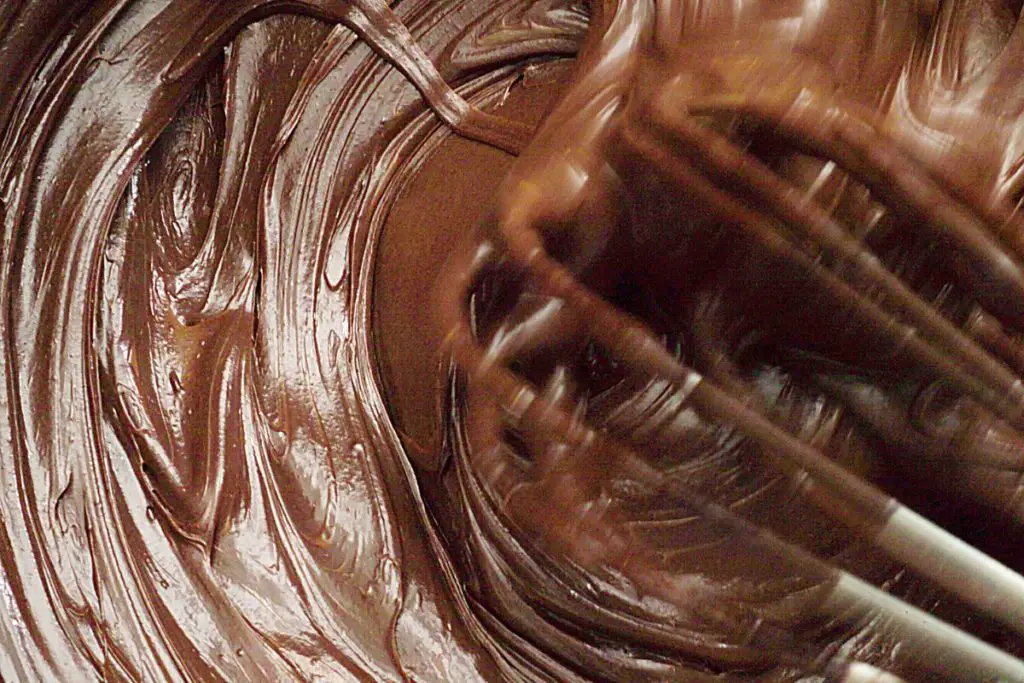 If you're a chocolate lover, consider mixing in some ground choco chips, melted chocolate, chocolate essence, or chocolate syrup into your frosting to make it less bland and give it a rich chocolaty taste.
I recommend using unsweetened cocoa powder and adding powdered sugar based on your liking. As you can see, most mainstream chocolate products are already overloaded with sugar, and they could make your frosting sweeter than needed; if you want to avoid that, use dark chocolate; the darker the chocolate, the less sweet it usually is.
I know I keep repeating myself but keep adding it step by step till you achieve the desired taste and texture.
10. Make it Fruity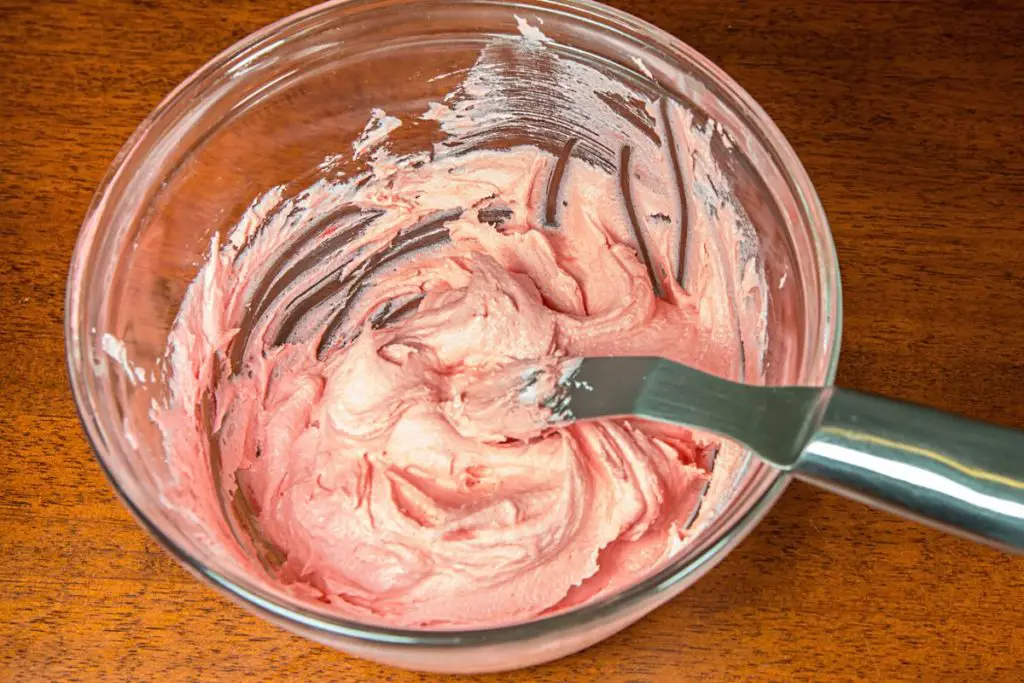 Freeze-dried fruit powders can add flavor and color to your store-bought frosting. In most cases, you'll only need a tablespoon of it. Unfortunately, I can't give an exact amount since fruit powders from different brands are more potent than others.
A fruit jam can also do the trick if you don't have fruit powder. But again, you will have to whip the mixture well after adding the jam.
11. Amp Up the Flavor With Extracts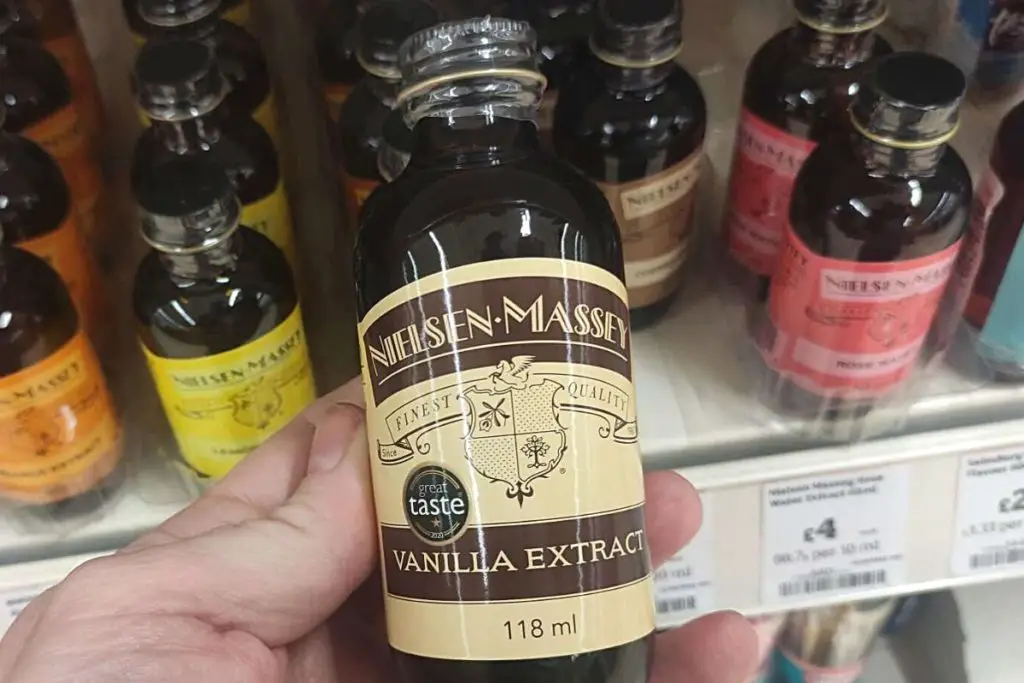 For store-bought frostings, which often already contain flavor extracts, adding that extra bit of flavor can make them taste even more to your liking.
A benefit of using extracts is that a small amount packs a lot of flavor without adding more liquid to your frosting.
Extracts of vanilla, peppermint, lemon, orange, and even almond go well with frosting. Again, you'll need to experiment with one teaspoon at a time and increase the amount as you go.
12. Introduce Caffeine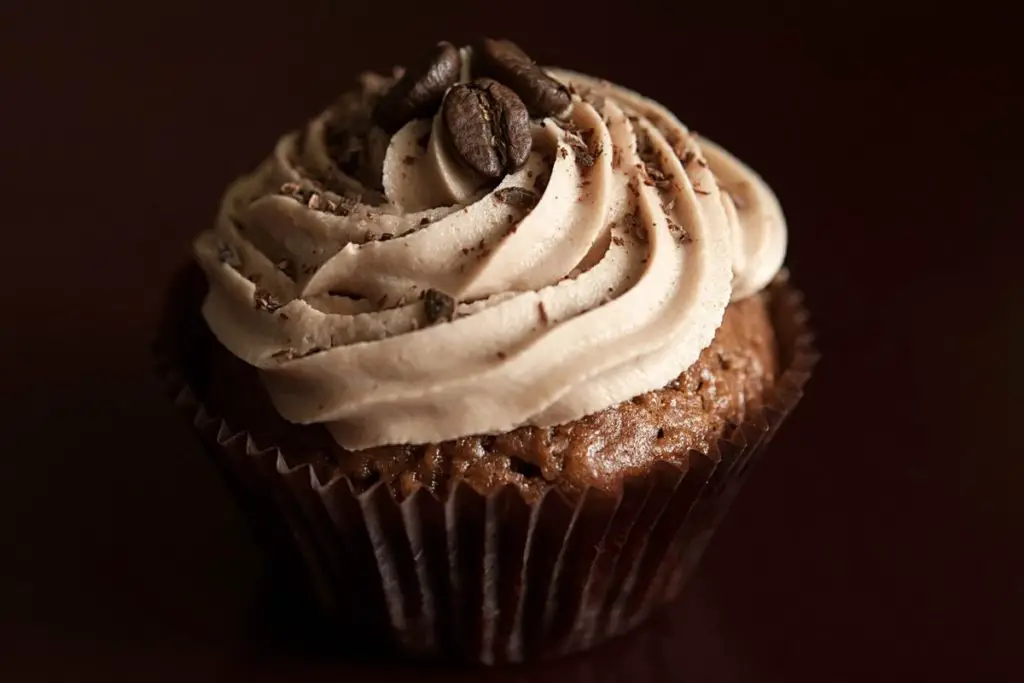 If you're a coffee lover, there's good news for you: coffee syrup and even espresso go well with store-bought frosting to make it more flavorful.
This simple hack will take your cupcakes or cakes to the next level, and it's easy to do. Just add a few tablespoons of coffee syrup or espresso to the frosting, and mix until well combined. The coffee will also balance the sweetness of the frosting and give it a beautiful coffee aroma and flavor.
If you are thinking of using syrup, it's better to make it yourself, without any sugar. Add about two tablespoons of the syrup to the frosting and increase as needed.
On the other hand, adding a quarter of a cup of really strong espresso should be enough to give a whole can or a tub of frosting a noticeable coffee flavor. Just make sure you let the coffee cool down before adding to the frosting.
One of the quickest ways to make coffee-flavored frosting is to use 1-2 tsp instant coffee granules. The granules will help provide the frosting a strong, rich coffee flavor and a kick of caffeine while preventing it from becoming overly watery, unlike if you added some actual brewed coffee into the mix.
I use decaf instant coffee granules, but you can use regular ones if you would prefer.
Read Also: How To Improve Boxed Cake Mix? (15 Clever Hacks).
To Recap
The ready-made canned frosting is a convenient option for those who want to save time, but sometimes it can be dull and flat. However, with a few simple ingredients, you can improve that store-bought frosting and make it better and more like homemade.
The table below outlines what you need to do to fix it or make it better.
| | |
| --- | --- |
| If the canned frosting is | Add |
| Too sweet | add salt, unsweetened coffee, dark chocolate, cream cheese |
| Too dense | simply whip it or add whipped cream |
| Too thin | add some cream cheese or powdered sugar |
| Too boring | add some sprinkles and biscuits for crunch or food coloring, etc.  |
| Too bland | add chocolate, flavor extracts, citrus, fruit powders, etc.  |
Read Also: How To Fix Lumpy Cream Cheese Frosting?
Conclusion
If you're like me, you probably preferred homemade frosting to the store-bought kind. The canned frosting can often be too sweet, too dense, or too bland and may not tastes as good as homemade. But with just a few simple ingredients, you can greatly improve store-bought frosting and make it taste more like the real homemade one.
Also, the hacks above are not a definitive list; you can experiment and use ingredients you have in your kitchen, or that will give you the taste and appearance that you want.
Happy baking!