Dive into the world of baking with this moist and easy coconut cake recipe that's not only a breeze to make but also gloriously gluten-free. This gluten-free coconut cake has been causing quite a stir online, and I'm here to share all the deets on how you can recreate this crowd-pleaser in your own kitchen.
Let's find out if this is truly the best coconut cake recipe, as they say!
Simple Ingredients For Easy Coconut Cake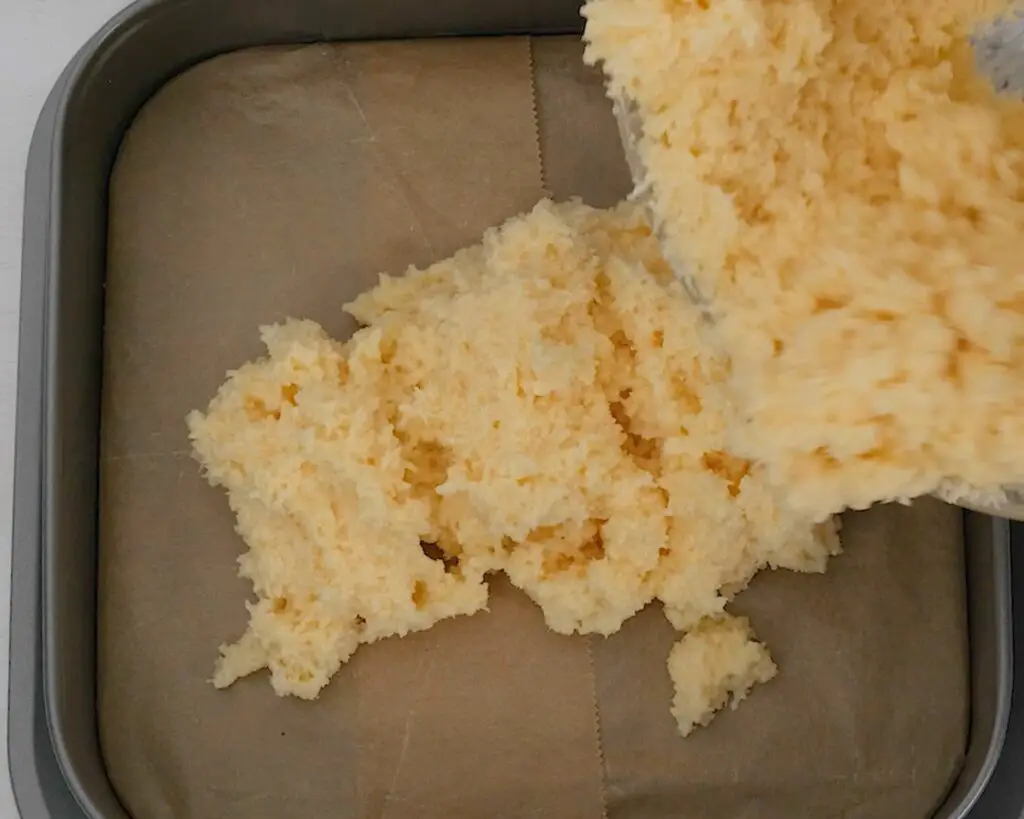 This cake only needs a few very simple ingredients that you probably already have in your kitchen.
3 medium size eggs: These help to bind the ingredients and add structure to the cake.
150g sugar: To sweeten our cake just right.
1 teaspoon vanilla extract: A dash to enhance the overall flavor.
250ml full-fat cream: This is the secret to a moist crumb.
250g shredded coconut: It's not just about flavor, but also the delightful texture.
1 and a half teaspoons baking powder: This will give our cake a nice, gentle lift.
A pinch of salt: It sharpens the flavors, subtly making everything taste better.
Top Tip: Shredded coconut gives the cake a delicious, chewy texture, which is why it's my go-to. Desiccated coconut, on the other hand, makes for a denser, smoother cake. Choose according to your texture preference!
TAP ON IMAGE TO VIEW PRICE
Choosing the Right Pan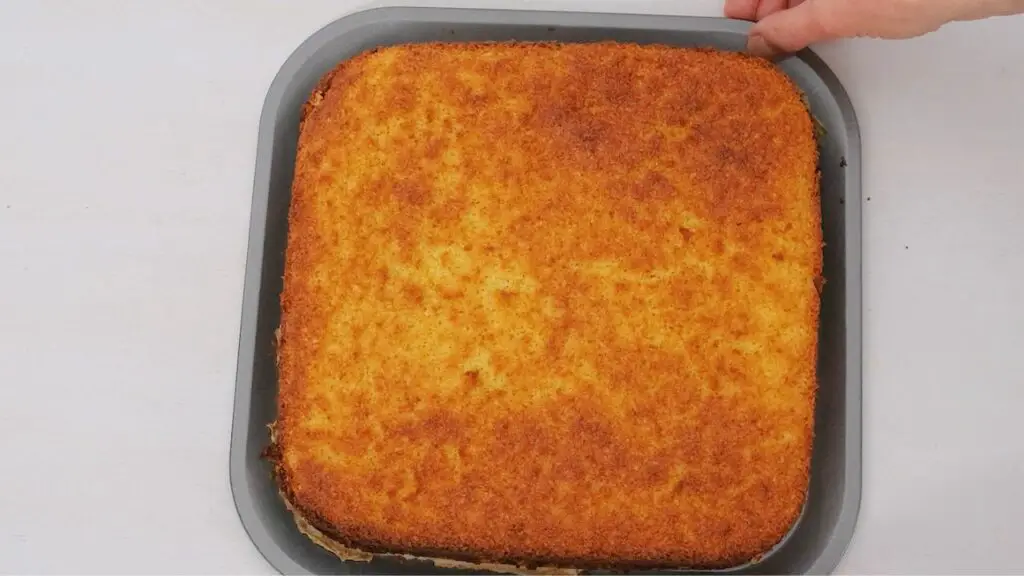 For baking this cake, I went with a classic 9-inch square cake tin, and it turned out perfectly square and even – just the way a traditional cake should look. But don't worry if you don't have one. A regular loaf pan can also be a great option for this recipe.
Using a loaf pan is actually a nice twist because it turns the cake into a sweet bread-style treat that's sliceable and perfect for a casual afternoon snack.
Plus, if you're aiming for a more homely, rustic look, a loaf pan might just be the way to go. Just remember to adjust your baking time slightly, as the thicker loaf might need a bit longer in the oven to bake through.
Let's Bake This Moist And Easy Coconut Cake Recipe!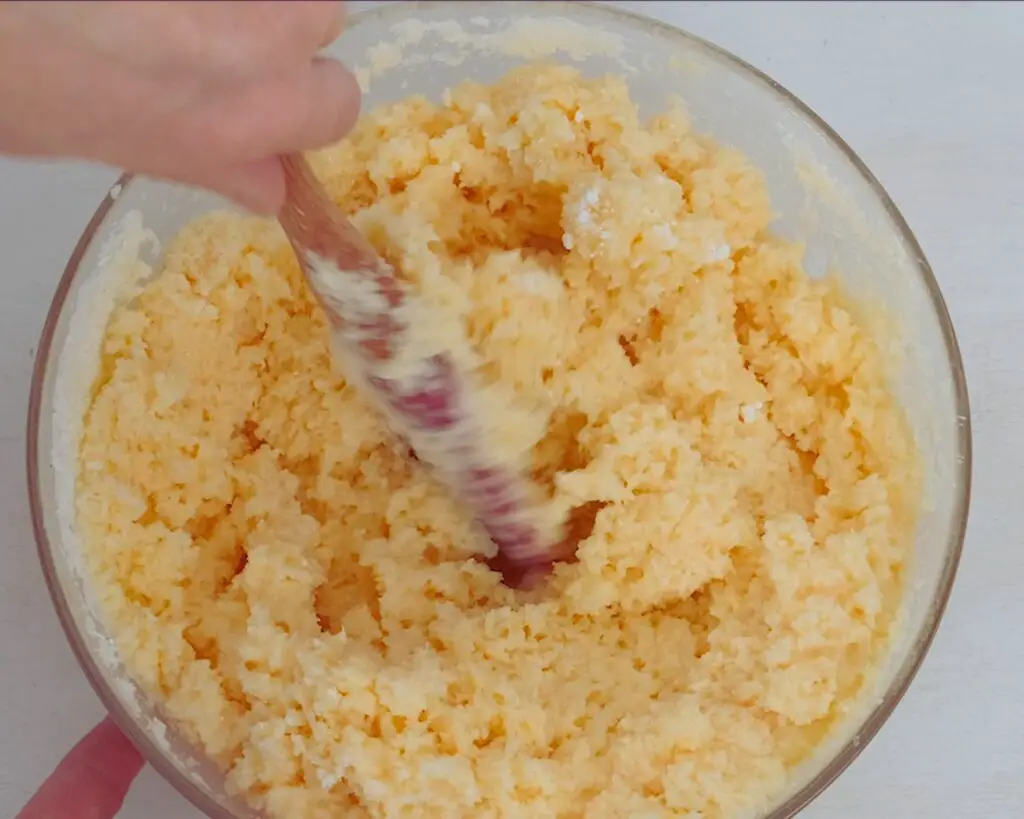 Be sure to check out the recipe video in the recipe card below for visual instructions and to see how this coconut cake turns out!
Step 1: Combining Eggs and Sugar
First up, crack those eggs into a large bowl and pour in the sugar. I like to whisk them until they're just friends, not super fluffy – we're not looking for a meringue here. Then, stir in the vanilla and a pinch of salt.
Step 2: Incorporating Full-Fat Cream
Pour in that full-fat cream. Trust me, full fat makes a difference. Whisk it until it's completely mixed in with the egg mixture. You'll notice it starts to look like a custard, which is exactly what we want for our moist coconut cake recipe.
Step 3: Adding Shredded Coconut
Now, the star of the show – shredded coconut. Fold it in gently. Once it's all mixed in, cover the bowl with cling film and let it sit. This step is quite important – it lets the coconut absorb the moisture, making our cake super moist.
Step 4: Introducing the Baking Powder
After half an hour, remove the cling film. Sprinkle in the baking powder and mix it through. It's nearly time to bake, and if you're anything like me, the anticipation is building!
Step 5: Pan Prep
Line a 9-inch cake tin with parchment paper – it helps the cake come out easily without any heartbreak. Then, pour the batter in and smooth the top with a spatula.
Step 6: Bake to Perfection
Pop the cake into a preheated oven at 340°F (170°C) for about 30 minutes. This is where the magic happens. Peek in through the oven window if you must, but no opening the door!
Step 7: The Patience Test
Once it's golden brown and a toothpick comes out clean, it's done. Let it cool for a bit before you slice into it.
So, Does This Coconut Cake Deserve the Buzz?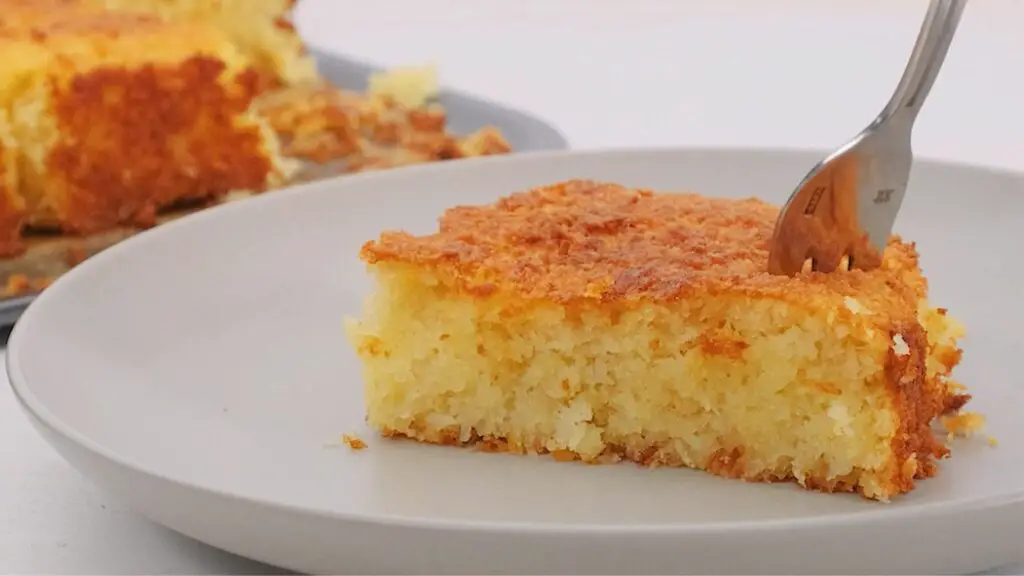 I've given this coconut cake recipe a go, and honestly, I'm impressed. The texture is just right – fluffy and satisfying. The flavor? It's rich with coconut but not overwhelming. In my book, this moist and easy coconut cake recipe definitely matches up to the excitement around it.
But hey, you should give it a try to decide for yourself. If you're up for it, the video recipe is below in the recipe card so you can see the final result and how to make it from scratch.
Boost Your Cake's Flavor with Toasted Coconut!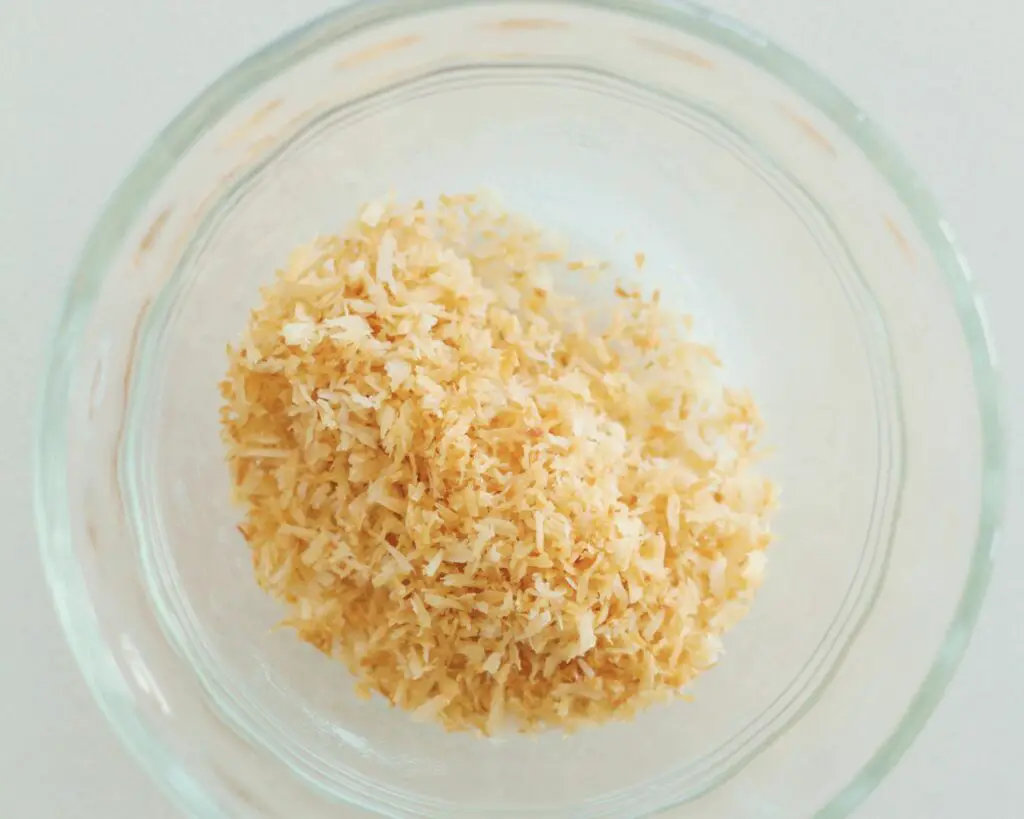 To be honest, this cake ready does not need anything else but still, for an extra dimension of flavor, consider slightly toasting your shredded or desiccated coconut before adding it to the batter.
Here's the quick how-to:
Spread the desiccated or shredded coconut evenly in a dry skillet.
Place over medium heat.
Keep an eye on it, stirring occasionally until it's a lovely very light brown.
Once toasted, immediately take it off the heat to prevent burning.
Let it cool before folding it into your mixture.
I have found that this simple yet effective technique can amplify the coconut's natural oils and sweetness, providing a toasty crunch that's a real game-changer for your coconut cake recipe!
More Ways To Enhancing Your Coconut Cake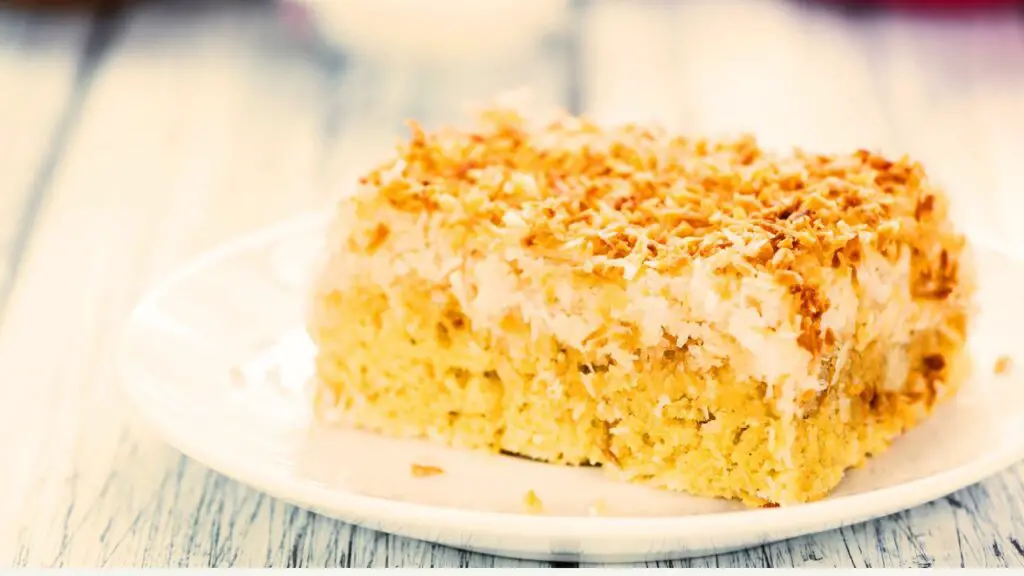 Simple Store-Bought Frosting Upgrade
Oh, and for a quick way to make this cake look and taste even better, I just use some cream cheese frosting from the store. It's easy, and it tastes great with the coconut. The slight tang of the cream cheese is perfect with the sweet cake.
And hey, if you're looking to jazz up that store-bought frosting, I've got some tricks up my sleeve. Check out my guide, 'How to Make Store-Bought Frosting Better' for all my secrets!
Raspberry Jam Centerpiece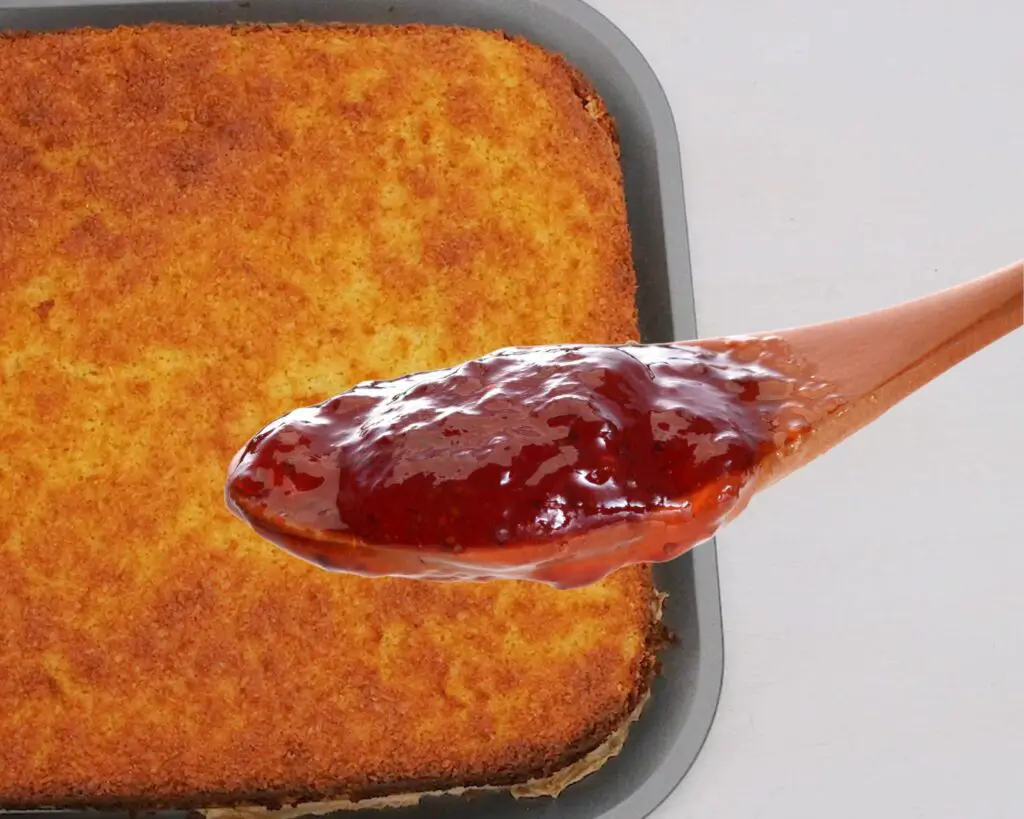 Now, for a fun twist my kids love: I sometimes spread some raspberry jam in the middle of the cake. It adds a bit of tartness that goes so well with the sweet coconut, and it looks really cool when you cut the cake and see that layer of red. It's a simple trick, but it really changes up the cake in a good way.
Zesty Citrus Twist
If you're up for a little twist, I sometimes like to add a bit of citrus zest right into the batter or even layer in some homemade citrus curd. The zing of lemon or lime zest just wakes up the flavors, and a dollop of curd in the middle gives a surprise tangy creaminess that's just delightful.
Crunchy Coconut Topping
But if you're all about texture, you can't go wrong with sprinkling toasted coconut flakes on top. They add this irresistible crunch that contrasts so beautifully with the cake's softness.
These little tweaks are so simple, yet they make you feel like a pro baker! Plus, they add a lovely bit of color and a burst of flavor that complements the coconut perfectly.
Storing Leftover Coconut Cake
This cake is at its peak of perfection fresh out of the oven, with its warm, fragrant, and tender crumb. However, if you find yourself with leftovers, you can still savor its goodness for days to come.
Once cooled, store your coconut cake in an airtight container at room temperature for up to three days; for a longer keep, tuck it away in the fridge.
If you need to save it even further, freezing is a fantastic option. Wrap it well in plastic wrap and foil, and it'll keep for three months.
Thawing in the fridge before bringing to room temperature ensures it retains its delightful moistness. Remember, while it keeps well, there's nothing quite like a slice enjoyed right after baking.
Check Out Also: Moist Banana Oatmeal Cake Recipe with a Chocolate Twist!
In Summary
This moist and easy coconut cake recipe is not only simple and delicious but also gluten-free, making it a wonderful treat for those with dietary restrictions. With straightforward ingredients and hassle-free steps, it's perfect for any baker. Not that this cake needs it, but you can customize it with your favorite toppings like cream cheese frosting or raspberry jam, for added charm. Enjoy it fresh from the oven for the best flavor and texture.
I'd Love to Hear from You!
Got a question about this cake? Or maybe you've tried this moist and easy coconut cake recipe and have some tips of your own to share? Drop a comment below or head over to the video comments on YouTube, and let's chat. I'm always excited to hear your thoughts and experiences, and it helps others too! Plus, I'm here if you need any troubleshooting tips or creative ideas for your next bake.