When the first button-free Nutribullet was released, I was quite unimpressed by the whole concept. I thought it was going to be yet another one of those unnecessary kitchen gadgets that will eventually fade into oblivion, never to be seen again.
But as time went by, Nutribullet seemed to gain more and more popularity each year. And finally, when my turmeric and ginger shot got splattered all across my kitchen ceiling, the idea of this tightly closed liquidizer started to grow on me as well. So I got one to try out, and I haven't looked back since.
So, suppose you are like me, one year ago, debating about getting one of these bullet blenders. In that case, hopefully, my testing and research would help you make a more informed decision if this nifty kitchen appliance is right for you.
Why Do I Think That Nutribullet Is Better Than a Regular Blender?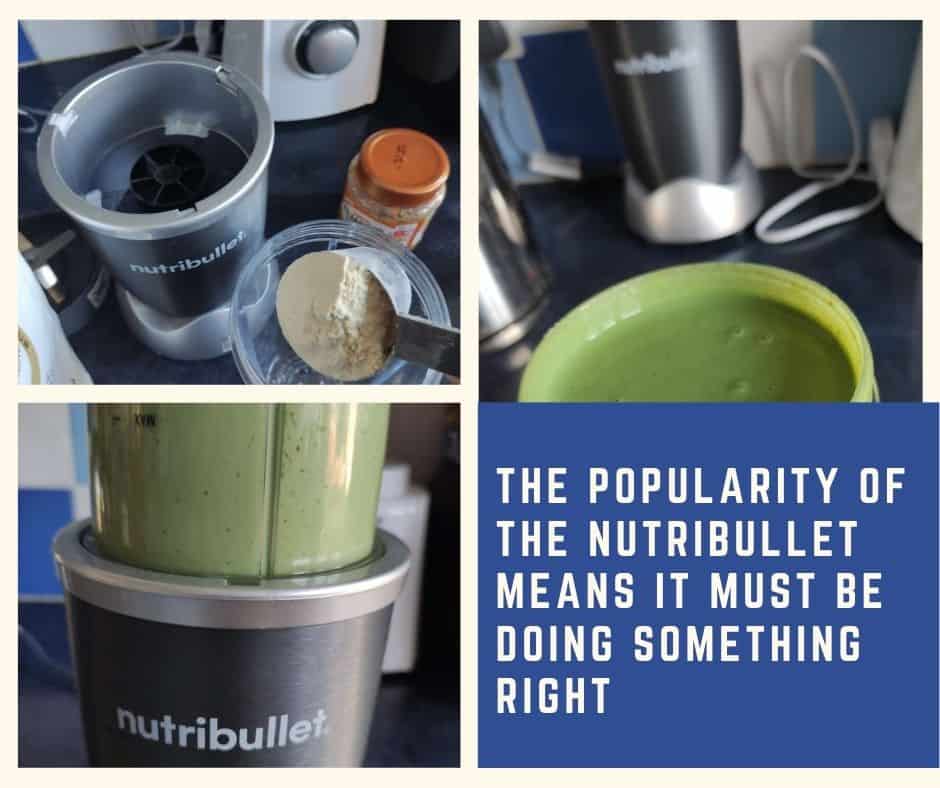 Nutribullet, unlike typical blenders, provides much faster and easier high-powered blending with superior nutrient extraction due to specifically designed blades. It comes with a convenient personal size, easy to clean, transportable bullet-shaped blending cup. It is extraordinarily versatile, compact, and saves time compared to most blenders.
From tasty superfood smoothies, quick protein shakes to sauces, puréed vegetables, and dips, Nutribullet can effortlessly handle the varying needs you have in the kitchen. It frees up your time, letting you enjoy your creations rather than focusing on the clean-up.
Spoiled For Choice – Different Types Of Nutribullets
Before digging deep into the benefits of Nutribullet, and why I think that it might be better than a regular blender, it's important to understand a few of the options available from Nutribullet.
Nutribullet came to popularity because of their bullet or cylinder-shaped personal blenders but have since expanded to include varying personal and full-sized blenders.
The original blender starts at 600W, and the other models like the Nutribullet Pro or Nutribullet Rx go up in wattage and blending cup size, as they can handle larger quantities and heartier ingredients.
For me, personally, the classic 600W Nutribullet is absolutely perfect and can handle pretty much everything I need to do. I use it for making smoothies to grind coffee beans and everything in between.
The new versions are even more high-performance and packing a ton of power, probably more power than anybody can ever need or use in their kitchen. However, they do look pretty sleek and streamlined and can do some pretty cool stuff.
So, some people may find the performance upgrade quite useful, so I will cover them nonetheless.
So, here are a few of the options to consider:
The Original Nutribullet – Simple Yet Powerful (My Favorite) 
TAP ON IMAGE TO VIEW PRICE
If you're looking for smoothies and shakes, go no further than the original. As Nutribullet puts it, this is for "those just getting their feet wet in the kitchen." But that said, I have been using it for a year now, and I have yet to find a limit that this little guy won't be able to handle.
Whatever I blend, and when I pour the results into a sieve, there is no evidence of large pulps or any unblended ingredients; everything is always very well liquified. I can't say the same for my standard blender; although it had more power, it often struggled to completely pulverize seeds, ginger, and most nuts.
Nutribullet Pro – Another Tried And True Classics
TAP ON IMAGE TO VIEW PRICE
If you want to take it a step further, getting the perfect pulse on a peanut, or grinding ginger to a paste, then go for the Nutribullet Pro 900W. This is the blender recommended by the New York Times review team as they say it has got the ideal price to quality ratio.
Nutribullet Pro 1200W – Crush Or Grind The Toughest Items
TAP ON IMAGE TO VIEW PRICE
This 1200W Nutribullet Pro with a pre-programmed pulse cycle and automatic shut-off already packs probably more power than most people would ever need. This device will easily crack through stalks, rip apart pulps, busts open nuts and seeds, and shreds through the toughest of skins.
And besides that, let's not forget that it is always 5 o'clock somewhere, and a smoothie might not cut it. For that tasty margarita or daiquiri that requires blending ice to a perfect texture, this is your blender.
Also works perfectly for mocktails for the kids (just remember to wash out the blender first if you've just made yourself the perfect strawberry margarita).
Nutribullet Rx – 1700W – A Cooking Superhero
TAP ON IMAGE TO VIEW PRICE
Nutribullet Rx is slightly larger with a whopping 1700W motor. You'll be able to pulverize most ingredients it comes into contact with and then some.
This is advertised as a cooking blender on Nutribullet's website, so if you want your smoothies cold and your soups silky smooth and hot, then this is the blender for you.
I should say, however, that this model seems quite loud, so try not to use it first thing on a Sunday morning unless you are the last one to wake up.
It also has one of the highest prices in its range of blenders.
Nutribullet Combination Blender – Versatile And Smart Nutrition Extraction
TAP ON IMAGE TO VIEW PRICE
If you are someone who wants the best of both worlds, you're in luck. As the name suggests, this is a smart pre-programmed nutrition extraction combination of a personal-size blender attachment with the power and size of a traditional blender, all packaged in Nutribullet's classic design.
This blender comes with your personal-sized blending cups and a larger pitcher, so it is probably the best choice for a family and all sorts of cooking tasks.
So, Why Nutribullet? – Benefits And Advantages
If it isn't already apparent, Nutribullet has thought of a model suited to everyone's needs and skill level in the kitchen. 
However, the original version, which in fact is quite basic, is the reason for the success of Nutribullet.
So here are some features and benefits that really helped it to differentiate from regular blenders.
Compact But Powerful
A standard blender tends to take up space. Those with cramped kitchens and tight space will frequently find themselves frustrated from having to rearrange the cupboard just for a quick smoothie in the morning.
The sleek design packs away easily into a cupboard, but leaving it tucked away in the corner of the counter works just as well, given its stylish design.
The original Nutribullet has 24 oz or 18 oz capacity, depending on which blending cup you use. A typical blender sits around 64 oz, meaning you'll be saving practically three times as much space in a cupboard, without even including the actual base of the blender as well.
Despite being so compact, the original Nutribullet packs an impressive 600W motor, meaning you'll have silky smoothies with little effort. As mentioned above, you can go up a tier and get a higher wattage blender to tackle the bigger jobs too.
A Really Good Price-Performance Ratio
The original Nutribullet starts at around $69.99, making it one of the best blenders for this price that get the job done and save you time in the kitchen. The Kitchen Blender, while hovering around the same price, is much larger, meaning you're spending more time in the kitchen cleaning and putting it away.
As far as other personal blenders go, the Magic Bullet, which is also owned by Nutribullet, is both lower in price and blending power. 
Other companies such as Oster and Hamilton Beach have similarly priced options but don't have the same stylish design or ease of transport. They also tend to have slim and unsteady bases, so you'll have to ensure the blender doesn't move around when it's running.
Time-Saving Without A Doubt
Ultimately one of the top reasons that Nutribullet is such a hit in the health and fitness world is through the convenience factor.
As food trends towards health and fitness and organic and natural food have increased steadily over the years, at a growth rate of 8% over 10 years, the natural products industry saw sales of $250 Bn in the U.S. With the increased desire for healthier options, having reliable and quick access to your daily fruits and vegetable servings have become quite important.
When we combine our desire for more natural products and the fact that 3 in 5 Americans feel overworked, as indicated by a Sleep Junkie study, this tells us we want our food to be simultaneously healthier and time-efficient.
The simple cylindrical design of the Nutribullet makes it exceptionally easy to clean. A traditional blender has hard-to-reach nooks and crannies that ultimately end up as deposits for unblended food.
Not only that, but the larger blending container size means you need to get in deep to clean. Nutribullet was designed to keep your time spent cleaning minimal and your time using it short and sweet.
If we were to conservatively guess that there's about an extra minute spent taking out a clunky blender and cleaning it compared to the Nutribullet, then for 4 smoothies a week, you're looking at a few minutes saved. Over a longer timeframe, that's an extra few hours a year, and over 5 years, it's almost a full day just spent cleaning and putting away your blender.
If I could spend a few extra hours a year doing something I love as opposed to cleaning, I'd jump at the chance!
The Nutribullet Is The Go-to Personal Blender
Now, picture this: you're on the go, you've got a calendar full of appointments and errands. There are not enough minutes in the day, but you're going to try to fit it all in any way.
First things first, your morning nutrition in the form of a colorful smoothie or a nutritious shake, which after a mere few seconds pulling out your Nutribullet, you quickly throw in some ingredients that fit the personal-sized cup, blend for less than 30 seconds and take your blending cup with you. Breakfast sorted, and you're ready to tackle the day.
Read Also: Blender vs Food Processor (When To Use And Key Differences).