Believe it or not, Spam is actually a versatile meat product that can be used in many different recipes. But if you don't believe me, I will share some of my favorite easy and delicious ways how to cook Spam for breakfast.
So, if you have a can of Spam in your kitchen cupboard and are looking for quick and easy Spam breakfast ideas, these recipes will help you start your day off right.
1. Spam Musubi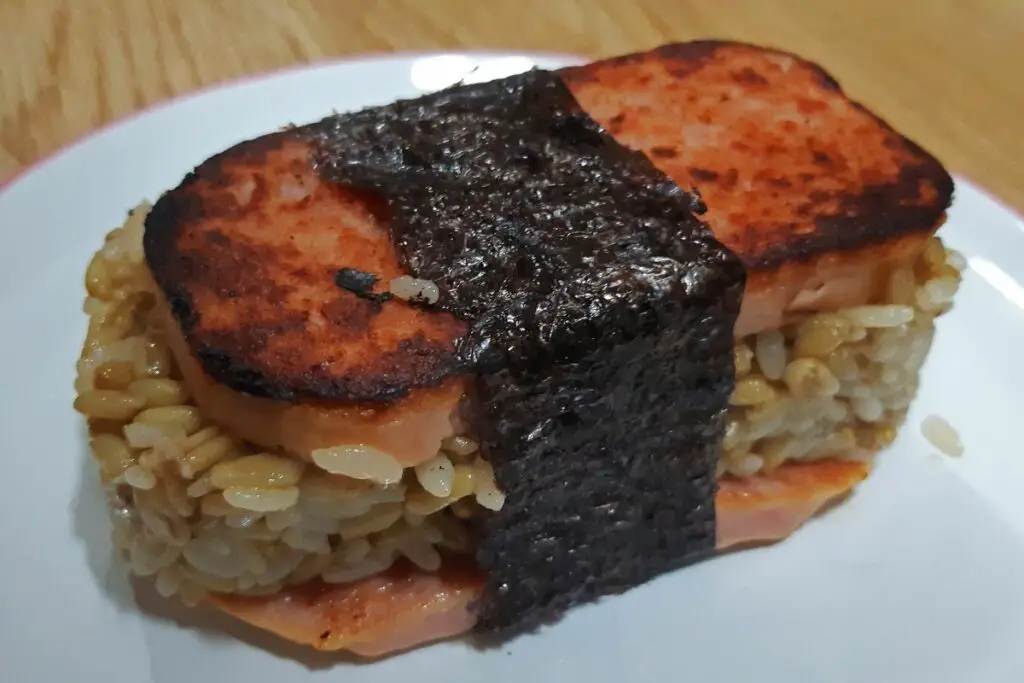 Wherever you go in Hawaii, you will find musubi on the menu, which is delicious for a good reason. A staple in most Hawaiian households, musubi is delectable and easy to make.
Traditionally, musubi is made with a thick base layer of packed white rice and a thick slice of grilled Spam. It is then wrapped in a sheet of nori to secure it together.
However, I usually give it a slight twist and add another layer of a fried egg to the musubi, making it the perfect, easy, delicious breakfast food you won't want to stop eating.
Here is a tip – Make sure to really press down the rice to give you a solid base to build your musubi. Otherwise, it will all fall apart.
Check out the full recipe here.
2. Spam Breakfast Hash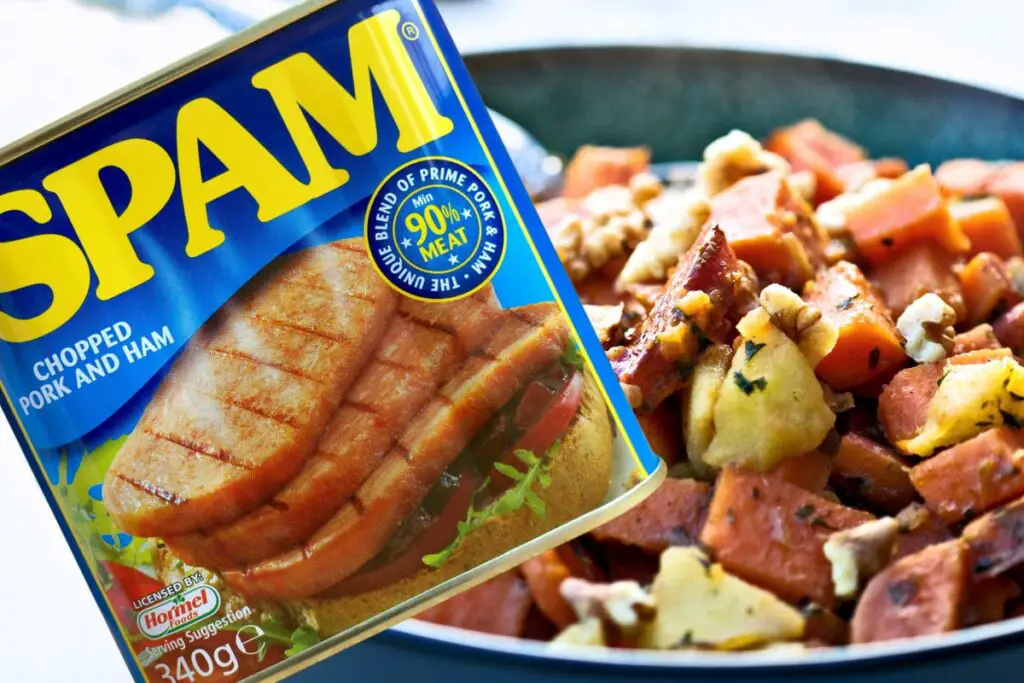 This recipe is very similar to my favorite corned beef hash recipe. This is a really simple breakfast dish to make with very few ingredients, just three, to be exact. Diced Spam, diced potatoes, and chopped onions.
Heat a large skillet with a little olive oil and cook the potatoes until softened and slightly browned.
Once the potatoes have been browned, you can add the onions and keep cooking.
Now it's time for the star ingredient to be added, the Spam. I love when Spam gets that crispy caramelized texture on the outside. It gives an extra layer of flavor.
Once everything is nice and browned and cooked through, the only thing left to do is grab a plate, season your Spam hash with salt and pepper and enjoy your breakfast.
You can think about doing the dishes later.
Check out all the ingredients and instructions here.
Read Also: How Is Canned Corned Beef Made? (Unusual But Edible).
3. Spam Cheddar And Jalapeño Biscuits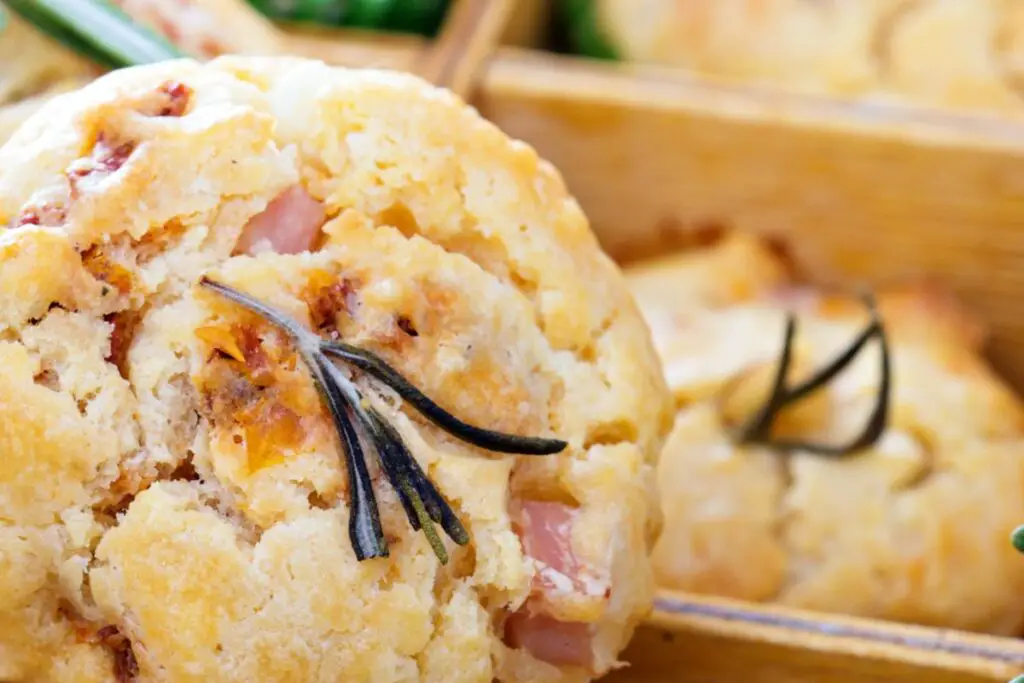 American biscuits are a classic Southern food. These biscuits are packed with flavor and are the perfect breakfast for those who like a little spice in their food.
Take a traditional biscuit recipe of plain flour, baking powder, sea salt, salted butter, and buttermilk.
Mix the dry ingredients together in a large bowl, dice the butter and rub it into the flour mixture with your fingertips until you get a breadcrumb texture.
Add the buttermilk and mix well.
You can then add the small diced Spam and Jalapeños.
Bake for around 15 minutes.
The spicer you want the biscuits, the more Jalapeño you can add. I use 1 whole jalapeño pepper, giving you the right amount of hotness but not overdoing it.
If you want to take these breakfast biscuits to the next level, add some sharp cheddar cheese to the mixture before baking.
These savory biscuits go really well with these fluffy scrambled eggs.
Check out the full Spam breakfast recipe here.
4. Spam Frittata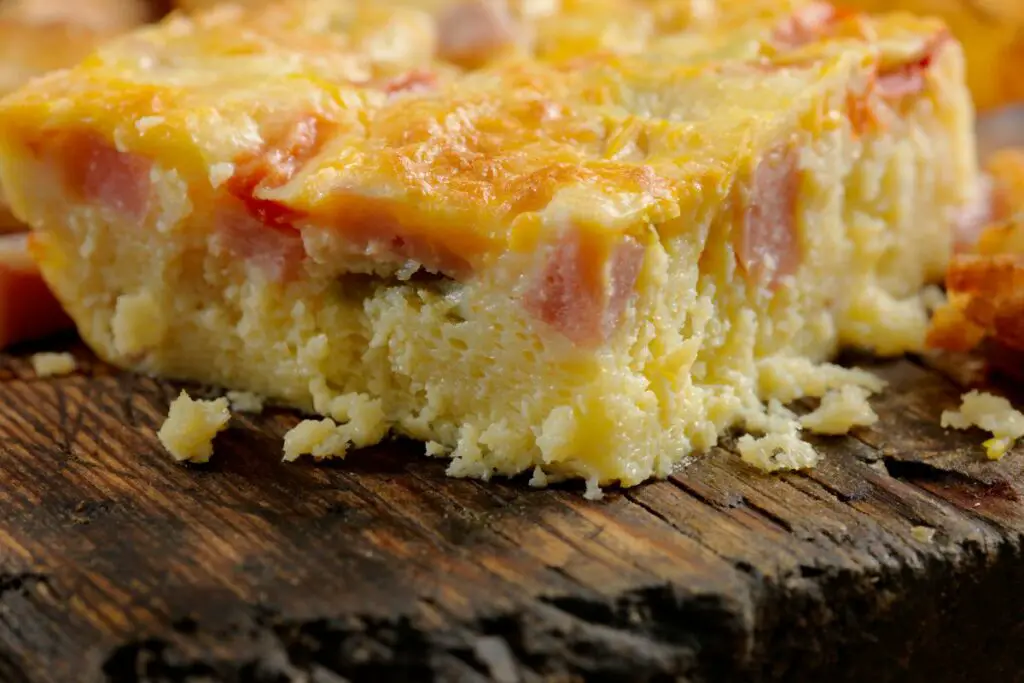 Frittata is a classic Italian egg-based dish similar to an omelet, Spanish tortilla, crustless quiche, or scrambled eggs. This traditional breakfast dish is versatile; you can add whatever you have in the fridge.
Start off by cracking some eggs into a large bowl and whisking them until combined.
Add a dash of milk, some shredded cheddar cheese, and some chopped Spam.
There are two ways you can cook a frittata:
One is baked in an oven. You can put the frittata mixture into a dish and pop it in the oven for 40 minutes.
Or cook it on a stovetop in a pan, similar to how you would cook pancakes. Don't forget to season with some salt and pepper.
You will find a complete recipe here.
5. Spam Breakfast Sandwich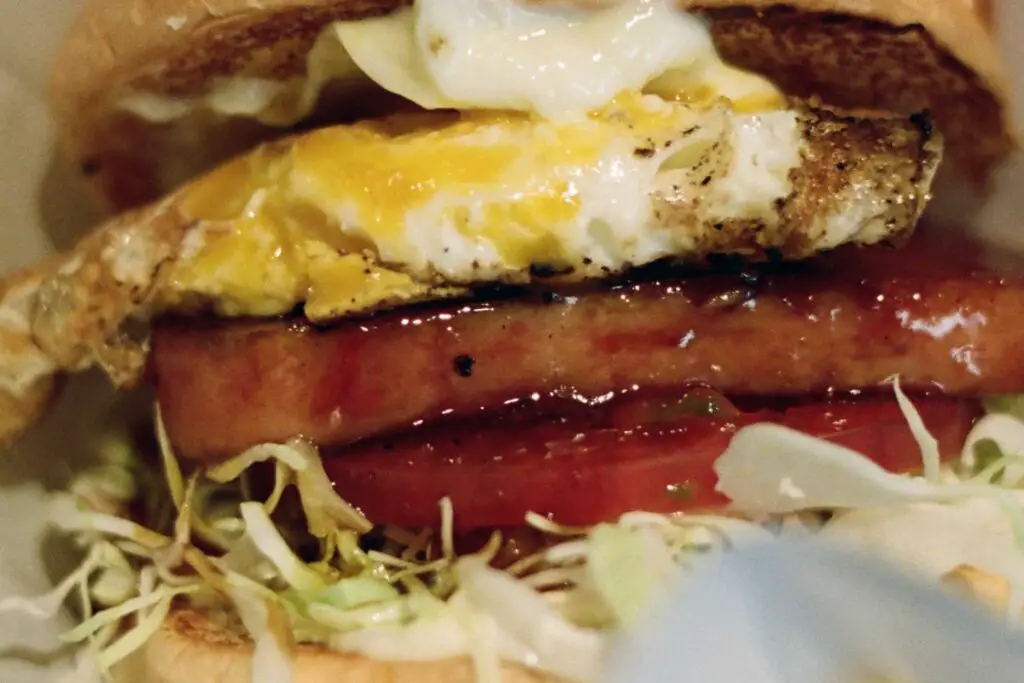 No breakfast list is complete without a grilled cheese sandwich or a Spamwich, as I like to call it.
Super simple to make and always a crowd-pleaser.
You can use any bread of your choice, but I recommend thick slices of rye bread to elevate the sandwich's flavor.
Butter both sides of the bread, and layer your filling on one side, for this Spamwich I use a thick slice of Spam which I like to pan fry or grill to give it a crispy texture, a fried egg – you can opt for scrambled egg if you prefer and cheese of your choice.
Heat up a frying pan, add some butter and grill your sandwich, don't forget to flip it to brown both sides.
Check out the full Spam grilled cheese recipe here.
6. Spam Waffles And Cheese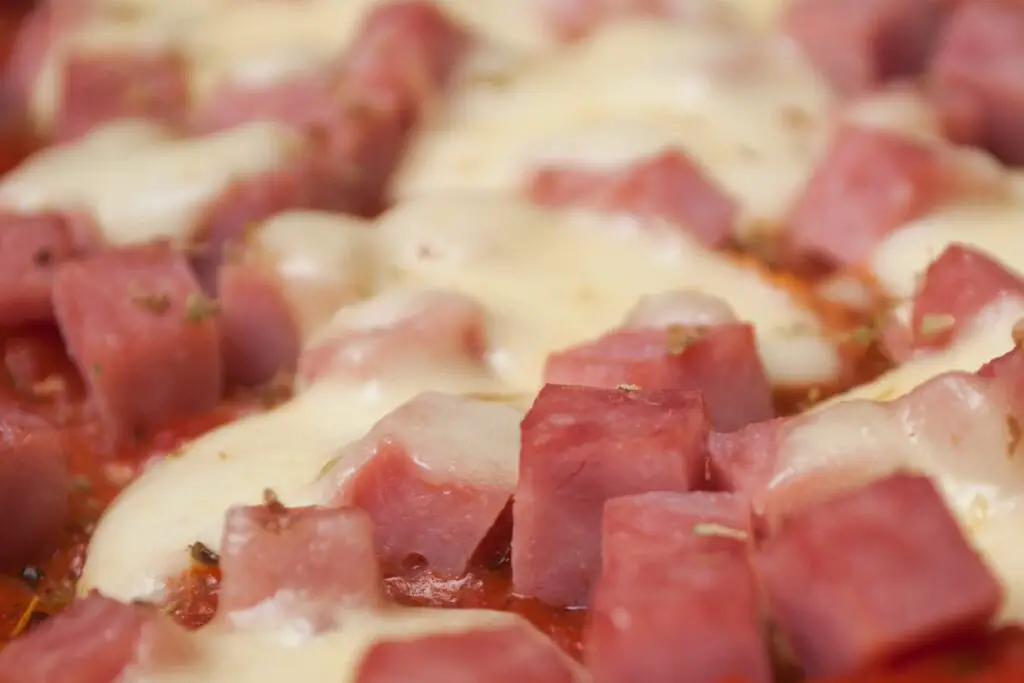 Waffles are light and crisp; they also never get soggy, so they are an excellent choice when experimenting with toppings.
I'm going savory for these waffles. This is a pretty simple waffle to make, but it packs a punch of flavor.
Start with a classic waffle batter mix of eggs, buttermilk, all-purpose flour, baking soda, baking powder, and salt, or use pancake mix to make waffle batter.
Heat up your waffle maker, pour your batter inside and sprinkle some shredded cheese and spam on top.
Cook until the waffles are browned and crispy.
I love adding maple syrup to these waffles to contrast the savory flavor and add some sweetness.
If you need to make these waffles ahead of time, you can do that, as they reheat easily.
You'll find the instruction for the recipe here.
7. Enchilada Breakfast Spam Casserole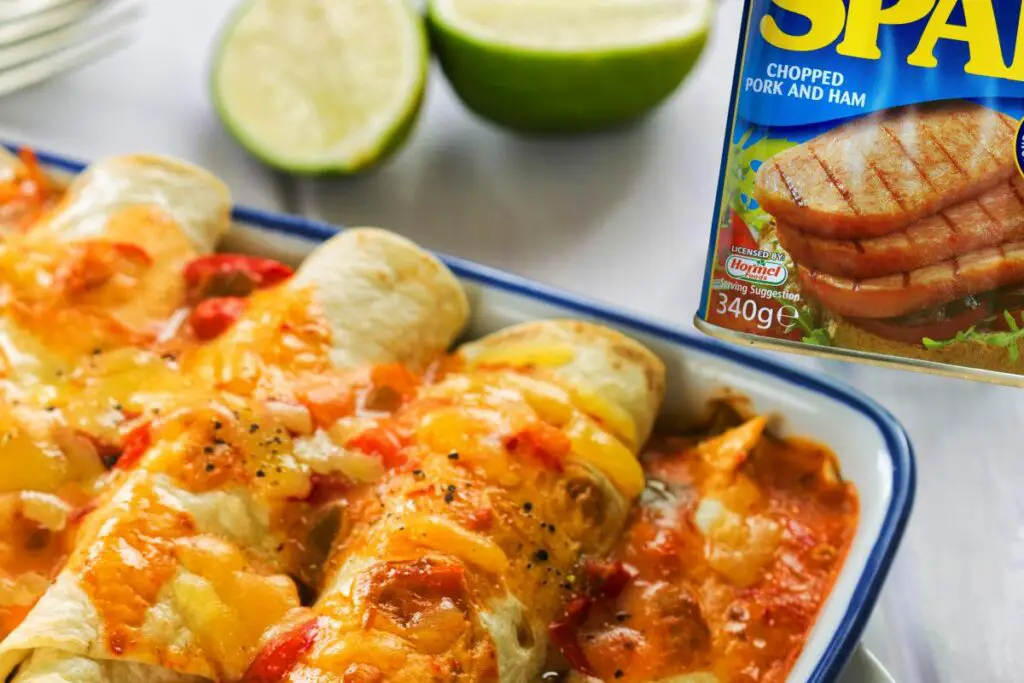 If you love Mexican food as much as I do, this Spam enchilada casserole will make you happy.
Most people have these ingredients in their pantry and fridge, which makes it a convenient dish to make, and if you are missing an ingredient, you can always replace it with something else.
For this dish, I use Spam cut into cubes, chopped green bell pepper, chopped onion, flour tortillas, diced green chilies, eggs, shredded Cheddar cheese, tomato, and whipping cream.
Place all the ingredients in the center of each tortilla, and roll up each tortilla tightly.
Place all the tortillas side by side in a baking dish.
Beat together the eggs, cream, and chilies, then pour over the enchiladas.
Bake the casserole for 40 to 50 minutes, and get ready to fall in love with this dish.
Get the full recipe here.
In Conclusion
While most people think of spam as lunch or dinner food, it can also be used for breakfast. Spam is a versatile canned ham that can be used in many different dishes. Here are some spam breakfast ideas that are easy to prepare and nutritious.
Spam can be used as a replacement for bacon in many recipes. It is also good fried and served with eggs or hash browns. Another option is to make a Spam omelet by adding vegetables and cheese to the cooked spam or serve it alongside the pancakes.
If you have any more delicious Spam breakfast ideas, please let us know in the comments below.