Whether you are in the middle of kitchen renovation, need a fast and cheap lunch for work, or are just too lazy to cook for dinner, don't worry; here are some great, super easy no-cook meal ideas you can get from most grocery stores.
No oven, stove, or microwave is needed.
1. Rotisserie Chicken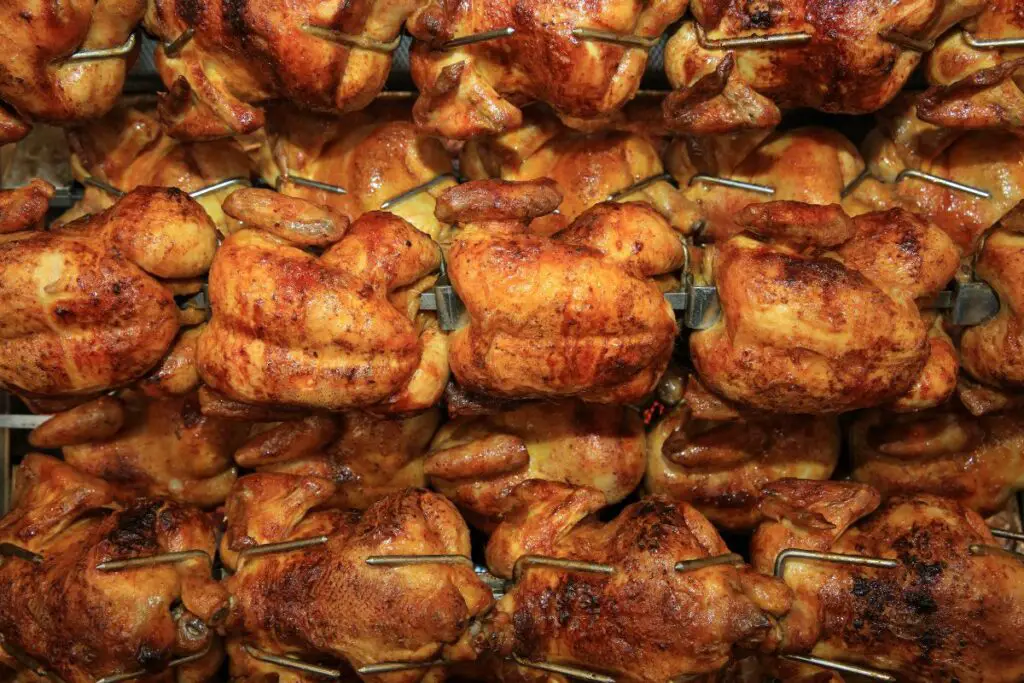 Rotisserie chickens are so convenient and versatile no-cook staple. You will find them in most supermarkets and grocery stores.
Granted, some are better than others, but you can always be sure that it will be recently made, juicy, tender, flavorful, and ready to eat with no extra cooking on your part.
On nights when you need a quick meal but don't have time to cook, grocery-store rotisserie chickens come in handy—a much healthier option than fast-food fried chicken deep-fired is seed oils.
What's awesome about rotisserie chickens is that you can make so many other dishes with the leftovers. Chicken sandwiches, wraps, salads, and even chicken soup.
2. Soup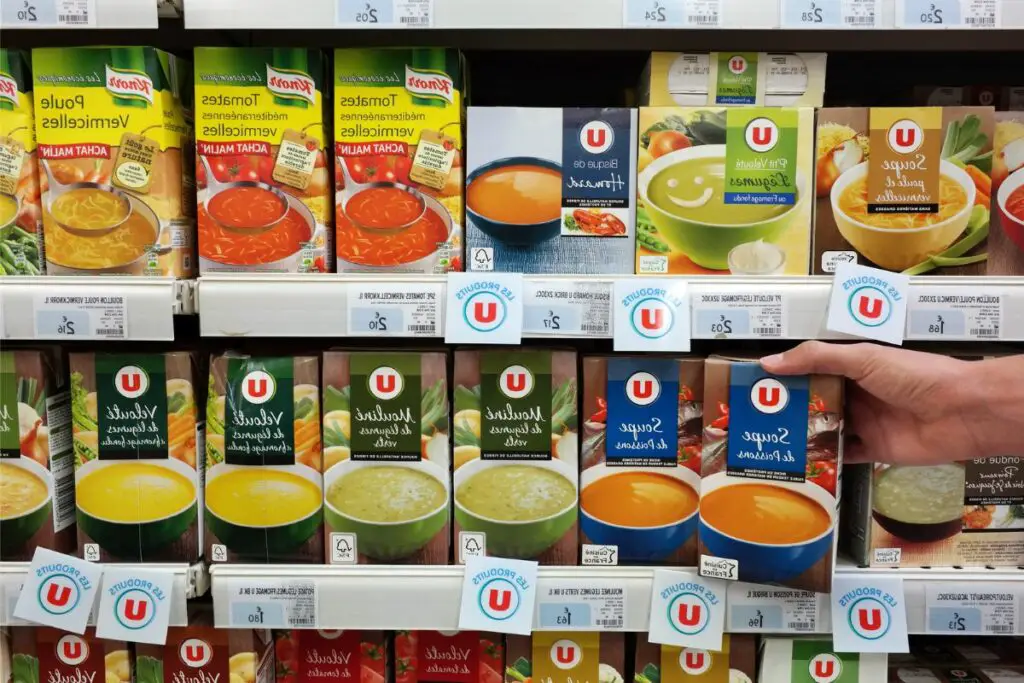 Soup is always one of my go-to pre-made meals. Ready-made soups have come such a long way since they were packaged in a powdered form.
There are some really tasty fresh soups that you can find from leading grocery stores. You can buy them ready-heated for a nourishing flavorsome meal.
There are even some really delicious chilled soups you can opt for. And if you want to spice up your soup, you can buy some ready-toasted croutons and add them to the soup or perhaps even some fresh bread.
Even the basic canned soups are pre-cooked and can be eaten cold; however, if you don't really like to eat them cold, then here are 6 Ways To Heat Up Canned Soup.
3. Wraps and Sandwiches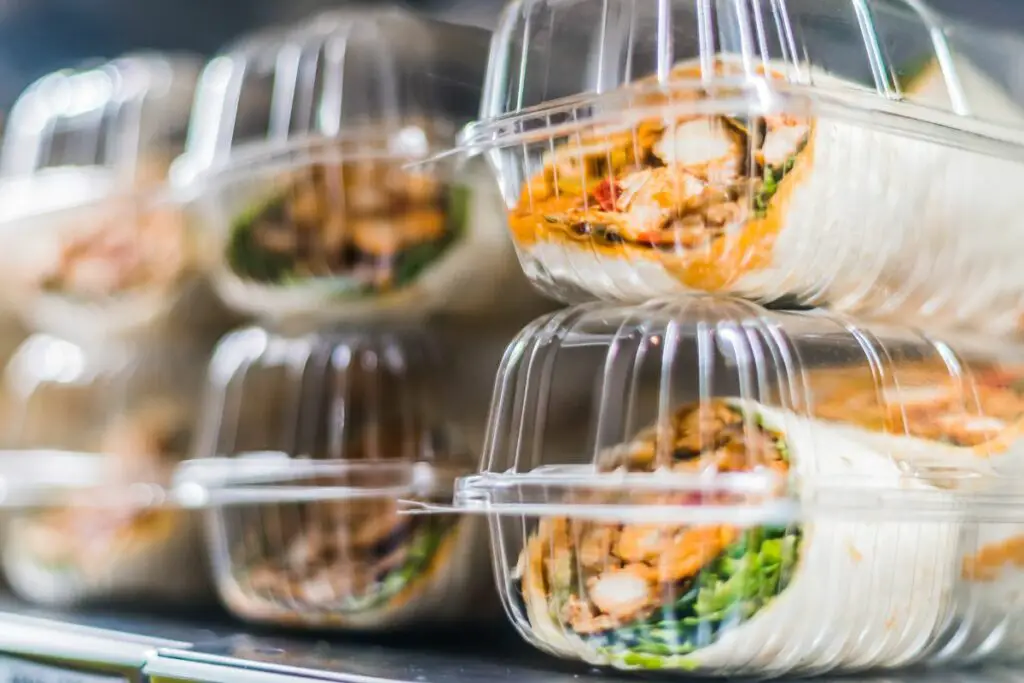 Sandwiches and wraps are the perfect on-the-go lunch. Most grocery stores carry some awesome mouthwatering sandwiches and wraps that would be freshly made on the day.
So whether it's a chicken sandwich, egg, seafood, roast beef, ham sandwich, or wrap, you're bound to find something you'll like.
Here's some inside information: Most people don't realize that bigger supermarkets with a bakery and deli section will be more than happy to make you a fresh sandwich with your selected bread, cold cuts, and cheese.
4. Salads
When people think of salads, they automatically think of a boring bowl of lettuce, but in reality, all a salad means is a dish consisting of a mixture of small pieces of food. I find ready-made salads so convenient, especially when I don't feel like cooking or forgot to bring my lunch to work.
There are many pre-packed options in the fridge aisles at a grocery store.
However, if you check out the deli counter, you will most likely find fresh salads such as coleslaw, bulgur wheat salad, shrimp salad, potato salad, or pasta salads. You can make yourself a smorgasbord of healthy ready-cooked salads to serve up to your house guests.
5. Quiche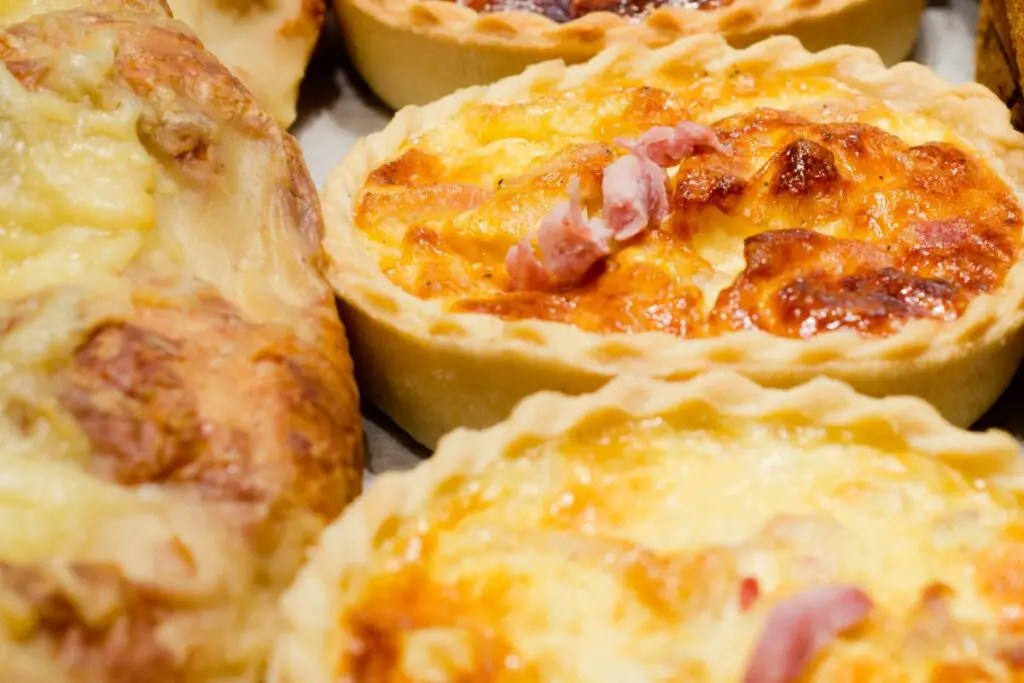 Mouthwatering, moreish flaky pie crust filled with savory egg custard. How can that taste better? Adding salty bacon, cheese, caramelized onions, and other fillings can elevate a quiche to the next level.
Whether you eat it for breakfast or lunch, hot or cold, you'll fall in love with it and wish you had more to eat.
Luckily most larger grocery stores carry a variety of gourmet quiches that are already cooked. Quiche is one of those foods that tastes so much better the day after. I usually buy a whole quiche for lunch and save a couple of slices to enjoy for breakfast.
6. Sushi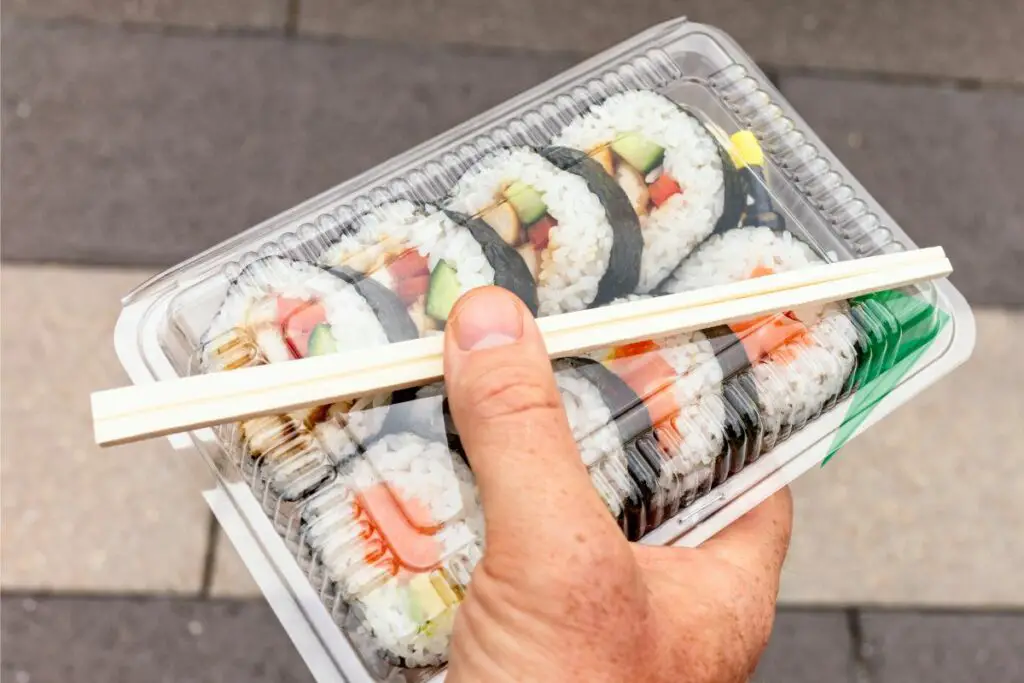 I often crave sushi, normally when walking past the sushi section at my local grocery store. Tasty sushi doesn't have to be expensive, and you can find some well-balanced flavored sushi at supermarkets.
In terms of supermarket sushi, you can still get very close to that chef-inspired taste without shelling out the prices that restaurants charge for it. You can find a variety, such as sashimi, nigiri, and maki, packed in one box.
A quick tip: When I'm buying pre-packed sushi, I always make sure they are made on the day I buy them.
And if you can eat all of it, then here are some tips on How To Keep Sushi Fresh Overnight.
7. Meal Replacement Shake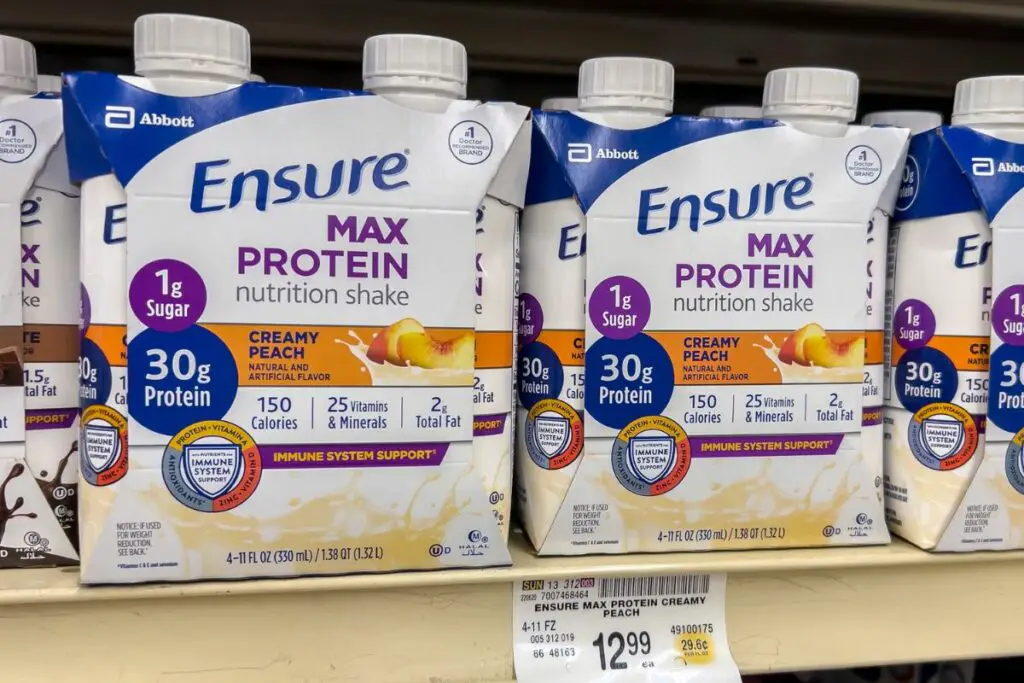 Preparing a fresh, balanced meal from scratch isn't always doable when you're pressed for time and but you still want to get all the nutrients that your body needs. That is why so many people are drawn to the simplicity and convenience of meal replacement shakes.
Nowadays, there is such a huge selection of meal replacement shakes that come in a variety of flavors you'll be spoilt for choice. Pumpkin spice, horchata, vanilla cream, Belgium chocolate, oreo, the list goes on and on. There is a flavor for all taste buds.
If you really want to make meal replacement sakes part of your daily routine, then here are the 9 most delicious and nutritious meal replacement shakes that give you a complete meal in just one serving.
8. Spanish Tortilla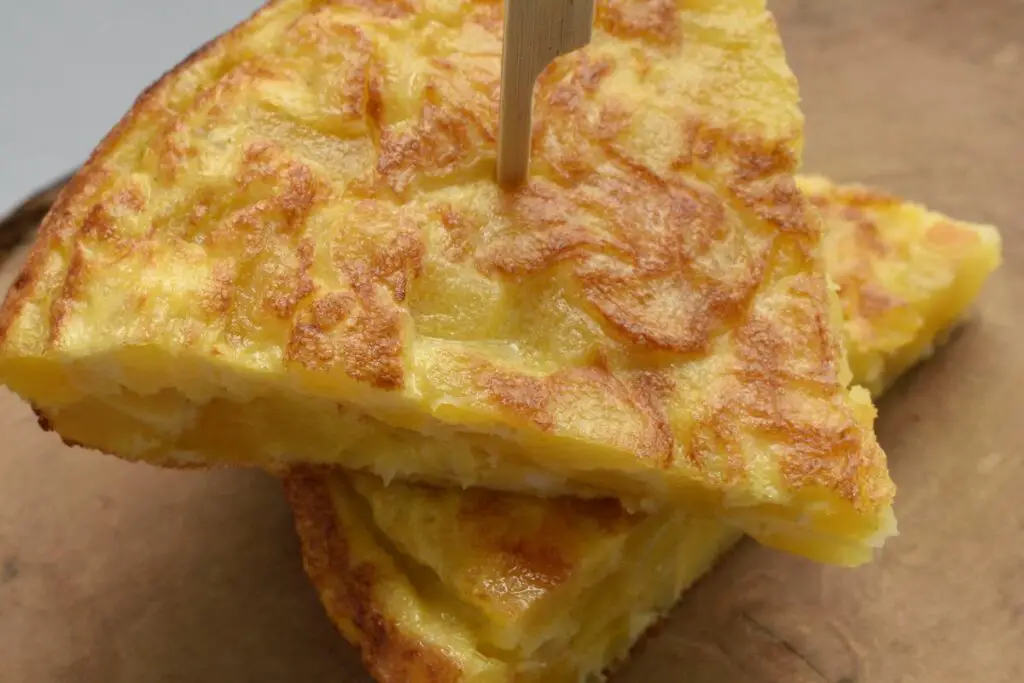 The Spanish tortilla, also known as the Spanish omelet, it's made with eggs, vegetables, potatoes, and onions. I love this as an early lunch or brunch option. It's nutritious comfort in one bite, filling you up, yet it's light and fluffy simultaneously.
You can find whole Spanish tortillas from most grocery stores ready-cooked and packed in the fridge aisle. You don't even need to warm it up. It can be served hot or at room temperature.
If you find that Spanish tortilla is not just quite enough on its own, then here are the 12 best sides that go well with Spanish tortillas.
9. Cold Pies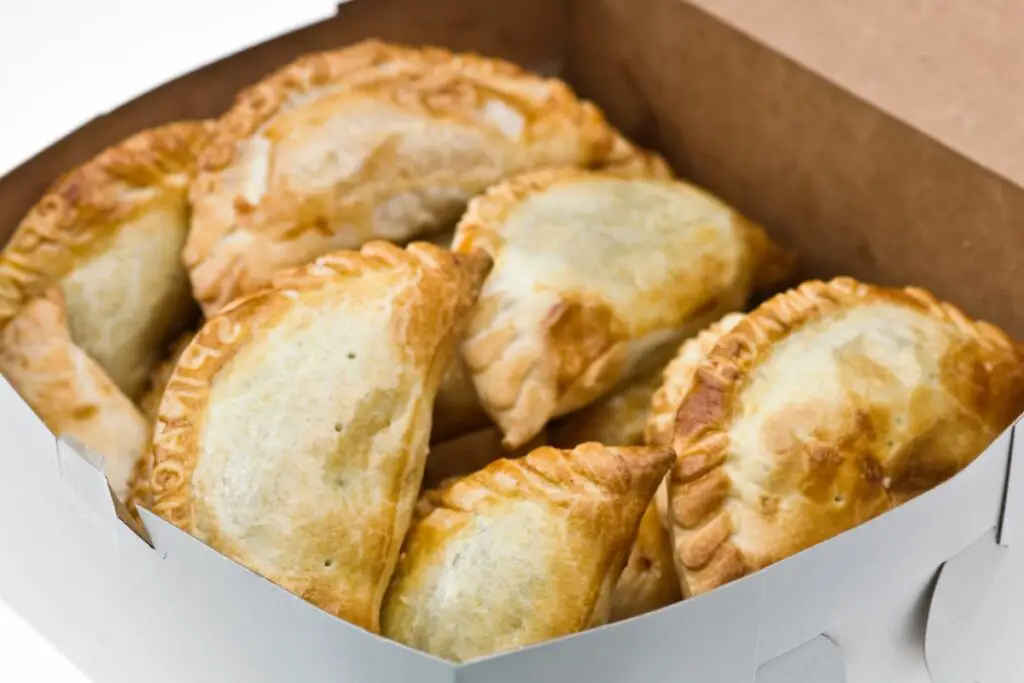 Is it just me, or does anyone else love eating cold pie?
Most grocery stores with bakeries also have a pâtisserie section where they bake their own pastries, whether a meat pie, creamy chicken and mushroom, or steak and ale pie you can buy by the slice.
These pies do come in handy on those lazy days after a long day working or studying. It's a hearty, nutritious, comforting meal.
If your locks grocery store doesn't have any cold ready-to-eat pies, then the next best thing you can probably get is some Hot Pockets. The only downside is that they come frozen. Here is How To Cook Hot Pockets In A Toaster Oven.
10. Pre-Cooked Deli Meats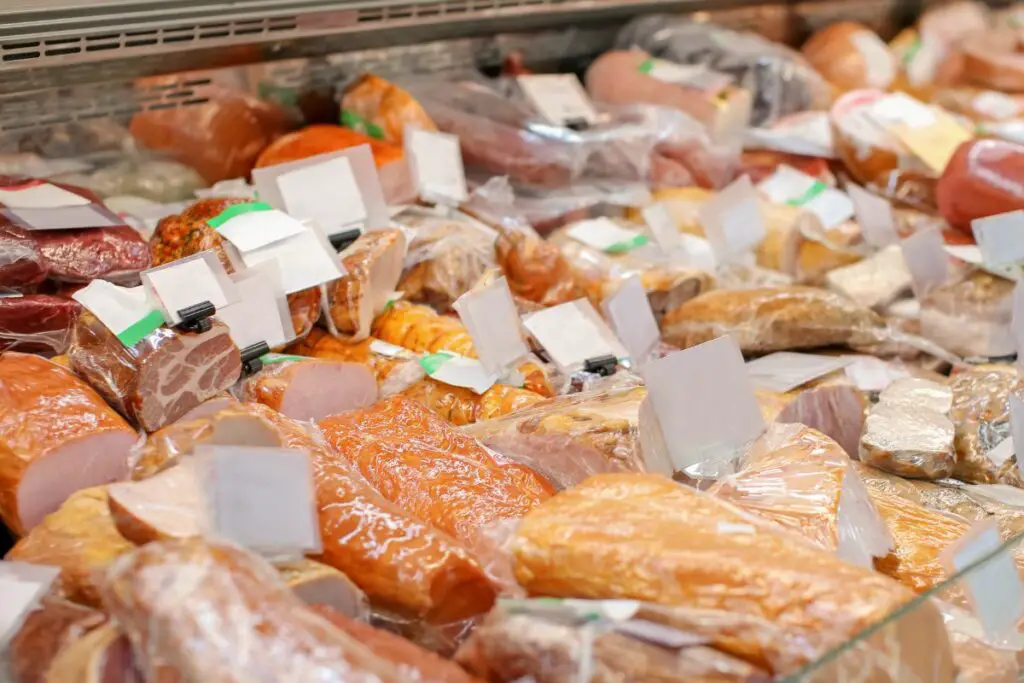 I grew up eating a Sunday roast with my family, but when it came time to fly the nest, that tradition slowly died with my newfound freedom.
It wasn't until I discovered that I could buy a fully loaded Sunday roast, including roasted potatoes, gravy, roast beef, and Yorkshire pudding, from a grocery store. To my surprise, grocery store pre-cooked deli meats and cold cuts taste really good.
If you have any leftovers, you can make a roast beef sandwich the next day, add some mustard to your bread, slap on some cheese, and layer the roasted meat you bought the day before.
Also, you can use some of the leftover meat to make a nice omelet for breakfast.
Read Also: 7 Easy And Delicious Spam Breakfast Ideas You Must Try!
In Conclusion
These are my top go-to easy no-cook meals from grocery stores that are great for lunch and dinner and relatively healthy. They are all quick, simple, nutritious, and require no cooking. I hope you find this list helpful the next time you're looking for a quick and easy meal.