Jump To Recipe
If you're on the hunt for a super easy yet delicious bread recipe, you've come to the right place. I'm super excited to share my go-to 2-ingredient dough that makes the most amazing bread rolls. Yep, you read that right—just two ingredients! All you'll need is self-rising flour and Greek yogurt.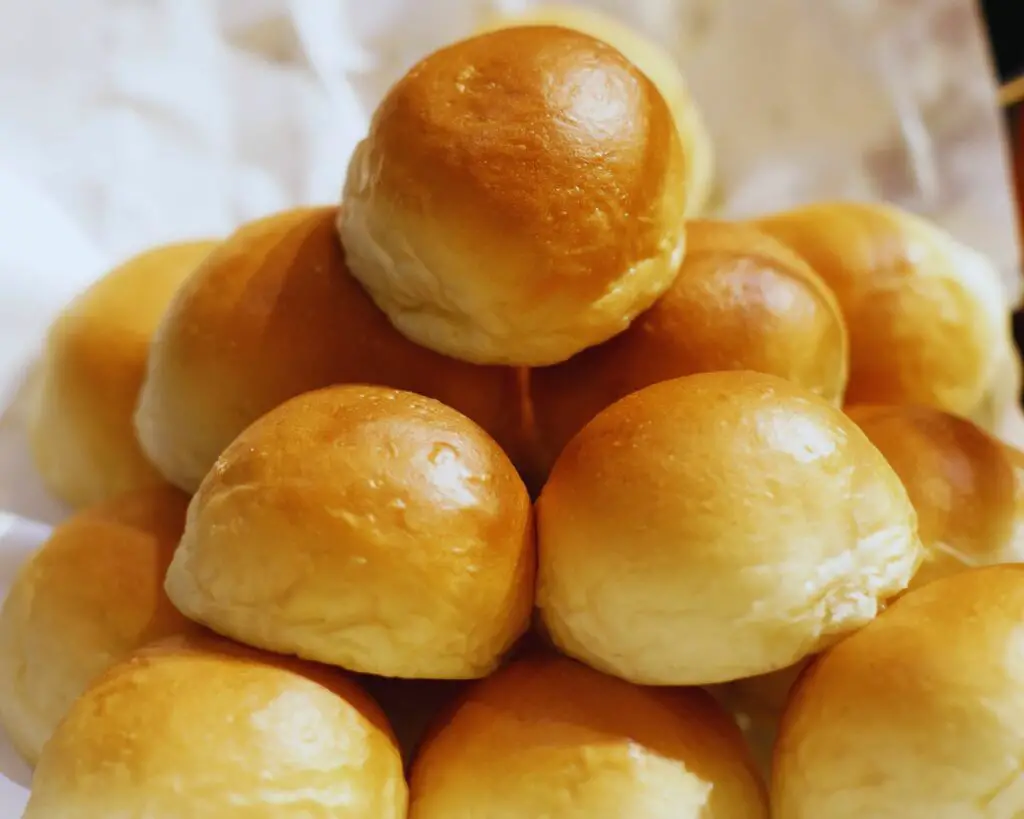 These fast and easy Greek yogurt bread rolls are a game-changer for busy weeknights or when you just can't wait to get that bread fix.
So, let's dive right into how you can make this 2 ingredient bread with Greek yogurt that is not only crusty on the outside but also soft and chewy on the inside—almost like the artisan rolls you'd buy at a bakery!
So, What Are These Two Ingredients?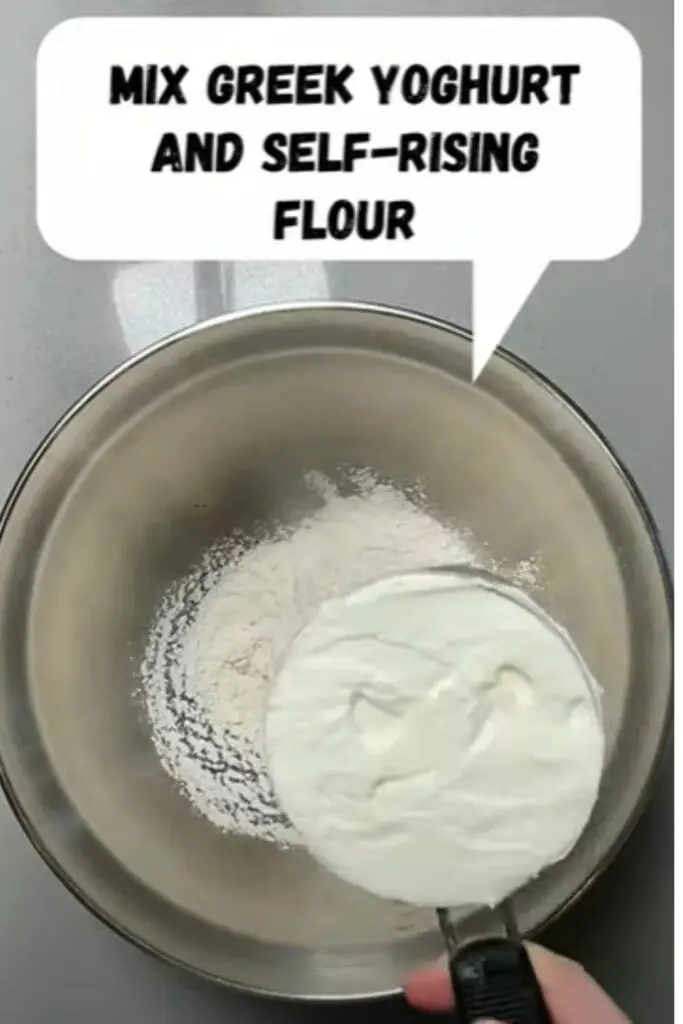 2 cups (250 g) self-rising flour
1.5 cups (350 g) plain Greek yogurt
That's it; just 2 main ingredients are needed! I like to use self-rising flour because it already has baking powder and salt mixed in. If you don't have self-rising flour on hand, don't fret! You can make your own by mixing 2 cups of all-purpose flour with 3 teaspoons of baking powder and 1/2 teaspoon of salt.
Top Tip: To Sift or Not to Sift? While sifting isn't mandatory, doing so can give you fluffier rolls. In my opinion, it's worth the extra step.
As for Greek yogurt, in my opinion, nonfat plain Greek strained yogurt works best. If you use high-fat or whole-milk Greek yogurt, your dough could end up a bit wet, but it still works. I've also tried alternatives like applesauce, pumpkin puree, and whole milk regular yogurt. The texture changes, but they still yield pretty good rolls!
Making 2 Ingredient Bread With Greek Yogurt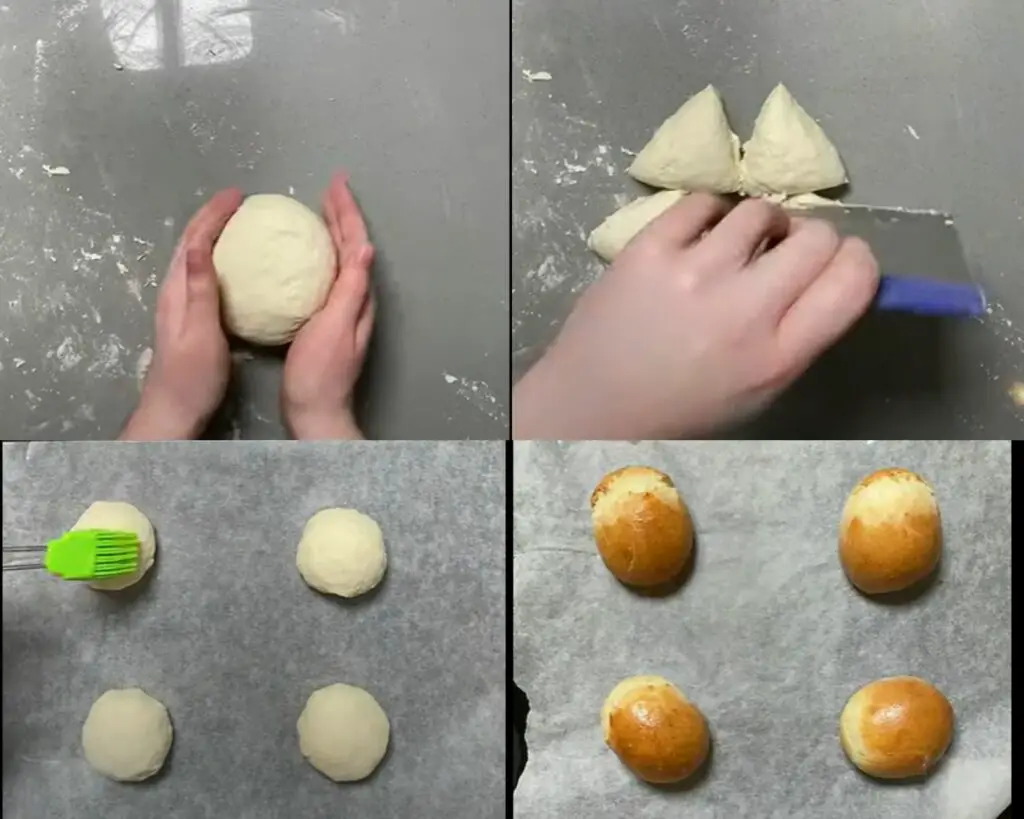 Preheat your oven to 350°F (177°C): I can't stress enough how important this is for even baking.
Prepare the Baking Sheet: Line a baking sheet with parchment paper.
Combine Ingredients: In a large mixing bowl, add your self-rising flour and Greek yogurt. Stir just until they come together to form a dough. You'll notice that the dough is quite sticky, and that's totally fine.
Knead the Dough: Place the dough on a surface dusted with a touch of flour. Knead it for a couple of minutes until you achieve a smooth texture. Check the video below in the recipe card.
Form the Rolls: This is where it can get a bit messy due to the sticky dough, but don't worry. Lightly wet your hands, and take a portion of the dough, rolling it into a ball. I recommend spacing these dough balls about 2 inches apart on your baking sheet.
Bake: Pop them into your preheated oven for about 25 minutes. I find that this is the sweet spot for rolls that are golden and crusty on the outside and soft on the inside.
Top Tip: For perfectly baked rolls, look for a golden-brown crust and listen for a hollow tap sound. A clean toothpick test also confirms they're ready.
And there you have it—delicious 2-ingredient emergency bread rolls, perfect for nearly any occasion or meal.
If you're feeling adventurous, you can even experiment with adding herbs or spices to the dough. Once, my husband requested a dash of garlic powder and some chopped rosemary for an extra kick, and they were a hit even with my kids!
3 Delicious Ways to Serve This Greek Yogurt Bread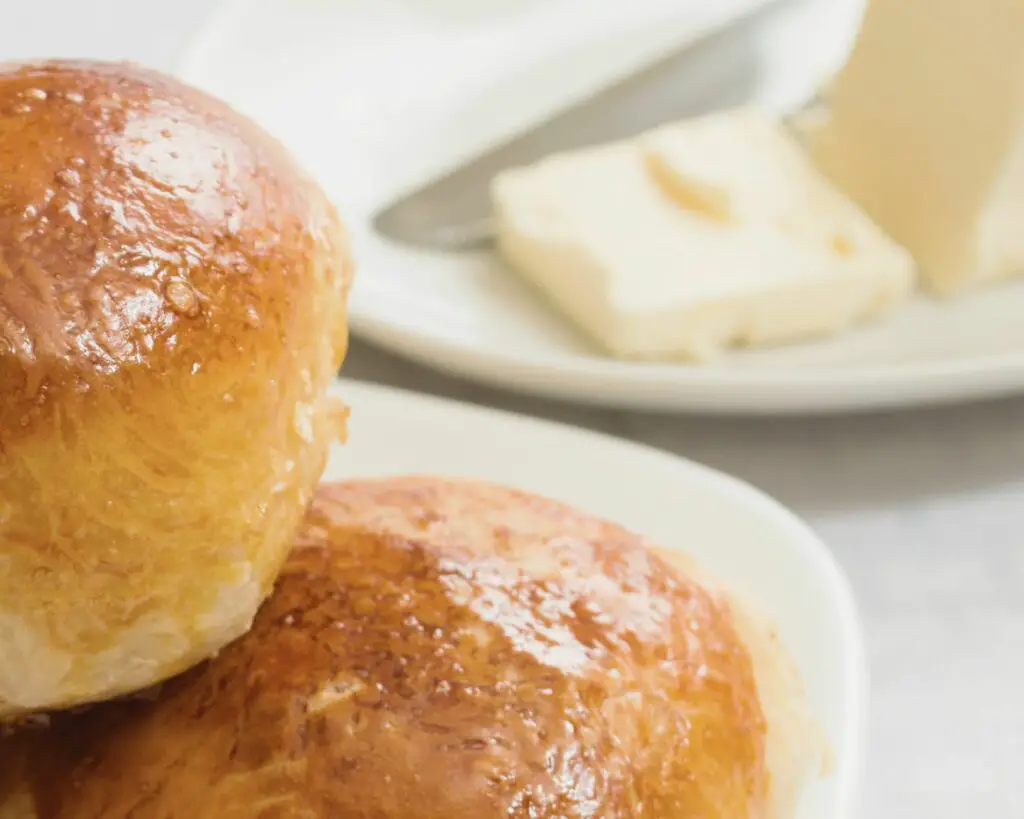 These 2-ingredient yogurt bread rolls are versatile, making them the perfect canvas for various toppings and side dishes. Here are my three favorite and scrumptious serving suggestions to make your meal extra special:
Butter and Jam: Oh, you can't go wrong with a good old butter and jam combo, can you? As soon as these rolls come out of the oven, I like to slather on some butter—letting it melt into every delicious crevice. And then, the jam! Whether it's strawberry or blueberry, you're in for a treat. But if you ask me, nothing beats mango or passionfruit jam; they're my personal favorites. This pairing doesn't just make these rolls scrumptious; it turns them into something you'd want to wake up to every morning or grab as a quick, delightful snack. Trust me, it's that good!
Turkey Barley Soup: For a hearty, wholesome meal, these bread rolls are the ultimate side dish to a warm bowl of this Turkey Barley Soup. Their crusty outsides and soft insides make them perfect for soaking up the rich, flavorful broth. Trust me, the slightly tangy notes of the bread wonderfully complement the savory, meaty goodness of the soup.
Homemade Margarine: If you're into plant-based options or just looking for a lighter alternative to butter, homemade margarine can be a fantastic choice. You've got to try these rolls with my homemade margarine. Add your favorite herbs or a hint of garlic—it's a simple way to make these rolls even more special. Check out my easy homemade margarine recipe here; you won't regret it!
Greek Yogurt Bread Storage and Freshness Tips
For short-term storage, keep these Greek yogurt bread rolls in an airtight container at room temperature for 2-3 days. To freeze, place them in a freezer-safe bag; they'll be good for up to a month. To enjoy later, simply thaw or warm in the oven.
Read Also: Easy And Healthy Lentil Bread Rolls Recipe (No Flour, No Yeast!)
Simply Yummy 2 Ingredient Bread With Greek Yogurt
Course: Sides
Cuisine: American
Difficulty: Easy
Looking for a speedy, delicious solution for bread cravings? My 2-ingredient dough recipe for yogurt bread rolls is a lifesaver. Made with just self-rising flour and Greek yogurt, this 2-ingredient bread with Greek yogurt is as simple as it is scrumptious. Let's bake!
Ingredients
1 cup self-rising flour, plus extra for dusting

1 cup plain Greek yogurt

Optional: Egg wash (1 beaten egg mixed with 1 tbsp water)

Optional: Melted butter for brushing
Directions
Preheat the Oven: Preheat your oven to 350°F (175°C).
Prepare Baking Sheet: Line a baking sheet with parchment paper and set aside.
Mix Ingredients: Combine the self-rising flour and plain Greek yogurt in a mixing bowl. Stir until the mixture forms a dough.
Knead the Dough: Turn the dough onto a lightly floured surface. Knead for about 2-3 minutes, until the dough becomes smooth.
Divide and Shape: Cut the kneaded dough into 4 equal pieces. Shape each piece into a roll by rolling it into a ball between your hands.
Place on Baking Sheet: Place the shaped rolls onto the parchment-paper-covered baking sheet, evenly spaced apart.
Bake: Place the baking sheet in the preheated oven and bake for 25-30 minutes, or until the rolls are golden brown.
Optional Butter Finish: Remove the rolls from the oven. If you like, brush the tops with some melted butter for extra flavor and a soft crust.
Enjoy: Serve warm and enjoy your simple, homemade 2-ingredient bread rolls!
Notes
Self-Rising Flour: If you don't have self-rising flour, you can make your own by adding 1.5 teaspoons of baking powder and 1/4 teaspoon of salt to each cup of all-purpose flour.
Greek Yogurt Substitutes: If you don't have Greek yogurt, you can try using plain yogurt, but you might need to adjust the flour quantity. Other possible substitutes include buttermilk, sour cream, or even mashed bananas for a different flavor.
Temperature: If possible, use ingredients at room temperature for even mixing.
Sticky Dough: The dough will be quite sticky, which is normal. Wet your hands or use a bit of extra flour to handle it more easily.
Even Sizing: Try to make all the dough balls the same size so they bake evenly.
Baking Time: Keep an eye on the rolls as they bake. The time may vary depending on your oven, so it's a good idea to check them a few minutes before the estimated time.
Customization: Feel free to add herbs, cheese, or spices to the dough for added flavor. You can also brush the rolls with melted butter or an egg wash for a golden finish.
Scaling: Need more rolls? Feel free to double the ingredients. Just keep an eye on the cooking time—it may vary.
In Summary
These 2 ingredient bread greek yogurt dinner rolls are super fast and easy to make and have a delightful balance of flavors and textures that you wouldn't expect from such a simple recipe. The outside is crusty and gives that satisfying crunch when you bite into it. Inside, it's all about softness and chewiness—very similar to the artisan rolls you might splurge on at a bakery.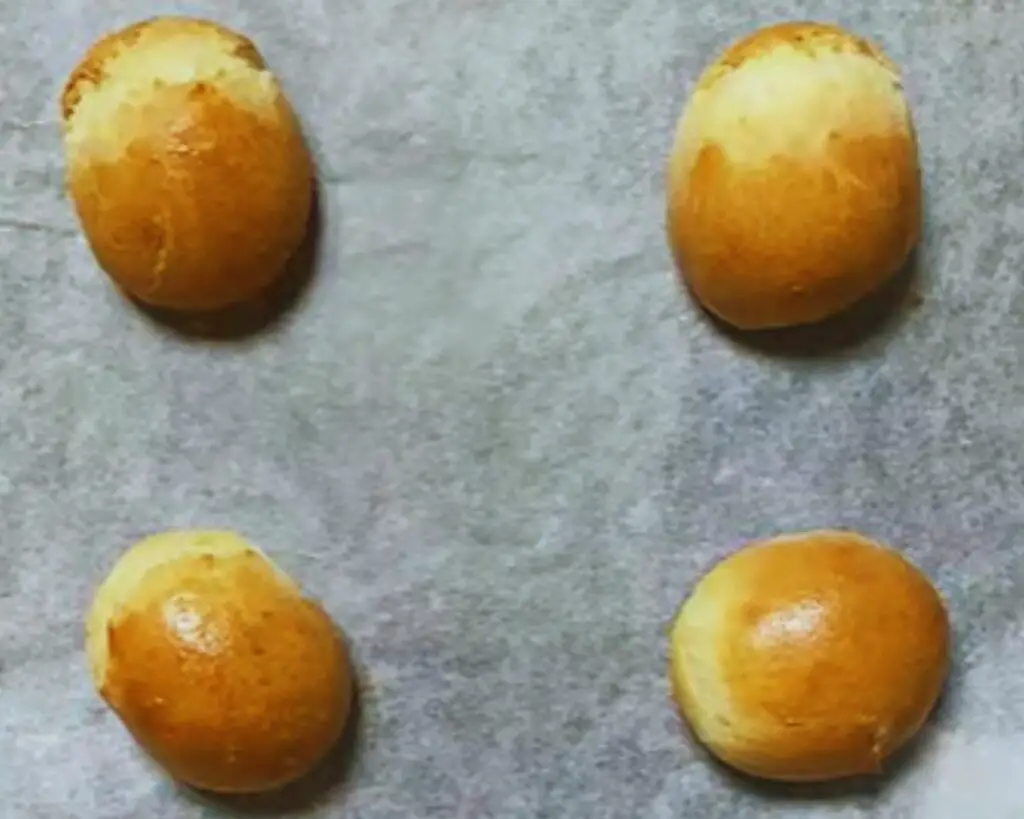 What sets these bread rolls apart is the subtle tanginess from the Greek yogurt. It's almost reminiscent of sourdough, offering complexity that belies the easy preparation. So if you're looking for that yeasty, homemade bread taste without all the fuss, these rolls really deliver.