Yes, there is an air fryer microwave combo, and this nifty kitchen appliance is becoming the next big thing in the kitchen gadget department.
This hybrid appliance combines the functions of an air fryer with those of the microwave and allows you to cook your food using all the different cooking methods these two appliances offer.
So, forget about the fan or conventional ovens, the time spent on preheating them, and the slow cooking times. Just like an air fryer and a microwave, this capable kitchen appliance can heat and cook your food much faster, without compromising its taste.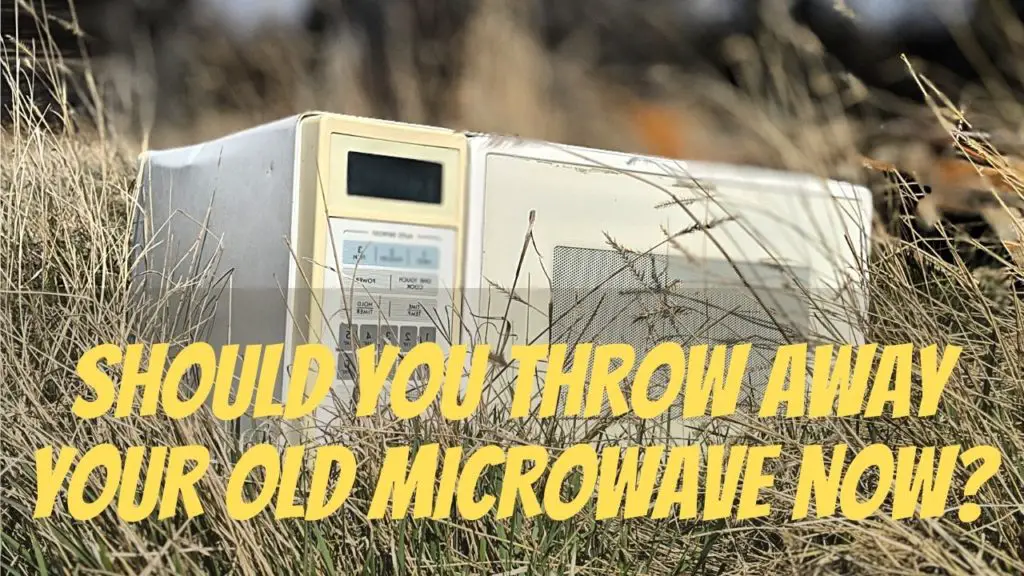 Now that you know what I am talking about, you might be wondering if it is worth getting rid of your old appliances and spending your money on buying just one.
The short answer is yes, and the reason why is quite evident once you see the array of air fryer and microwave combo's features below. However, for me, some of the functions seem a bit of an overkill.
But which are the best air fryer microwave combinations available today? What are the advantages and disadvantages of each one?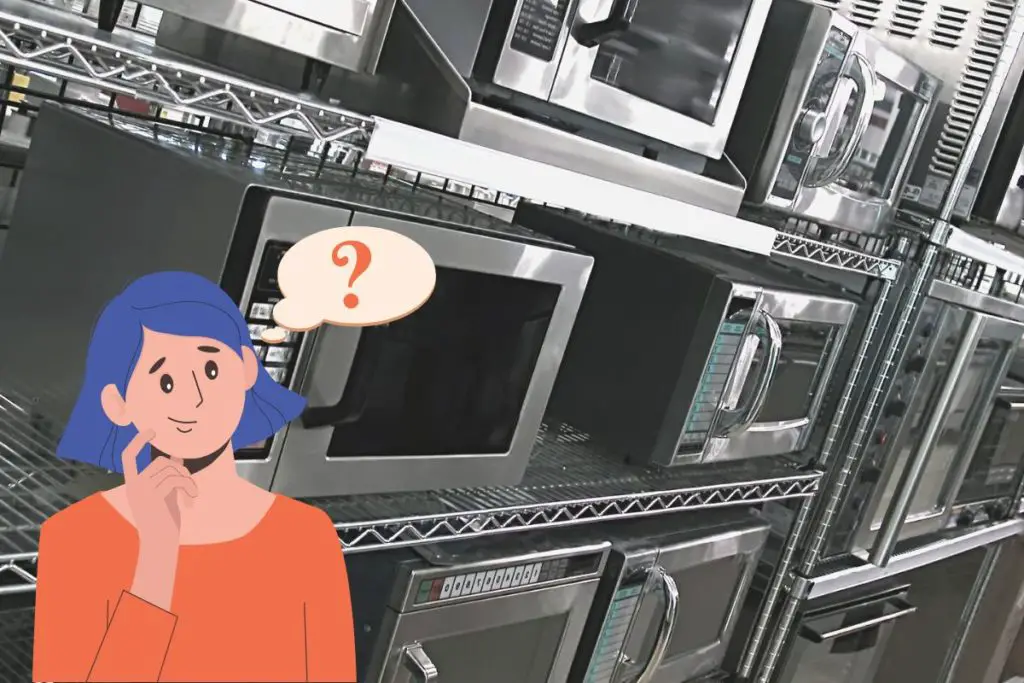 I have picked five of the best hybrid appliances to present you with, so you can choose the best one for you and your kitchen.
1. Galanz 3-In-1 Microwave Oven With Air Fry Convection
TAP ON IMAGE TO VIEW PRICE
This Galanz model is the epitome of what an air fryer microwave combo really is!
The purpose of an air fryer and microwave combo is to offer a dual oven mode that mixes the air frying and microwave modes to provide the optimal combination of browning and quickness, and the Galanz 3-in-1 Microwave Oven with Air Fry Convection does that perfectly.
This Galanz model also looks sleek and can easily be placed on even the smallest kitchen countertops. It is also quite affordable when compared to other brands, so you won't have to spend a fortune to test it out.
Moreover, it includes three separate attachments you can use according to the cooking method you have chosen, as well as an extra tray to elevate and air fry your food from all sides without its bottom side touching the plate.
Furthermore, this model includes a useful monitoring system that prevents your meal from being overcooked or coming out dry, and which is always useful when using microwaves.
The biggest disadvantage is that it is somewhat larger than a standard microwave, but I presume this is due to the addition of the air fry feature.
The advantage is that it provides 1.6 cubic feet of cooking space. So, for the family of 3 or 4 people, the Galanz 3-in-1 Microwave Oven with Air Fry Convection is currently, and without a doubt, a top pick.
Pros
Quite affordable in comparison to other air fryer microwaves.
Elevated tray to air fry food included.
Compact.
Easy to use.
Cons
The glass door is a bit darker than the others so you can't clearly see the food inside.
2. Toshiba Multifunctional Microwave Oven With Healthy Air Fry
TAP ON IMAGE TO VIEW PRICE
The runner-up on this list of the best air fryer microwaves is the incredible Toshiba Multifunctional Microwave Oven with Healthy Air Fry.
This Toshiba model not only looks very stylish thanks to its polished metallic features that make it look very futuristic, but it also boasts all the amazing functions an air fryer microwave combination ought to have.
Plus, there are some extra surprises!
Did I hear you ask what those are? Well, first of all, it's got a unique odor removal program that can remove the cooking smells or those leftover odors from previous food you've had using a charcoal filter.
In addition, it has an energy-saving eco mode and it comes with low consumption of 1000 watts only! Gotta love that ECO mode.
The only minor disadvantage is that, at 1 cubic foot, it is one of the smallest of these countertop combo ovens available, thus the capacity and amount of food you can cook at a time is less than what you could do with other models. 
This combination oven is a great option for anyone looking for an air fryer microwave combo for a smaller family or even for one person, and the pricing is quite reasonable. And I have seen some great deals and sales prices online as well, so if you are lucky you can pick up a real bargain.
Pros
Fast oven and combo modes.
Preheat progress bar available.
Great measurements; can fit in most kitchens.
Superb quality.
Can completely replace your old air fryer and microwave.
Cons
Air fry mode needs some preheating that can take up to 10 minutes.
3. Panasonic HomeChef 4-In-1 Microwave Oven With Air Fryer
TAP ON IMAGE TO VIEW PRICE
The Panasonic HomeChef 4-in-1 Microwave Oven with Air Fryer is essentially four devices inside one! It is both a convection and microwave oven, a broiler, and an air fryer!
And, if that is not enough, let me inform you that this model allows you to either try each mode on its own or combine them to cook with more than one method at a time! Not really sure what type of recipe would require that but well, it is there if you need it.
By using the air frying function, you can cook perfectly crunchy and succulent meals whilst controlling the heating and the cooking time.
And, like ordinary air fryers, it doesn't require you to add any cooking oil to cook to perfection, making it an extremely healthy alternative to deep-frying or shallow frying your food.
The Panasonic Home Chef 4-in-1 Microwave Oven features a humidity detector that determines whether or not your meal is ready.
Even though this sounds amazing, this sensor does unfortunately sometimes turn on instantly after you unintentionally start the oven before changing the settings.
Microwaving an empty oven for a long time can lead to malfunctions, so this is one of the things that you need to be careful with should you choose to buy this model. But that is not a surprise as you should not be doing that with a regular microwave oven either.
Pros
Stylish look.
4-in-1 cooking mode.
Durable.
Fast to reheat leftover food.
Cons
Quite expensive in comparison to other models.
4. Cuisineart 3-In-1 Air Fryer Microwave Oven
TAP ON IMAGE TO VIEW PRICE
As you can see in the picture above, this Cuisineart 3-in-1 Air Fryer Microwave Oven is a great compact alternative that won't take up too much space on your countertop.
It works like a convection oven for larger portion sizes, as a microwave for faster reheating, and as an air fryer for healthier cooking!
The microwave mode is already equipped with several heating settings and comes with eleven power levels, an automatic cooking function, and a defrosting function that estimates the time your food requires to properly defrost based on how much it weighs.
The only drawback there is in this model is its small size, but that is entirely subjective.
It merely has a 0.6 cubic foot capacity, which might sound and, indeed, turn out to be small for people who want to use it to cook family meals, but it is, nevertheless, ideal for someone living on their own or with their partner.
Moreover, if you are a parent, the Cuisineart 3-in-1 Air Fryer Microwave Oven has a convenient child lock option, so you can rest assured that your little one won't get in trouble when playing alone in the kitchen. But don't let them play alone in the kitchen anyway.
This model is a great addition to any kitchen, no matter how big or small, and, if you are environmentally conscious you can stay calm knowing that it has a very small footprint in comparison to other air fryer microwaves on the market.
With only a 700W microwave function, it works just as well as a 1000W microwave!
Pros
Small footprint.
Convenient child lock option.
Microwave with 11 power levels.
3-year warranty.
Defrosts food based on its weight.
Cons
The buttons might be a bit harder to press for some people.
5. Sharp Microwave Oven With Convection Cooking
TAP ON IMAGE TO VIEW PRICE
The Sharp Microwave Oven with Convection Cooking is a big-sized, reasonably priced, durable, and reliable appliance that can replace your oven easily and take the place of your old oven!
This is a model that is equipped with all the functions of a modern microwave and has 10 different, customizable power levels to ensure that your food will be perfectly cooked.
It also has a detector that determines the precise duration your food needs to be cooked or reheated to taste great.
The way it does that is by selecting one of the ten power levels based on how much the food weighs and then automatically setting the total time of cooking. Sound pretty cool, right?
Now, as you might have already guessed by the name, this Sharp Microwave Oven with Convection Cooking does not have the air frying properties the rest of the microwaves on this list do. So, technically, I should have not put it on this list.
However, if you are one of those people who trust a brand's history and popularity, then I should tell you that this Sharp model has been a top pick for people who were looking for a microwave oven that would also be capable of doing some frying and baking.
Moreover, if the kitchen is not your favorite place to spend your time and you prefer to keep it simple, or do not have enough time to cook, this Sharp model can guarantee you a delicious meal without you having to check its cooking progress every minute.
Sharp's convection and microwave oven combo is the best thing to invest money in if you want to replace your oven once and for all. Or if you just moved into a new flat without any kitchen appliances, then this one can cover quite a few of them on its own.
With its convection technology, it guarantees your food will be perfectly roasted, baked, or browned, and the microwave mode makes sure that your food will be quickly reheated or cooked with only 900W!
Pros
Eco-friendlier 900W convection microwave oven.
Accurate Cook sensor technology that determines cooking times.
Very durable.
10 different customizable power levels.
Convenient child lock option.
Cons
Doesn't have the air frying capabilities of the other appliances above.
Buyer's Guide
Here I will try to answer some more questions and concerns and provides considerations before you going to throw out your regular oven and microwave.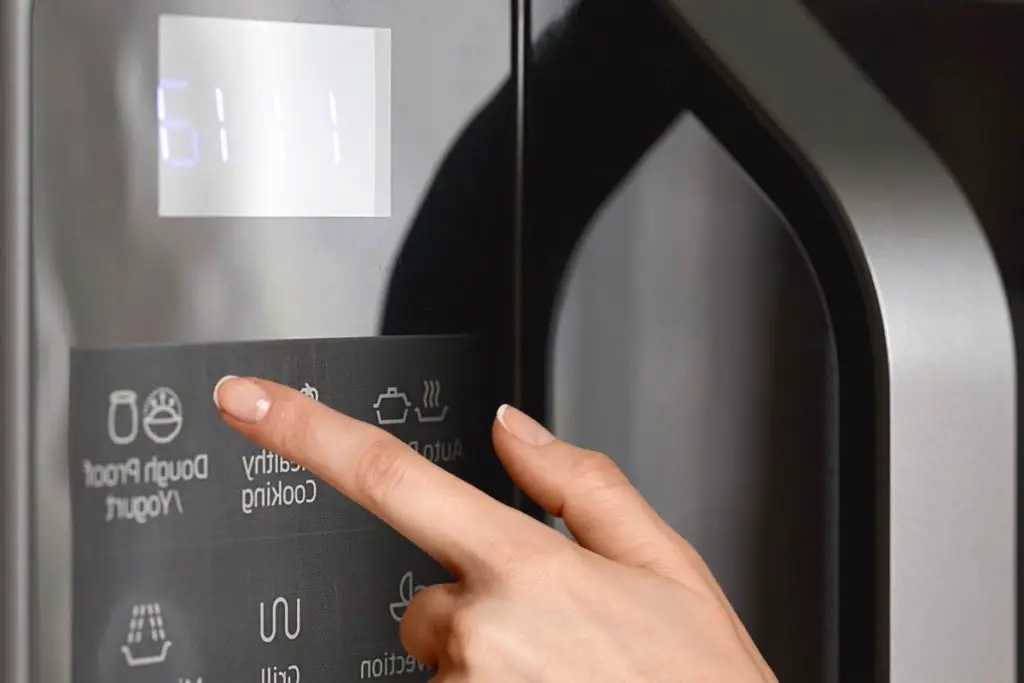 Air Fryer Microwave Combo: What Is It?
An air fryer microwave looks like a regular microwave oven but combines the greatest characteristics of these two kitchen appliances most of us have in our household: The first one is the microwave oven and the second one is the air fryer.
In terms of the evolution of the oven and the novelty in kitchen appliances, the air fryer microwave combo is unquestionably a next-level appliance. 
What Does A Microwave Do Differently Than An Air Fryer?
It is common knowledge that a microwave heats the food using microwaves.
What the microwaves do is raise the temperature in the water included in the meal you're cooking or heating by "stirring" the water particles. The process I've just described is the basic trait of cooking food with microwaves. 
This cooking method is quick, however, it does not help with browning, so it is not the ideal cooking method to use when cooking raw meat or trying to achieve perfected crispy fried food.
However, many people partially cook their meals (even raw meat) in a microwave oven before finishing their cooking in a conventional oven.
But if you're not careful, microwaved food might get dry, soggy, or rubbery so you always need to keep an eye on it, especially if you are cooking something for more than a minute. 
Air fryers are, in a way, the polar opposite in the kitchen appliances spectrum. What an air fryer does is circulate hot air over the food, thus cooking/frying it, with the help of a fan that is installed in the appliance.
The air fryer was first designed as a healthy alternative for deep frying food, as they don't require you to fill the air fryer's bowl with oil for the food to be cooked, as a matter of fact, you don't need to use any oil at all to achieve a crispy result.
This makes them great for browning and completely cooking your meals, and you can use them for meat, vegetables, French fries, roast chicken, crispy roast potatoes, potato chips and you can even roast your coffee beans!
Both the microwave oven and the air fryer are quite different, yet useful pieces of kitchen equipment on their own, but when the two are combined, that's when the magic happens! Right?
Why Should I Get An Air Fryer Microwave Combo?
As previously mentioned, microwaves and air fryers provide a completely different cooking experience. You have something twice as helpful if you have a kitchen appliance that can perform both duties.
1. Flexibility And Ease
The levels of ease here are simply extraordinary. First and foremost, you are replacing two kitchen appliances with a single compact one, which saves room on your kitchen countertop.
Secondly, you get to cook with two different methods by using only one appliance. Like I've already said, some individuals like to partially cook or defrost their meal using microwaves before putting it in a conventional oven to completely cook it.
Using a microwave air fryer, though, means that you can do all this in one place!
2. Replacing Old Ovens
That's not all. The air fryer microwave can even become a permanent alternative to the traditional oven, as it effectively cooks food by itself.
Not only is it a versatile appliance, but it also uses a lot less electricity than the regular oven does.
3. Small Footprint
To put it in numbers, an air fryer microwave like the ones I have picked above is just 1000W.
So, as you can tell, this is a very low power consumption that is quite rare amongst regular ovens or that usually are closer to 1500W electricity consumption.
Therefore, if you often use both the microwave and the air fryer in your kitchen, the microwave air fryer combination might be the ideal oven replacement option for you.
What Are the Disadvantages Of Buying An Air Fryer Microwave Hybrid Appliance?
1. Authenticity
There are some models on the market that feature an air fryer capability that does not appear to be entirely developed, resulting in significantly slower cooking times than those of a standard air fryer.
So, it is best for you to carefully go through the appliance descriptions and be knowledgeable of what it is you are purchasing.
And, of course, make sure to thoroughly evaluate any all-in-one Air Fryer Microwave you purchase to ensure that all of the features it provides work efficiently!
2. It Is Harder To Get Used To
Because an air fryer microwave combo appliance frequently has many cooking settings, for me, often too many in my opinion, it might be difficult to find a use for some. Different attachments, for example, are frequently required for varied cooking functions.
One product might include an elevated tray for the air fryer mode which will, of course, be of no use when you want to microwave something.
All of these changes in accessories may confuse some users, but it is definitely worth trying.
I rarely read the instructions for my kitchen appliances, but if you want to take full advantage of your air fryer microwave's functions, you must be willing to do some reading.
And even though it is advisable to go through the reviews, there are many bad reviews out there from people who simply did not read the manual and could not thus use the new cooking machine the right way.  
3. Small Capacity
In contrast to an oven, using an air fryer microwave combo appliance might mean that you need to compromise for a reduced cooking capacity.
So, for example, if you wanted to make some fries, you would have to cook a much smaller amount or split the servings and cook them separately to serve a larger crowd of people. 
4. Expensive
If you find an air fryer to be expensive, then I have some bad news; these combo appliances are more expensive than regular air fryers, so they might not be the best option for people on a low budget.
5. New Technology
Microwave air fryer combos are still relatively new kitchen gadgets, but they are gaining popularity. There are quite a few people who already own an air fryer or the combo version already, so there are some good reviews and personal recommendations online.
Frequently Asked Questions
Is It Worth It To Invest In All-In-One Air Fryer Microwave?
It is definitely worth investing in one air fryer microwave appliance that can replace both your microwave and air fryer. If you are willing to invest more money in buying the best one with the most functions, you can even replace your old oven and quickly heat, cook, and defrost your food without compromising its taste!
What Can I Cook With An Air Fryer And Microwave Combo?
The air fryer and microwave combo can cook such a wide variety of food items. The fryer uses hot air to cook the food, while the microwave uses microwaves to cook the food so anything that can be fried, roasted, baked, broiled, or microwaved this appliance can do it all. This combo can be used to cook food or reheat items such as chicken, fish, meat, French fries, and pizza. You can even bake cakes or a loaf of homemade bread.
In Conclusion
If you are in need of upgrading your kitchen appliances, then an air fryer microwave combo might be something to consider. However, if you have perfectly working ones that allow you to cook all your favorite recipes then I would hold on for a bit to passing out on a new fancy appliance.
Read Also: How To Make Crusty Air Fryer Bread? – (Only 4 Ingredients!)