I used to have a cram-full kitchen cupboard of plastic food containers to store our leftovers but earlier this year I decided to ditch that big stash of old plastic tubs for some healthier and more environmentally sound alternatives.
Although the industry says that most food containers are of high quality and safe to use, there are still many that could break down and leach toxic chemicals and microplastics into your food and environment.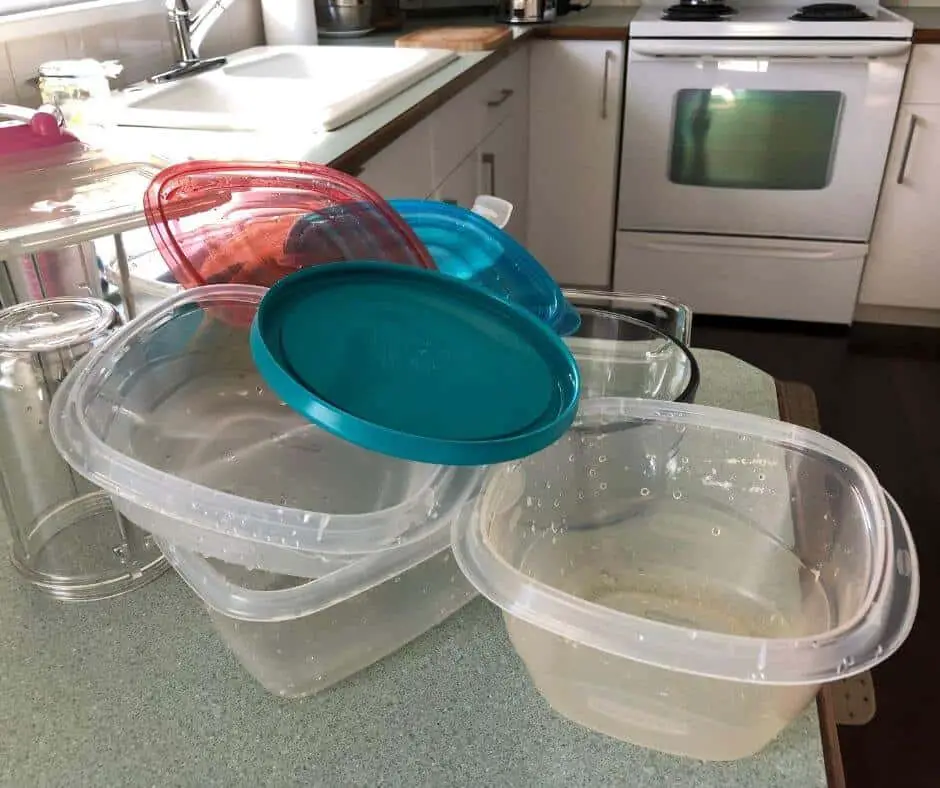 If you want to detox your kitchen and make a change in your life, stop using plastic food storage boxes and check out some of my favorite plastic-free and eco-friendly food containers below.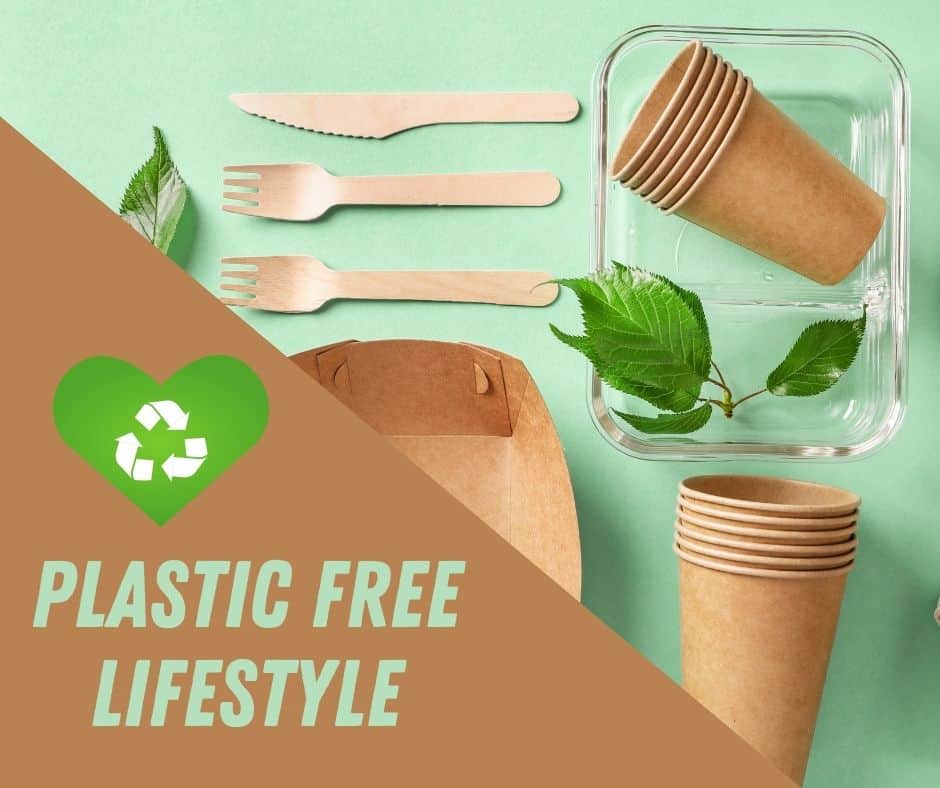 1. Glass Food Storage Containers With Bamboo Lids
TAP ON IMAGE TO VIEW PRICE
Perhaps one of the most common and practical options is glass. Glass is always non-toxic, easy to clean, and safe for any type of food. These glass containers are both convenient and nice to look at with their bamboo lid.
Glass is always a great option as it won't absorb odor and any food tastes and smells that can occur from using plastic. Glass can also handle any temperature of the food you want to put into it.
This lovely set above is available on Amazon and contains 4 containers, each holding up 36oz.
Pros:
Some of the benefits of these glass containers include:
Oven-safe.
Dishwasher safe.
Environmentally friendly.
BPA free.
While there are a few benefits that are good to take note of, like most things in life these aren't perfect and there's some room left for things to be desired. 
Cons:
Some of the issues that users had with this product include:
The lids aren't airtight.

You can't put the lids in the microwave or oven.

The lids aren't coated, leaving them stained and susceptible to moisture.

Although these containers are quite sturdy, the glass, in general, can still break quite easily.
So, if you don't plan on putting things such as soup or items that need to have a rather airtight seal, these containers might not be the best fit for you. Though, if you have a lot of leftovers that you plan on eating the next day or for things that don't require as much of a seal, these are a great option for you!
If you do need leak-proof tubs then the next option below is a good choice. 
2. Stainless Steel Leak-Proof Food Containers
TAP ON IMAGE TO VIEW PRICE
Unlike some of the items on this list today, what's really nice about this specific set of food containers is that they come in three different sizes.
One reviewer compared the largest to be almost as large as a "9.7" iPad." If you're someone who likes to pack a large lunch, these stainless steel containers could be a great option for you!
Stainless steel is always a great, strong option if you don't want to worry about careful handling as you would with the glass containers above.
These are perfect for anything with the food you may put to prevent food from leaking and spilling and preserving freshness.
One thing to note before purchasing is that you can't wash them in a dishwasher. Since they have really great leak-proof lids, there's a potential of warping them with the heat of the dishwasher making them no longer leak-proof.
Pros:
If you're okay with that though, take a look at all the other benefits you have with this set of containers:
Leak-proof seal.

Three different sizes in one set.

Very good price for such high quality.

BPA free.

Non-slip outside

.

100% food safe.
Cons:
But as most things go, there are also some cons to them as well, such as:
Not dishwasher safe.
Not microwave safe (it's stainless steel).
It won't keep your food hot for very long (it's not a thermos).
If you don't need to keep your meals hot or need to heat things up in the microwave, this could be a great eco-friendly container set for kids or adults to take to with them as a lunch box when they need a packed meal!
3. Ceramic Food Storage Containers With Spoon
TAP ON IMAGE TO VIEW PRICE
Next up on the list is a heavy-duty ceramic set that comes with wooden spoons. Now if you're looking for something to bring lunches to work in, despite the attached spoon, this isn't going to be what you want.
The style of these containers is more for kitchen uses like storing flour, cereals, pulses, sugar, coffee, and so on.
Pros:
While these may not benefit you greatly if you're looking for something to take lunches in, they have other benefits like:
Great for kitchen storage.
Looks nice if left on display.
Flip-top lid with an air-tight seal.
Made of heavy duty-ceramic.
Comes in many different lovely colors you can choose from.
Comes with a wooden spoon to help with measuring and serving contents.
Cons:
Though listing benefits is the fun part, let's also take a look at some of the things that aren't great about these. 
A rather small size. The largest container (45 oz or 1.3 liters) probably wouldn't be able to hold a full bag of flour.
This set can be great for those who have a small kitchen and would like to have cute display containers without it taking up too much space on the counter, but if you're hoping for them to hold a whole bag of flour, you may want to find something else. (Still great for strong tea, coffee, cookies, candy, and so on).
4. Eco-Friendly Chic Palm Leaf Bowl With Lid
TAP ON IMAGE TO VIEW PRICE
Perhaps one of the containers with the largest selection to choose from on the list today are these really neat natural bowls. With so many options ranging from a 12" serving bowl, to 1.5 oz (44 ml) dishes for serving dips in, these palm leaf bowls come in many options.
As these come with lids, you can effectively store dry food items in them.
Something to note is that if you're hoping to have a huge soup party, these may not be for you. While yes, these will hold liquids, you want to treat them like a paper bowl.
You can't exactly wash a paper bowl and give it to the next person in line. But! If you're someone who is looking to take a quick thing of trail mix or a snack somewhere, these could be great for you!
Pros:
Benefits from these palm leaf containers are things like:
Naturally water and grease resistant without needing any chemical coating.
Microwave save.
Compostable. Throw them in your compost bin and you're good to go!
Many size options available with lids to go with them.
Option to purchase in bulk.
Cons:
While these have the great feature of being compostable, because of that it also leads to some concerns that certain people might not care for, like:
Not reusable if used for liquids

Isn't great for storing food for a long time.
These can be a great eco-friendly option if you're hosting a party with lots of people and want to store or serve dry foods in these. But if you're hoping for something permanent, one of the glass or stainless steel options above would be better.
5. 3-in-1 Secure Locks, Stainless Steel Lunch Container
TAP ON IMAGE TO VIEW PRICE
Who doesn't want a bento box! They're convenient, fun to pack, and great for both kids and adults. You're able to pack multiple items and dipping sauces in one box, instead of having lots of little containers in your bag.
While it's common for bento boxes to be plastic, this one is nice because it's made out of stainless steel, making it naturally free of BPA and other chemicals that can leach into your food.
Pros:
This lunch box has a lot of benefits and could bring a lot of ease to your meal-packing with things like:
Everything you need in one container.
A sleek stainless steel look.
Great for kids' lunches.
100% food-grade stainless steel.
It is PVC-free, BPA-free, LEAD-free, and PHTHALATE-free.
It will last a really long time (comes with a lifetime warranty).
Holds up to 6 cups of food and has three separate compartments for food, as well as a dipping sauce container.
Cons:
Some things to be aware of though before buying are things like:
It's not dishwasher safe.
May be hard for small children to open.
Not 100% leak-proof. It can hold thick dipping sauces but nothing very thin
Something to note about this product though is that there are a lot of reviews are talking about how there have been issues with cracking. The company has posted that they have now updated their design and the 2020 design is now crackproof!
6. Heavy-Duty, Plastic-Free Clamshell Food Containers
TAP ON IMAGE TO VIEW PRICE
"Perfect for storing Thanksgiving leftovers." As many commenters say about this product, they are absolutely great for packing leftovers and meals as well as replacing your usual plastic lunch boxes and sandwich bags.
These carry-out boxes with three compartments are made out of 100% sugarcane fibers, making them fully biodegradable. If you like being able to have your lunch already on the plate when you get to work instead of eating out of a couple of separate containers, this could be great for you!
Pros:
Though you may not think it, there's a lot of useful benefits that come with eating out of something that's made from sugarcane fibers, such as:
Super cheap for a pack of 50 containers. 
These food containers are freezable and microwavable.
100% biodegradable.
Oil and cut-resistant.
Does Not contain any wax or plastic lining.
Can be used to store Hot or Cold food Items.
Different compartment options are available.
Cons:
While it's great that these are both tree and plastic-free, as I have seen with some of the other biodegradable products they may become soggy if moist food is left in them for a long time. It can be confusing because a lot of comments on this certain product state they held up well with moist foods like pasta and such, but others said they didn't.
If you're planning on not using it for things like that, these might be a great option for you! Like some of the reviewers also mentioned, these are great for parties when you want to prepackage meals. You don't have to feel bad about using styrofoam or plastic when you're using these.
7. Large Aluminum Food Containers With Lids
TAP ON IMAGE TO VIEW PRICE
While foil pans aren't something that always comes to mind when you think of "non-plastic food storage" they're something that should be included! While you might not want to walk into work carrying one of these giant bad boys full of pasta, (you might get some weird glances), these are certainly great for storing food at home.
Foil pans are great for storing leftover food when you have a lot to be stored. Nobody wants to pull out six different Tupperware containers just to put the one pasta dish in. Because foil holds heat well, these are also great for baking, cooking, and serving food as well. If you're having a BBQ, fill it up with some sauce and throw in that chicken or brisket and you're good to go.
Pros:
These are not only great to use as food storage containers but have many other benefits:
Really great value and price.
Comes with a lid.
Large 9×13 size.

Serving, prepping, and cooking food.

Being eco-friendly and recyclable.

Dishwasher, freezer, and oven safe.
Cons:
There are not too many downsides to using pans like this, but a few things to keep in mind are:
The edges can be sharp. Be careful when running your hands around the edges of the pans.
They can collapse if filled with too much food.
Hard to reuse if they get bent.
Foil pans most definitely serve their purpose when it comes to making and reheating freezer meals, cooking, and serving food and can be great if you don't have tons of extra-large casserole pans lying around.
8. Paper Food Cup Containers With Lids
TAP ON IMAGE TO VIEW PRICE
Almost at the end of the list are these nice versatile food containers. When it's cold outside it can be great to have a nice cup of hot soup to eat on the go. Or when it is hot outside, you can store your homemade ice cream in them.  
These pint-sized cups are made out of paper which makes them great for recycling and for keeping you filled with warm food in the winter or cold in the summer. While it can be a concern of soups or liquids leaking from cups like this, this company guarantees that the lid fits snuggly and that the contents won't leak and spill.
Pros:
Everyone in the comments on this product loved how well it worked for their hot liquids, so let's take a look at some of the other benefits!
Great for prepping or storing food and leftovers, storing snacks, lunches, and more.
Great for hot liquids and soup.
Spill-proof.
Can be used for things like ice cream.
Really good price for 60 storage cups with lids. 
Cons:
There doesn't seem to be too many negative comments on this, which is a good thing! Everyone who has purchased these seems to really enjoy them as they're great for holding many other things than just liquids or soups.
Perhaps you like to make your own ice cream, these are a great option to store and label your own ice cream for a cute look! If having a nice cup of hot soup is something that interests you, but you don't want all the mess of washing it up at the end of the day, you can purchase these on also Amazon.
9. Natural Eco-Friendly Paper Food Containers
TAP ON IMAGE TO VIEW PRICE
The last one we're going to look at today is another great eco-friendly alternative to plastic lunch boxes.
These containers are made out of Kraft stock paper using natural soy blend eco-wax and a chlorine-free manufacturing process. These paper containers are highly praised by the people who have purchased them. These eco-friendly boxes are perfect for leftovers and takeout.
With a special blend of "eco-wax" in the box, it's even great for hot or greasy foods, making sure the oils and moisture don't leak through any part of the box.
Pros:
So, why should you get these paper food containers? Here's a couple of reasons:
An eco-friendly alternative to your usual plastic food container.

Cost-effective option to use in restaurants for takeout.

Great for meal prep during the week in ready-to-go containers for lunch.

Microwave safe.

Specially designed to hold greasy leftovers.

Great for storing cakes and pastry.

Different sizes to choose from.
Cons:
But, like other paper products, there can be downsides like:
Fragility. The box can bend easily if you're not careful. (Do not sit on it).
Not reusable like other materials might be.
If you don't like having to do the dishes at the end of every night from your work lunches, these are a great option for you! These eco-friendly food containers are also great for guests if you have an assortment of foods for people to take home at the end of a party or event. 
Read Also: Take your food storage beyond tubs and containers and check out these 20 innovative food storage ideas.
Conclusion
So, which option is best for you? Well, that depends. Some of the first options like the glass containers and the stainless steel ones are great for people who want just a couple of containers to reuse over and over for meals and storage.
A bento box is a great option for people who like to pack multiple things in their lunch and have it all in one container. You can always change it to fit your needs and they're always a great option for kids as well!
Some of the tubs and containers that are later on the list are great because these are disposable yet recyclable or biodegradable and very convenient.
Whatever your needs may be, I hope there was something on the list that you liked. 
Everyday Foods That Contain Plastic And Safe Alternatives
It is not only single-use plastic products, plastic food containers, bowls, and even cling film that can add a bit of unwanted microplastics to your diet but there are also some popular everyday food items that may contain a hefty dose of plastic fragments.
Check out these common food products that contain microplastics and discover some good plastic-free alternatives you could use instead.