Throw Away Food, and You Might As Well Throw Away Dollars! Here are 20 useful food storage ideas and cool equipment to help you keep food fresh longer.
Don't you just hate throwing food away! I know that I do. Going through your fridge and quickly filling up a rubbish sack with all the food that has gone off, You might as well just throw your wallet into the rubbish bag too because that's effectively what you are doing.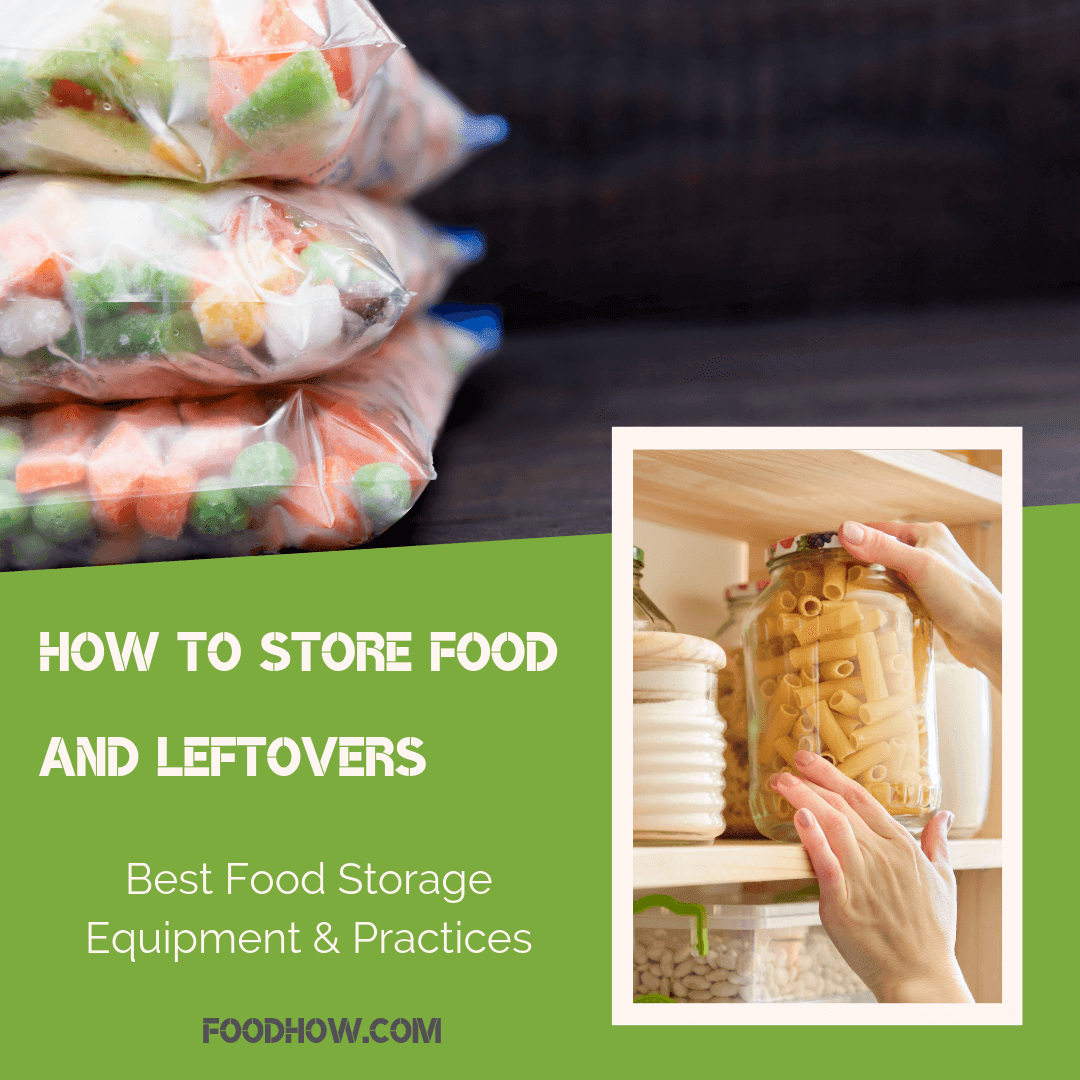 My Mum always told me that, as far as food is concerned, you should take only what you need; you should always leave a clean plate and never throw away good food.
Well, that advice from my dear old Mum has stuck with me since childhood, and I've become a bit of a food storage guru since then. Pickling, salting, freezing – I've mastered many techniques to make sure my food lasts long beyond the supermarket's limited shelf life.
The best part about my food storage 'habit' is trying out the latest food storage products and gizmos on the market. There are lots. This means that you and I are in good company – lots of products means lots of people who consider storing food and keeping it fresh important.
So, for all you food storage fans out there, here are 20 food storage solutions to help you keep food fresh longer, save time, and money, starting today:
1. Vacuum Sealer By NutriChef.
TAP ON IMAGE TO VIEW PRICE
With this vacuum sealing starter machine, you can prepare multiple portions of your favorite meal and freeze them in vacuum-sealed bags, ready for when you need them real quick.
Vacuum sealers preserve food up to 5 times longer than using a zip-lock bag does. So, you really do not need to worry about cooking too much of your favorite dish, and you'll be able to keep it for a long time.
My favorite feature about this vacuum sealing machine is that it offers you 2 sealing modes – one for solid foods and one for moist foods.
It also comes with ready-to-use bags included, so you can start your food storage habit right away, without having to purchase extras.
2. Small FoodSaver Vacuum Sealer – Hand-Held Sealing System.
TAP ON IMAGE TO VIEW PRICE
Fantastic! A food storage gadget that will fit into your handbag.
This great little vacuum sealer is compact, lightweight, and cordless – so you can even take it round to your friends' homes and get them started on food storage.
The Foodsaver Vacuum Sealer is hand-held and has a one-touch operation, making it simple to use. It is Dishwasher-safe, which makes it easy to clean.
So, there are no hassles for you during your food vacuum sealing or when you are cleaning up afterward.
3. Portable Hand-held Mini Heat Pressure Sealing Machine For Airtight Food Storage.
TAP ON IMAGE TO VIEW PRICE
Try this if you want to keep your fridge and kitchen free from leaking food bags.
It will heat seal pretty much any plastic bag or aluminum foil bag. So, no need to buy specific (and often expensive) bespoke sealing bags – you can just use what you have lying around your kitchen.
It is quick – you can get a good seal in seconds – and it is easy to operate.
Wumal is so confident in their Hand-held Mini Heat Sealing Machine that they offer a Full Satisfaction money-back guarantee. Now, that always works for me!
4. Produce Saver With Revolutionary Technology By Rubbermaid FreshWorks.
TAP ON IMAGE TO VIEW PRICE
This clever food storage gadget has its own FreshWorks technology to increase the lifespan of fresh food.
It controls levels of oxygen and carbon dioxide through a built-in lid filter and a 'crisp' tray. The lid filter comes with a lifetime guarantee, by the way.
Those clever people at Rubbermaid provide their FreshWorks food storage containers in various sizes: small, medium, and large; square and rectangular. So, you can now get your fresh produce really organized with these techno-containers.
5. Airtight, Smell-Free, Stainless Steel Vacuum Storage Canisters.
TAP ON IMAGE TO VIEW PRICE
If you prefer something more pleasing to the eye than a vacuum-sealed plastic bag, you could try these stylish stainless steel vacuum storage canisters.
They will connect to the majority of vacuum sealing machines, and they look a lot better than a plastic bag. There is a transparent lid so that you can see what you have stored inside, and there is also a unique rotating date setting function so that you can record when you sealed it.
6. Nummyware Plastic-Free Glass Food Containers With Sustainable Bamboo Tops.
TAP ON IMAGE TO VIEW PRICE
Wow! How much of the planet does one single product aim to save!
If you love sustainability, you will love this food storage solution. Free from plastic and using bamboo (one of the most renewable natural materials on the planet) for the lid.
The glass container can withstand oven temperatures of 250°F (121°C) and can also go into the freezer. Now, how's that for a versatile food storage solution?
Oh yeah, it looks great too.
7. Fresh Vacuum Seal Food And Storage Container.
TAP ON IMAGE TO VIEW PRICE
As far as vacuum seal food containers go, this is a tough one to beat.
Need some proof? OK, it's made from Tritan material, so they are crack-proof, shatter-proof, stain-proof, and odor-proof. Need I say more?
They are also remarkably versatile, being suitable for the oven, freezer, microwave, and dishwasher.
It is simple to use and comes with an adapter to make it compatible with most other vacuum seal machines. So, if you are already into food vacuum storage, this could be a nice addition.
8. Coffee And Tea Storage Canisters With Airtight Valve and Scoop By HOKEKI.
TAP ON IMAGE TO VIEW PRICE
I never really thought about preserving my tea and coffee until recently. But, hey, now every time I open my HOKEKI storage canister, I get that familiar, comforting waft of pure, fresh coffee. I just stand there and breathe it in for a few seconds, taking in the aroma. The smell alone is enough to set me up for a great day!
HOKEKI seems to have thought about everything with this tea and coffee storage canister: expiry date tracker, built-in air breather, and even an attachment for a serving spoon. So, no more grasping around with sleepy eyes looking for a spoon first thing in the morning.
9. Jar Sealing Kit With Wide Mouth Jar Sealer.
TAP ON IMAGE TO VIEW PRICE
Already got some wide-mouth or Mason jars in your kitchen? Well, you can vacuum seal them with this simple kit.
You can achieve an airtight and odor-proof seal that will preserve your nuts, pulses, grains, jams, sauces, and mustard.
Just one word of advice, though. This kit is ONLY compatible with FoodSaver devices that are fitted with an accessory port. So, make sure you check before you buy one.
10. BPA-Free, Freezer-Proof, Reusable, Silicone, Storage Bags For Food And Liquids.
TAP ON IMAGE TO VIEW PRICE
These cleverly designed silicone storage bags will not only help you preserve your food but will also help you save space and get some organization back into your fridge.
When not being used, the bags fold down to a fraction of their full size and can be easily stored away.
You will get as much use from one of these bags as you can from 5,000 conventional plastic bags – that's gotta be good, right?
Read Also: Top 5 Best Water Storage Containers
11. Herb Saver Pod For Keeping Herbs Fresh For Longer.
TAP ON IMAGE TO VIEW PRICE
If you love beautiful design AND you want to preserve your food for longer, then you've simply got to try these out.
These pods maintain the freshness of herbs and onions by keeping them in a small pool of water inside the pod – simple, but ingenious.
Designed to stack easily inside your fridge door, these award-winning pods can bring organization to that big pile of veg in the drawer at the bottom of your fridge – you know the one, don't you?.
These sleek and stylish pods might just give you a glimpse of what food preservation could look like in the future.
12. Storage Container Pod For Onions – Keep It Fresh And Smell Free.
TAP ON IMAGE TO VIEW PRICE
Are you sick of the sight and smell of soggy leftover onions? If you're anything like me, you will be.
This simple little gadget will keep your onions, fresh, firm, and free from odors. It is simple to use – you just place the onion (cut side down) in the onion-shaped container and twist the lid. Voila! Your onion is sealed for freshness.
Much more effective, hygienic and pleasant smelling than using that piece of aluminum foil or old plastic packaging, would you not agree.
13. Smart Design Refrigerator Pull Out Egg Storage Tray.
TAP ON IMAGE TO VIEW PRICE
You can create more usable space in your fridge with this patented design idea for food storage.
Store up to 18 eggs under one of your fridge shelves – it pulls out on easy sliding rails for you to access your eggs.
This egg storage tray is a simple, but ingenious and innovative food storage solution.
Maybe it's 'egg-xactly' what you need in your fridge. Sorry!
14. Expandable Bread Keeper With Adjustable Air Vent For Ultimate Freshness.
TAP ON IMAGE TO VIEW PRICE
I just love bread and cakes, don't you? Anything that is going to help me enjoy that oven-baked freshness for longer has got to be worth a try.
This bread keeper will expand to accommodate almost any size of loaf or cake and a host of your favorite buns also.
It is dishwasher-safe, so you do not have to worry about any special cleaning routines. AND, it even comes with its own hard-wearing cutting board. So, you get plenty of added functions with this food preserving device.
15. Vacuum Insulated Food Thermos For Hot And Cold Foods.
TAP ON IMAGE TO VIEW PRICE
This is a fantastic little thermos perfect for someone who is constantly on the go. It is vacuum-sealed and will preserve your food in the short term, just the way you prepared it – hot or cold.
It appears that food safety was of paramount importance in this food storage product; the FDA approves it, and all its steel, plastic, and silicone components are BPA-free.
If you like to eat on the go, you should grab this vacuum insulated food thermos before you set off.
16. Clear Pickle Jar – Fermented Food Storage Containers.
TAP ON IMAGE TO VIEW PRICE
If you have yet to try pickling as a food preservation method, here is your ideal starter product to get into this traditional way of food storage.
Onions, carrots, and cucumbers are just a few of the popular pickling vegetables to start with, but there is an abundance of other foods that can be pickled.
This pickle jar has a gas outlet that will also allow you to take on any fermentation projects you might have in mind. Its airtight seal makes it just as suitable for conventional storing everything from juice to jam.
This is not just a simple pickle jar, but a multi-functional, multi-food storage solution.
17. Airtight Grains and Dry Food Storage Containers With Lids – Keeps Food Fresh And Dry – BPA-Free.
TAP ON IMAGE TO VIEW PRICE
Want to brighten up your kitchen with your food storage idea. Try several of these clear kitchen containers. Fill them with different colored foods (peas, red peppers, and corn, for instance), and you can arrange them in neat patterns.
They are stackable, too, so you will benefit from gaining a bit of extra vertical storage space.
My favorite facet of these, though, is the clever handle on the lid. Just push down on it, and it creates an airtight seal – no hassle!
18. Baby Freezer Storage Trays.
TAP ON IMAGE TO VIEW PRICE
OK, Mums and Dads, this one is for you. You will be well aware of how much time a baby takes up, so ANY time saving you can manage to pull off will be great, right?
The Solids Starter Kit baby freezer storage trays will allow you to prepare 42 meals onto one tray and store them in the freezer for when they're needed – like "RIGHT NOW MUUUM!"
A little bonus is that they also come with a baby recipe guide for you and your baby to try out.
19. Freezer Labels For Smarter And Organized Storage.
TAP ON IMAGE TO VIEW PRICE
You've been there. You open the freezer door, and you are confronted with what looks like a miniature Arctic tundra, a wasteland of frost-coated lumps, each one distinguishable only by its size.
Yes, I know they may have looked different when you put them in there, but look at them now! Anything could be in those bags.
Get some of these simple freezer labels, they've got a space for the date and a space for the contents. Fill out the label, and you'll know what you're taking from your freezer in a month or two.
Simple – no more putting the chocolate sauce in your spag bol by accident!
20. Soda Can Lids.
TAP ON IMAGE TO VIEW PRICE
I don't know about you but, unless I'm on a plane with one of those stingy small cans, I can never seem to finish a full can of soda.
As you already know, I hate waste, so I either force myself to gulp it down and spend the next 2 hours belching like a seal. Or, I stick the unfinished half in the fridge where it quickly becomes flat and very unappealing.
At last! A simple storage solution comes to rescue me from my dilemma. My soda drinks can now retain their fizz for a good 50% longer with these clear plastic soda can lids. Perfect!
So, there you have it, my dear food storage friends, 20 of what I consider to be the best food storage solutions on the market. Of course, there are many more great food storage ideas out there, and I'm sure that you have got plenty of your own too.
It is great to see so many food storage products being offered and some really innovative product ideas being developed. It means that maybe it wasn't just my dear old Mum who passed her advice on not wasting good food.
You can probably incorporate just a few of these, or your own, food storage ideas into your kitchen routines. Hopefully, they will help you save food by keeping it nice and fresh for a lot longer.
But before leaving, please familiarise yourself with the best practices for preserving and keeping food and leftovers.
Safe Food Storage Practices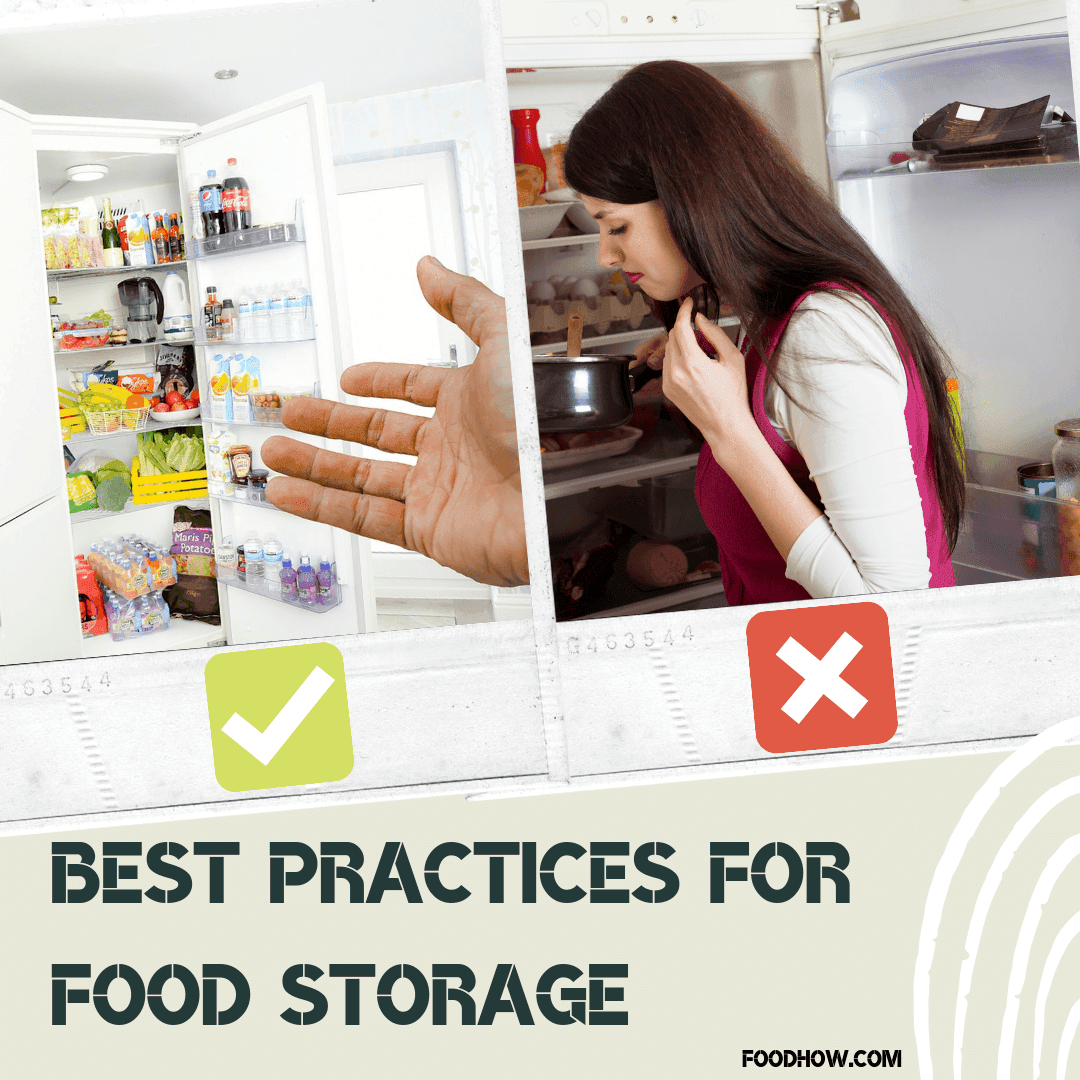 There are two benefits to storing food the right way: it prevents you from getting food poisoning and helps you save money by preserving food.
If you have any experience in the kitchen, then you already know which foods are okay to leave on your counter and which foods must be put in the refrigerator or freezer.
All you need to learn are the proper ways to store food so it would stay fresh and edible for longer.
Food Storage Tips To Avoid Food Poisoning
Refrigerated Foods
Many foods are stored in the refrigerator because the low temperature reduces the growth of germs on them. As a result, these foods stay fresh for a longer time period so that you can still eat them over the course of a few days. This is perfect for anyone who wants to store leftovers.
Look at the label of your food products. If it states something like "keep refrigerated until this date" or "use by this date," then it must go in the refrigerator. The date on the label is supposedly when the refrigerated food will finally spoil. The most common food products like this are milk, TV dinners, and meat.
It is recommended that you put leftovers in the refrigerator within two hours after cooking them. They should stay fresh for about two days, so eat them within this time period.
Don't put the tin canned food in the refrigerator because it'll have a metallic taste when you finally go to eat it.
Before you put food in the refrigerator, make sure it is in a sealed container or plastic-wrapped bowl.
Read Also: How To Keep Fresh Pizza Doug For The Next Day.
Refrigerator Maintenance
The temperature in your refrigerator should be no more than 41°F (5°C). If a digital temperature reading is shown in your fridge, compare it to the internal thermometer reading to ensure accuracy.
Your refrigerator should be cleaned regularly and kept hygienic. Inspect it for uncleanliness every now and again.
Read Also: What happens if you leave the fridge door open?
Expiration Date
Refrigerators do not make food stay fresh forever. You'll usually find an expiration date on pre-packaged or pre-prepared food. It'll have a label like "Best to Use Before" or "Use By," and then the date comes afterward.
If you see a date following "Use by," this means the food will spoil very quickly. Don't eat food after this date has expired.
If you see a date following "Best Before," the food should stay fresh for a longer time. You'll probably notice this date is much farther into the future than the "Use By" date.  
If the "Use by" date has expired and the food still smells fresh, don't assume it is okay to eat it. The inside of the food may contain germs or bugs, which might cause you to get sick.
If the "Best before" date has expired, the food won't necessarily be unhealthy to eat. But you probably won't like the taste of it very much.
Freezing Food
There is really no limit to what you can freeze. You can even freeze foods like yogurt and milk.
Make sure the food is placed in freezer bags or put inside of an airtight container before freezing it. It is important that the cold air in the freezer doesn't make direct contact with the food, or else the food will dry out.
Egg Storage
It is better to store eggs in the refrigerator because the temperature is more consistent. But if you really want to freeze eggs, you can do so.
Here are the two ways to do this.
1) Grab an egg and crack it open. Separate the white part of the egg into one plastic container and its yolk into another plastic container.
Or
2) Grab an egg and crack it open into a plastic tub. Use an eggbeater tool to beat the egg. Seal the plastic tub and place it in the freezer.
Boiled eggs can be stored in the refrigerator, but they only last a few days. It is better to freeze boiled eggs if you want to keep them for a longer time.
Meat and Poultry Storage
Meat should be stored in the refrigerator in order to slow down the growth of bacteria on it and to prevent people from getting food poisoning.
All your raw meat and poultry must be placed in clean containers. After you seal the containers airtight, put them in your refrigerator on the bottom shelf. Pay attention to the "Use By" date on the label of the meat packaging. If that date has expired, do not eat the meat.
Always separate cooked meat from raw meat. Also, keep pre-prepared frozen foods away from them too. It is important that your frozen meat is wrapped, or else it could get freezer burned. Food that is freezer burned does not taste good.
No matter if you have fish meat or any other meat, it is okay to freeze it if the "Use by" date has not expired.
Before cooking frozen meat or fish, leave it in the refrigerator overnight so that it can defrost and thaw out. Make sure the meat or fish is on a plate or bowl in order to catch the liquid which will come off it.  This liquid has a lot of bacteria in it, and you won't want it to get onto something else in the fridge.
Alternatively, you can use a microwave to thaw the meat or fish. This is better to do in situations where you want to cook the food immediately after you take it out of the freezer.
When you are finally ready to cook the food, make sure it is cooked completely and thoroughly. You'll want it to be as hot as possible without overcooking it.
Before putting the meat in the freezer, put a label on it with the current date. After you defrost the meat, it must be eaten within the next 24 hours.
Frozen meat stays safe for a while. However, the quality will diminish slowly if you wait for months to eat it. If it's been six months, then the meat might not taste that great.
You can still eat it, though, but you might want to put a little marinade on the meat before cooking it. This will help enhance its texture and taste. Also, try putting some spices and herbs on the meat as well.
Refreezing Cooked Meat
After you defrost frozen raw meat or fish, do not freeze it again. You can keep it in the refrigerator for no longer than 24 hours. By this time, the meat or fish must be cooked. If it's been over 24 hours, then you must throw away the meat or fish.
As for cooked meat or fish, it is okay to refreeze it one time only. Just make sure the meat has cooled down first before putting it back in the freezer. If you're not sure about this, then avoid refreezing it.
To avoid wasting meat, separate the meat into different portions that you'll use for various meals over the coming weeks. Freeze these portions so that you can defrost only the meat in which you're going to eat.
Leftovers
If you cook too much food and can't eat it in one sitting, it becomes leftovers. This is food that you can eat tomorrow or even the day after tomorrow. Of course, you must store it properly in the refrigerator to preserve its short lifespan.
First, cool down the leftovers within the next two hours after they were first cooked. Separate the leftovers into different portions before putting them in the refrigerator. You can also freeze them too.
Leftovers in the refrigerator must be eaten within two days. When you're ready to reheat the leftovers, heat them up until their temperature is around 158°F (70°C). It should take about two minutes for this to happen. You'll want the leftovers completely hot.
Prior to reheating the leftovers, you need to defrost them. Again, this can be done by using the refrigerator or microwave. After the food is defrosted, you can only reheat it one time. If you continue to refreeze and reheat the food, you'll likely experience food poisoning.
Anytime you freeze cooked food and then take it out of the freezer to defrost, you must consume it within 24 hours after it's defrosted completely.
Certain frozen foods like frozen desserts and ice cream cannot be left out to thaw. Otherwise, you won't be able to refreeze them again and restore their original quality.
Therefore, if you remove any food from the freezer, make sure you're going to consume it within a day.
Reusing Food Bags
A lot of people like to reuse plastic carrier bags, regardless of whether they're designed for single-use or reuse. But if you don't want to risk having bacteria spread onto your pre-prepared food, you should take the following advice.
Raw foods and pre-prepared foods must be kept separate from one another in their own bags. For raw foods, use one or two reusable bags. Don't use these bags for the pre-prepared food at the same time as the raw foods.
Each time you use a bag, check for any spillage of soil or raw meat juices. If you notice spillage or any damage to the bags, then you must throw them out. Even if they're reusable bags, you can't use them if they're damaged.
Dry Food Storage Containers
Not all food needs to be stored in the refrigerator to stay fresh and safe for consumption. Some examples of these foods include canned foods, unopened beverage bottles, pasta, flour, unopened jars, and rice. But you must store these foods properly, especially dry food.
Here are some tips on how to store dry food:
Store dry food in containers or bags that are tightly sealed. This prevents anything on the outside from getting into the bags. That way, the food stays fresh and uncontaminated in the bags.
Keep your drinks or food away from chemicals and cleaning items.
Keep household chemicals separated from your food containers. Never use a food container if something else other than food has been in it before.
If you have plastic water bottles that are not damaged, you can reuse them only if they're clean.
Food should not be stored on the floor, or else it'll attract pests (e.g. mice, ants).
The storage area should be kept dry and cool. Avoid warm areas for your storage.
Tin Cans
If you open the lid of canned food and plan to save some of the food, then put it into an empty bowl and seal it. Then put the sealed bow in the refrigerator.
Once a tin can has been opened, it should not be used for food storage again. The inside has already been exposed to the open air, so there is no point in reusing the tin can. In fact, it could make the food worse because the metallic elements of the can might transfer into the food content.
With that being said, some canned foods come with resealable lids. You'll find this with foods like cocoa and golden syrup because they don't absorb the metallic elements of the can like other foods would.
Read Also: This is the best way to cook canned soup.
Cling Film Covers For Food
Cling film protects food, but only if used properly. Certain foods cannot be protected by cling film. On the box, it will indicate which foods are compatible with it. On the box, it will indicate which foods are compatible with it.
Here are three important things to remember about cling film use:
Cling film should not be placed on foods that are going to be heated in a pan, stove, or in oven.
You can microwave cling film if it is not touching any of the food.
It is okay for cling film to touch certain foods that are high in fat, including certain cheeses, fried meats, raw meats, pastries, pies, and cakes. 

To verify it is OK, look at the food product's box to see if cling film is acceptable.
Kitchen Foil Covers For Food
Aluminum is the primary material used to make kitchen foil. It is great for wrapping foods and covering them thoroughly. But if you're trying to cover and store acidic foods with aluminum foil, then it is not a great idea.
Some examples of acidic foods include tomatoes, cabbage, rhubarb, and soft fruit. Using aluminum on these foods will negatively affect their taste.
Homemade Jam Storage
If you have homemade marmalade or homemade jam that you want to store, then you must use sterilized jars. To sterilize them properly, use warm water and soap to wash out the jars. Rinse the soap studs away and use a clean tea towel to dry the jars out. Put the jars in the oven for 10 minutes on 275°F.
After that, transfer the jam into the jars. You can use a ladle to do this by dipping the ladle's bowl area into the jam of the pan. Make sure the jam has just finished boiling first because this will sterilize the ladle.
To prevent the top layer of the jam from getting exposed to air, you can place certain wax discs on it. There are some recommendations of pouring a small amount of whiskey onto the jam to prevent spoilage. We are not sure if this really works, though.
When you're ready to store the homemade jam away somewhere safe, choose a cool and dry place. There should be no direct sunlight exposure in this area. Try to use the jam at some point over the next 12 months. If you notice mold growth on the surface of the jam, then throw the jar away.
The National Center for Home Food Preservation provides a lot of information about how to freeze different types of foods, the amount of space to leave between foods in your freezer, and tips for managing the contents of your freezer.
The USDA has released a cold storage chart that outlines how long you can safely store certain foods in your freezer or refrigerator before they go bad.