Although sauerkraut has been around for centuries, many people have yet to discover its full potential. It's rich in probiotics, vitamin C, and other nutrients. You may be skeptical about its taste, but you can't deny that it is healthy and nutritious.  
This fermented cabbage can be eaten raw, which is the healthiest way to consume it, but if you are not quite at that level yet, then check out my 6 favorite healthy recipes you can make with sauerkraut. 
1. Sausage Sauerkraut Casserole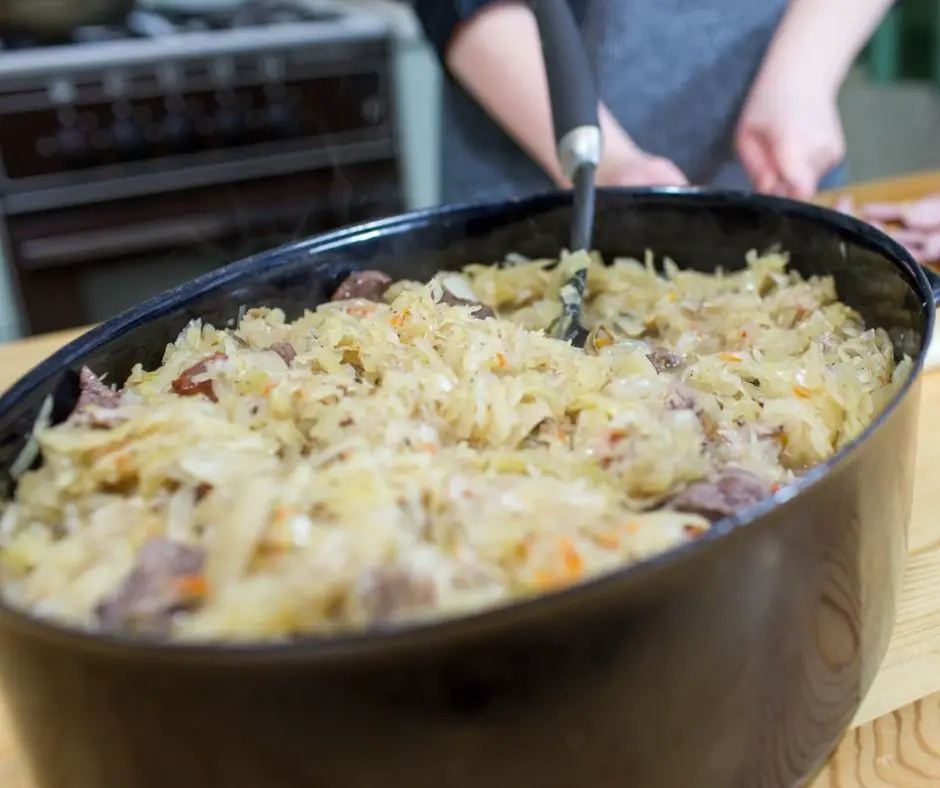 This recipe is not only delicious, but it is also very nutritious. It combines the rich flavor of spaghetti squash with the zest of sauerkraut and Swiss cheese's mild, nutty flavor. And surprisingly, one serving only contains 261 calories. 
Find the full recipe here. 
I really like this recipe because it is easy to make, the ingredients are cheap, and you can easily adjust it to best fit your taste preferences. Perfect for lunch or dinner.
This recipe is very flexible. For example, if you don't want meat in your dish, you can leave out the kielbasa (Polish pork sausage), and it still contains plenty of protein from the eggs and cheese.
If you decide to leave out the sausage, you can replace it with other meats or add more eggs and cheese.  
Did You Know? Sauerkraut contains vitamin K2, a nutrient essential for long-lasting bone health due to its ability to bind with calcium and other minerals to strengthen the bones.
2. Healthy And Probiotic Sauerkraut Salad Recipe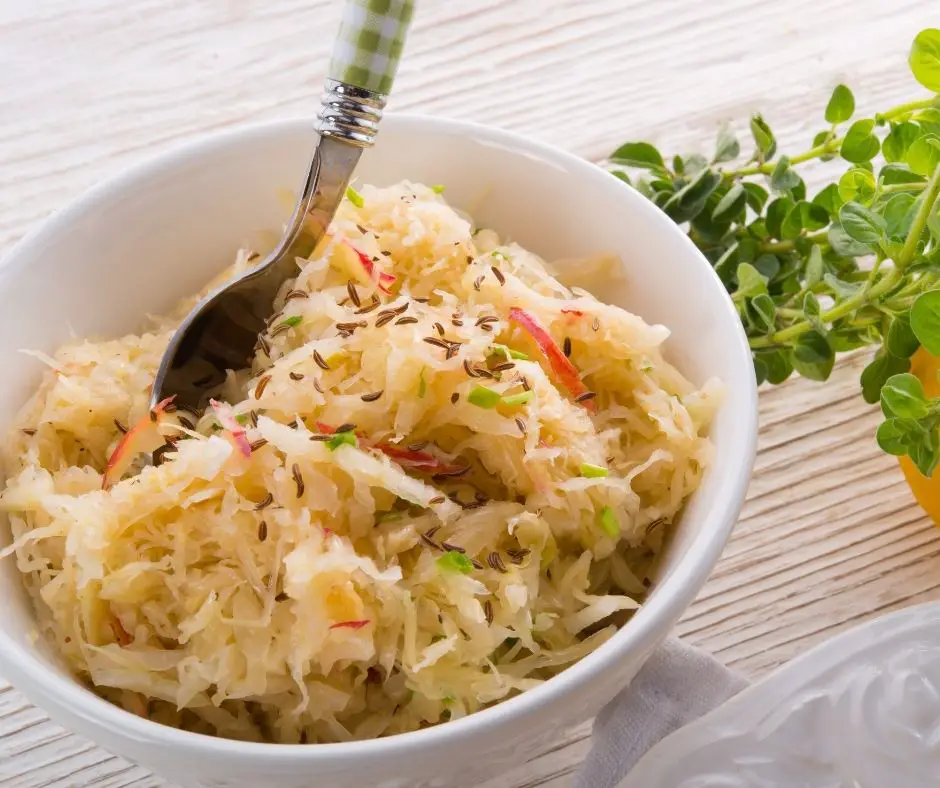 In this recipe, the sauerkraut is the star of the show. If you enjoy a light, fresh and tangy salad that is low in calories, carbs, and fat, this is the recipe for you. At only 67 calories per serving, this recipe is great if you follow any of these 1200 Calorie Diet Plans For Weight Loss.
This recipe recommends using a raw/fermented sauerkraut or even making your own. It's easy to make your own—but if you don't want to embark on the endeavor of making your own, then here are some of the best sauerkrauts with most probiotics. 
In this salad, you get a sweet flavor from the honey and apple that is balanced by sauerkraut, onions, and chives. It makes a healthy snack between meals or a side to a bigger meal.  
Low in carbs, sugars, fats, along with being high in vitamin A, calcium, and potassium, are the wonderful nutritional benefits of this nutrient-packed salad. 
Did You Know? Fermenting cabbage increases its nutritional value, gives it a delicious tangy taste and creates probiotics for improved digestion.
3. Low Carb Sauerkraut Chicken Recipe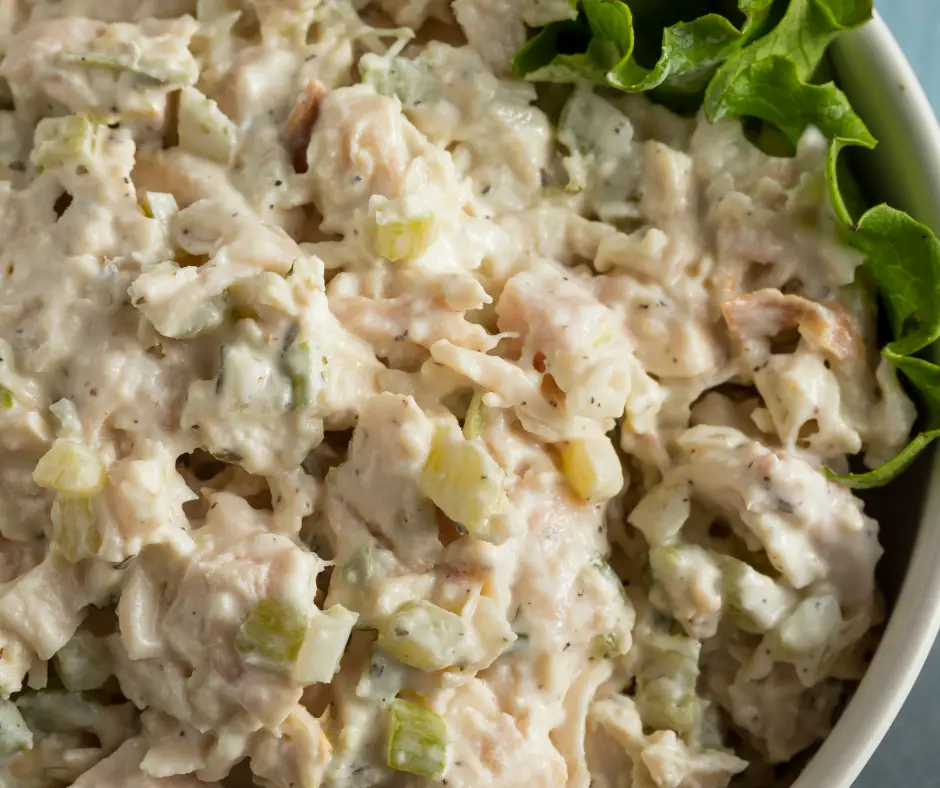 This protein-packed meal is easy to make and only has a few ingredients. To make it, all you'll need is chicken, sauerkraut, Greek yogurt, coconut oil, Kosher salt, and pepper. 
What makes this recipe healthy is the fact that it is packed with lean protein and don't forget all the nutrients contained in sauerkraut. 
As you know, sauerkraut loses its probiotic benefits once heated, so I modified this recipe to make it more healthy. I cooked the onions and chicken first and then added the Greek yogurt and sauerkraut once the chicken and onions were cooled off a bit. The result was super scrumptious. 
Another bonus to this recipe is that it keeps well in the refrigerator. You can make a big pot of it and enjoy it throughout the week. 
This meal tastes delicious served with sliced or mashed avocado, and it can be served on a croissant (watch out for extra carbs) or made into a sandwich. 
Check out the full recipe here.
Did You Know? Sauerkraut was known in China long before discovered by Germans. During the building of The Great Wall of China, there was a growing demand for food that would not spoil in storage and remain stable for a long time. Chinese began pickling shredded cabbage in the rice wine. 
4. Healty Red Cabbage Sauerkraut Buddha Bowl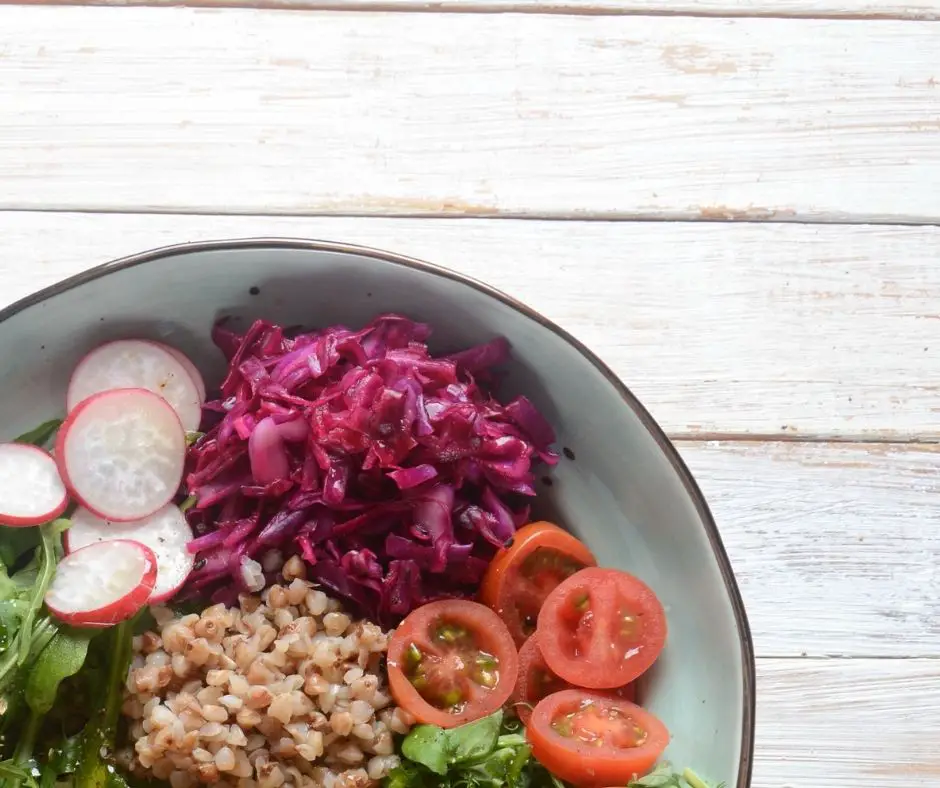 Buddha Bowls are plant-based meals packed with many nutrients your body needs. This specific Buddha Bowl recipe is a good option for a healthy meal; it is pant-based, vegan-friendly, and delicious. 
The key ingredients in this recipe are:
Kidney beans
Quinoa or buckwheat
Raw sauerkraut
Mixed greens 
Avocado
and I also added some radish
The recipe is flavored with paprika powder and coconut oil, and the dressing is made with my absolute favorite superfood, apple cider vinegar. 
The only thing that needs to be baked in this recipe is the sweet potato. The total time to make this recipe from start to finish is only 30 minutes if you use this super fast way to cook the sweet potato. 
So, this recipe is a wonderful option if you want to cook for vegans or vegetarians and looking for a quick plant-based meal that is healthy, nutrient-dense, and full of plant-based fats, carbs, and protein. 
Because we are using sauerkraut that is not cooked, you will get plenty of gut-friendly probiotics in this recipe.
Did You Know! A properly sealed, unopened jar of sauerkraut will likely stay at its optimum texture and taste for around 4 to 5 years, and it generally remains safe to consume even after that.
5. Keto Sausage Sauerkraut Soup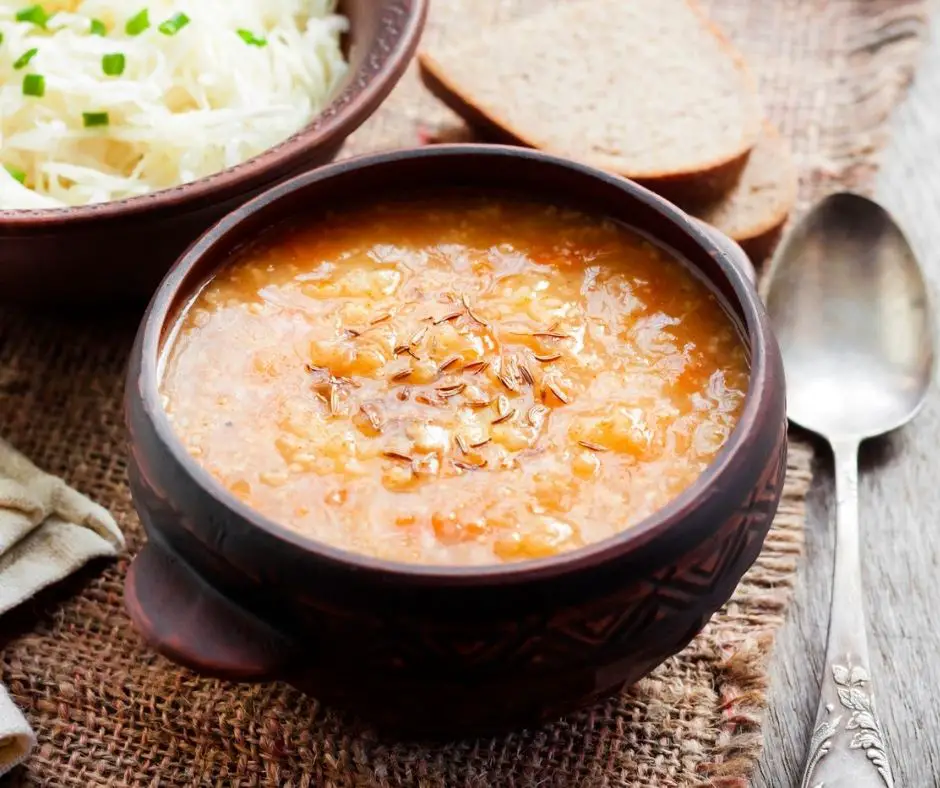 This soup recipe is bound to be a favorite, especially in the colder months or following a low-carb diet like Keto or Atkins diet. 
Traditionally, sauerkraut was used to keep families healthy through the winter when vegetables were scarce—this soup is similar to many traditional recipes.
The tangy flavor of the sauerkraut combines with smokey flavors from spices like paprika to create a soup that is sure to make your tastebuds happy. 
This healthy sauerkraut recipe is a food option for anyone trying to cut out carbs. The sauerkraut will give you essential vitamins and nutrients, while the sausage provides the protein you need in your diet. 
If you liked this healthy soup then check out also these 13 Detox Soup Recipes For Weight Loss.
6. Air Fryer Sauerkraut Balls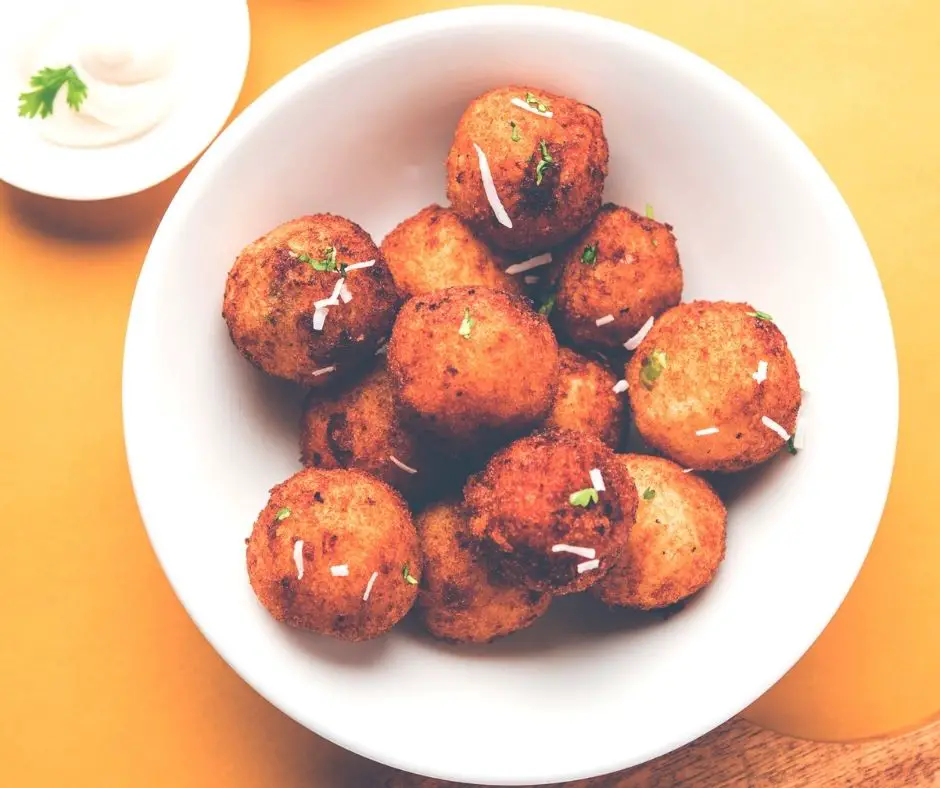 This recipe combines two classic German foods—sauerkraut and bratwurst; this recipe can be a creative starter or side dish. 
Although the recipe suggests that you shallow fry the balls, I did bake them in my air fryer to make them healthier and get the breading crispy and golden.
You can use this recipe to make appetizers for a family get-together or party. They are sure to be a popular choice as they are both healthy and tasty. 
Check out the full recipe here. 
Read Also: How To Cook Sauerkraut For Hot Dogs?
Discover Sauerkraut
In conclusion, sauerkraut is a nutritious, healthy, and versatile ingredient that can be used to add a little something extra to many different recipes. Whether you are making a chicken dish, soup, or salad, kraut is perfect for adding an earthy and tangy flavor to your meals. 
Try these healthy recipes with sauerkraut and let me know what you think.