Making rye bread at home can be a daunting task, but with these 9 easy beginner rye bread recipes, you'll be able to make delicious rye bread in no time.
Rye flour is not as common as all-purpose flour, so it can be challenging to find a recipe that is easy for beginner bakers to follow and produces a delicious loaf of bread.
Below you will find a list of my favorite, super easy, beginner-friendly recipes for oven baking as well as for bread machines that will produce a healthy and nutritious loaf with a beautiful earthy flavor.
1. Rustic Beginner Rye Bread Recipe For Bread Machine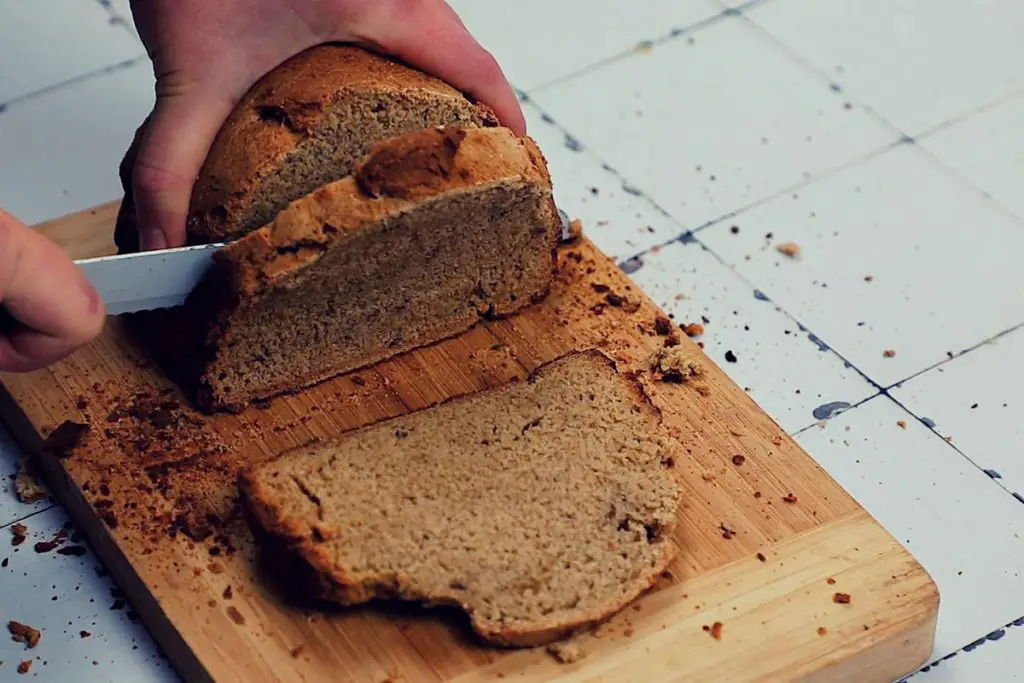 Using a bread machine is the easiest and most convenient way to enjoy homemade rye bread at home. However, those with experience know that it can be hard to achieve the balance between a perfect rustic crust and a fluffy texture.
Good news—this recipe you can see in the video below has managed just that.
After multiple attempts, I can confidently say I perfected my rustic rye bread recipe, tailor-made for the bread machine. Through trial and error, I developed what I consider the best balance of ingredients to guarantee a flavorful experience that is never too dense.
Check out the full recipe here: Best Rye Bread Recipe For Bread Machine.
2. The Easiest Rye Bread Ever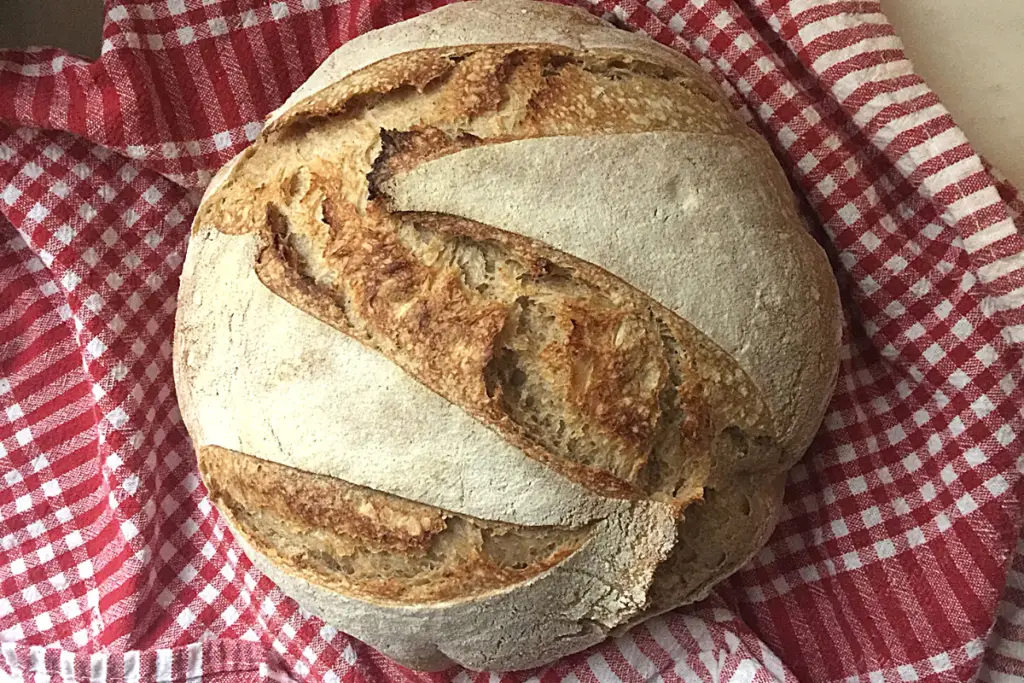 King Arthur Baking Company has created a recipe that is easy and affordable. Although it suggests using their products, you can easily follow their steps with whatever you have available.
For this rye loaf, the recipe recommends combining white rye flour with Pumpernickel flour. Adding white rye flour to the recipe will help achieve a lighter loaf and a fluffy texture but still keep a hearty rye taste. It is an easy yet effective way to enjoy an earthy, slightly nutty homemade loaf.
Whit this recipe, you can easily double the ingredients to make two loaves at once if so you want!
Top Tip: Making small cuts on top of the dough before baking is known as scoring. The dough expands after being put in the hot oven, which is known as the oven spring. Bakers score their bread so that it will not crack uncontrolled and give the dough a boost and pattern that you like.
Check out all the ingredients and instructions here.
3. German Sourdough Rye Meal Bread For Beginners
Traditionally, German bread is always made with sourdough, which gives it the eponymous, slightly sour taste. However, despite its nutritious value and delicious taste, preparing sourdough is not something most people are willing to do.
Luckily, this recipe guarantees delightful sourdough rye bread with minimal time or effort investment. All you need is dry sourdough, also known as sourdough powder, making it a great recipe for beginners.
Add a bit of sourdough powder to your flour alongside regular yeast, and you'll have homemade rye bread in less than three hours.
Top Tip: If you can, bake your bread in a cake tin, as the dough is very sticky and moist.
Check out the step-by-step instruction here.
4. Easy Overnight Dark Rye Bread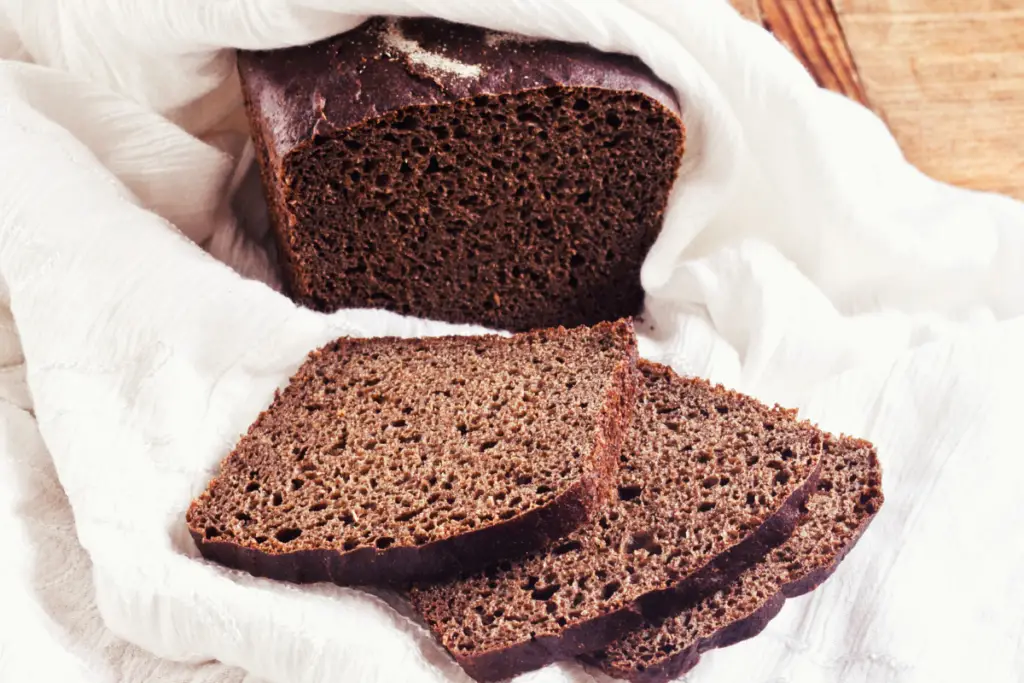 Overnight bread is a long-standing traditional recipe for a reason—it yields delicious homemade bread with minimal time or effort investment.
For this easy, no-knead dark rye bread recipe, Alexandra Daum has incorporated cocoa and simplified the steps to the bare basics. This means beginner bakers won't struggle with folding techniques or complex kneading.
Instead, you must combine the ingredients and let them sit overnight in the parchment-lined loaf pan for ten hours or more, then bake in the loaf pan the following day as it is.
This recipe produces a tender and soft loaf and only requires a few simple ingredients:
Whole grain spelt flour
Rolled oats
Rye flour
Cocoa powder
Sea salt
Dry or fresh yeast
Maple syrup or honey
Water
Top Tip: If you plan to add dried fruits, seeds, or nuts to the mixture, make sure to add them in the morning.
Check out the full recipe and how to make it here.
5. Easy No-Knead Rye Bread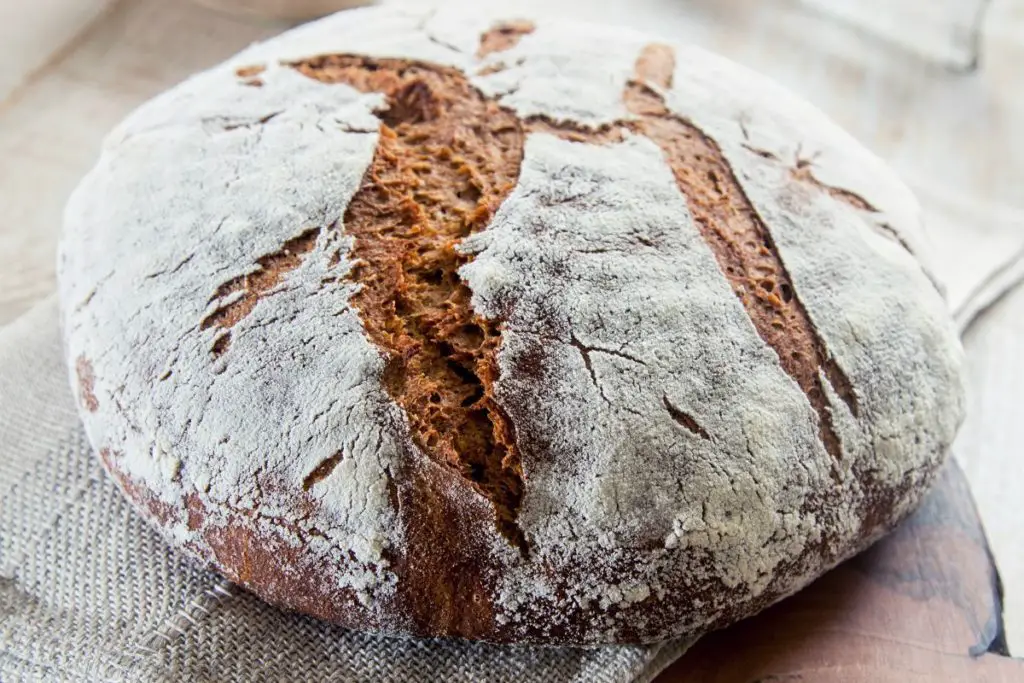 What if I told you that you could make the perfect rye bread without kneading or using a stand mixer?
That is precisely what this recipe gives you. The step-by-step tutorial is easy to follow, and you only need to mix the dry and wet ingredients with a wooden spoon or silicon spatula and let it rest overnight.
Next morning your task will be to shape the loaf and let it rise for a couple of hours more before baking.
This recipe requires milk powder, but if you don't have any, here are five substitutes for milk powder in bread recipes.
Top Tip: If you feel bold, you can substitute a cup of water for a cup of pickle juice or, my favorite, sauerkraut juice. The brine flavor enhances the earthy rye taste without overpowering the bread—you may not even notice it!
For soft texture and crispy crust, this recipe requires a loaf pan with a lid.
Check out the full instruction here.
6. Rye Bread Recipe For Bread Maker With Molasses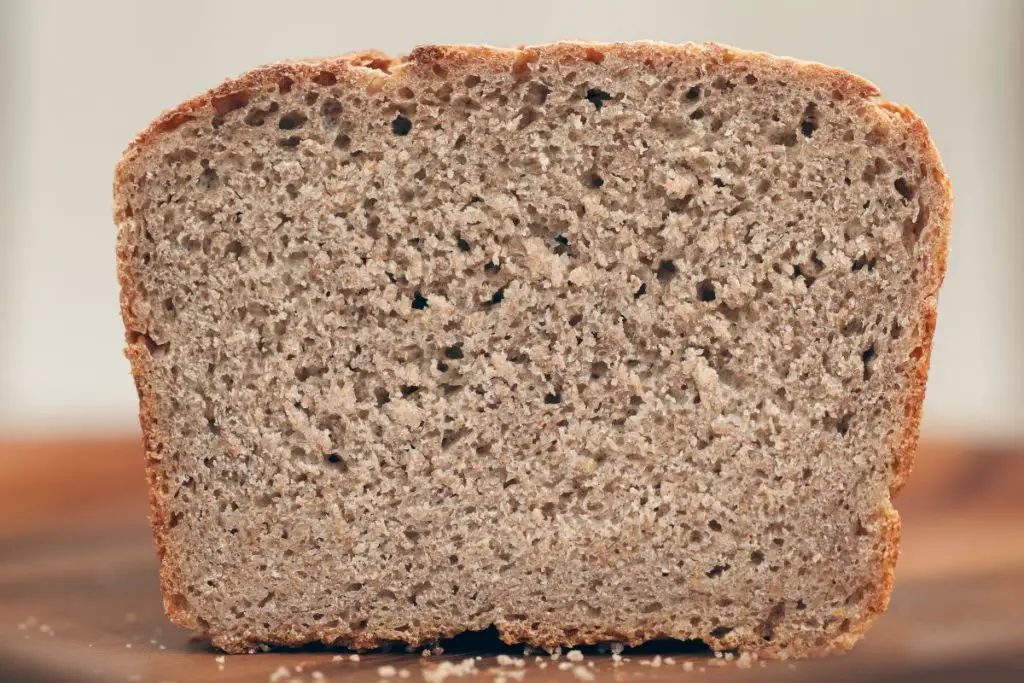 Many rye bread recipes rely on a bread machine, but each has aspects that make them unique.
This easy and beginner-friendly recipe is delicious, soft, tender, and sweet because it uses brown sugar and molasses. The combination adds a caramelized flavor with an earthy undertone, which matches rye to a T. Likewise, they add an extra touch of color.
As it happens with most bread machine recipes, you must incorporate the ingredients in the correct order, then pick the right setting and wait. The result will be a nutty, flavorful homemade bread that may take time but no effort.
Top Tip: Although you could try your luck with blackstrap molasses for additional minerals, it can considerably alter the flavor and color of the loaf. You should not use it as an equal-parts replacement for unsulphured molasses.
Check out the full recipe at Grave The Good.
7. Easy Pumpernickel Bread Recipe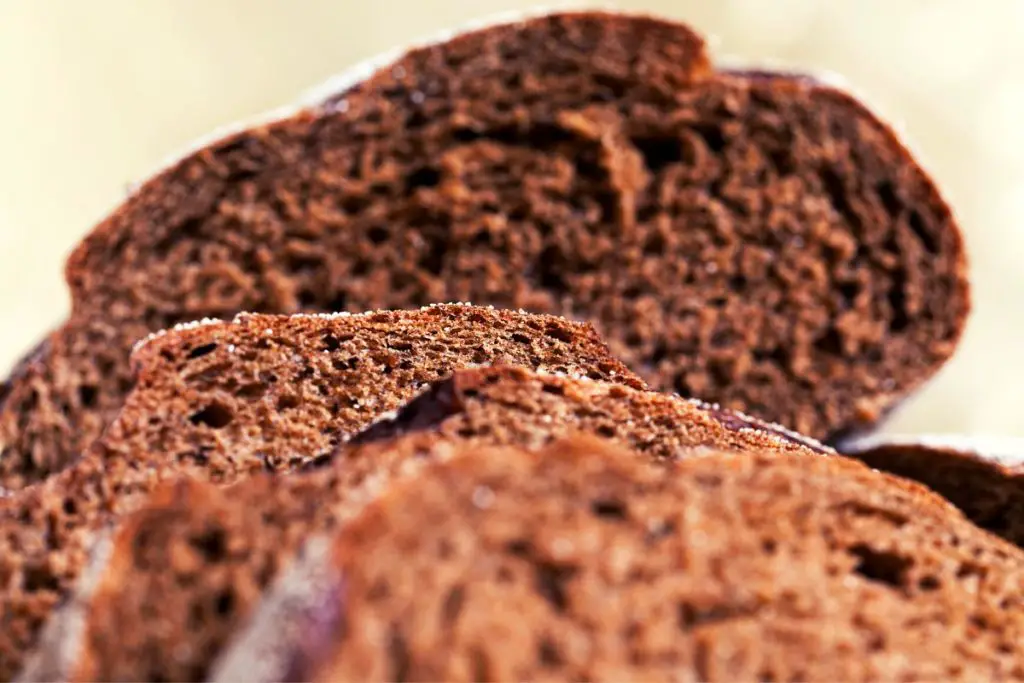 If you've visited any Outback Steakhouse restaurant, you must be familiar with their delicious appetizer bread—an aromatic loaf with rich color and a soft texture.
This peculiar take on pumpernickel bread aims to mimic the flavor of Outback Steakhouse's, with the plus of being made at home, and is ridiculously easy.
Unlike traditional pumpernickel bread, this recipe incorporates some wheat flour to make it less dense and doesn't make use of sourdough.
Nonetheless, with the inclusion of cocoa and molasses, like some of the other recipes on this list, you'll have dark and delicious bread that tastes just like the real thing.
You can keep the bread at room temperature for up to three days. If you want, you can also freeze it for over eight weeks.
Top Tip: If you can't find rye flour, an equal amount of whole wheat flour or wholemeal flour can be used quite successfully for this recipe. You can also use the dough to make bread rolls.
Check out the complete recipe at Bigger Bolder Baking.
8. Bread Machine Swedish Rye Bread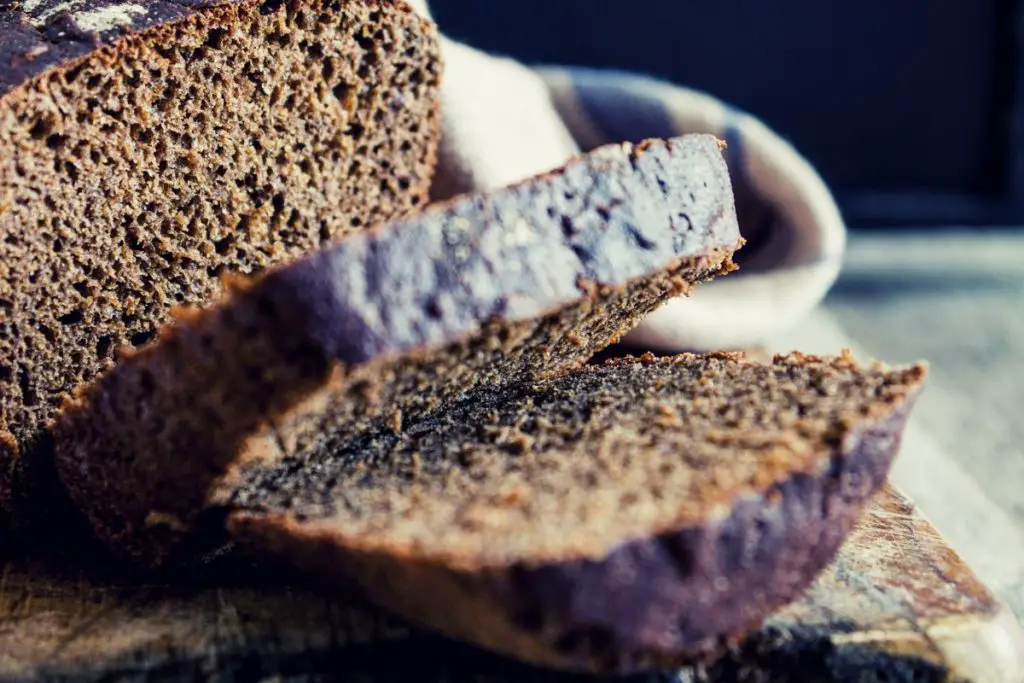 With a total prep and baking time of under two hours, this recipe for Swedish rye bread is an easy beginner-friendly option that is apt for bread machines or traditional methods.
Best part? It's a diabetic-friendly preparation, vegetarian, and low in calories, carbs, and fat—developed by a dietitian! It uses honey as the sweetener and margarine as the fat component, but you can easily replace margarine with butter.
Preparation is uncomplicated—add the ingredients in order into the bread machine, or combine dry and wet ingredients if done manually. In two hours, your house will smell of delicious homemade bread.
Top Tip: Make sure not to forget the grated orange peel. It is optional, but it'll give your loaf a zesty touch, making the flavor more layered and complex.
Here are all the ingredients and full instructions.
9. Seedless Rye Bread – Only 4 Ingredients!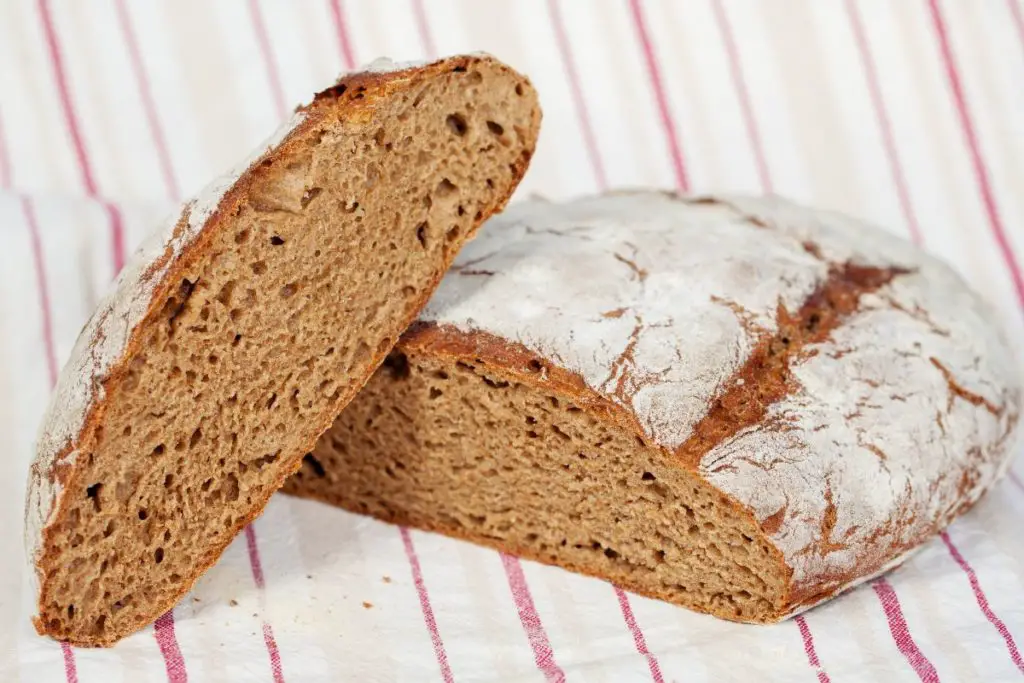 Yearning for homemade rye bread yet lacking most of the ingredients required for the other recipes on this list?
Fear not—this easy four-ingredient rye bread recipe only requires rye and bread flour, salt, and yeast. With a bit of stirring and a little waiting, you'll have freshly baked and delicious homemade rustic rye bread that doesn't need you to be an expert baker. It can't get any easier than that.
This loaf is great for toast, sandwiches, and dipping. Here are some great toasted rye bread sandwich ideas for breakfast, brunch, or lunch.
Top Tip: This recipe is basic and customizable, so once you've grasped it, you can customize it to your heart's content. Add dried fruit, molasses, brown sugar, or anything you want—experimenting can be fun!
You will find the full recipe and instructions here at theartfulgardener.
In Conclusion
Baking bread at home is a fun and rewarding activity that anyone can do with the right recipes. These nine beginner rye bread recipes are perfect for oven and bread machine baking, so there's no excuse not to give them a try, regardless of your level of baking experience.
These homemade rye bread recipes are rustic, delicious, healthy, and very easy to make for the novice, so what are you waiting for? Get baking and make your first rye loaf!
Read Also: Simple Honey Oat Bread Machine Recipe (Moist And Fluffy).