Whether you are new to being vegan or well versed in it, there are always foods that you are not sure about. Especially foods that have an exotic origin. One of these foods is halva.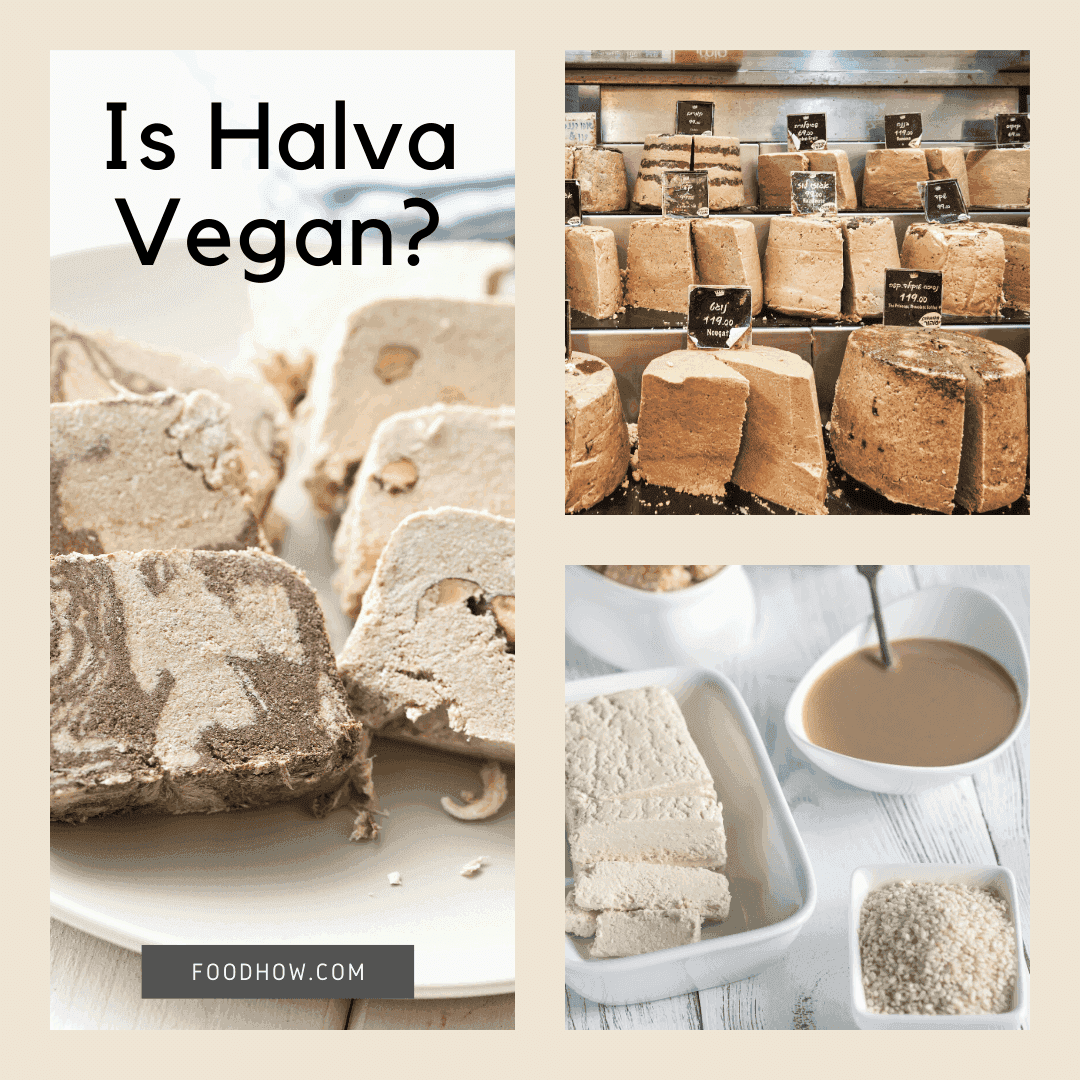 So, in your search to fill this vast meatless void, you have probably come across this fudge-like confection. So, if you are wondering whether or not halva is vegan-friendly, gluten-free, or even healthy, then this article is for you.
What Is Halva Made Out Of?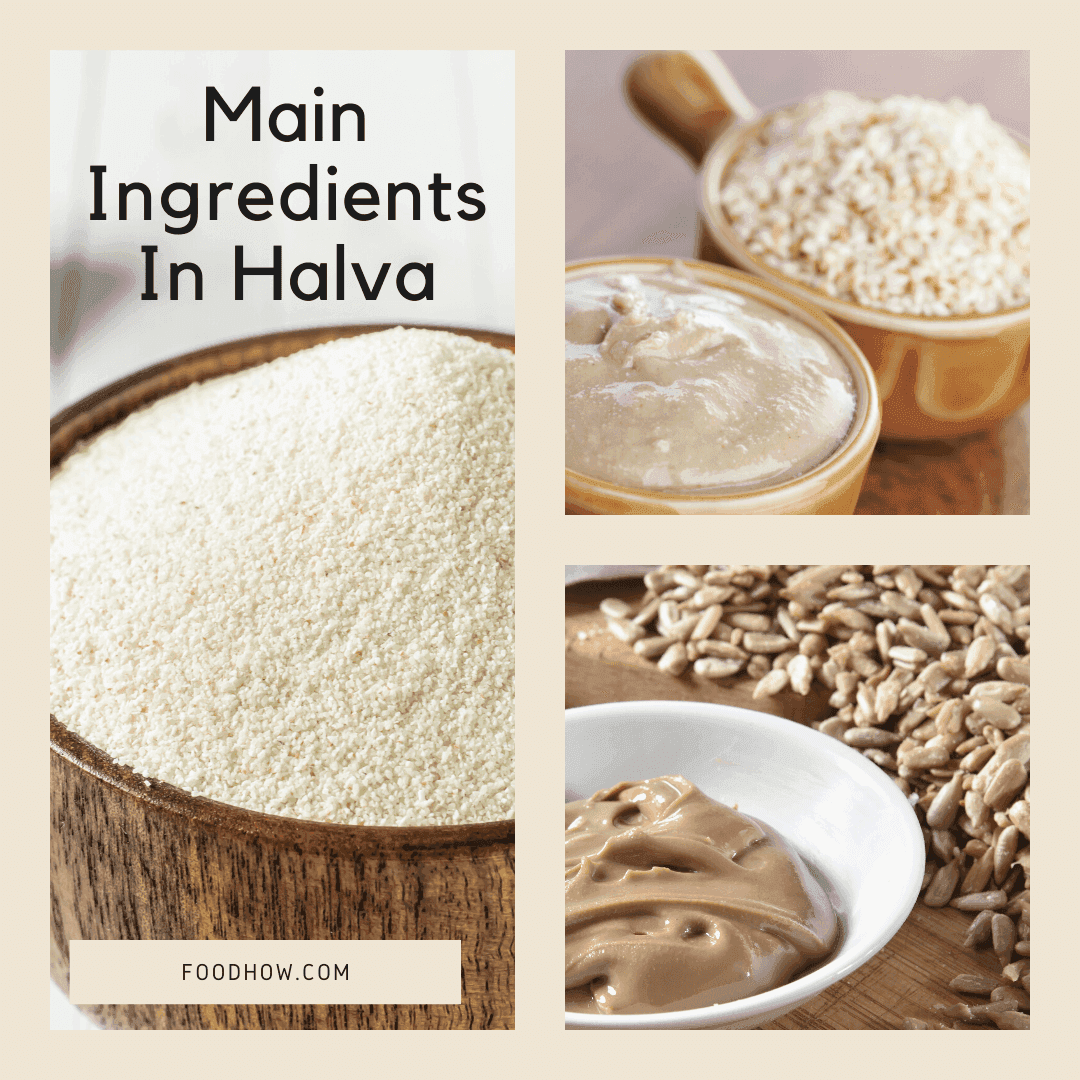 The main ingredients are wheat semolina, sesame seeds, or sunflower seeds.
There are two main types of halva, flour-based and, nut or seed-based.
Depending on the recipe, halva is generally made out of sesame and sunflower seeds or wheat semolina. Other ingredients, such as raisins, pistachio nuts, dates, almonds, dried fruits, vegetable oil, are often added, including flavorings like honey, sugar, glucose, vanilla, cocoa powder, or chocolate.
How it is made varies by country.
In Europe, it is mostly a nut-based treat. But elsewhere, you will see additions like dried fruits, cocoa, and chocolate. It might help to give it all a taste and find your favorite.
Because of the dietary restrictions of vegans, people with food allergies, and those eating gluten-free, should always check the product label. Always make sure what each product is made from before taking a bite.
So, Is Halva Vegan?
Halva made from nut or seed butter does not have added eggs, dairy, or any other animal-derived ingredients, is vegan. Recipes using sesame seeds or nuts are usually vegan-friendly.
Be sure to read the packaging to see what ingredients are included in store-bought halva. Some will have flour, which is not suitable for gluten-free diets. Others may have milk or dried figs or other ingredients in it that could cause a problem for vegans.
How Is Halva Made?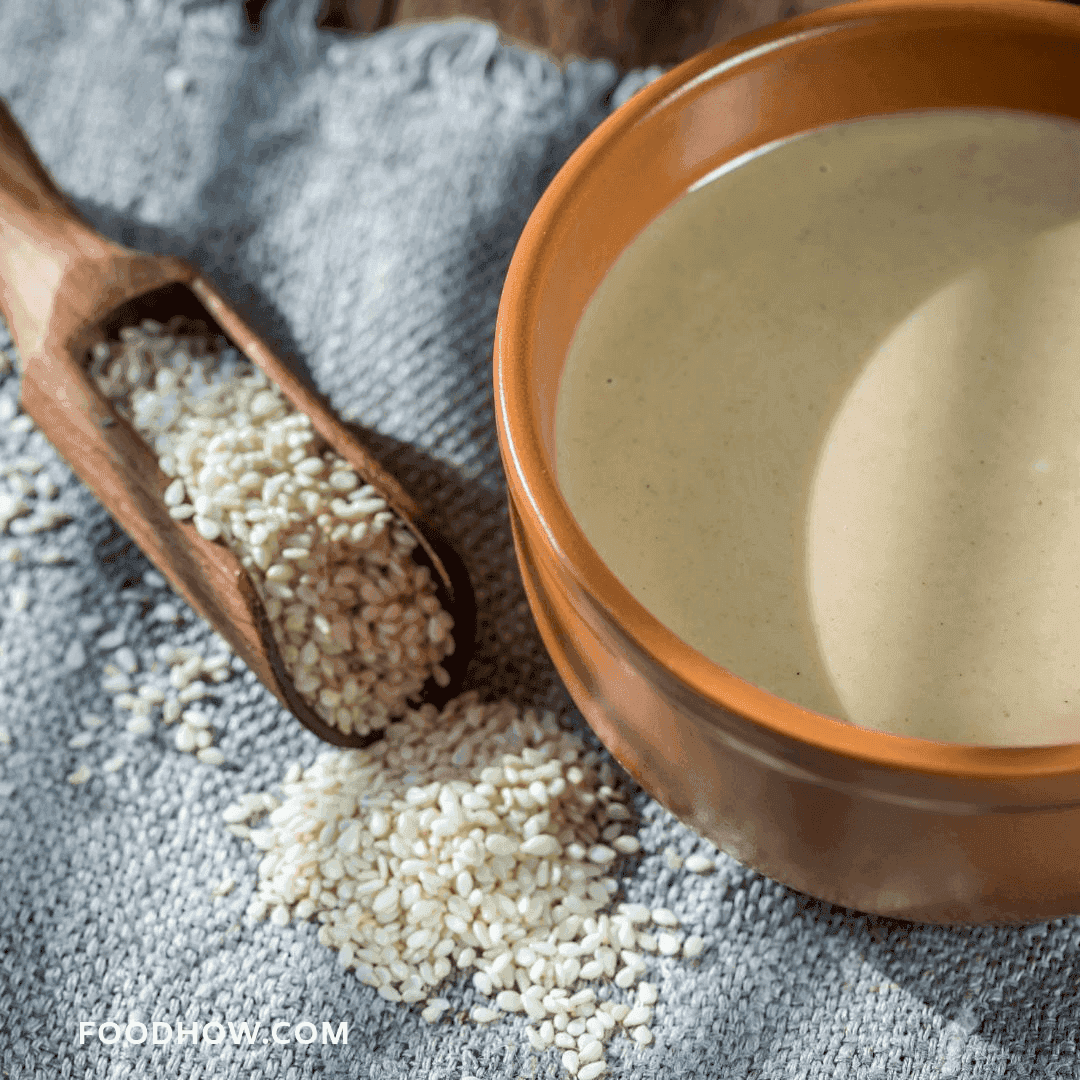 The most readily available version in supermarkets is made from crushed oily seeds, such as sunflower or sesame seeds. This paste is then mixed with honey, sugar, or syrup and cooked till it is flaky and crumbly.
These simple ingredients are used in many recipes, but the technique of making halva is how it gets that texture.
Halva texture must hit all the right notes, but it takes years to master the technique. 
It should be:
Flaky
Crumbly
Crispy
Lightweight
Airy
Melt-in-your-mouth
I have found many recipes online that make it seem so easy to get the right texture, but it is never the same. That's why I always buy it already made, but, once again, check the ingredients to be sure they are all vegan-friendly.
Where Does This Fudge-Like Confection Originate?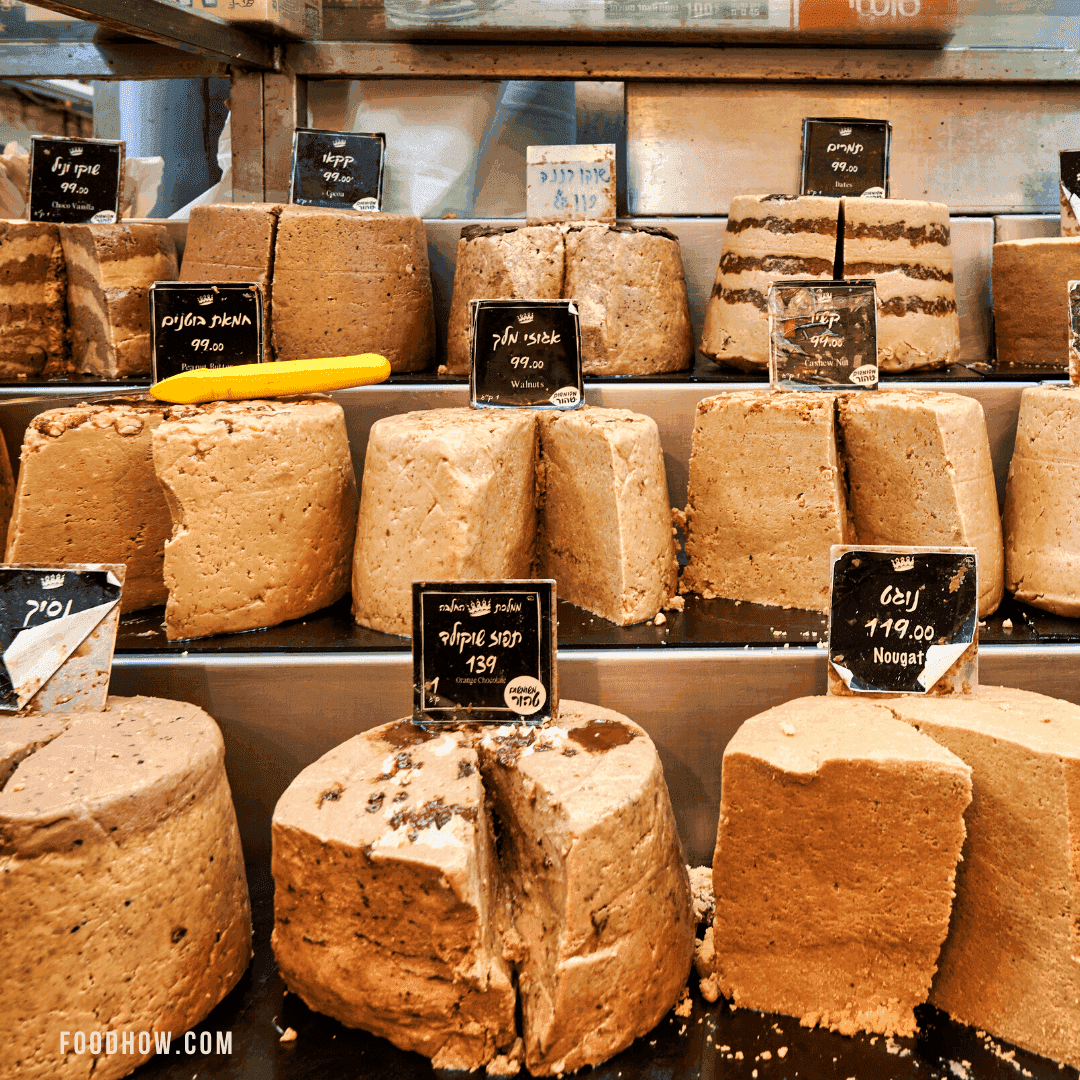 This fudge-like confection, also known as halwa or halvah originates from the Middle East.
I have seen halva everywhere in the world. This traditional sweet is very popular. Most sources say it comes from the Middle East. From there, it is believed that it spread out over the land to the Balkan Peninsula and made its way to North Africa and India too.
Today, it is very popular in Europe, especially in Latvia, Lithuania, Poland, Ukraine, and Russia. In the Middle East, it is the best selection of halva though. It's now so popular that you can find it in the UK and the US.
 There is no need to try to make your own, though you might still want to try it.
Is Halva Healthy?
While halva is quite nutritious, it is not the healthiest choice because of its high sugar and fat content. 100g of traditional halva can give you between 400 – 650 calories. It contains an average of 22g of fat and 60g of carbohydrates and only 12g of protein. It should be eaten in moderation, especially by people who are watching their weight.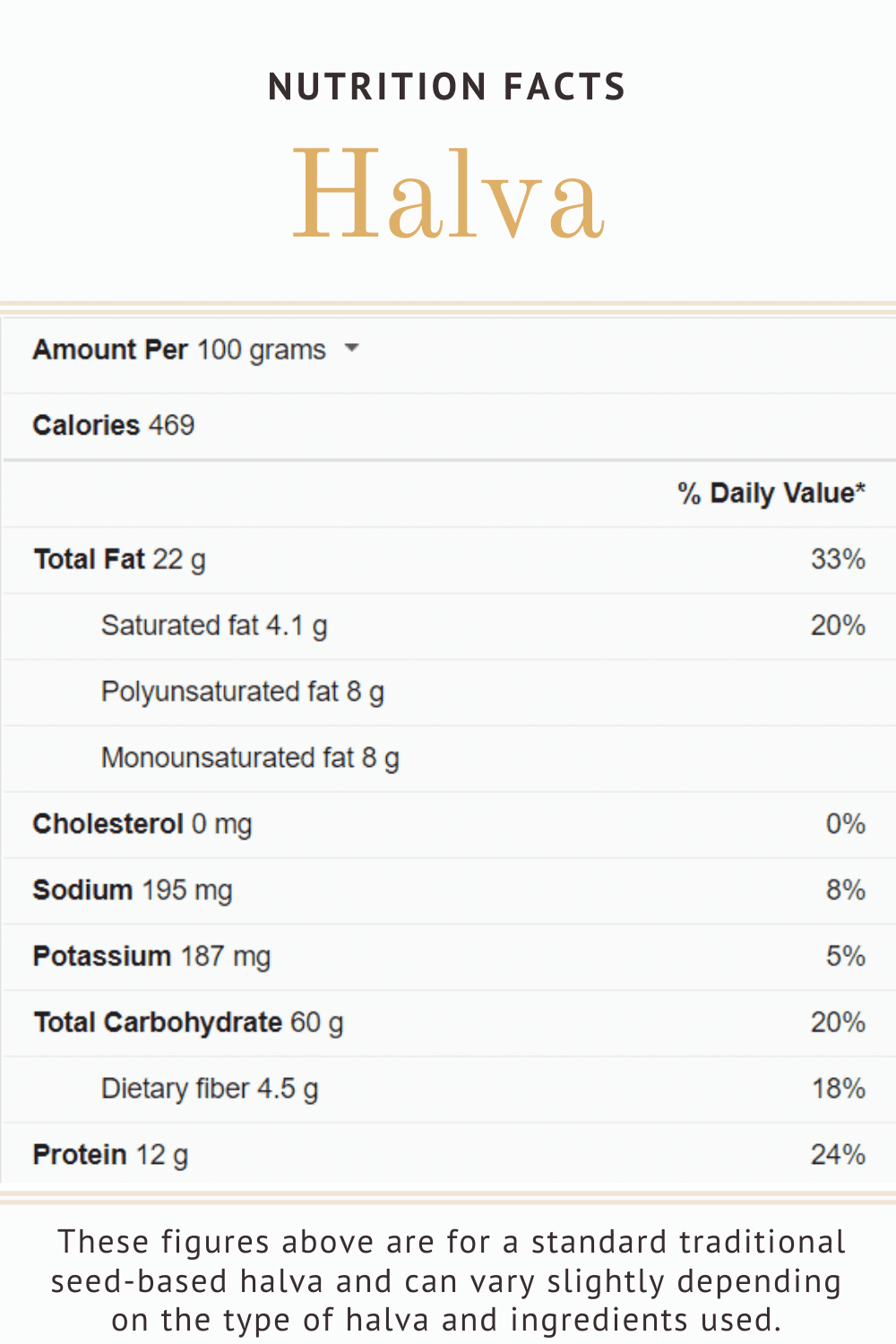 To leave the high sugar content aside, it does provide some essential nutrients from the nut and seed butter. 
Halva gives you:
Essential minerals
Proteins
Fatty acids
Amino acids
Dietary fiber
It all seems very nutritious. If you look at a basic recipe for halva, which would contain raw tahini paste, ground cinnamon, and cloves, plus a splash of vanilla extract, it doesn't sound harmful. But, unfortunately, it does contain a large amount of sugar.
The good news is that virtually all the fat in it is unsaturated. That is much healthier than the saturated, or animal-based fats.
So, I still think that halva can make a better choice than some other sweets to satisfy your cravings. But if you eat too much of it, you'll be taking on lots of sugar, which isn't good for anyone. Make it your reward on occasion, and you won't need to feel guilty!
Is Halva Gluten-Free?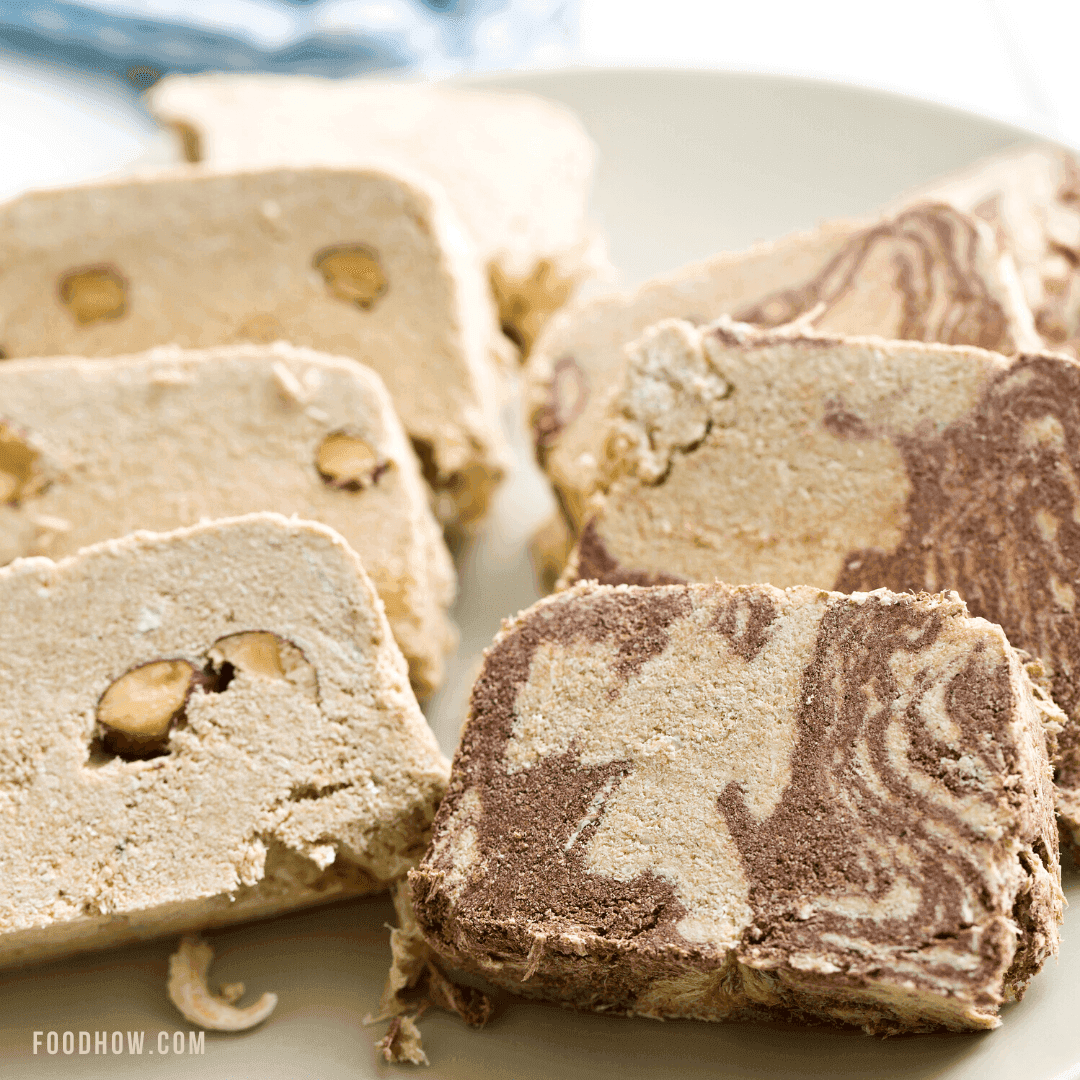 Most seed-based and nut-based halves are gluten-free. The flour-based varieties are not gluten-free unless they are made with gluten-free flour. You would need to be cautious and read the product label if you choose a flour-based product.
Additionally, if you choose flour-based halva, it might not be vegan. Many flour-based recipes use ghee, which is not vegan. However, if you go for a nut butter-based one as I do, you have no worries. Often, it uses tahini, which is a vegan-friendly ingredient.
Can You Make It At Home?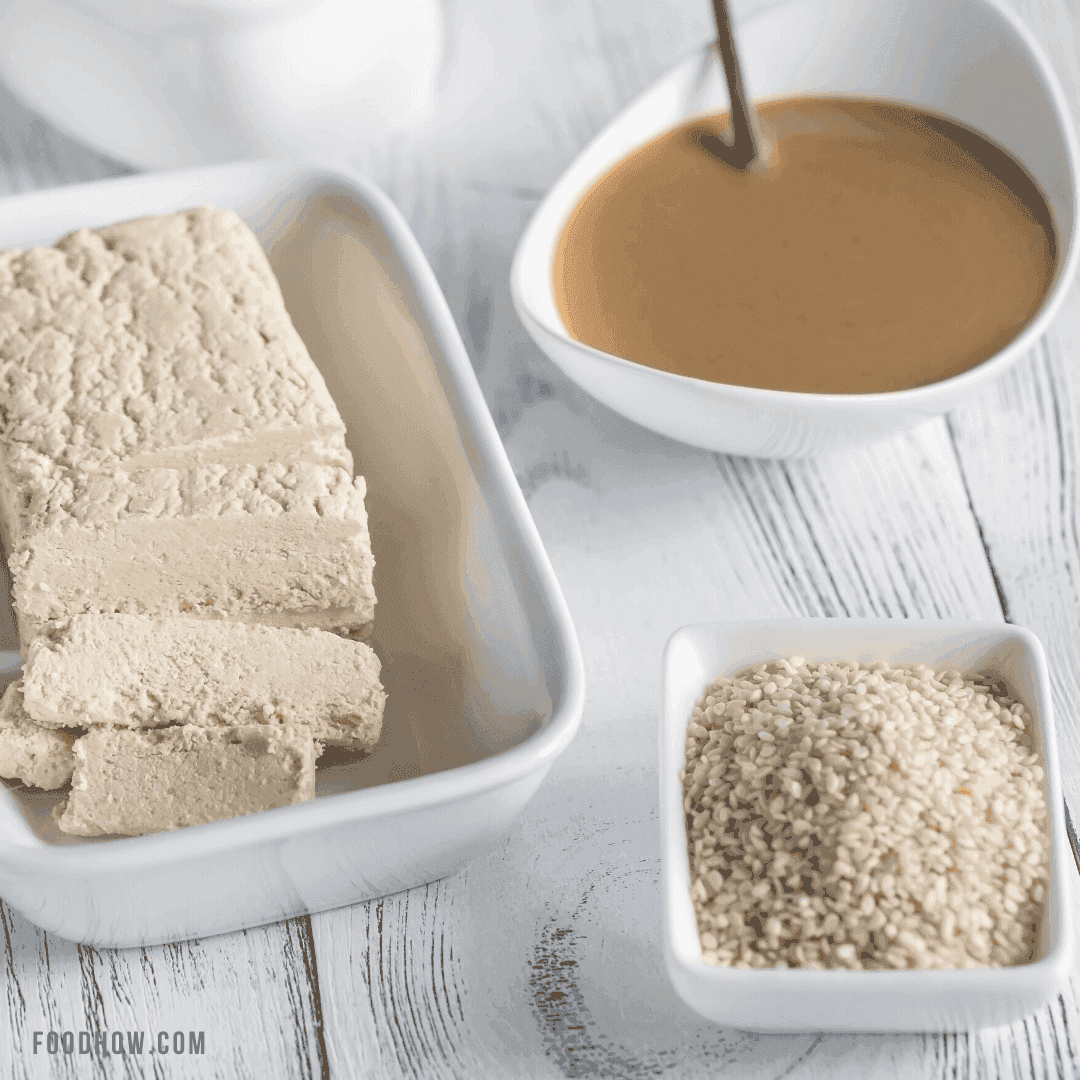 Yes, you can. It takes strong arms and a lot of dedication to make a halva. Although most of the recipes are quite simple with only a few ingredients, it is notoriously difficult to get the texture just right. So, you need a lot of patience and expect a few failed attempts.
If you want to try, there are many simple recipes.
Here are two of my favorite recipes:
1. Try this gluten-free, vegan dessert for a satisfying treat made with traditional ingredients:
Ingredients
1 pound pure sesame tahini
1 pound granulated sugar
1 teaspoon vanilla extract
Pinch salt
4 ounces (1/2 cup) cold water
5 ounces of melted dark chocolate
Get the full recipe with cooking instructions here: jamiegeller.com
2. Try this nutty and sweet halva recipe that is naturally sweetened, No Sugar! This one is also vegan and gluten-free.
Ingredients
1/2 cup (140g) tahini
1/4 cup (80g) maple syrup
1 tsp vanilla extract
1/3 cup roasted pistachios (optional)
Get the full recipe and also the cooking instructions here: fullofplants.com
You can jazz these recipes up by adding in a cup or two of toasted nuts to give it more color and texture. I like using pistachios because they are more colorful. It helps to chop them up to get more in every bite. Try it with almonds, walnuts, or even pine nuts.
As it takes practice to make, keep things simple first. Then explore with your additions to make fun creations that support your vegan lifestyle. Let me know what you add to your recipe in the comments!
Best Healthy Vegan Halva To Try
Although, as much I like homemade stuff, tasting halva for the first time made by someone who is an expert is likely to give you the most memorable experience.
Below are a few of my favorite ones you should try out: ( Warning: if you are lacking willpower, then do not try! )
TAP ON IMAGE TO VIEW PRICE
This Tahini Bar with Pistachios is according to the tradition of agent Halva-Makers, and it is absolutely delicious. It is certified gluten-free and also vegan.
You can get it here on Amazon >>>
Here Is Another One – Made By Classic Greek Recipe
TAP ON IMAGE TO VIEW PRICE
It is very high-quality and has an absolutely melt-in-your-mouth texture. It is naturally Gluten, Egg, and Dairy-free. Also, it has No Preservatives, Colors, or Artificial Flavors.
However, it does contain honey. So, keep that in mind, as a lot of vegans don't eat honey.
You can also get it here on Amazon >>>
If you do appreciate the amazing flavor and nutritious qualities of sesame, these two choices are a great vegan-friendly option. And although it might not be the healthiest treat, it is still probably a lot better alternative to the many sweets available on the market.
If you are into health and fitness or trying to lose weight and halva won't fit your macros at all, you can still get all the goodness from sesame seeds.
Check out this article: Tahini vs. Almond Butter – Should You Be Nuts About Seed Butters?