"Eat to live, don't live to eat."
A quote my mother often reminded me of when I was in my first college apartment, trying to be 'creative' in the kitchen.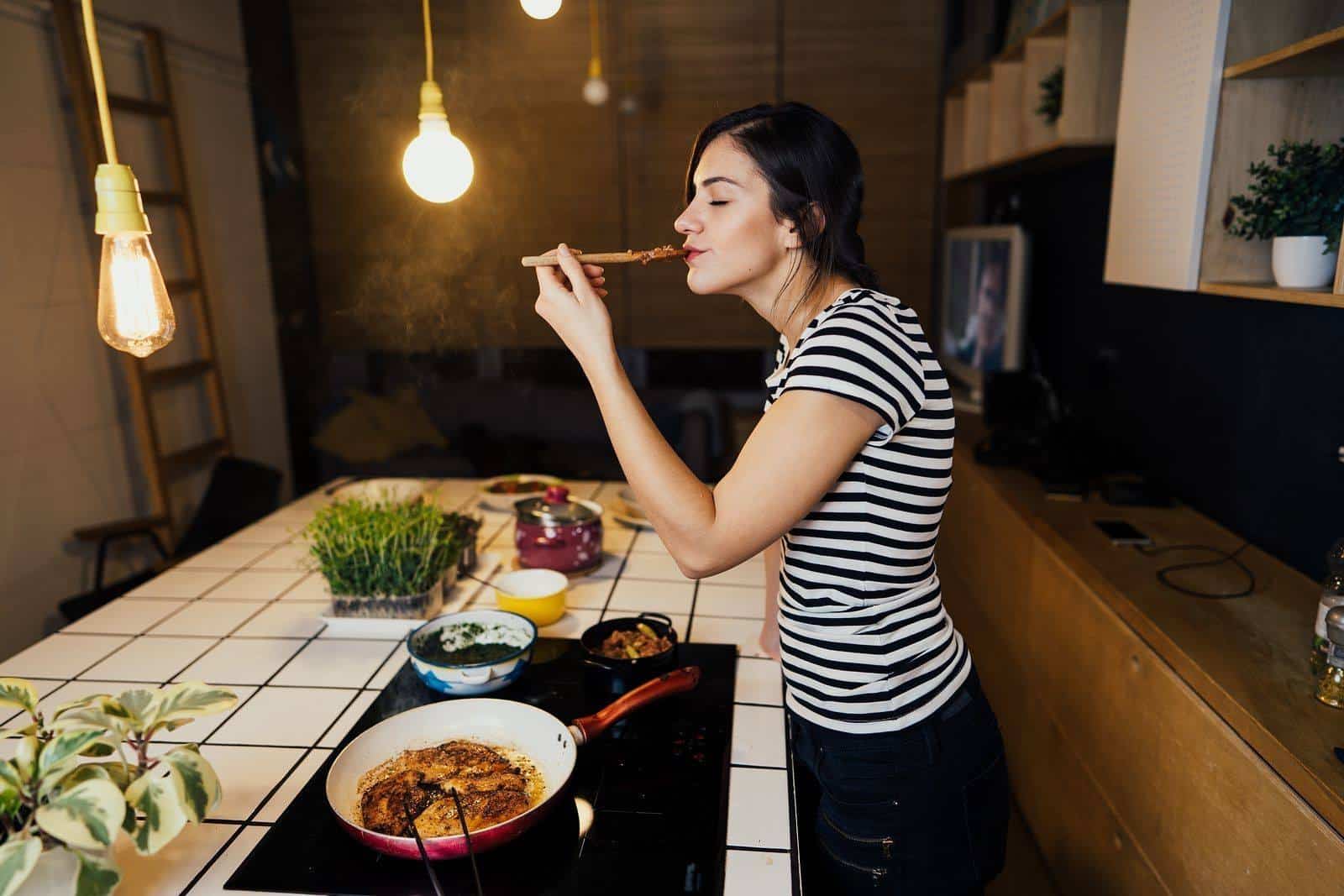 I wanted so desperately to be an impressive cook that I completely forgot to accommodate my busy student schedule.
Now that I'm grown, working, and running a blog full-time, I don't have time to forget about my schedule – or time to be too fancy when I cook.
If I could go back and give my younger self advice about learning to cook at home, I would tell myself to start in simple terms.
Give yourself some time to master the basics.
Learn to boil an egg, cook perfect pasta or rice, and saute vegetables. Practice simple steps, like using new spices, and following recipes before you dive into any self-made adventures.
My Simple Tips for Beginner Cooks
Trader Joe's is a great place to start to fill your spice cabinet without emptying your wallet.
They sell most basic spices, or you can get a Seasoning Bonus Pack on Amazon that includes a variety of different seasoning blends.
I recommend aiming for these spices to always be on hand: Salt, Pepper, Cumin, Oregano, Garlic Powder, Onion Powder, Turmeric, Paprika, Cayenne, Cinnamon, Basil.
You'll want to keep a bottle of olive oil handy, and maybe consider a jar of coconut oil. 
You can also keep butter nearby. And don't worry if your recipe calls for margarine instead of butter. Here is how to substitute margarine with butter in your recipes.
Read Also: Best Oils For Cooking and Frying.
Michael Pollan smartly said, "Eat food. Not too much. Mostly plants."
Consider this idea when you are cooking at home! Make small amounts – cook for one or two people before you start hosting parties. Set yourself up for success!
Choose Your Kitchen Appliances
If cooking is a new hobby for you in general, take some time to choose and get to know your kitchen appliances. 
Avoid relying on your microwave – plenty of good home cooks don't even have one in their kitchen.
Consider a crockpot for your meals. Use your home oven to start roasting things, and sure, you'll burn a few potatoes, let your milk boil over or overcook your kale, but this is how you get to know what does and doesn't work.
How much heat is too much? What ingredients need to cook slowly at a low temperature? These questions get their answers over some time – be patient with yourself.
Read Also: How to Save Food That's Too Salty
The Best Cookbook For Beginners
If you're ready to start cooking at home, you're ready to start your cookbook collection. Start exploring the growing world of cookbooks and E-books.
Best cookbook for beginners, you don't need anything too fancy. Start with some staples: 
The Joy of Cooking by Irma S. Rombauer – a timeless kitchen essential
Moosewood Cookbook by Mollie Katzen – inspiring, healthy and simple
Ottolenghi, The Cookbook by Yotam Ottolenghi – for the adventurous
Tap on the image below to look inside the Book on Amazon
Pick a chef you like and get on Amazon because I promise you they've written a book or two.
Unsure of which chef to idolize? Start with these heavy hitters: Gordon Ramsey, Jamie Oliver, Emeril Lagasse, or Rachel Ray.
Get Inspired To Cook
If you're looking for inspiration, get friendly with the Food Network.
If you're looking for food-based entertainment, maybe check out Chopped or The Great British Baking Show.
On Instagram all the time?  Start scrolling through those food bloggers – the culinary world is at your fingertips.
Essential Sites For Newbies In The Kitchen
In the world of the internet, most recipes exist online. In fact, the world wide web is basically just a big conglomerate of different recipes at this point. If you're unsure where to start, here are a few suggestions:
– The Minimalist Baker. She prioritizes simplicity and ease. Most recipes take 30 minutes max and don't use over 10 ingredients. 
– Tastemade: Like YouTube's version of the Food Network. Trendy, cute recipes with young chefs leading the way.
– Tasty: This is what you see on Facebook, the little videos with (usually unhealthy) tips and tricks for good party food. 
– Pinterest: Pinterest is about to be your new best friend. Create a few boards, make one for each meal, "breakfast," "dinner," etc.
You can type in keywords and scroll through lots of options that will take you directly to the recipe and its original website.
This will naturally unlock many new places for you to explore other recipe options.
Where Can I Learn To Cook?
Lots of places you probably recognize from the local malls actually offer cooking demonstrations and one-day classes. Check out Sur La Table or A Well Seasoned Kitchen, and sign up for cooking demos based on which menu you're most interested in making.
And hey! It's 2019 – jump on Google and see if your area has any local cooking demonstrations going on. You'd be surprised to see what's happening down the street.
If you really want to take your cooking to the next level, find out if there are any culinary schools near you! As food trends change, the culinary education world is answering.
Now you can study plant-based foods, or go a more traditional route. If you're really serious, check out the different levels at Le Cordon Bleu, one of the largest networks of hospitality and culinary schools in the world.
Make Cooking Fun
Most importantly, have fun and remember that your goal is to nourish your body. Give yourself the gift of patience and explore the ingredients you love.
Try new things, be brave, and start researching. Be ready to burn things, drop things, and run out of the spices you need – but when you nail that first meal, it's going to taste so good!
Read Also: Learn To Bake With These Awesome Bread Baking Blogs.