Jump To Recipe
Hey, I've got a treat for ya – my super easy and outrageously tasty Double Chocolate Banana Bread. It's a beautiful marriage of banana sweetness and rich chocolate, with a texture so moist it feels more like eating a brownie.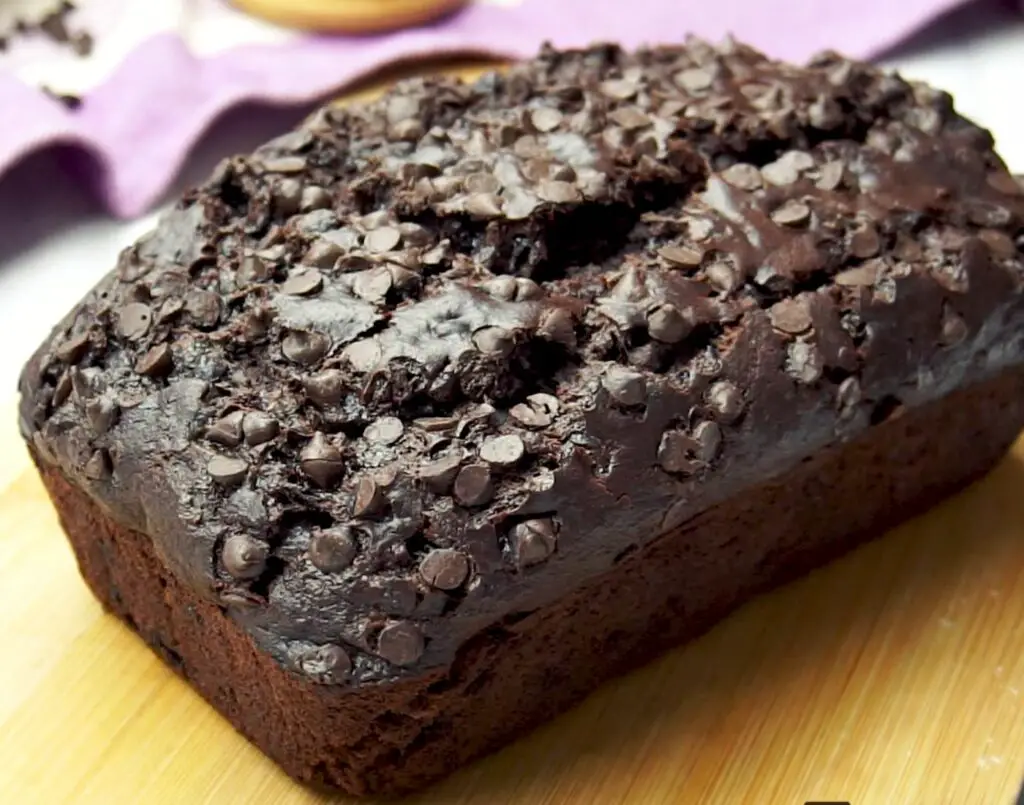 This chocolate banana bread recipe is as simple as it gets, perfect for those PJ-clad, comfort-seeking days. All you need are those neglected ripe bananas and some kitchen staples, and you're ready to whip up some serious deliciousness.
Quick Recipe Rundown…
TASTE: This Double Chocolate Banana Bread is like a chocolaty cloud of banana bliss. The cocoa gives it that divine chocolate punch.
TEXTURE: It's outrageously moist, with a tender crumb that pairs perfectly with the melty pockets of chocolate chips scattered throughout.
EASE: So simple even a kitchen newbie can nail it. Mix, pour, bake, done!
APPEARANCE: Let's talk about wow-factor. The melted chocolate chips on top and throughout the loaf not only taste amazing but gives this loaf an irresistibly delicious look.
PROS: It's an epic chocolaty twist on traditional banana bread – it's packed with flavor, easy to make, and sure to impress anyone who takes a bite.
CONS: You might not want to share. But seriously, no real downsides here.
Don't miss the step-by-step video in the recipe card below! It's a quick watch and shows exactly how I whip up this moist and gooey double chocolate banana bread.
What You Need To Make This Doube Chocoalt Banana Bread?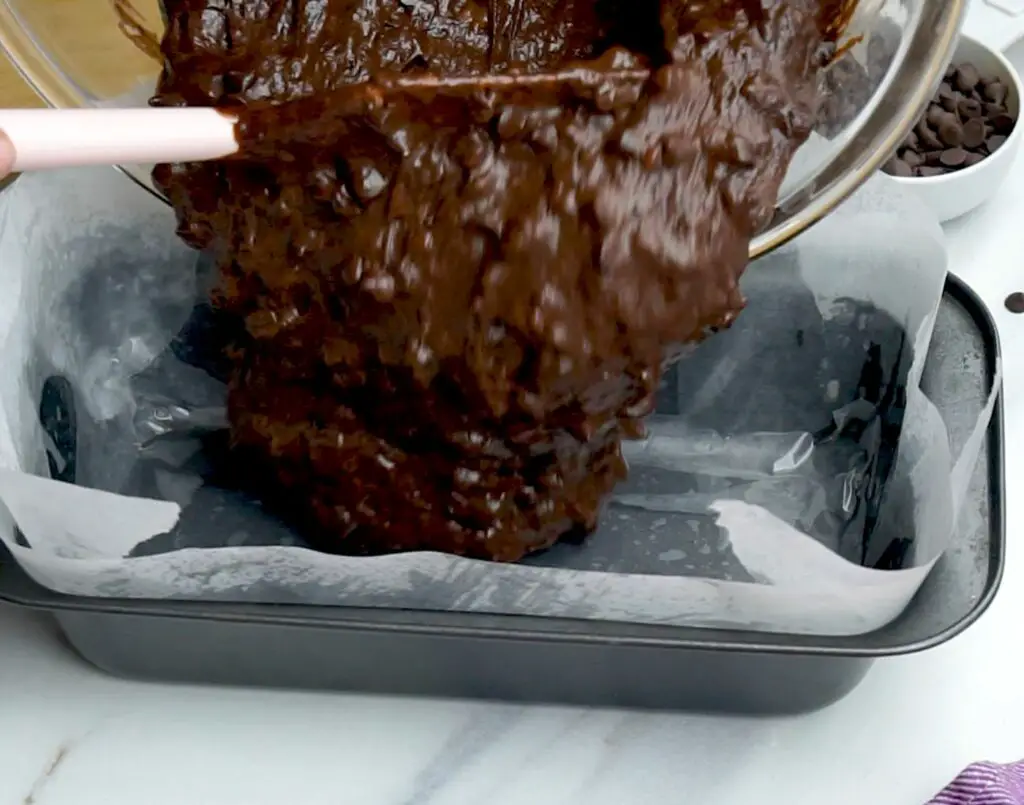 Ingredients:
Flour: 1 cup (I use all-purpose flour in the recipe video below, but self-rising flour or cake flour can also be used)
Baking soda: 1 teaspoon
Cocoa powder: ½ cup (I like Dutch process cocoa powder like the one below for a rich chocolate taste, but regular cocoa powder is also fine)
Kosher salt: ½ teaspoon
Ripe bananas: 7, mashed (overripe, brow or almost black bananas are best as they are sweeter and impart a stronger banana flavor)
Vanilla extract: 1 teaspoon
Egg: 1 large (ensure it is at room temperature)
Butter: 1/4 cup, melted (I used unsalted butter, but salted is also fine)
Brown sugar: ⅓ cup
Granulated sugar: ⅓ cup
Greek yogurt: ½ cup (I think full fat will work the best, make sure it's at room temperature)
Chocolate chips: 1 cup (plus extra for topping; dark chocolate chips, milk chocolate chips, or semisweet chocolate chips can be used)
Please note that using room-temperature ingredients like eggs and yogurt is important as it ensures that your mixture mixes into a homogenous mixture and bakes perfectly.
In this recipe, I have a soft spot for Dutch-processed cocoa powder. The Dutch processing gives the cocoa a rich, dark color that's visually alluring. But, what I truly cherish is the smoother flavor with those subtle earthy and woodsy notes that it imparts. It makes the chocolate taste in the banana bread more sophisticated and irresistible. Be sure to give it a try!
TAP ON IMAGE TO VIEW PRICE
How To Make This Double Chocolate Banana Bread?
Instructions:
Step 1: Preheat that oven to a toasty 350°F (180°C) and get your (9×5 inch) loaf pan all dressed up with parchment paper.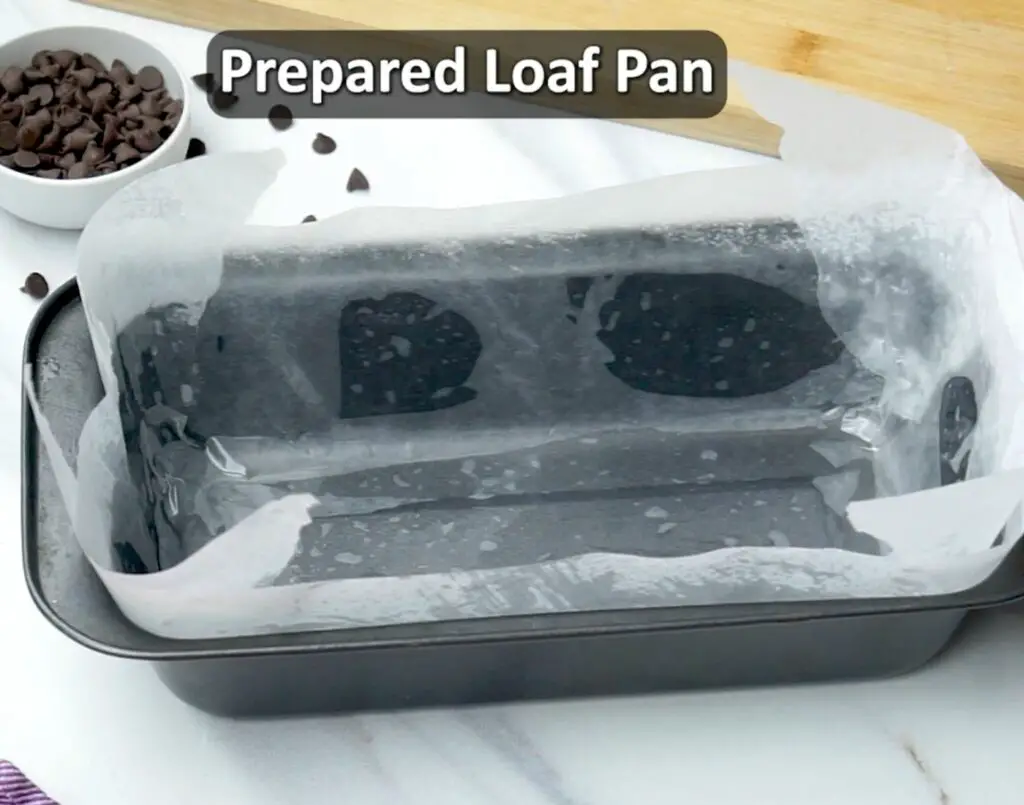 Step 2: Take your ripe bananas and mash them up in a large bowl until they're smooth enough.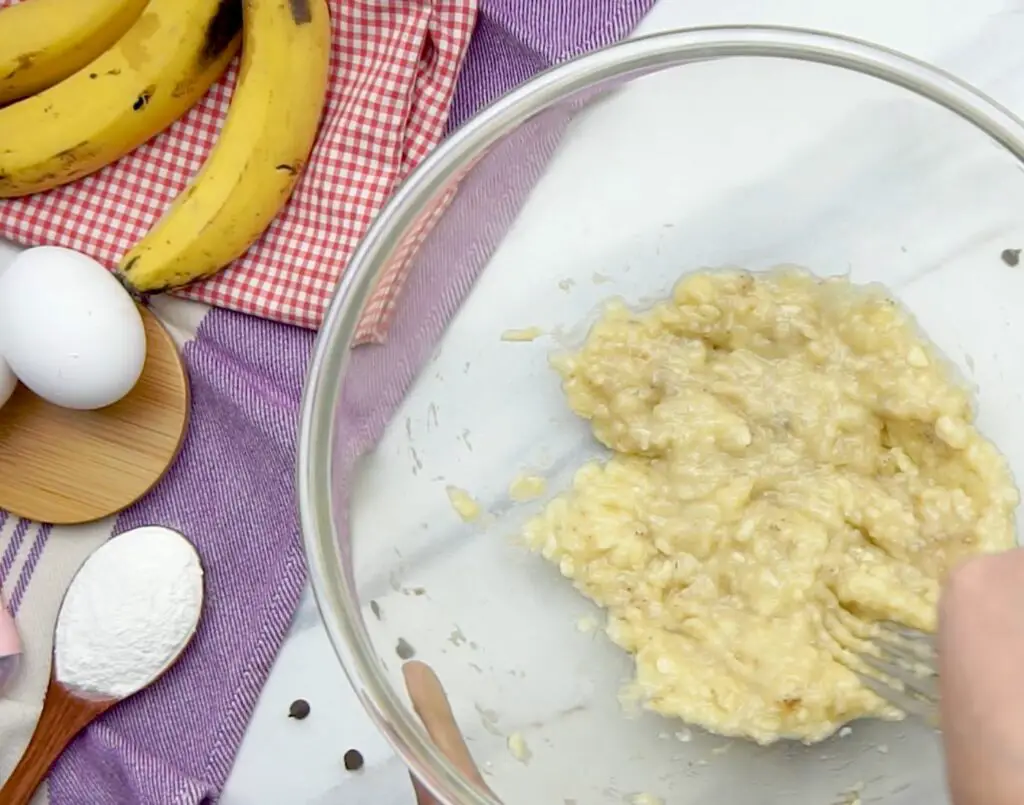 Step 3: Now, stir in the melted butter, egg, vanilla extract, and Greek yogurt. This is where it starts to smell like something special.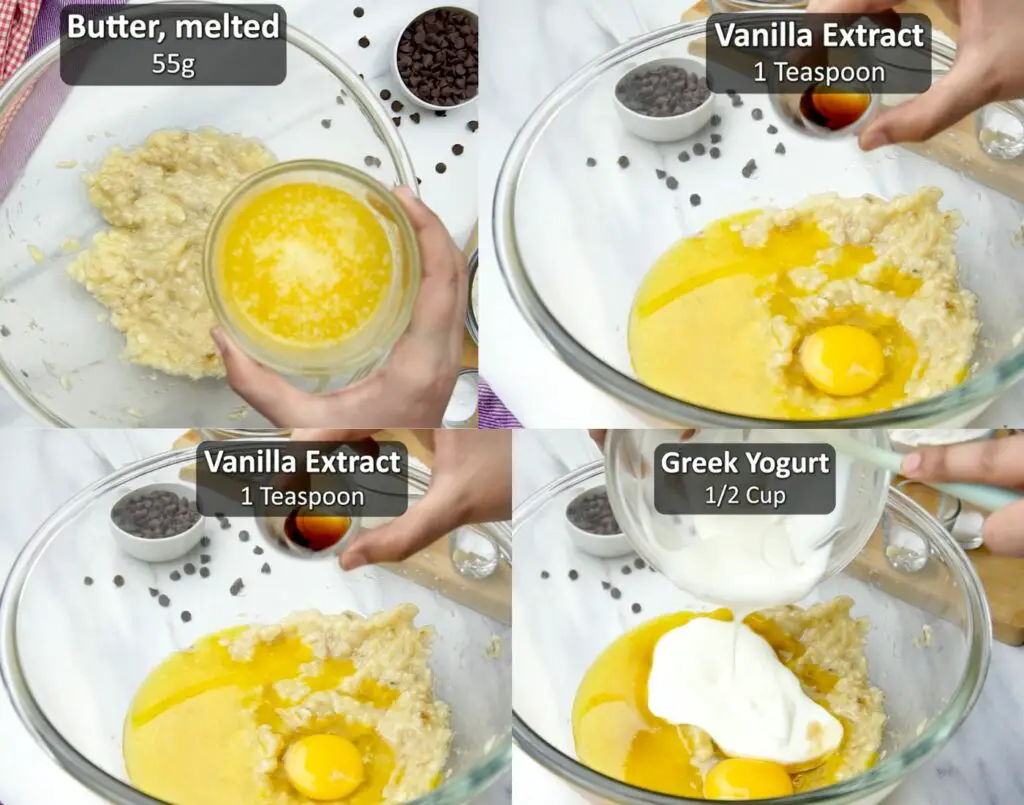 Step 4: Time for some sweetness! Add the granulated and brown sugar, and mix it well.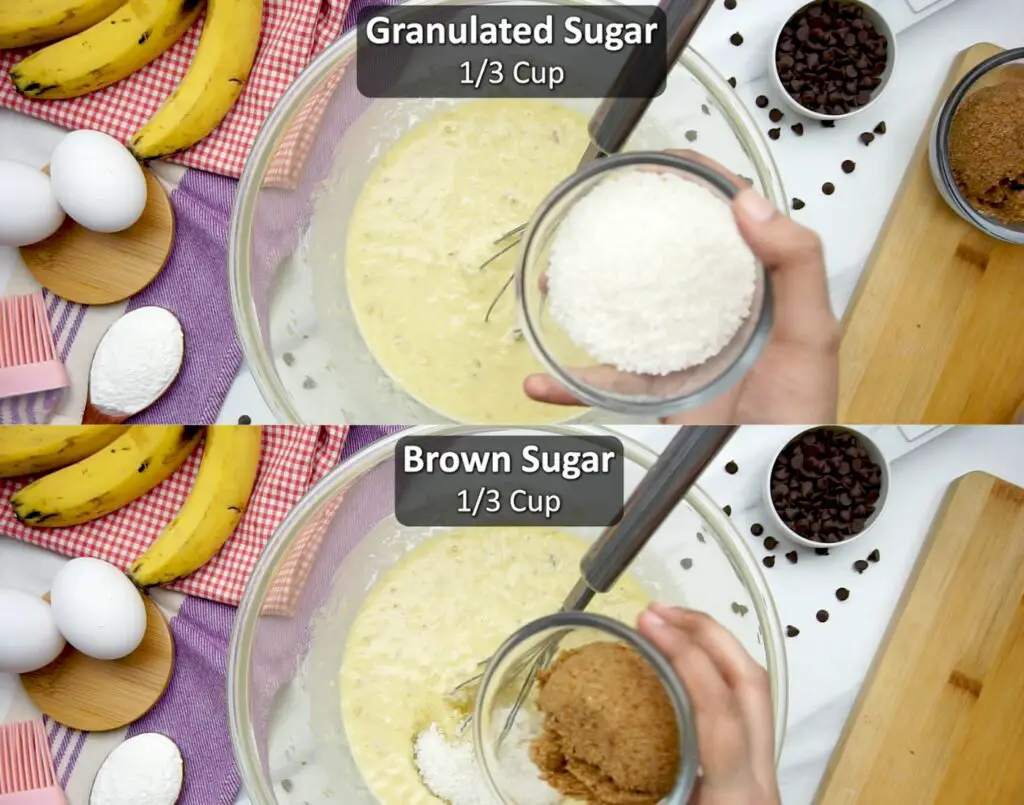 Step 5: In a separate bowl, give your flour, cocoa powder, salt, and baking soda a little whisk. This dry mix is about to make some flavor magic.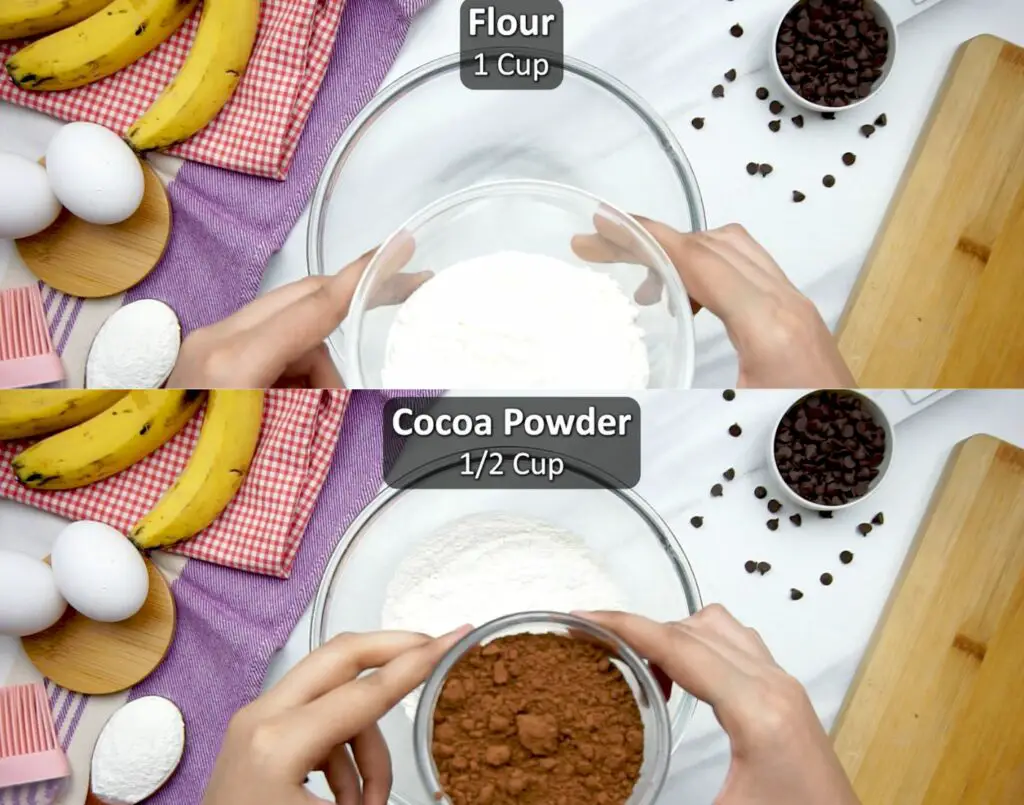 Step 6: Gradually combine the dry ingredients into the banana mixture. You want to be gentle and just mix until they're nicely combined.
Step 7: Chocolate chip time! Fold them into the batter. (I add a bit extra because you can never have too much chocolate, right?)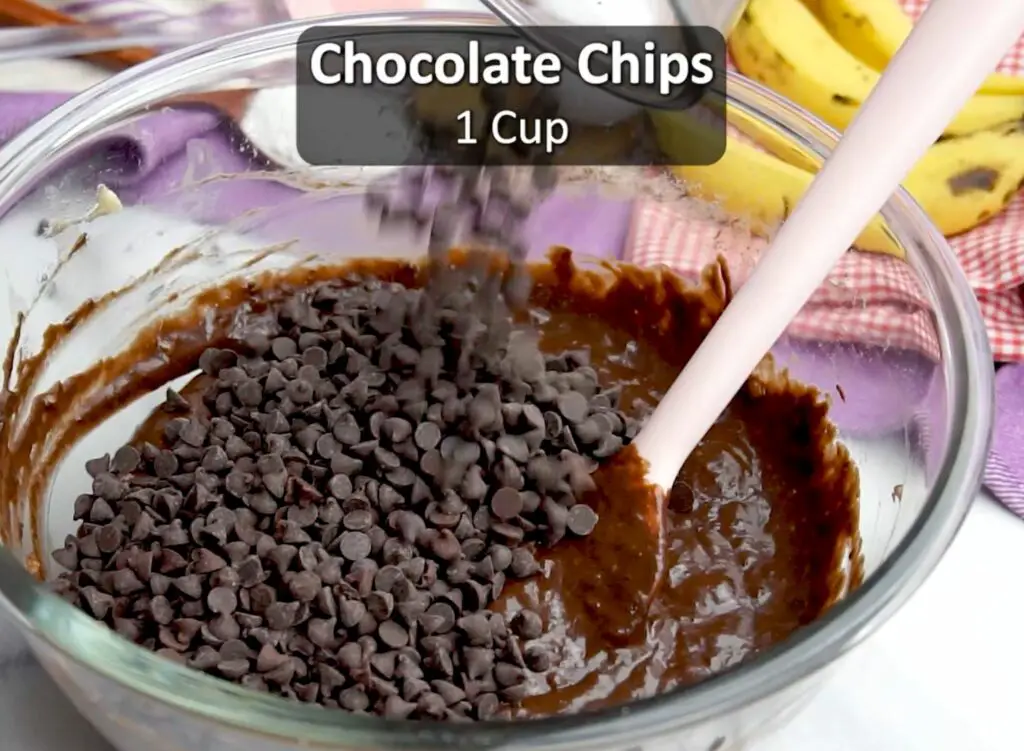 Step 8: Pour the batter into your parchment-lined loaf pan. For that bakery-style touch, sprinkle a few more chocolate chips on top.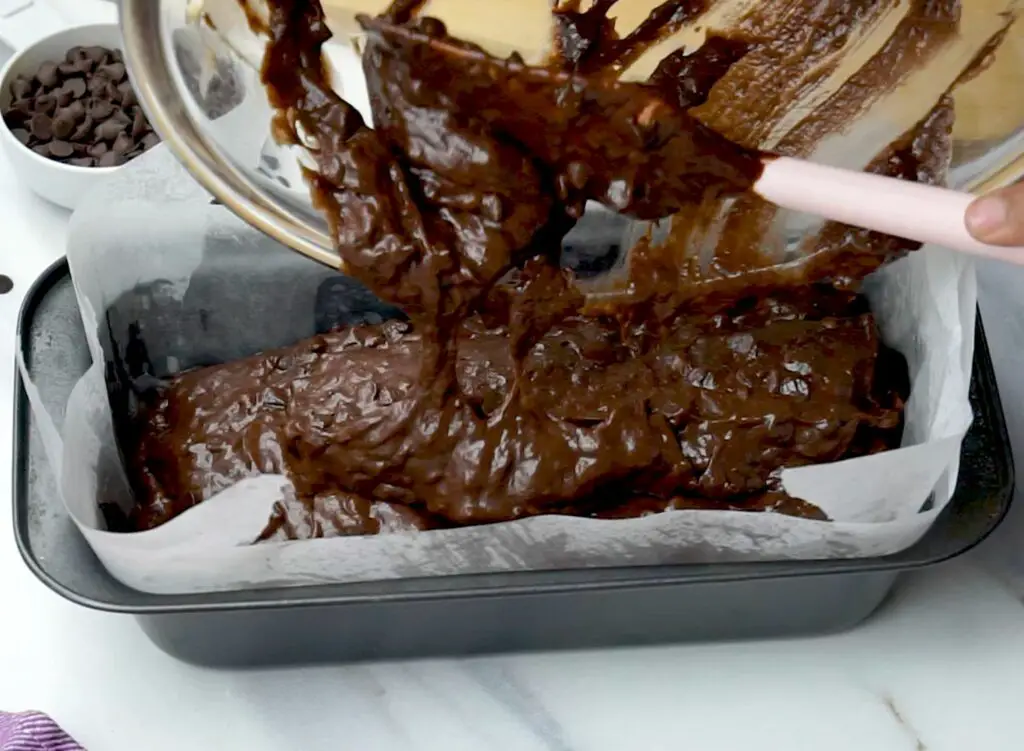 Step 9: Let your lovely chocolate banana loaf bake in the oven for 50-60 minutes. You'll know it's done when a toothpick inserted comes out clean.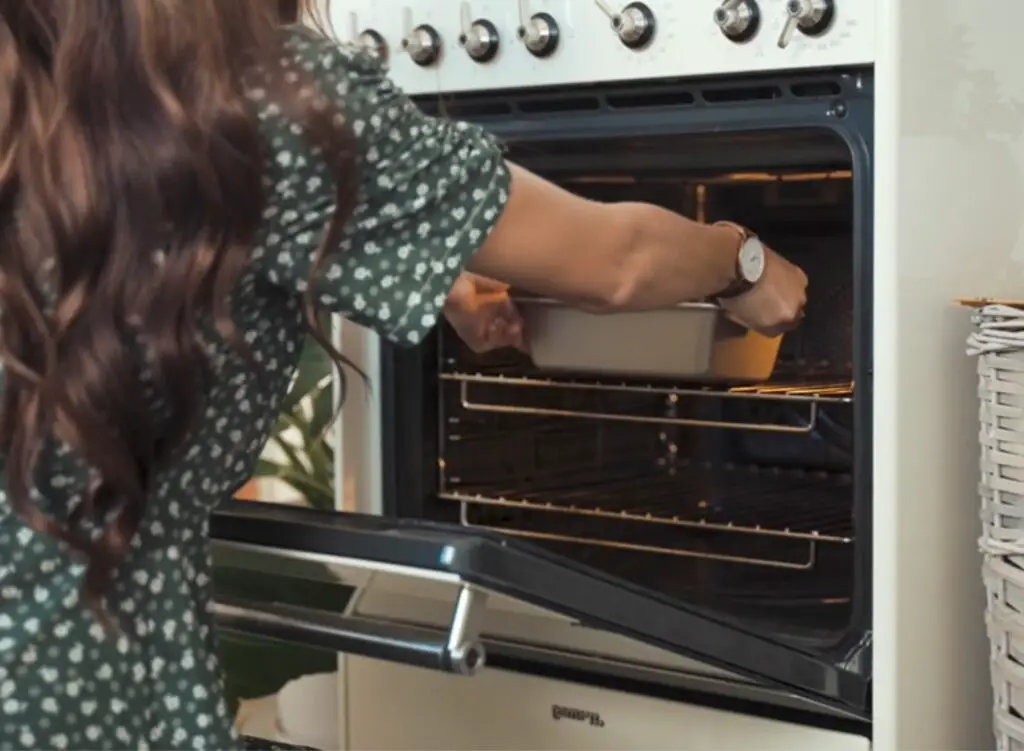 Step 10: Patience, my friend. Let the bread cool in the pan for about 10 minutes, then transfer it to a wire rack.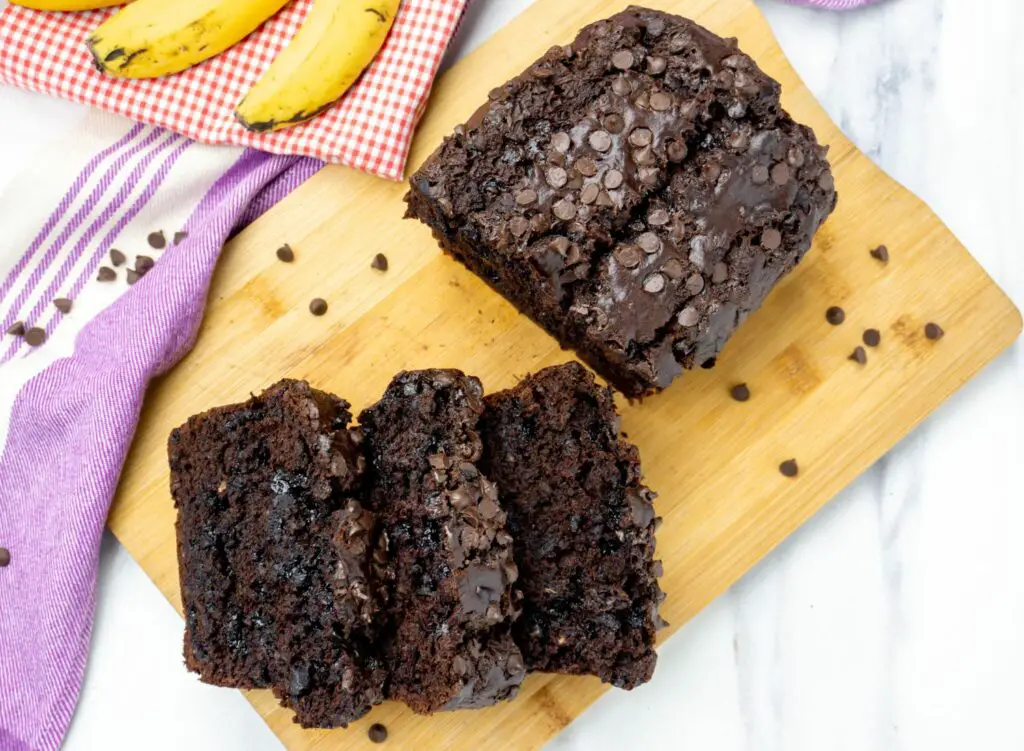 And voilà! Cut yourself a slice of this double chocolate banana bread, maybe pair it with a warm cup of tea or coffee, and enjoy. It's cozy, it's chocolatey, and it's just downright delightful. Share it with your loved ones, or savor it all by yourself.
My Favorite Chocolate Banana Bread Serving Suggestions:
Dusting of Powdered Sugar: Give your double chocolate banana bread a classic finish by dusting it with a light sprinkle of powdered sugar. It not only adds a hint of sweetness but also gives it a beautiful, elegant look.
Ice Cream Companion: Warm a slice of banana bread and serve it with a scoop of your favorite ice cream. Vanilla, coffee, or even banana-flavored ice cream pairs wonderfully with the rich chocolatey goodness of the bread.
Caramel Drizzle: Elevate the flavors by drizzling warm caramel sauce over the banana bread. The combination of the gooey caramel and moist banana bread is absolutely divine.
Fresh Berries: Add a burst of freshness by serving your banana bread with a side of fresh berries. Strawberries, raspberries, or blueberries can provide a nice contrast to the dense and rich banana bread.
Whipped Cream: Add a dollop of whipped cream or whipped cream substitutes on the side or on top of a warm slice. This light and airy addition can balance out the rich textures of the banana bread.
Nut Butter: Spread a layer of almond or peanut butter over a slice for an interesting twist. The nutty flavors complement the chocolate and banana wonderfully.
Yogurt or Custard: For a slightly tangy or creamy counterpart, serve a slice of banana bread with a side of Greek yogurt or a pour of velvety custard.
Honey and Toasted Coconut: Drizzle a bit of honey and sprinkle some toasted coconut flakes on top for a tropical twist.
Remember, serving suggestions can be mixed and matched to create the ultimate dessert experience. Don't hesitate to let your creative culinary instincts guide you!
You may also like this Sweet Potato Avocado Brownies Recipe (Nutritious And Fudgy).
Recipe Customizations and Variations: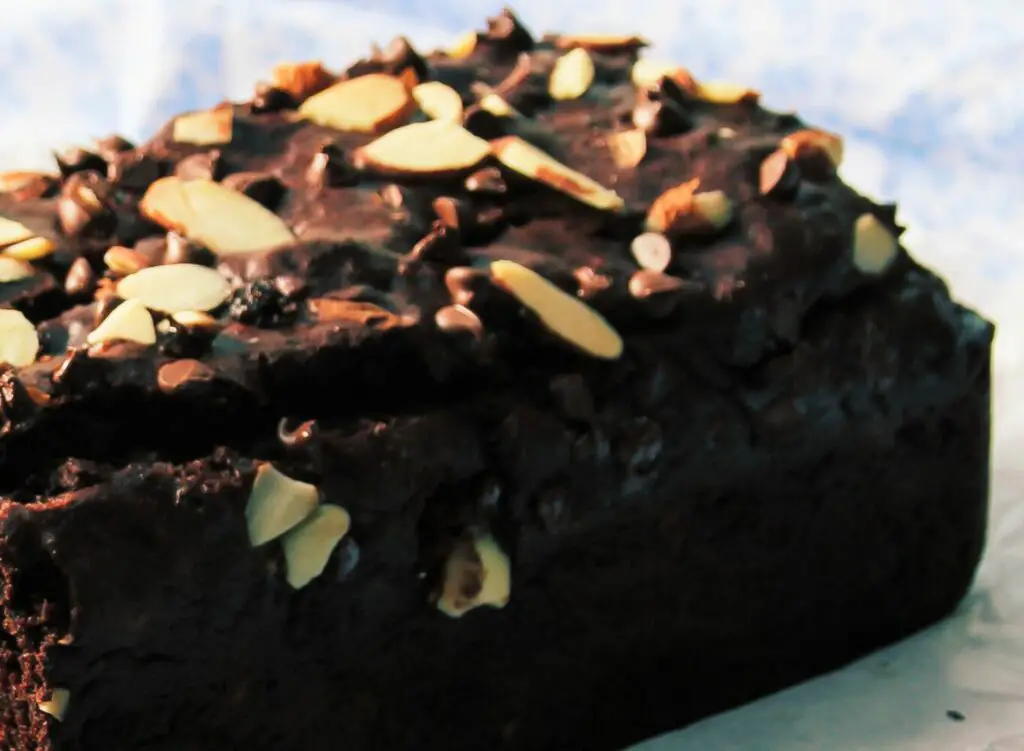 Add Nuts: For a delightful crunch and extra depth of flavor, toss in or sprinkle on top about 1/2 cup of toasted walnuts, pecans, or almonds flakes to the batter.
Frosting or Glaze: Drizzle some magic on your cooled banana bread by spreading a layer of chocolate ganache, cream cheese frosting, or a simple glaze made from powdered sugar and milk or lemon juice.
Different Types of Chocolate: Not all chocolates are created equal. Play around with white chocolate chips or a mix of dark and milk chocolate. Experiment with chocolates of varying cocoa content to find your perfect richness.
Adding Fruits: Go bananas with more than just bananas! Throw in some dried fruits like cranberries or cherries, or even raisins, for an exciting burst of flavor.
Spices and Flavorings: Spice up your life (and your banana bread) with a pinch of cinnamon or nutmeg, or get fancy with a drop of almond extract.
Lower-Sugar Option: If you're watching your sugar intake, scale back on the sugar and opt for dark chocolate chips to keep things less sweet.
Protein-Packed Version: Add a scoop or two of your favorite protein powder (chocolate or vanilla flavor) to the batter for those looking to pack in some extra protein.
Remember to watch the banana bread closely as it bakes since some variations might affect the baking time. Don't be afraid to experiment and find the perfect combination that makes your Double Chocolate Banana Bread a crowd favorite.
How To Store This Chocolate Banana Bread?

Storing the double chocolate banana bread properly will help maintain its freshness and flavor. Follow these simple steps:
Cool Completely: Let the banana bread cool completely to room temperature before storing it. This will prevent condensation from forming inside the storage container, which could make the bread soggy.
Wrap it Well: Wrap the bread tightly in plastic wrap or aluminum foil. This will help to keep the air out and keep it from drying out.
Store in an Airtight Container: If you have one, place the wrapped bread in an airtight container for an additional layer of protection.
Room Temperature or Refrigerate: You can store the bread at room temperature for up to 4 days. If you want it to last a bit longer (about a week), pop it in the refrigerator.
Freezing for Longer Storage: If you want to store the banana bread for more than a week, consider freezing it. Make sure it's wrapped tightly and placed in a freezer-safe bag or container. It can last for up to 3 months in the freezer. To defrost, just remove it from the freezer and let it come to room temperature on the counter.
Remember, whenever you want to enjoy a slice, you can also warm it up a little in the microwave or oven for that fresh-baked taste and gooey chocolate texture!
Check out also this 3 Ingredient Banana Bread Recipe – NO Cake Mix!
Moist Double Chocolate Banana Bread Recipe
Course: Dessert
Cuisine: American
Difficulty: Easy
Total time
1
hour 
15
minutes
I'm thrilled to share this super easy and tasty recipe for chocolate banana bread. This beauty combines the sweet goodness of ripe bananas with the yummy richness of chocolate. Plus, the inside of this chocolate chip banana bread is so moist and soft – it's just perfect. The best part? You don't need any fancy ingredients – just the usual stuff most of us have in our kitchens.
Ingredients
7 ripe bananas

1/4 cup (half a stick) unsalted butter, melted

1 large egg

1 teaspoon vanilla extract

1/2 cup Greek yogurt

1/3 cup granulated sugar

1/3 cup brown sugar

1 cup all-purpose flour

1/2 cup cocoa powder (My favorite Dutch Cocoa Powder)

1/2 teaspoon kosher salt

1 teaspoon baking soda

1 cup chocolate chips, plus extra for sprinkling
Directions
Preheat your oven to 350°F (180°C) and line a loaf pan with parchment paper.
Peel the bananas and place them in a large mixing bowl. Using a fork or potato masher, mash them until they're nice and smooth – think pudding consistency.
To the mashed bananas, add the melted butter, egg, vanilla extract, and Greek yogurt. Mix until all the ingredients are well combined.
In another mixing bowl, whisk together the all-purpose flour, cocoa powder, kosher salt, and baking soda.
Gradually add the dry ingredients to the banana mixture and stir until just combined. Be careful not to over-mix.
Fold in 1 cup of chocolate chips into the batter.
Transfer the batter to the prepared loaf pan, and if you're feeling extra indulgent, sprinkle a few more chocolate chips on top.
Bake in the preheated oven for 50-60 minutes or until a toothpick inserted into the center of the bread comes out clean.
Once done, let the bread cool in the pan for about 5-10 minutes before serving.
Notes
Use Overripe Bananas: The riper the bananas, the sweeter and more flavorful your banana bread will be. If your bananas are not ripe enough, you can bake them in the oven at 200°C (400°F) for about 10 minutes to speed up the ripening process.
Room Temperature Ingredients: Bring your egg and Greek yogurt to room temperature before starting. This helps to create a more even and smooth batter, which results in a better texture for your banana bread.
Room Temperature Ingredients: Bring your egg and Greek yogurt to room temperature before starting. This helps to create a more even and smooth batter, which results in a better texture for your banana bread.
Check for Doneness: Use a toothpick or a thin knife to check if your chocolate banana bread is done. Insert it into the center of the bread; if it comes out clean or with just a few crumbs attached, it's done.
Add Nuts or Dried Fruit: If you'd like some crunch or additional flavor, consider adding a handful of chopped nuts or dried fruit to the batter along with the chocolate chips.
Troubleshooting And Tips:
Problem: Gummy Texture

Solution: Avoid overmixing the batter, as this can cause the bread to have a dense and gummy texture. Gently fold the ingredients together just until they are combined.

Problem: Lack of Banana Flavor

Solution: Use overripe bananas. The riper the bananas, the stronger the banana flavor and natural sweetness in your banana bread.

Problem: Uneven Baking

Solution: Double-check your oven temperature with an oven thermometer. The incorrect temperature can cause the bread not to cook evenly. Preheat the oven properly before placing the bread inside.

Problem: Dry Bread

Solution: Ensure that you are using enough bananas and do not overbake. The moisture from the bananas and the correct baking time is essential to prevent the bread from drying out.

Problem: Chocolate Chips Sinking to the Bottom

Solution: Toss the chocolate chips in a tablespoon of flour before adding them to the batter. This will help them distribute evenly throughout the bread.

Problem: Bread is Cooked on the Edges but Soggy in the Middle

Solution: This can be caused by using the wrong type of pan. Use a reflective metal 9×5-inch loaf pan, as dark or glass pans can cause uneven cooking. Additionally, if you face this issue, reduce the oven temperature and continue baking for a longer time at lower heat.
Check out more banana bread troubleshooting tips here.
And Finally…
I hope you are as excited about this double chocolate banana bread as I am! I would absolutely love to hear from you. Did you give this recipe a try? Did you add your own twist? Maybe some spicy cinnamon or a dash of coffee to enhance the chocolate?
Share your experiences in the comments below! Not only do I want to know how it turned out, but your tips and variations might just inspire someone else to create their new favorite treat.
And, of course, if you ran into any hiccups or have any questions about the recipe, don't hesitate to ask. We're all here to learn and enjoy the baking journey together.
Happy Baking!