"Mother's best friend," "The Immortal Tree," "The Miracle Tree," …these are just some of the names for the curious plant called Moringa Oleifera! In non-Western cultures, it has been used as a herbal remedy for thousands of years.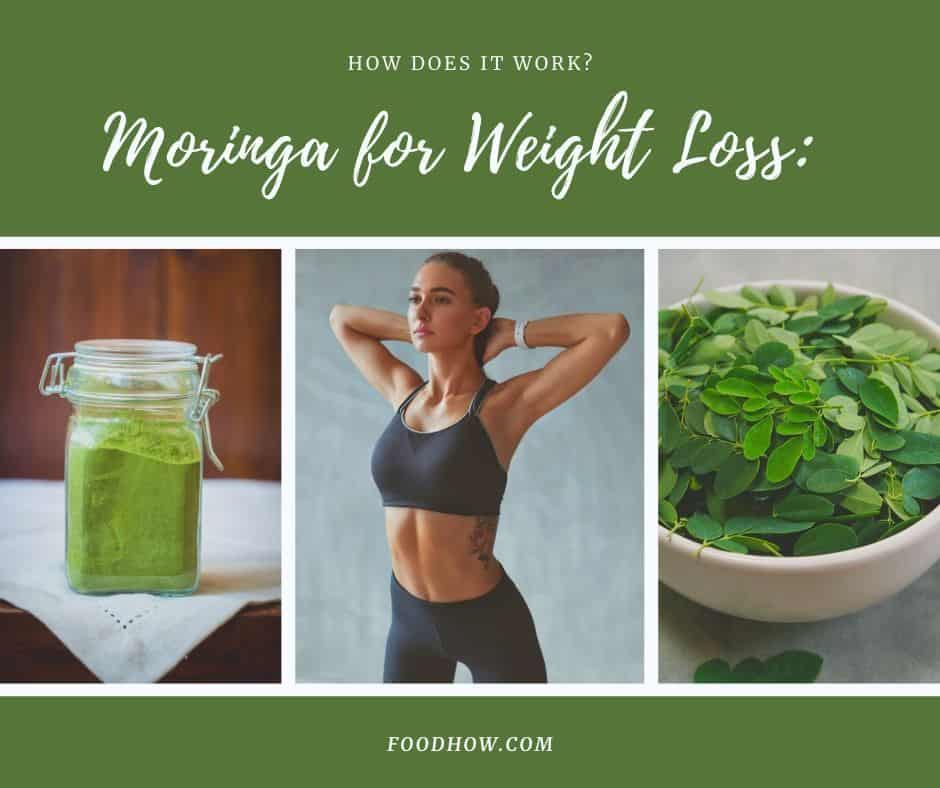 Despite that, it's much lesser known in the West. However, recently, it has been gaining insane popularity due to its amazing benefits for overall well-being and effectiveness for weight loss.
For instance, Sciencedirect cites numerous studies confirming that Moringa is one of the most potent herbal supplements known to humanity. [1]
With staggering 92 nutrients and 46 natural antioxidants, Moringa contains more calcium than milk, more Vitamin A than carrots, more iron than spinach, more potassium than bananas, and more Vitamin C than oranges and that is not all.
TAP ON IMAGE TO VIEW PRICE
Although Moringa is not your standard weight loss herb, its effectiveness for burning fat can be accredited precisely to its myriad of nutritional properties, making it a good supplement for people of all ages who are trying to lose weight, tone up, and stay in shape.
Keep reading to find out what are these effective yet not so obvious nutritional properties making this plant such a well-kept secret for natural weight loss.
Moringa leaves are almost 25% protein, which is very high for any plant. It contains 9 essential amino acids, making it a complete protein source, so it is a perfect herbal supplement for anyone trying to lose weight and build muscle.
What Is Moringa And Where Does It Come From?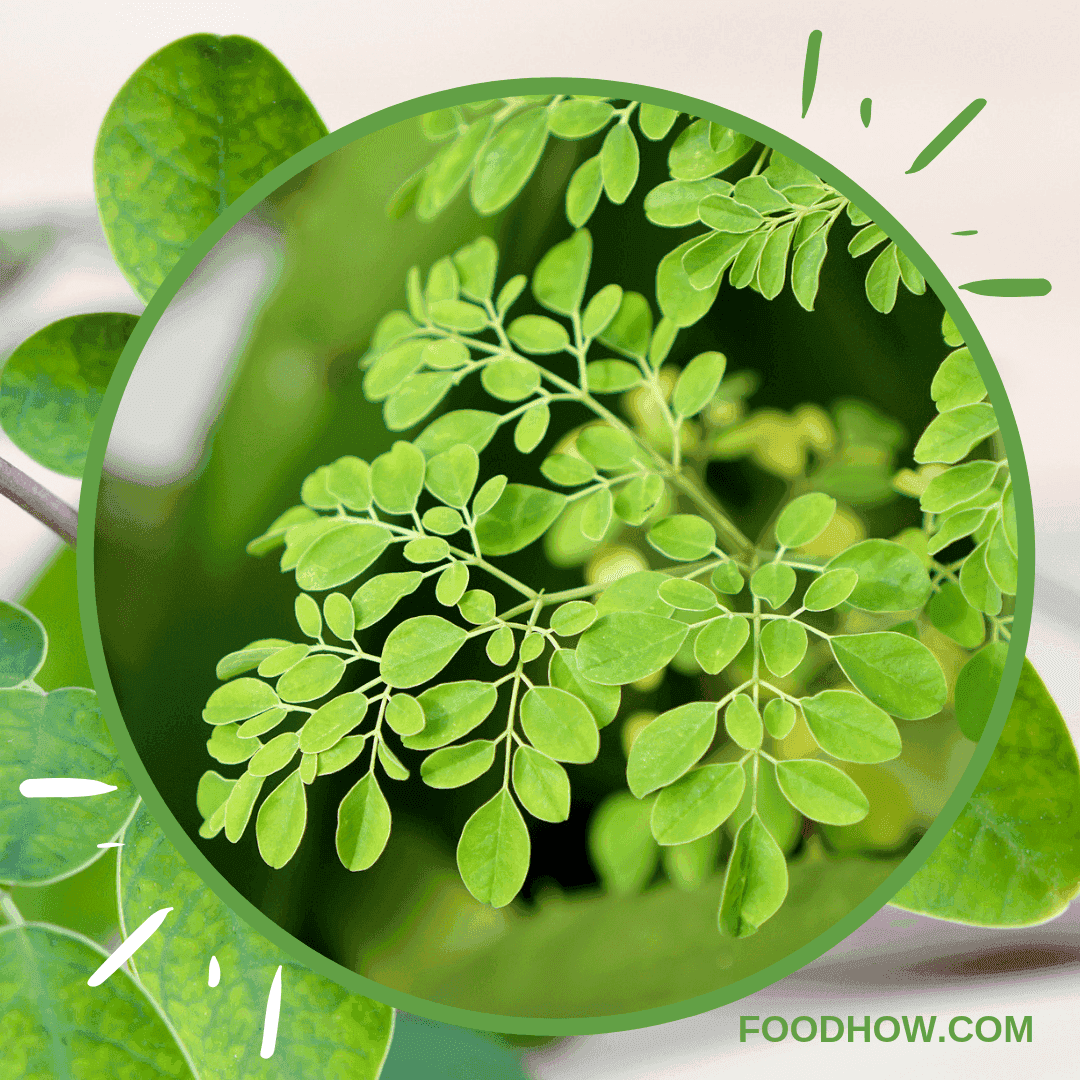 You can easily recognize this small tree from India, Nepal, and Pakistan by its distinct thick, light-colored bark complete with slender, fragile branches and long, dainty oblong-shaped leaves. Known as a drumstick tree in addition to many poetic names, Moringa Oleifera is part of the diverse Moringaceae family.
Indigenous to India, Nepal, and Pakistan, it grows very quickly and can be easily cultivated in subtropical and also tropical areas such as Asia and South America, Africa. In different regions, the tree can go by different names (e.g., Horseradish-tree, Ben oil tree, Shigru, and more).
Scientific studies still have some catching up to when it comes to all the beneficial properties of this tree. Considering it's been used successfully as long as ancient times: Romans, Greeks, and Egyptians relied on the tree for treatment of many conditions. In Ayurveda, countless therapeutic uses are listed due to its antiviral, antifungal, anti-inflammatory, and antidepressant properties.
These days, it also plays an important role in eliminating malnutrition in poverty-stricken regions, since it's so easy to cultivate. The combination of restorative properties and high nutritional value truly makes Moringa "the miracle tree." [2]
Superfood That Wellness Experts Are Buzzing About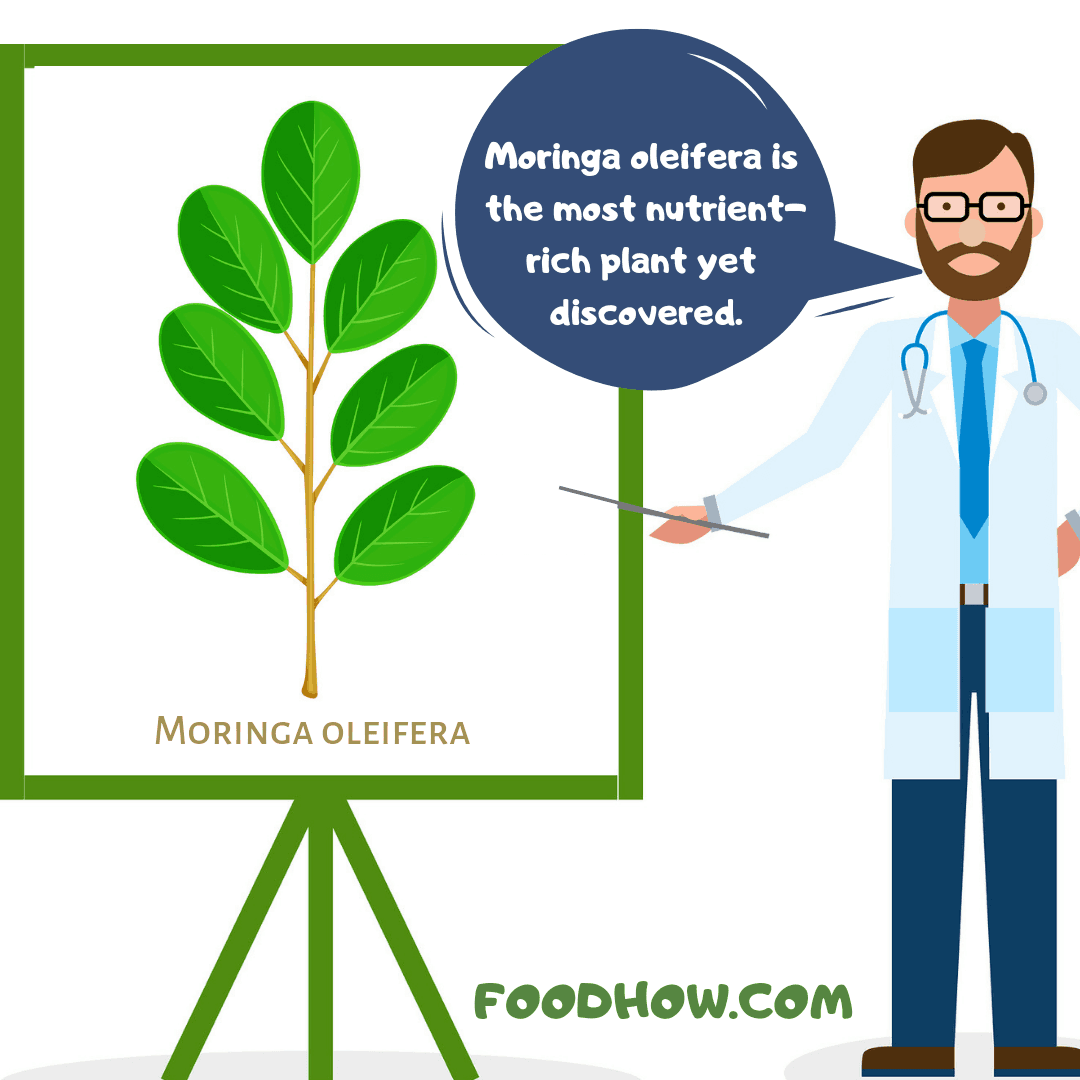 Experts all around the world have a lot to say about the amazing properties of Moringa. For instance, Dr. Monica G. Marcu (Ph.D, PharmD, BNursing, BArts) concludes that it is the greatest nutrient-rich plant discovered so far. 
Her definitive research of one of our most magnificent trees, the Moringa oleifera, is one of the most respected. She has also written the book "Miracle Tree" which explains the hundreds of substances such as fats, enzymes, vitamins, amino acids, minerals, and specific phytochemicals. Each has evident importance and many applications in healing and nutrition.
Tap On Image To See Inside The Book On Amazon
This modest plant has gained a lot of popularity and made good progress for thousands of years in many cultures, and now there has been significant nutritional research conducted since the 1970s.
It provides a prosperous and remarkable combination of antioxidants, amino acids, and nutrients, and strong anti-aging properties used for healing and nutrition.
Many international experts agree, suggesting that "Moringa could soon become one of the world's most valuable plants."
The Wonders Of The Miracle Tree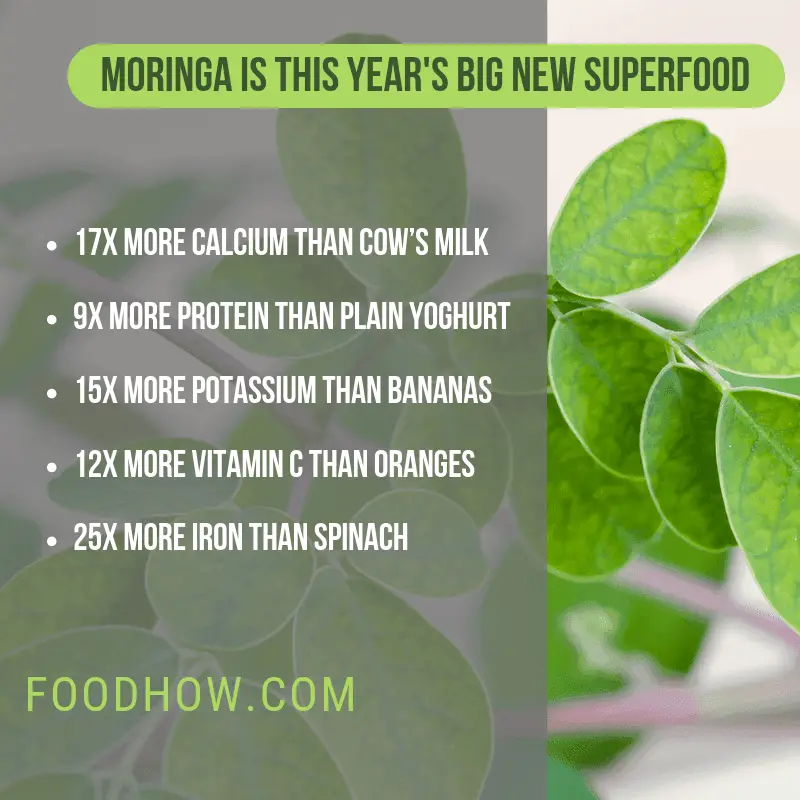 So, what makes Moringa such a valuable plant?
Well, firstly, the nutritional content of this Miracle Tree leaves is truly remarkable, making the plant a great aid for those requiring a dietary boost.
For instance, carrots are well-known for their high vitamin A content. However, you'll be surprised to find out that they only have 10% of what Moringa has to offer! In addition, it has been demonstrated to contain:
17 times more calcium than cow's milk.
9 times more protein than plain yogurt.
15 times more potassium than bananas.
7 times more vitamin C than oranges.
25 times more iron than spinach.
While we're looking at the numbers, it's also important to point out that Moringa contains:
36 Anti-inflammatory compounds.
46 Various antioxidants that help fight free radicals and protect the body from many external invaders (e.g., smoke, pollution, and radiation).
All essential amino acids (that the human body can't produce and must get with food), and 17 amino acids in total.
And over 90 other beneficial nutrients – the next closest (in terms of nutritional content) plant only has 28!
Here are some more interesting facts about the nutritional properties of Moringa:
Protein in Moringa remains intact when heated.
Nutrients from it are easily absorbed and distributed to the cells.
And that's just the very tip of the iceberg!
The Moringa Documentary – The Never Die Tree
Watch this fascinating discovery channel documentary below about The Miracle Tree. This documentary looks at the fantastic benefits of this superfood, how it is grown, used, and how it can benefit you. (Also features Dr. Monica G. Marcu).
Benefits Of Drumstick Tree
Due to its unique nutritional profile, it boasts many amazing scientifically-backed benefits – let's look at some of them in more detail! [3]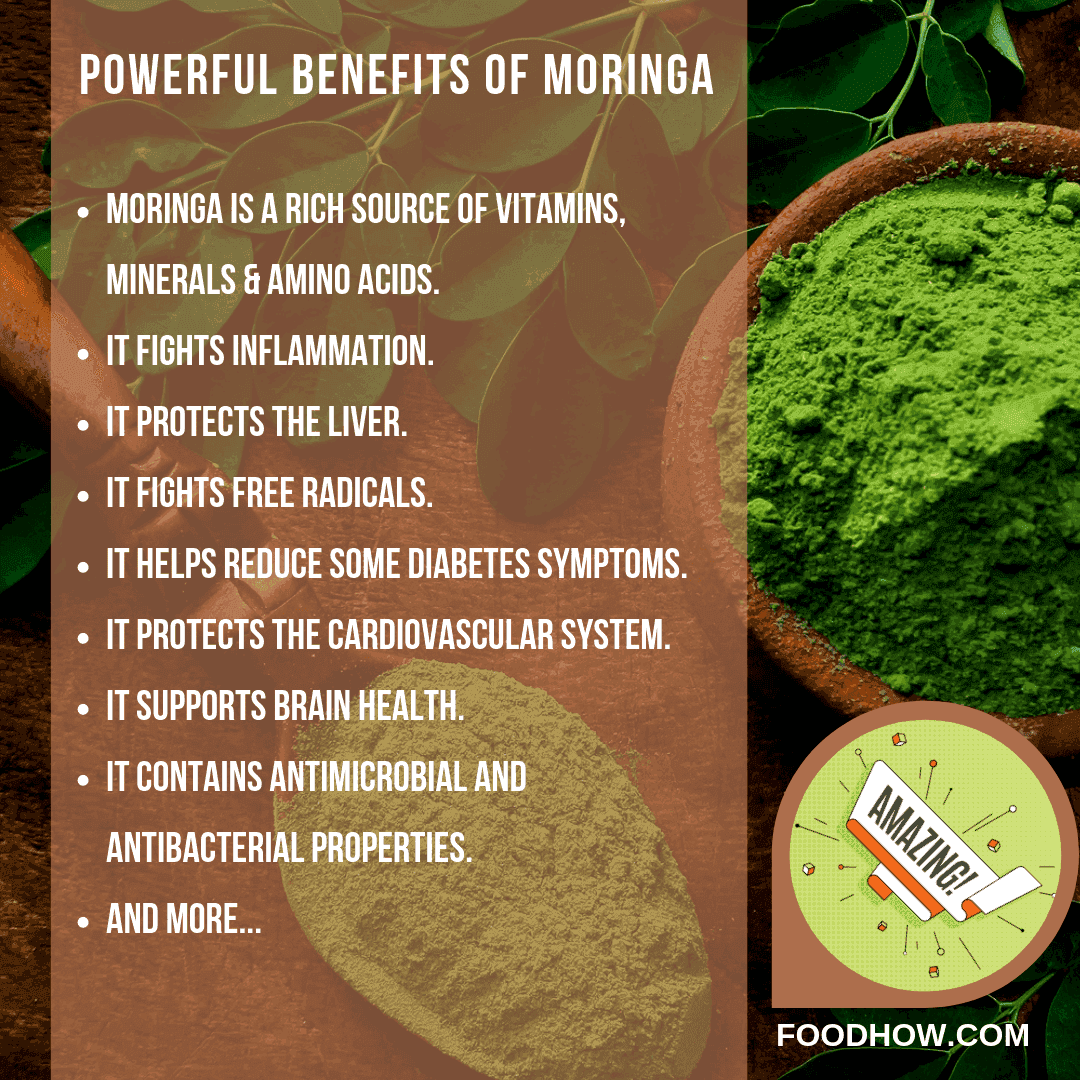 The Power Of Antioxidants
Did you know? Moringa is packed with a whole range of antioxidants, which have been proven to reduce free radicals and remove some of the damage done by #stress! Add some to a smoothie for a dose of nutrition – and protection!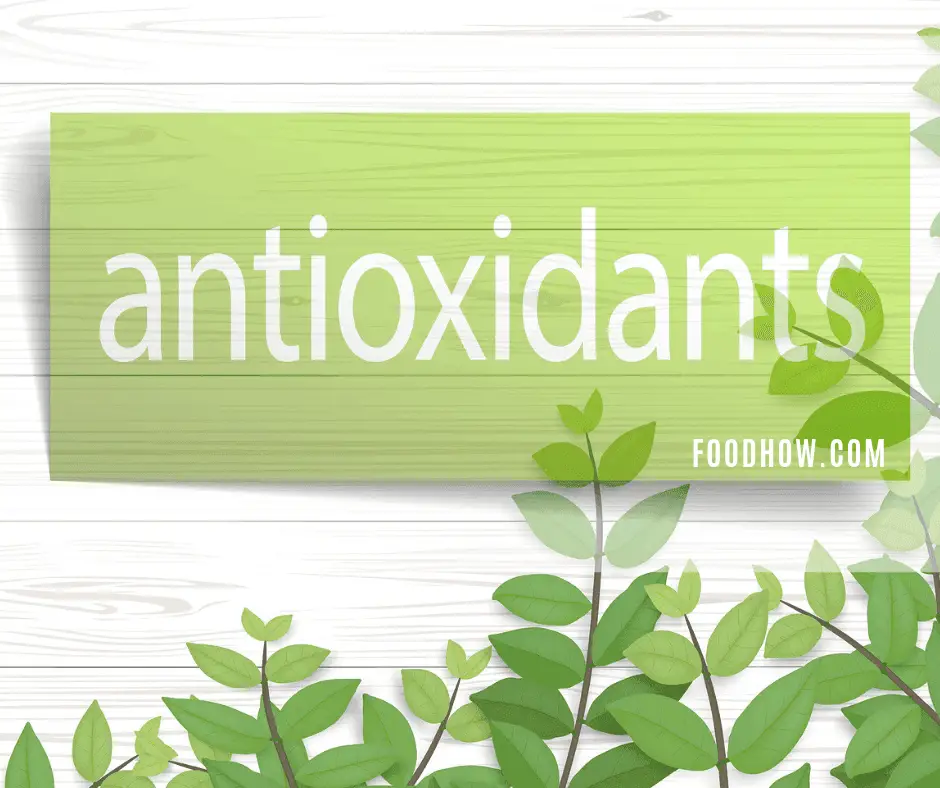 Moringa has a high concentration of antioxidants, and it has strong anti-inflammatory effects.
Moringa is very high in potent antioxidants, such as caffeoylquinic acid and kaempferol and zeatin and also quercetin, beta-sitosterol, rutin, and chlorogenic acid. These strong compounds help detoxify, fight free radicals, and repair the damage created by them, making it an excellent aid in battling the consequences of oxidative stress. [4]
Stable Blood Sugar Levels
Moringa is an incredibly nutritious plant with many benefits. But did you know that it can actually lower your blood glucose levels! It has been proven in several studies to have a positive impact on diabetics.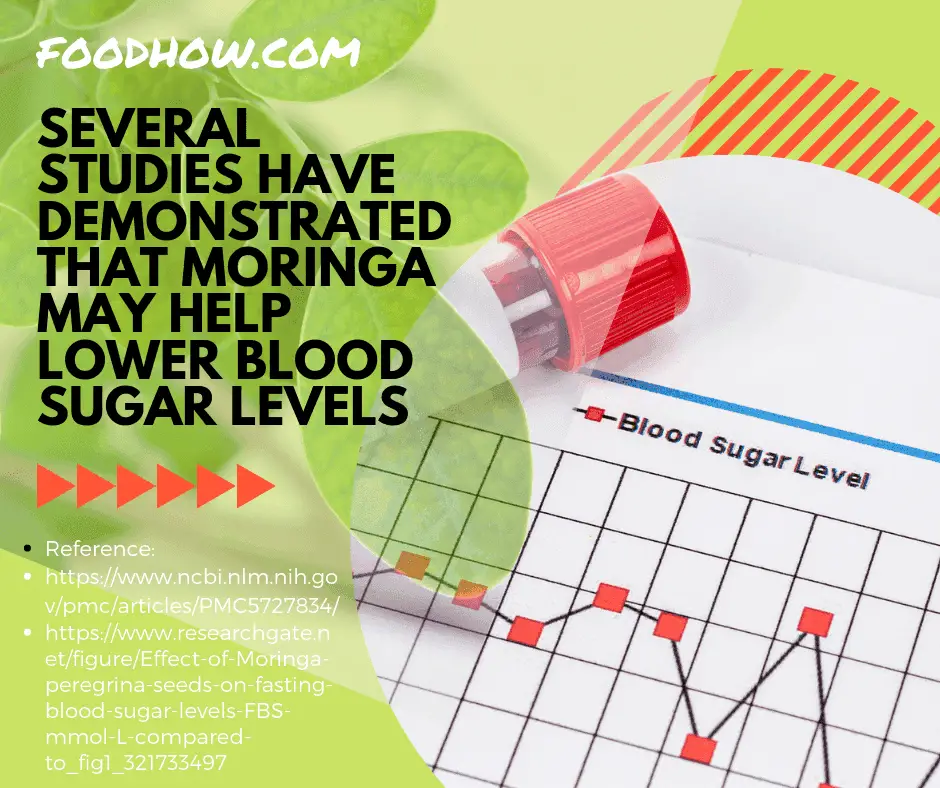 One research showed that some women ingesting Moringa Oleifera lowered their fasting blood sugar levels by 13.5 percent.
According to research, individuals with diabetes experience a significant reduction in blood glucose levels, urine sugar, and urine proteins following Moringa therapy. [5]
In addition, its consumption promotes the normalization of Hb levels and protein balance in diabetic subjects. This is because of Moringas's high amino acid content, which supports protein production in the body. 
Taming Cholesterol
Looking for something to stabilize your cholesterol? Moringa may be the answer. Having a positive effect on cholesterol levels also helps lower blood pressure with the help of an enzyme that helps prevent thickening in the arteries of your heart.
Moringa contains bioactive substances such as isothiocyanate and niaziminin, which help prevent the thickening of the arteries and regulate blood pressure. Also, Moringa consumption helps to reduce serum cholesterol levels, which further aids blood pressure and hypertension prevention.
Healthy Digestive System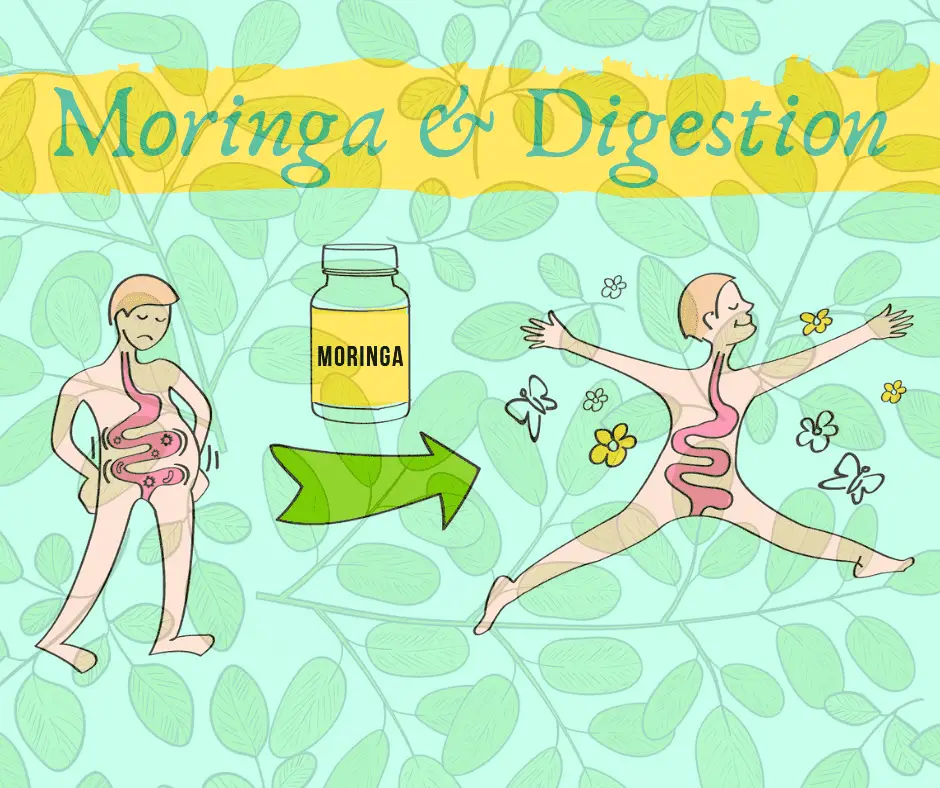 This Miracle Tree has nearly every vital vitamin and mineral for healthy digestion. It contains more than 40 anti-inflammatory and antioxidant compounds that will help reduce constipation, bloating, and gas and eliminate harmful bacteria.
Consumption of this Miracle Tree could alleviate gastrointestinal disorders such as gastritis and constipation, thanks to high concentrations of the isothiocyanates. Several studies have found that Moringa extract could be just as effective as commercially available antihistamines and antacids, making them a viable alternative for those preferring herbal remedies.
Some researchers even report ulcerative colitis relief comparable to that achieved with prednisolone. This may be attributable to antibacterial compounds in this plant, which inhibit the growth of some pathogens, including Helicobacter pylori and also coliform bacteria (known diarrhea triggers).
For those struggling with a slow metabolism, a Drumstick Tree can help, as it aids digestion and promotes food conversion into energy instead of fat storage.
Beautiful Hair And Skin
Along with being great for the inside of your body, Moringa can also be great for the outside! Its seed oil is an excellent hair protectant, keeping your hair safe from environmental damage, conditioning your hair, and promoting a healthy scalp.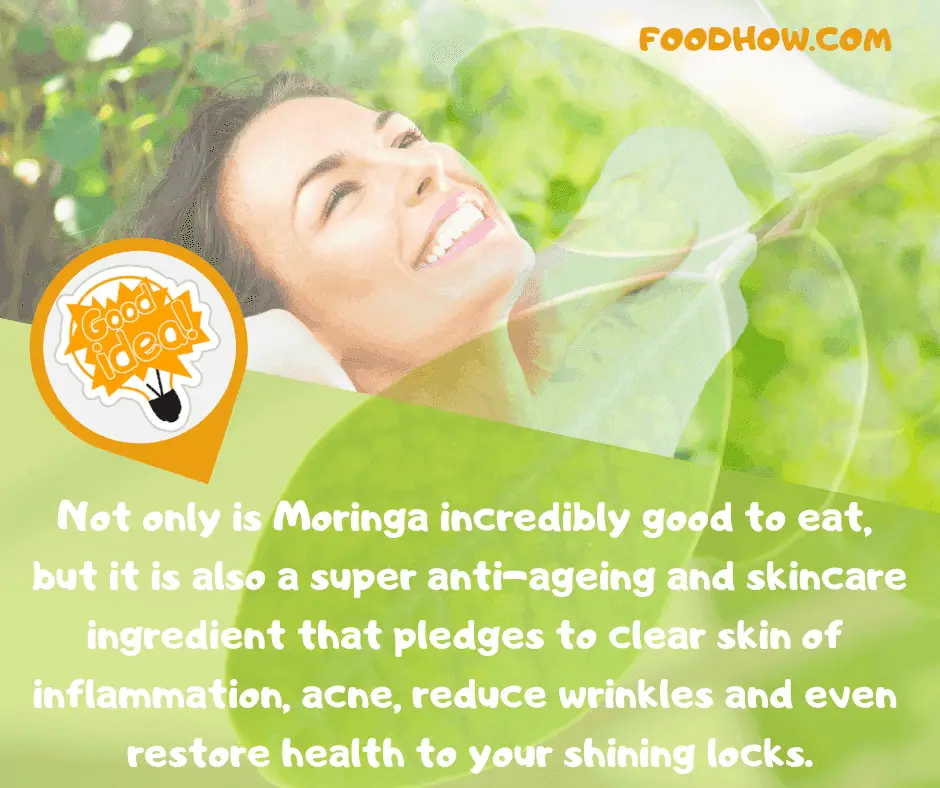 Oil of Moringa seeds promotes hair and skin health by shielding them from environmental damage.
For instance, the detoxifying and hydrating effects of this plant protect the cells from harmful pollutants and heavy metals, prevent wrinkles, slow down aging, and stimulate hair growth.
It's not all about the looks though: Moringa seed oil is also effective against the herpes simplex virus, preventing the formation of skin lesions and inhibiting the growth of viral plaques.
Antibacterial Properties
Did you know? There are antibacterial, anti-fungal, and antimicrobial properties in Moringa. It has significant effectiveness against a vast range of bacteria and viruses, so get some in your diet today!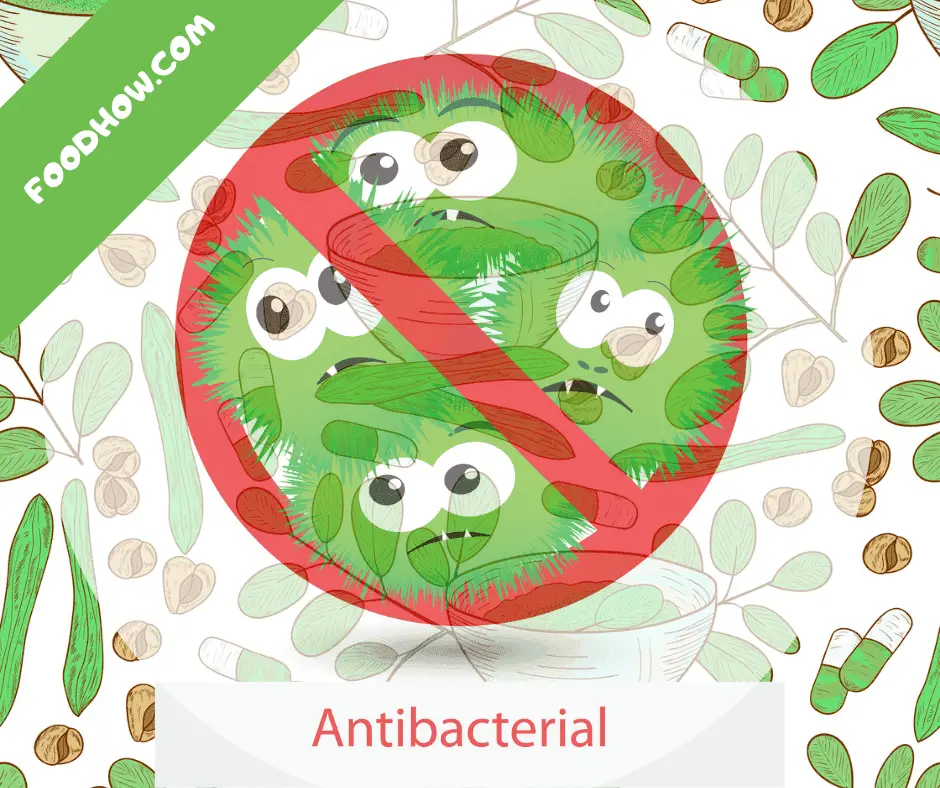 The Miracle Tree is well-known for its antimicrobial and antibacterial and also antifungal properties, inhibiting the growth of many disease-causing microorganisms. It can help defeat some harmful microorganisms, including E. Coli, Salmonella, Enterobacter aerogenes, Rhizopus species, Staphylococcus aureus, and Pseudomonas aeruginosa. [6]
In addition, it could help prevent and treat diseases caused by fungi such as Aspergillus spp. and Penicillium spp.
Neuroprotective Effects
Moringa has properties that allow it to alter brain monoamines like serotonin and dopamine. What does that mean? It means that it has the potential to help guard against neurodegenerative disorders – like Alzheimer's.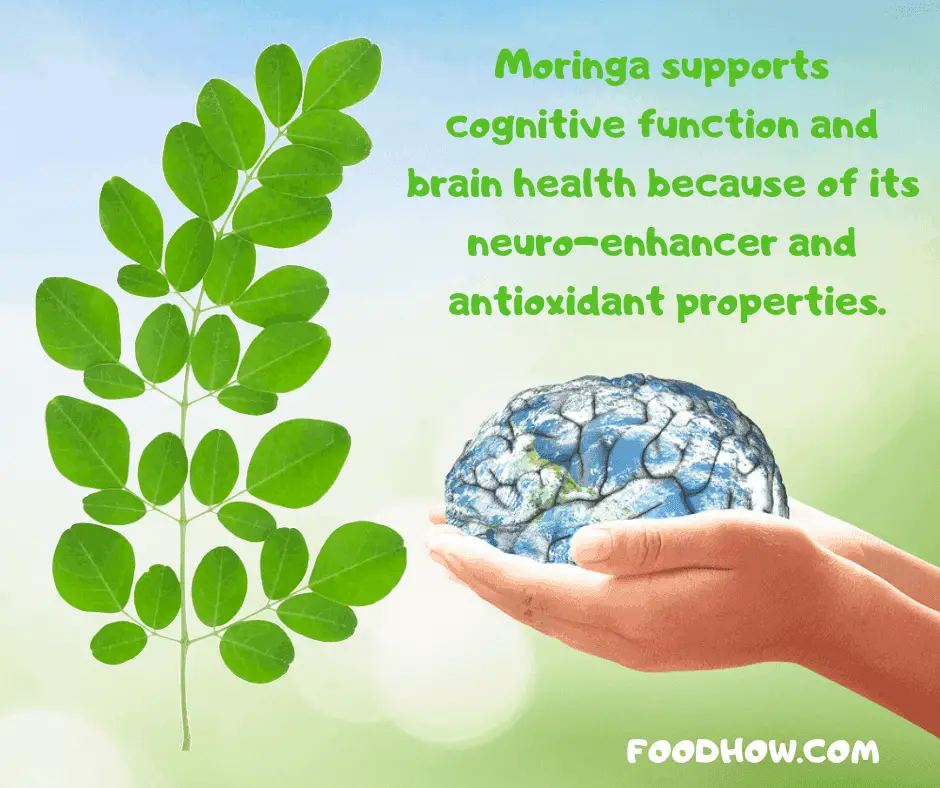 By altering brain monoamines like dopamine, serotonin, and norepinephrine, Moringa can help shield the nervous system against monoaminergic deficiencies that are known to be related to Alzheimer's disease. These effects can also be beneficial in the treatment and prevention of many other neurodegenerative disorders. [7]
Also, Moringa may improve your sensory perception and memory and has been known to be useful in the treatment of anxiety and fatigue.
If you are struggling with anxiety and looking for a way to clear your brain, give Moringa a try. 
Better Bone Health
Bone health is important for all of us, and Moringa can have a positive impact on your bones! It contains essential minerals like phosphorus and calcium, and it also has anti-inflammatory properties that help keep bone ailments like arthritis in check.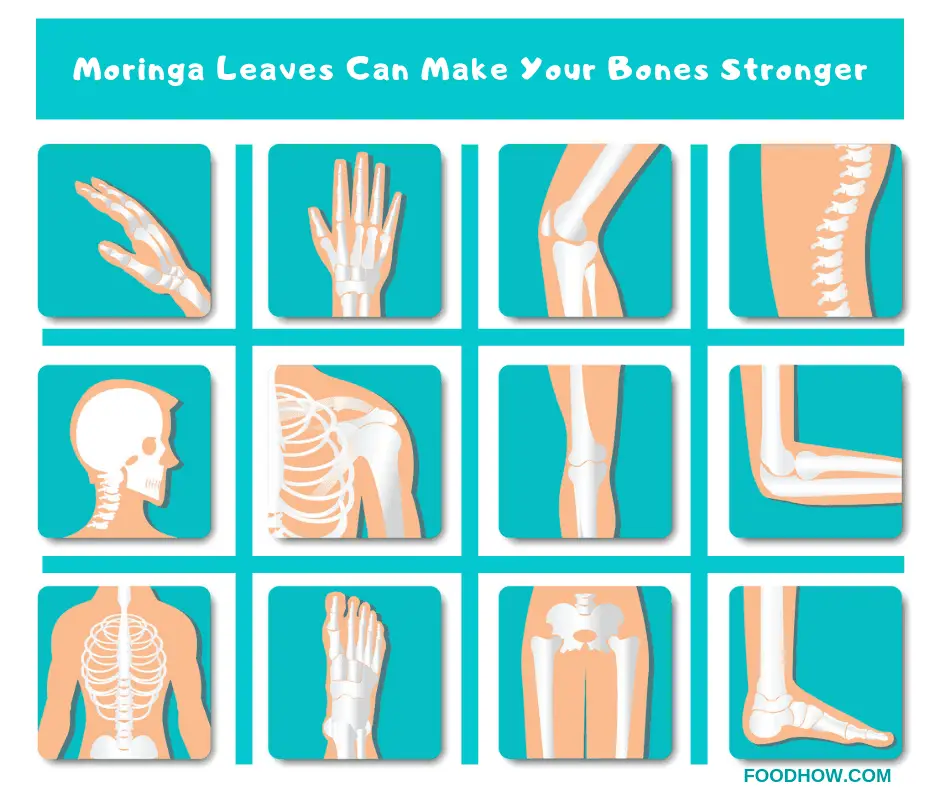 Due to high calcium and phosphorous content, extracts made out of Moringa can be extremely beneficial for bone health. In addition to boosting bone density, it has an anti-inflammatory effect, which can reduce pain and discomfort in conditions such as or traumatic bone damage (e.g., fractures) and arthritis. [8]
Healthy Immune System
Looking for a way to give your immune system a boost? Try adding some Moringa into your daily diet. Its leaves have been known to enhance cellular immune response, keep leucocytes & antibodies at optimum levels, and has many other benefits.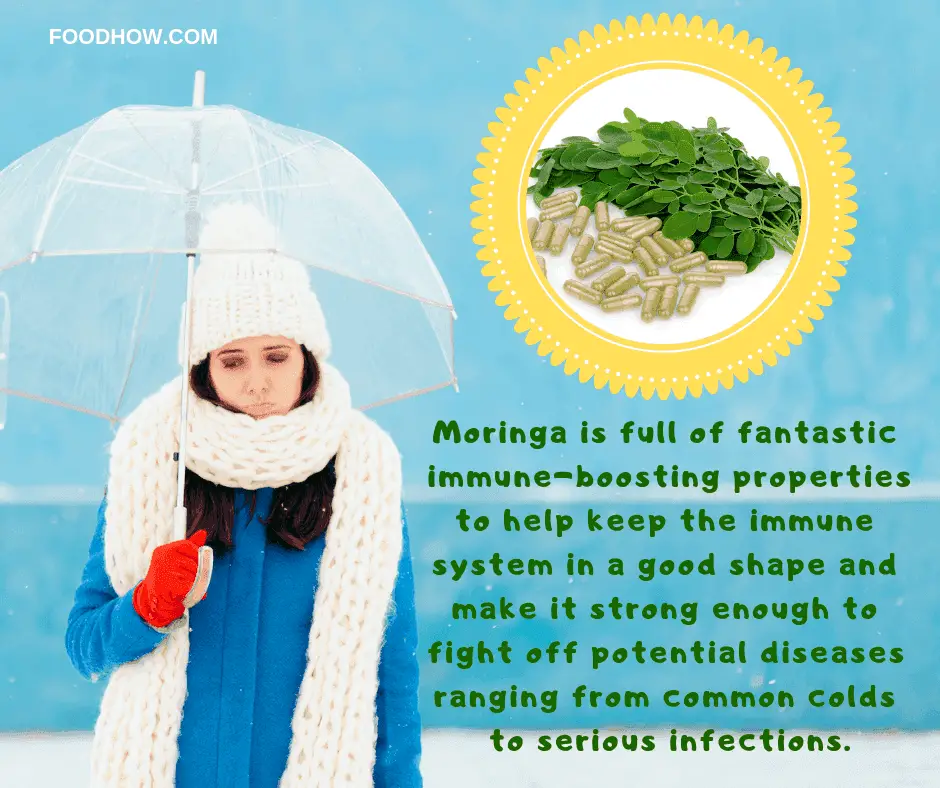 When the immune system needs a little boost, ethanolic extracts of moringa leaf can help stimulate the immune response. As a result, it helps enhance cellular immune response, as well as improves crucial parameters such as total leucocyte count, antibody formation, and adequate hypersensitivity reaction.
Cardiovascular System Protection
The powerful antioxidants in this plant are not only beneficial for your overall health, but they also help protect your cardiovascular system. It can help to prevent common negative effects and aids in the upkeep of a healthy heart.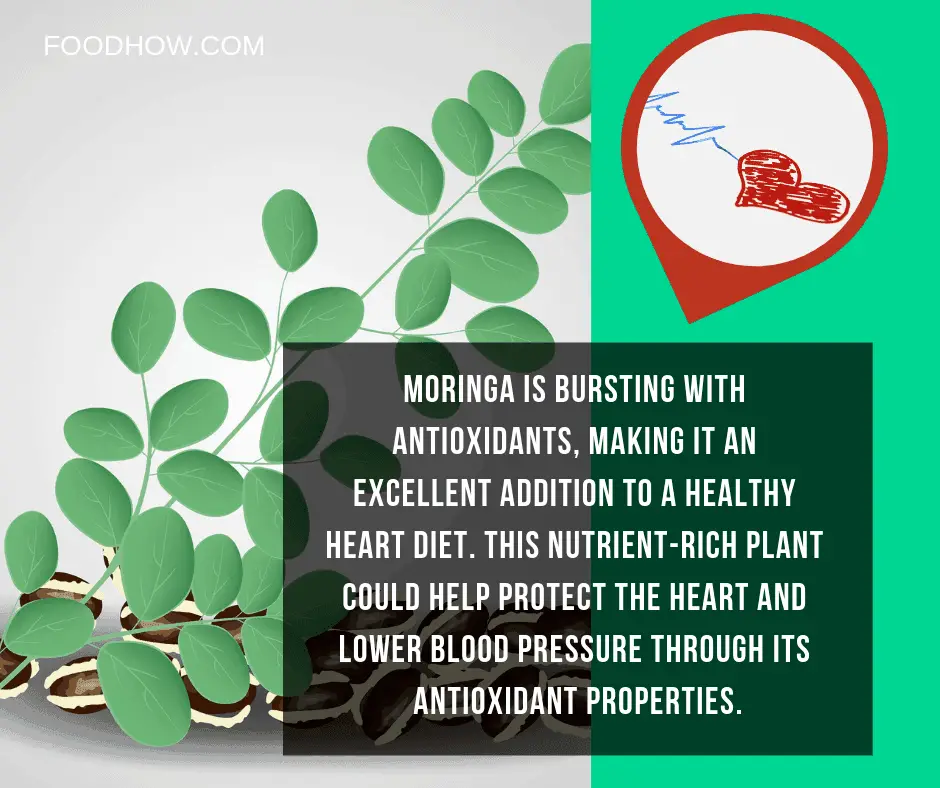 The powerful antioxidants found in the Moringa tree could help prevent cardiac damage and have also been shown to sustain a healthy heart.
I have already mentioned the high antioxidant content of this amazing plant – and may help prevent cardiac damage or myocardial! Moringa therapy appears to inhibit the oxidative degradation of lipids in the myocardial tissue, promoting optimal heart health. [9]
Asthma Relief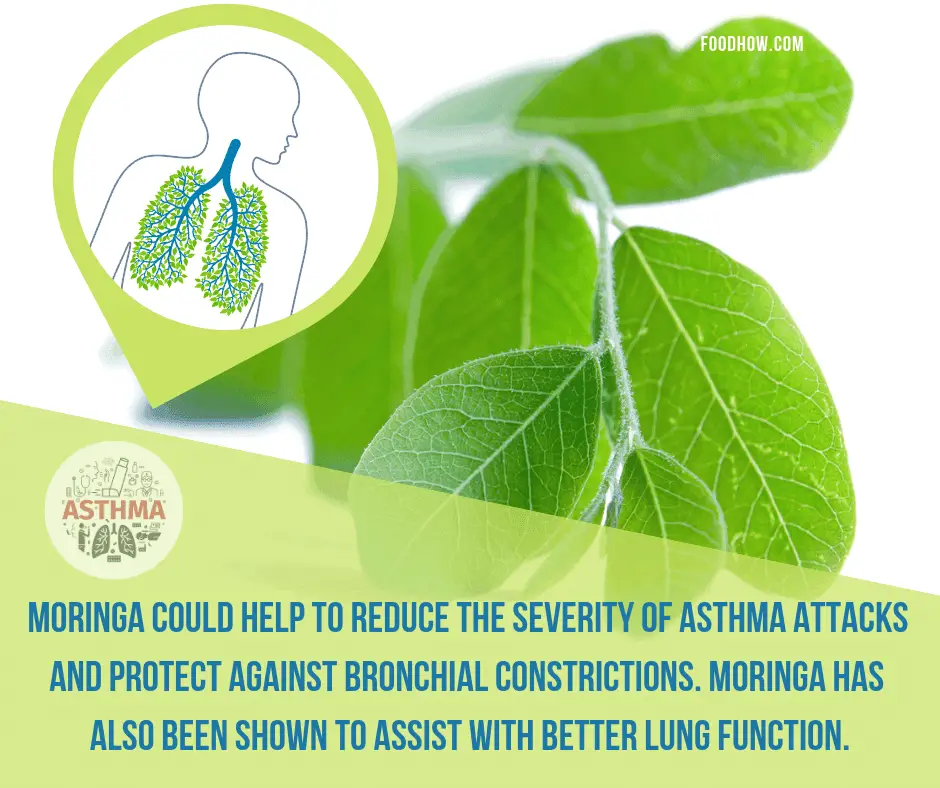 The anti-inflammatory properties of Moringa could help reduce inflammation in the airways and bring timely bronchial asthma relief. Powerful antihistamines inhibit inflammatory reactions in conditions such as allergic anaphylaxis and rhinitis.
It minimizes the seriousness of attacks to eliminating common symptoms (e.g., dyspnea, cough, and wheezing). It also offers ways of reducing bronchial constrictions and promoting better respiration. [10]
No More Stones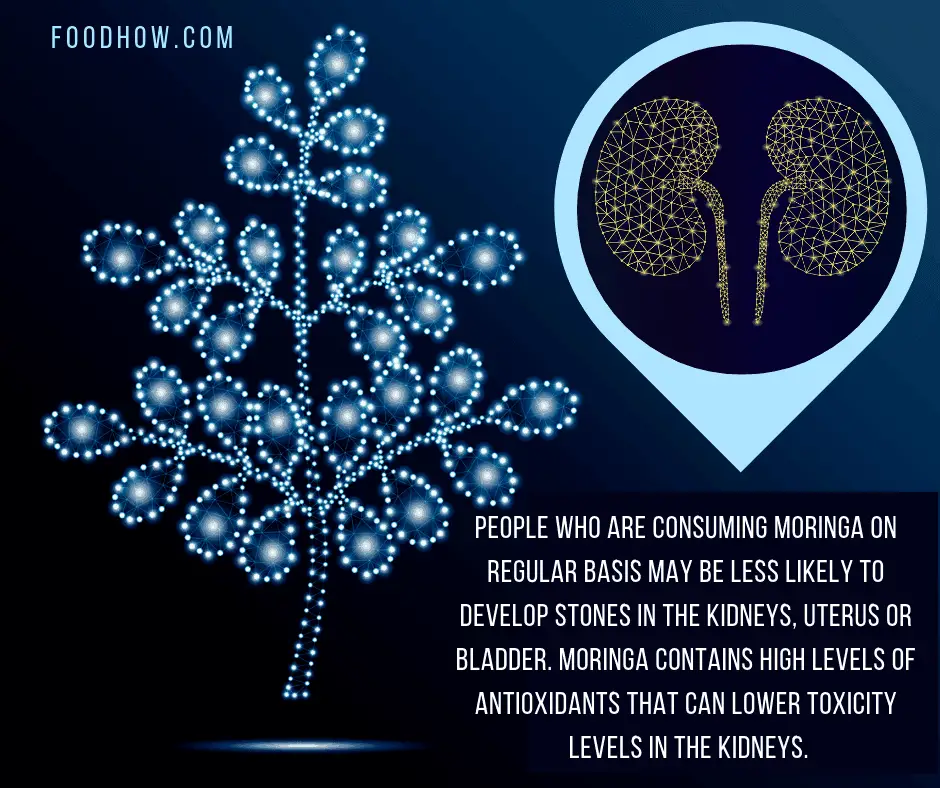 According to research, Moringa extracts can prevent the formation of uterus, kidney, and bladder stones, thanks to antiurolithiatic activity and remarkable dilution in the urinary oxalate levels. In addition, it reduces the development of stone deposits and helps regulate endogenous oxalate synthesis. [11]
Kidney Protection
Moringa extracts help battle nephrotoxicity (kidney damage caused by exposure to drugs and toxins). Thanks to the high antioxidant content, it helps prevent and heal renal injuries, as well as promotes the extraction of heavy metals and toxic compounds.
Wound Healing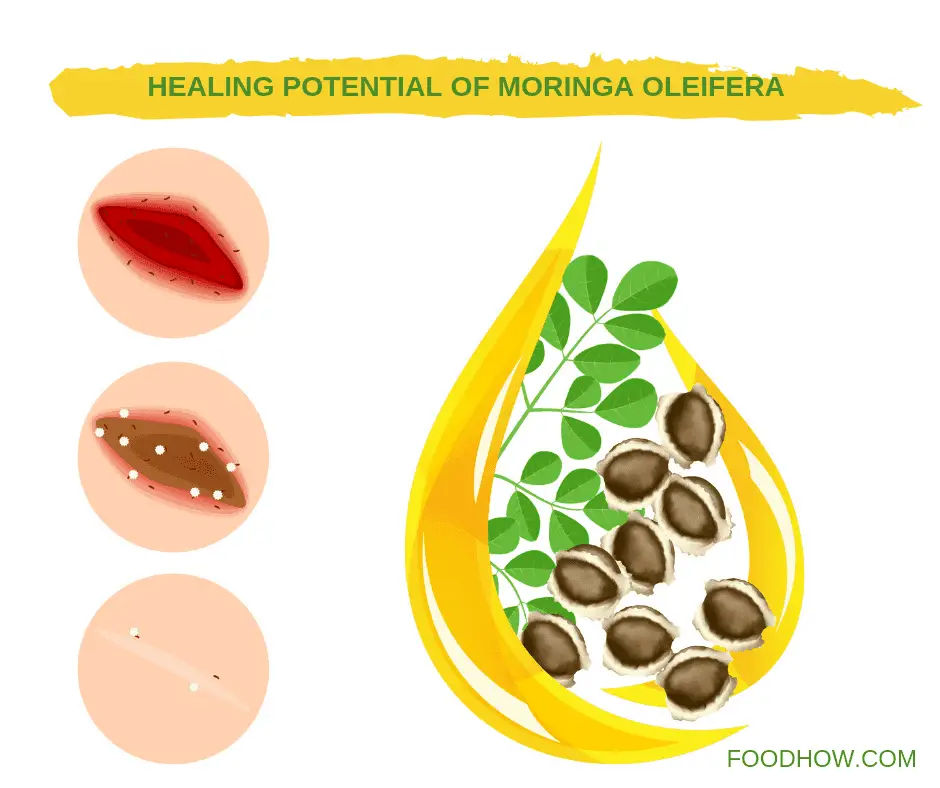 Moringa, in particular, its aqueous extracts, demonstrates significant wound healing properties by increasing the strength of the skin, improving wound closure rate, and reducing scar formation. [12]
Healthy Eyes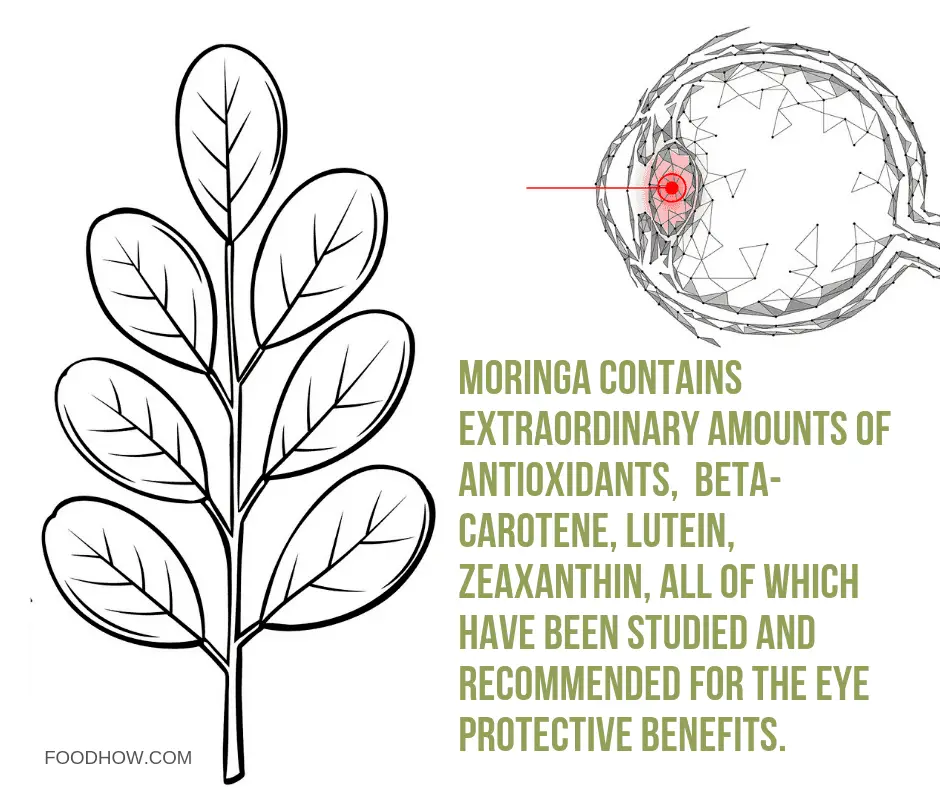 The antioxidant composition of this fantastic plant may help protect against retinal damage by preventing the dilatation of retinal vessels and preserving the retinal vasculature. According to some research, it also inhibits the stiffening of capillary membranes, helping prevent retinal dysfunction and cataracts. [13]
Other Uses Of Moringa
New evidence is emerging regarding many additional benefits and uses of the whole Drumstick Tree, including:
Improving sensory perception and memory.
Anti-epileptic properties.
Fatigue prevention.
Treatment of depression and anxiety.
Scurvy and catarrhal conditions aid.
Natural detox aid.
How I Use Moringa To Lose Weight?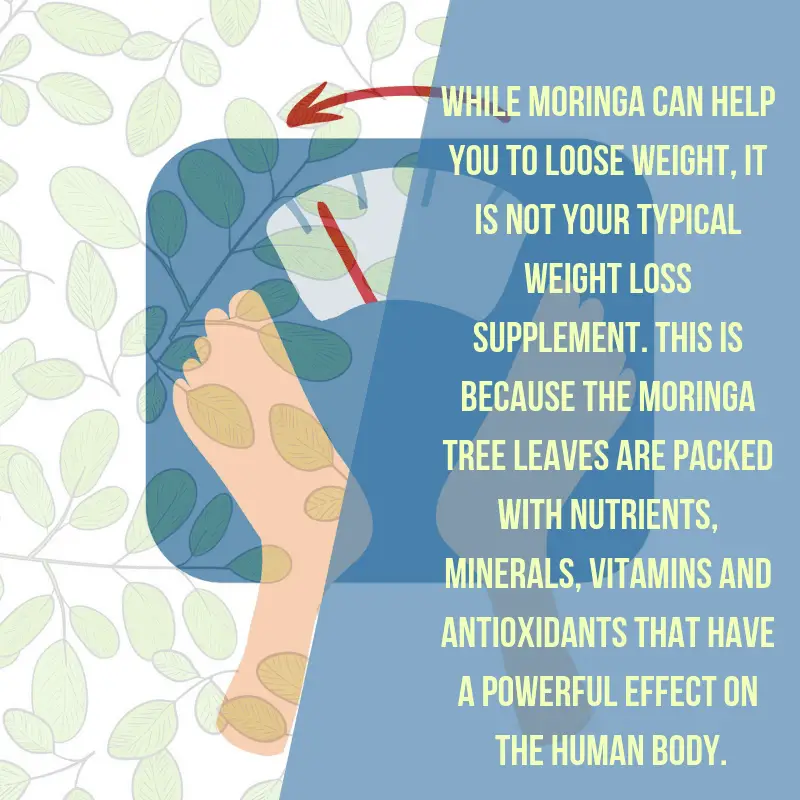 Although not initially intended for losing weight per se, Moringa Oleifera boasts enough nutrients, fiber, vitamins, and antioxidants to feed your body, boost your metabolism, keep your blood sugar in check and limit cravings throughout the day. These benefits will directly or indirectly aid and support the weight loss process.
So, after some extensive research and trial and error, I landed on the strategy that seems to work best.
5 Steps For Using Moringa For Weight Loss:
It should be used in conjunction with a healthy diet.
It should be used alongside an active lifestyle or exercise regime.
You must be patient and persistent when ingesting Moringa.
It's best to have two servings of Moringa a day with a balanced meal.
Always use quality and potent supplements.
If you follow these steps above, you should see some noticeable results in 2-3 weeks' time. At the end of the second week, I could clearly feel the difference in my energy levels. My food cravings were almost gone, and I enjoyed this fantastic clarity of the mind. After the fourth week, I could clearly see leanness in the body and noticeable shape and muscle definition.
Although it is called 'The Miracle Tree,' do not expect to miraculously lose weight if you don't follow all the five steps above.
Although Moringa is very safe to consume, if you have any health conditions, it is always recommended to check with your physician first before you start taking it. Keep reading to find out the recommended dosage and some tips and tricks on how to easily add Moringa to your daily diet.
Moringa Dosage For Optimum Fat Burning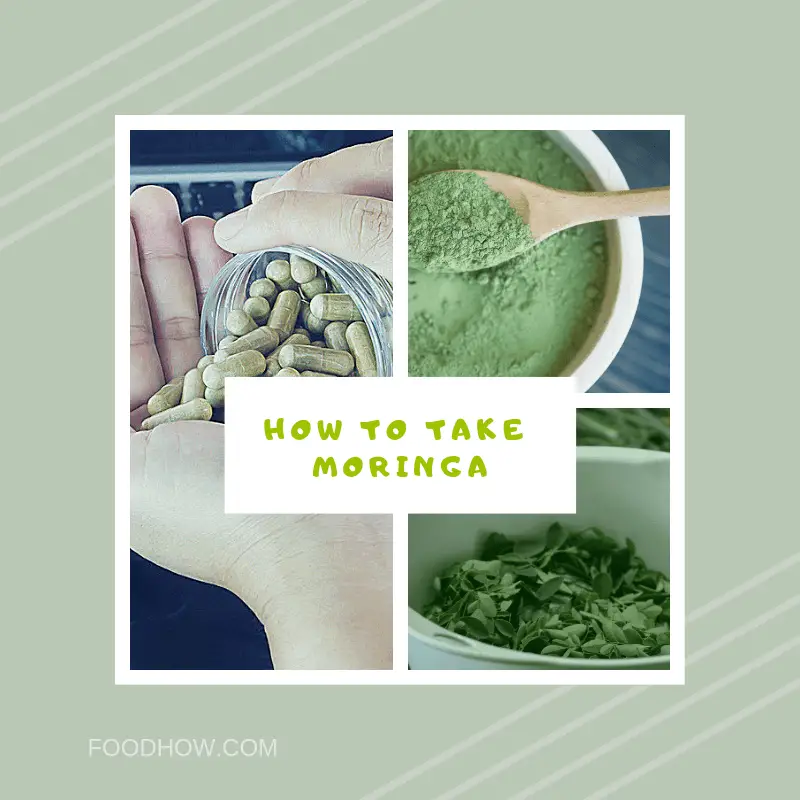 It is recommended to take two 800 mg capsules of Moringa twice a day. One serving is best consumed with breakfast in the morning. The morning serving will give you a good start for the day by improving carbohydrate metabolism for that day.
Now, when you include it with another meal later on in a day, it will help you sustain Moringa's sugar balancing and anti-inflammatory effects. In addition, the healthy dose of nutrients and vitamins in it is a really good way to beat the afternoon blues and to keep you going for the rest of the day.
TAP ON IMAGE TO VIEW PRICE
If you are taking Moringa powder instead of capsules, I recommended ingesting one teaspoon of powder in the morning with your smoothie, cereal, or protein shake. Then, take another teaspoon later on during the day with another meal or a shake.
Conveniently, It can be taken virtually with any meal. All benefits are still effective if consumed with food. Inflammatory actions are more potent in combination with other nutrients, such as fats (for better absorption).
Dosage for weight loss.
If you're new to Moringa powder, I recommend starting with as little as half a teaspoon a day – it's a powerful food, and you need to adjust to it gradually.  After one week, start having a full teaspoon daily, and keep increasing in the same manner until you reach 2-3 full teaspoons daily. 
It can take you about a month to reach this level of consumption, and it's ok. After you've reached the optimal dose, expect the positive effects to kick in within a week or two!
Note that compared to powder, fresh leaves are even more nutritious. You can also generally increase consumption quicker since they are 100% natural. The starting point is a ¼ cup of loose leaves, and the goal is 1-2 cups daily.
Incorporating Moringa Into Your Diet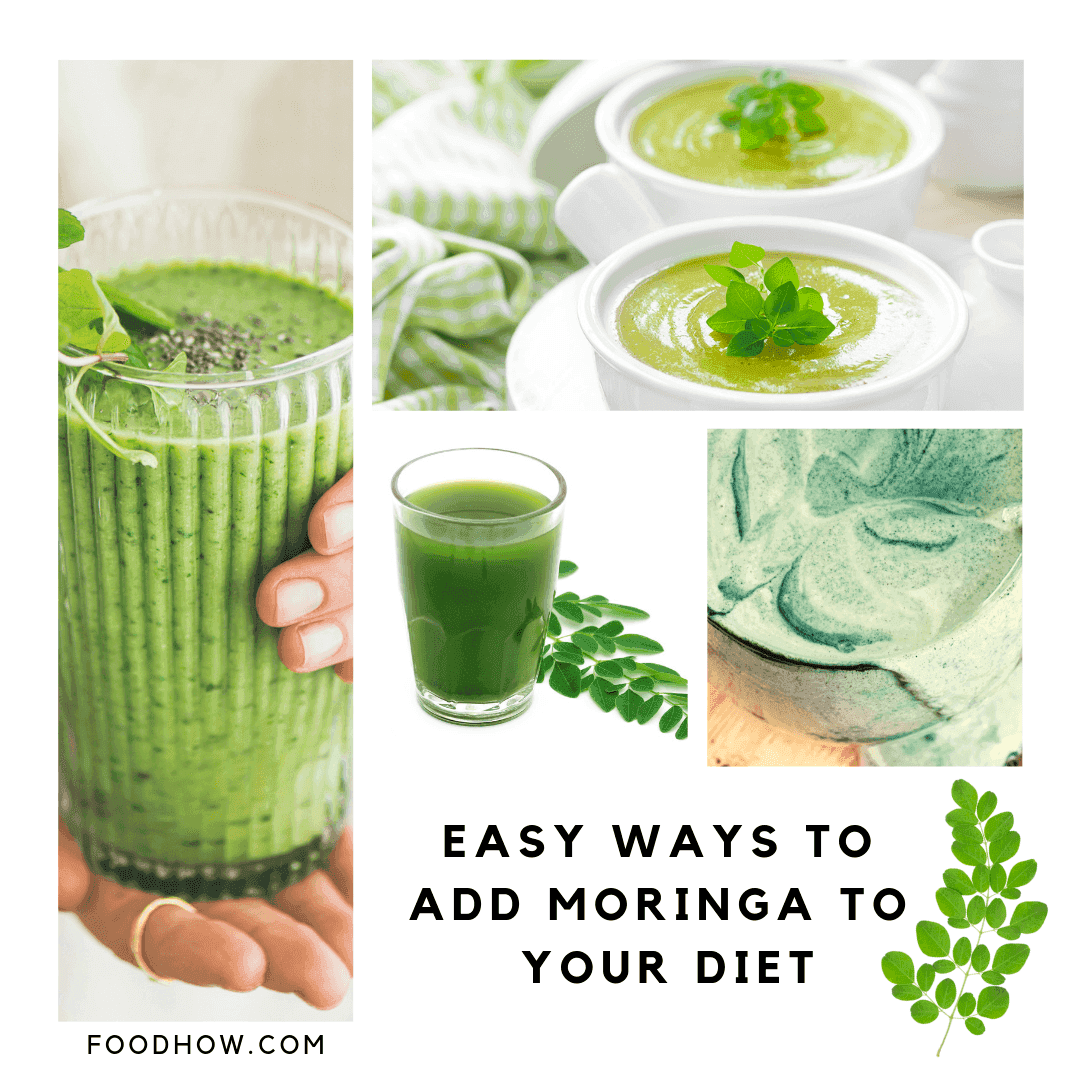 There are a few important considerations when it comes to consuming Moringa. Firstly, it's not recommended to heat it for more than a few minutes – otherwise, some of the nutritional value may be destroyed. If you want to incorporate Moringa powder into a hot meal, add it in the very end, or simply sprinkle it on top of a cooked dish or consume raw.
Try the following delicious ideas:
Smoothies: A great treat for Moringa lovers! Simply blend the desired amount into your daily smoothie. The color may change – it's normal, don't be alarmed! 
Seasoning: Up to 1 tsp of powder can be easily sprinkled on top of any plate of food, or even a bowl of soup or a sandwich. A little bit of powder at every meal – and you're all set!
Moringa Water: It can be mixed with water – however, you will need to shake it vigorously from time to time. The powder can set rapidly, so shake every time you want to have a sip.
Nutritious blend: Mix the desired amount of powder, ice, honey, and lemon in a blender, add plenty of water – and enjoy! Honey is mainly for the sweetness, so add it to taste. If you crave something more substantial, swap out the water for coconut milk. The blend is even better when made with fresh leaves vs. the powder!
Consuming Fresh Moringa Leaves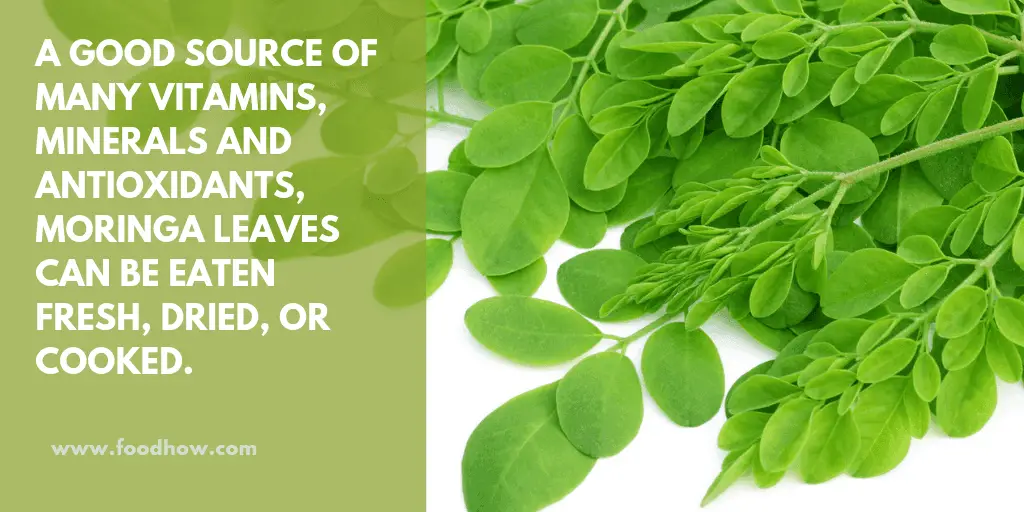 Anyone who's tried fresh Moringa leaves can instantly recognize their potent aftertaste. Very few people enjoy chewing on plain leaves – the rest are not amused by the process! It doesn't help that eating the leaves raw is considered very beneficial. Fortunately, adding the leaves to other foods solves the problem.
Check the price and a lot of great reviews for fresh and dried leaves here on Amazon>>>
Now, once you have your leaves, measure out the portion you need for the day – and then set aside some for every meal and add them to your food. This is an easy way to boost your Moringa consumption and spread the dose over the course of the day.
Still stuck? Take inspiration from the following ideas:
Smoothies: Just like the powder, leaves are also an easy addition to smoothies. A single smoothie can easily accommodate an entire cup of leaves! Pro tip: homemade Kefir is a great base for Moringa smoothies. To add texture, throw in some chia seeds. So many possibilities!
Sandwiches and salads: Moringa leaves blend in well with other fresh veggies, and chances are you will hardly notice them at all!
Any dish: Topping your soup with its leaves can be truly amazing – and in fact, any dish can benefit from a handful of Moringa leaves on top. Freshness in every bite – but without the offensive flavor!
Alternatively, make the same nutritious blend, as suggested above.
Moringa Tea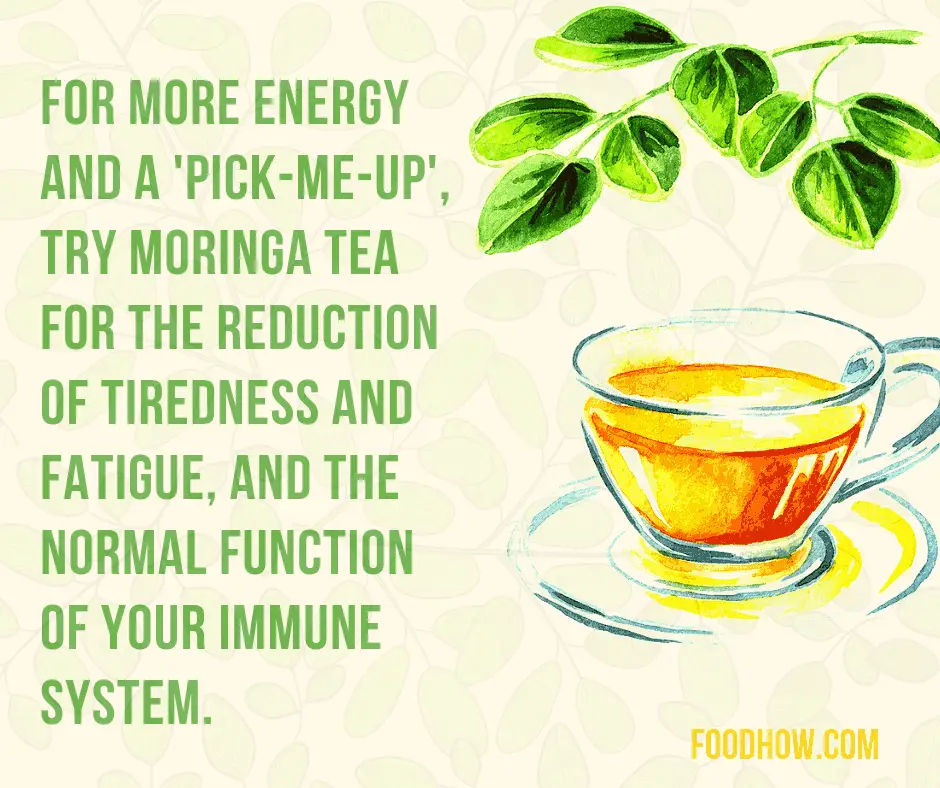 Another great alternative to powder and leaves is Moringa tea. It's also infused with other nutrients that boost its benefits. Plus, there is no need to ramp up your intake over time – just use about 3 grams (one teabag) per cup as a starting point and adjust as required. 
Here is My Favourite Original Organic Moringa Tea, which I recommend. I drink it as an addition to the capsules.
TAP ON IMAGE TO VIEW PRICE
Moringa Extract – The Best Choice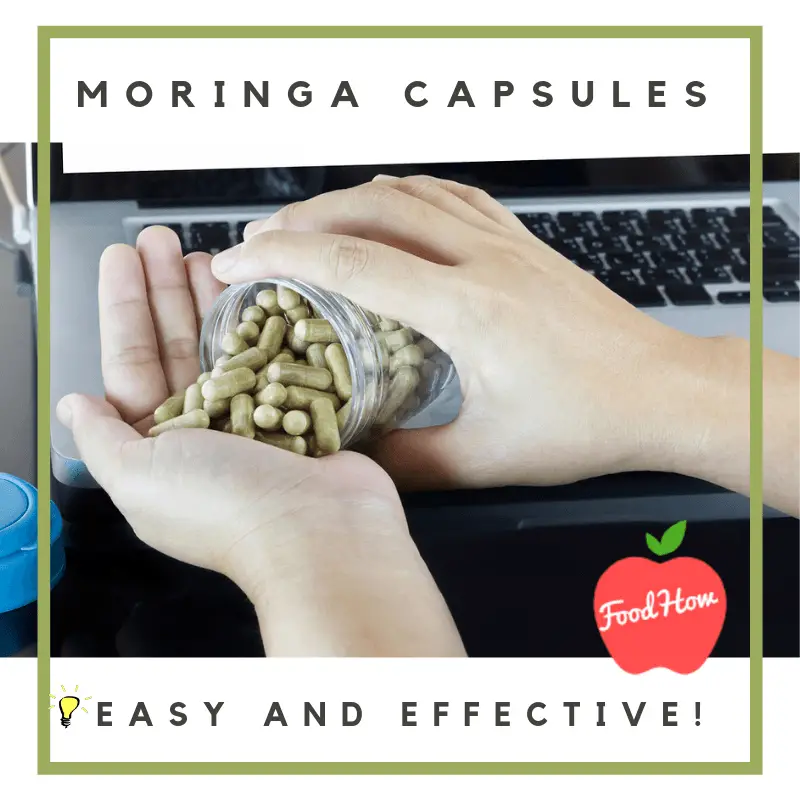 If you are like me, you might find it difficult to get into consuming leaves. When you also take into consideration the convenience factor then capsules can be a great option for you.
Dosage may vary between brands, but generally, you will start with one serving of 2 capsules per day and increase in 3-4 weeks time, up to 2 servings of 2 capsules a day, in the same manner as stated above, until you can feel the benefits. It's just food/vegetable – so you're unlikely to overdose.
These capsules can be taken at any time of the day. However, I personally noticed the best results when taken in the morning and afternoon. You can take capsules with or without meals, but I did experience the best results when taken with a balanced meal. However, everyone is different, so I suggest experimenting to find the best times and combinations that resonate most with your body.
The important part is to take Moringa every day, consistently and without skipping to get the maximum benefit, especially for weight loss.
Capsules are certainly my preferred choice as I can easily stay on top of my Moringa intake each day.
But before you get some capsules, below are few things you need to watch out for:
Supplements 101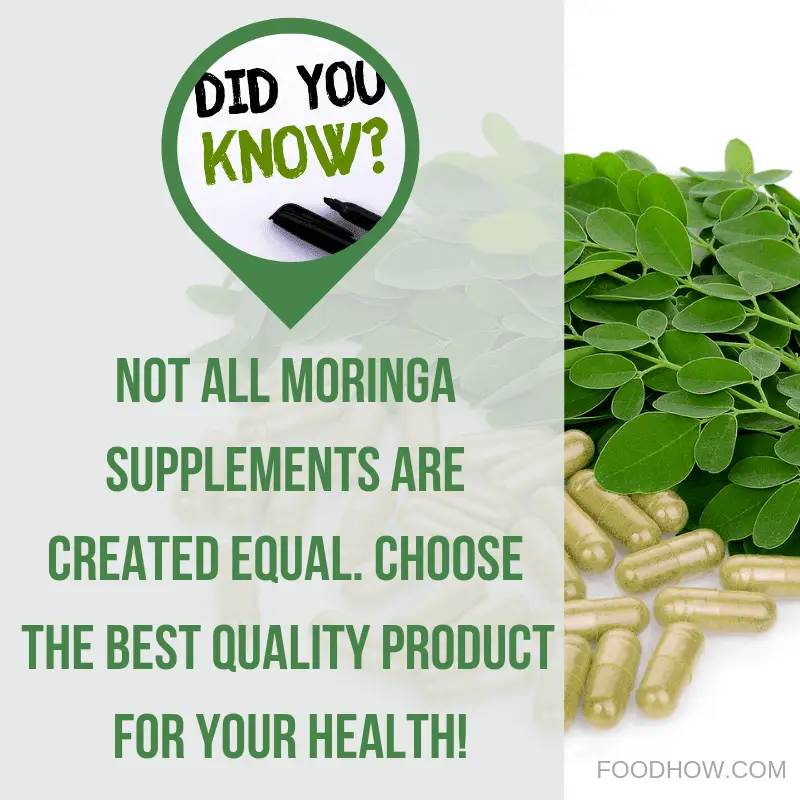 Manufacturing potent Moringa supplements can be expensive, and most supplement companies are only in for the cash. As a result, up to 97% of the available formulations, albeit advertised as "natural," can be full of artificial ingredients and pointless fillers.
The purposes of adding those include reducing production costs, prolonging shelf life, and making the supplements more appealing by improving taste and appearance. However, many of these additives are far from healthy, defeating the point of consuming Moringa in the first place.
Therefore, your best bet is to avoid supplements with questionable additives, as they can cause more harm than good. There is no point in taking pretty pills with long shelf lives if they no or little effect and may even be harmful!
Instead, do your research and find supplements that have been researched, sourced, and produced with consumer's health and well-being in mind (e.g., only natural and other responsible manufacturers like the one below).
TAP ON IMAGE TO VIEW PRICE
How To Choose Pure Leaf Capsules?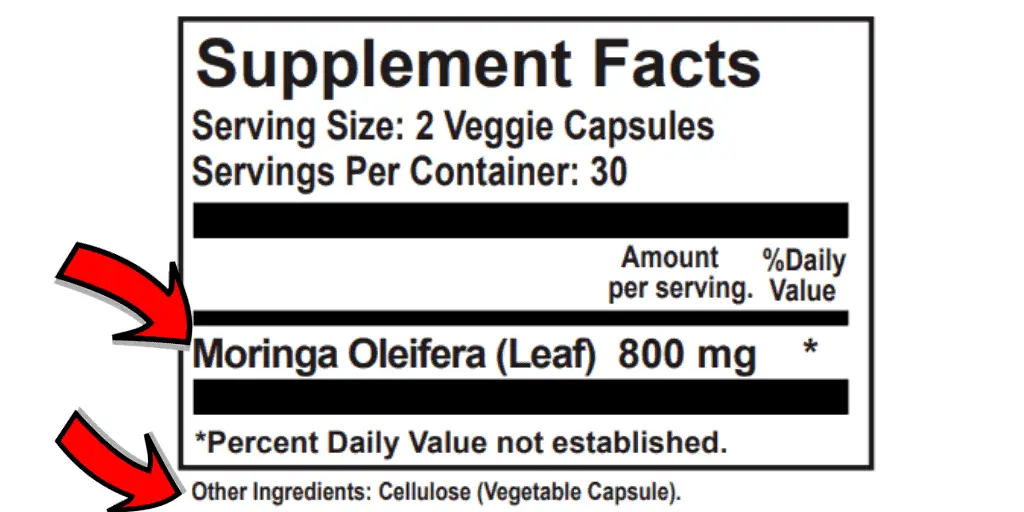 Always check that your capsules are made from 100% Pure Leaf, as the potent Moringa Isothiocyanates are abundant in the small green leaves of The Miracle Tree. Supplements that include other parts of the plant seeds, stems, or roots should be avoided.
Also, preferably get veggie capsules that are easily digested and absorbed by the body.
You certainly don't want to see any E-numbers or coloring or preservatives on the label. Here is the supplement that I take. You can get it on Amazon here>>> 
Avoid over-processed Moringa – some production techniques destroy all the beneficial nutrients! For instance, avoid over-pulverizing (used to sneakily blend in useless, low-nutrient parts such as branches and stems) or excessive grinding (this can obliterate the plant and destroy most of its value and vitamins).
Also, take note of the following:
All the products must be stored in air-tight containers, away from harsh conditions, heat, humidity, and light.
The leaves used must be 

adequately dried

, following a meticulous protocol that takes up to 6 days.
The vitamins and minerals must be preserved appropriately.
The supplement must be grown naturally, with 100% Moringa Oleifera.
GMP and FDA guidelines are strictly followed.
As you can see, there are many limiting factors in making quality Moringa supplements. As a result, responsible manufacturers usually can't maintain crazy high stock, and only limited quantities of each batch are typically available. It can take a few months to produce a new batch, so if you spot a brand that has Moringa on offer with no disruptions, it's probably time to get suspicious.
Conclusion
Moringa is not going to replace a varied, healthy diet – however, when it comes to giving your health that extra boost, capsules are one of the most potent all-in-one formulations to consider. These days, very few people consume enough vitamins, minerals, and other essential nutrients from diet only, so trying something like Moringa can be a great way to address those gaps.
There are very few herbal remedies out there that possess properties comparable to Moringa – so try it and see how you feel!
Would you like to learn more about superfood powders? Here are some other nourishing food powders that will give you a boost of nutrition and energy: Best Superfood Powders To Boost Your Energy