Do you need to add more probiotic and prebiotic foods to your diet? If so, then this list of nutritious and tangy sauerkraut smoothies is something you cannot afford to miss.
Sauerkraut is certainly not your average smoothie ingredient. For most people, adding it to Bratwurst hot dog may be the only acceptable use for this fermented cabbage, but to blend it into a smoothie might be asking a bit too much.
But don't worry, whatever you thought about Sauerkraut before, these sauerkraut smoothie recipes are delicious, sweet, and tangy, full of beneficial live microorganisms boosted by the prebiotic fibers. 
Kombucha, Kefir, and yogurt watch out; sauerkraut smoothies are on the rise. Give them a try, and your gut will thank you for it. 
Get Unpasteurized, Raw, Naturally Fermented Sauerkraut
Now, before I get into the smoothie recipes I want to emphasize that it's essential to use the right kind of Sauerkraut to get maximum benefits from the smoothies.
The Sauerkraut you use should NOT have preservatives, be pasteurized, or have any added sugars for these smoothies to work. If you use one that doesn't meet these standards, it won't have the beneficial probiotic factors you're looking for. 
Look for these brands at stores for Sauerkraut that are live, raw, and naturally fermented by lactic acid bacteria, and have NO vinegar or sugar on the ingredients list.
To get that probiotics boost for your smoothies, the label on your jar or bag of sauerkraut should only include, cabbage, carrots, spices, salt, Caraway seed, fennel, dill, juniper berries, cranberries, or some other vegetables.
If you are not sure which sauerkraut brands are the best and contain the most gut-friendly probiotics then check out my list here: 5 Best Sauerkraut With The Most Probiotics.
Also, if you want to make sure that your Sauerkraut is clean and naturally fermented, it is easy to make your own. Technically, all you need to make sauerkraut is cabbage and salt, and patience to wait three to four weeks until fully fermented.
Note: You can replace sauerkraut for sauerkraut juice in most of these recipes
Without further ado, here are the 8 best probiotic Sauerkraut smoothie recipes to make. 
Probiotic Rich Sauerkraut And Kefir Smoothie
Sauerkraut and Kefir are two probiotic powerhouses that will keep your gut healthy and functioning at top-notch. But if these fermented foods don't appeal to your taste, don't worry. I will show you an easy and super delicious way to add both of these gut-friendly foods to your diet without you even noticing.
In the video below, I will show you how to make tangy, refreshing sauerkraut and kefir smoothie that is bursting with probiotics and prebiotics.
To make this happy gut probiotic smoothie recipe, you will need:
Blend all the ingredients for one minute, and your probiotic sauerkraut and kefirs smoothie is ready to drink.
1. Sauerkraut Juice Smoothie For Gut Health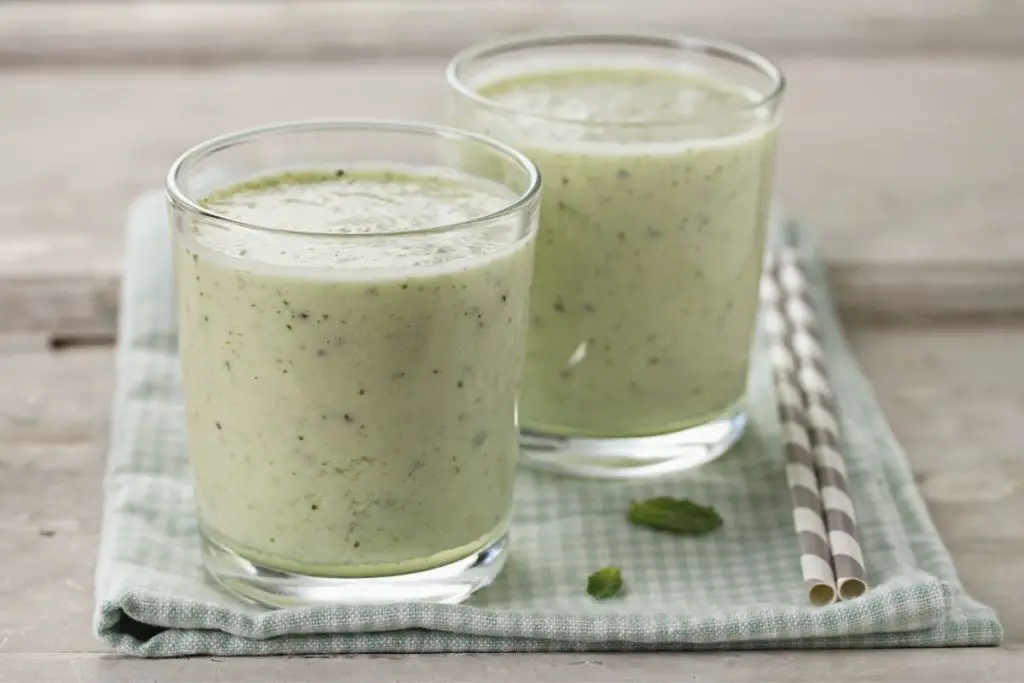 This recipe gets double the probiotic benefits by using Kombucha as the liquid base. Additionally, you get a balanced taste from the ginger and sweetness from the pineapple and peaches. 
If you're not a fan of Kombucha, this smoothie will still taste great with nut milk, such as Almond, which is what I used.
Some other liquid bases, depending on your goals, are:
Hemp or Flax Milk. High in Fiber.
Green Tea. Caffeine helps with natural energy and a metabolism boost. 
Herbal Detox Teas. An excellent option for detox and stress release.
Coconut Water. Offers electrolytes for hydration. 
Strong Coffee. Boost of energy for the morning.
Seltzer Water. 
Besides mixing up your liquid base, you can choose between various fruits to add a sweeter taste, such as peaches, mangos, or nectarines. 
Tip: Dice your ginger into smaller pieces to blend it easier. 
Personally, this smoothie was my favorite because I was given options to make it my own. This is a big deal if you have any intolerances or don't like some ingredients. 
Be sure to check out this recipe at Simple Green Smoothies.
Nutrition: Calories – 178 | Carbs – 45g | Fat – 1g | Protein – 2g
Read Also: 6 Healthy Recipes With Sauerkraut (Probiotic And Nutritious)
2. Purple Sauerkraut Smoothie For Breakfast
When you think of adding Sauerkraut to your smoothie, you probably think it'll be sour, and rightfully so. However, this smoothie found the sweet spot, literally.  
Not only do you get the benefits of Sauerkraut, but you get the minimal flavor. It also changes the color of your smoothie to a bright and welcoming purple. Who could resist?
Join Krista from Hey Day's Journey and try the Purple Morning Sauerkraut Smoothie today. 
Nutrition may vary. These nutritional guides below are from My Fitness Pal. 
Nutrition: Calories – 132 | Carbs – 14.3g | Fat – 2.8g | Protein – 12.7
3. Vegetable Sauerkraut Smoothie With Living Bacteria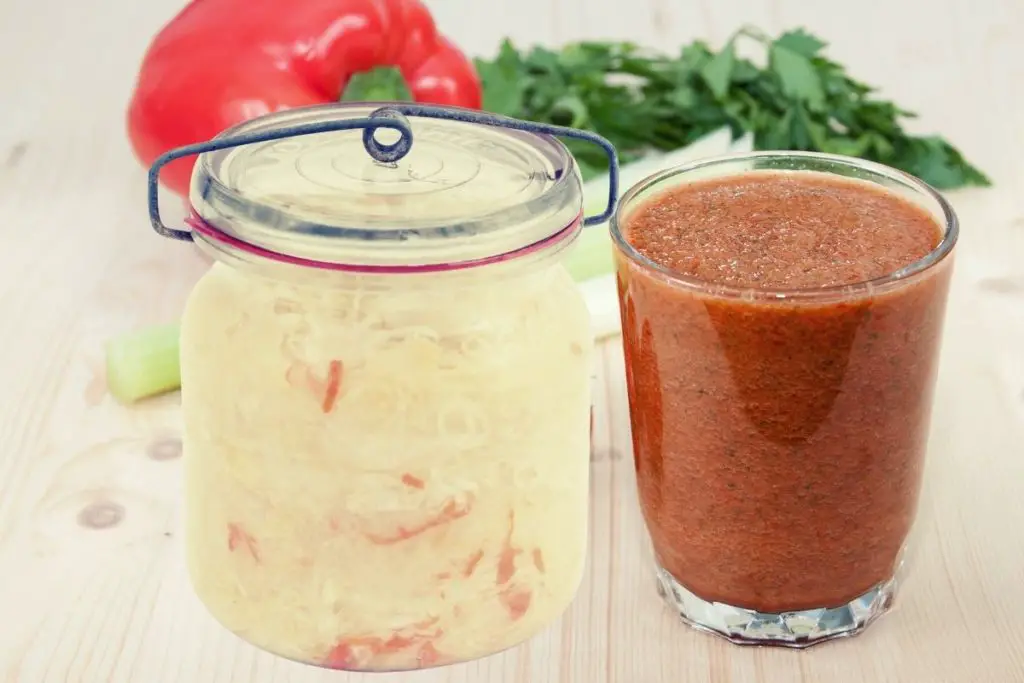 If you have trouble fitting your daily intake requirement for vegetables, then this is the smoothie with a boost of good bacteria is for you. Plus, it only takes 5 minutes to make. That sounds like a win-win situation to me! 
Take your health journey up a notch and try this smoothie from BINDER. 
Nutrition may vary. These nutritional guides are from My Fitness Pal. 
Nutrition: Calories – 210 | Carbs – 41.1g | Fat – 3.1g | Protein – 6.4g
4. Probiotic Sauerkraut Smoothie With Avocado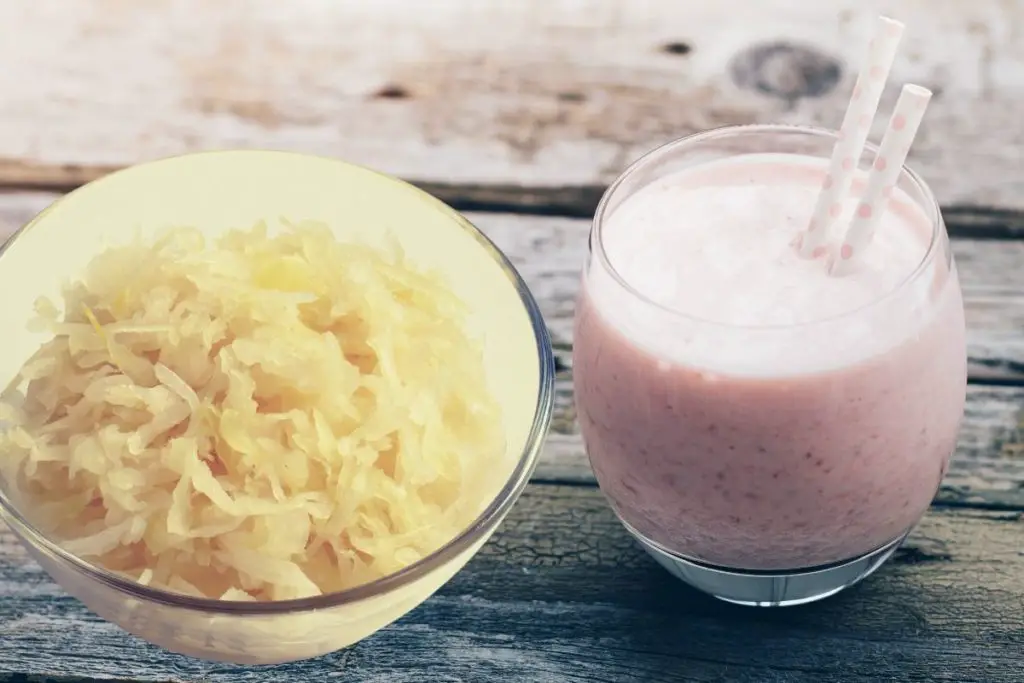 From the Wildbrine brand themselves, they have created a delicious and hearty recipe to take your smoothies to the next level. 
Additionally, they mixed Sauerkraut with two delightful fruits, Strawberries and Avocado, which have their own benefits. 
Strawberries. Delicious low-glycemic fruit with plenty of fiber.
Avocado. Healthy fat and full of nutrients such as Vitamins B6, C, E, and Magnesium. It's also full of fiber which improves your gut health. 
Try this nutrient-dense smoothie today at Wild Brine.
Nutrition may vary. The nutritional guide below is from My Fitness Pal. 
Nutrition: Calories – 494 | Carbs – 80.4g | Fat – 21.4g | Protein – 8.1g
5. Tropical Sauerkraut Smoothie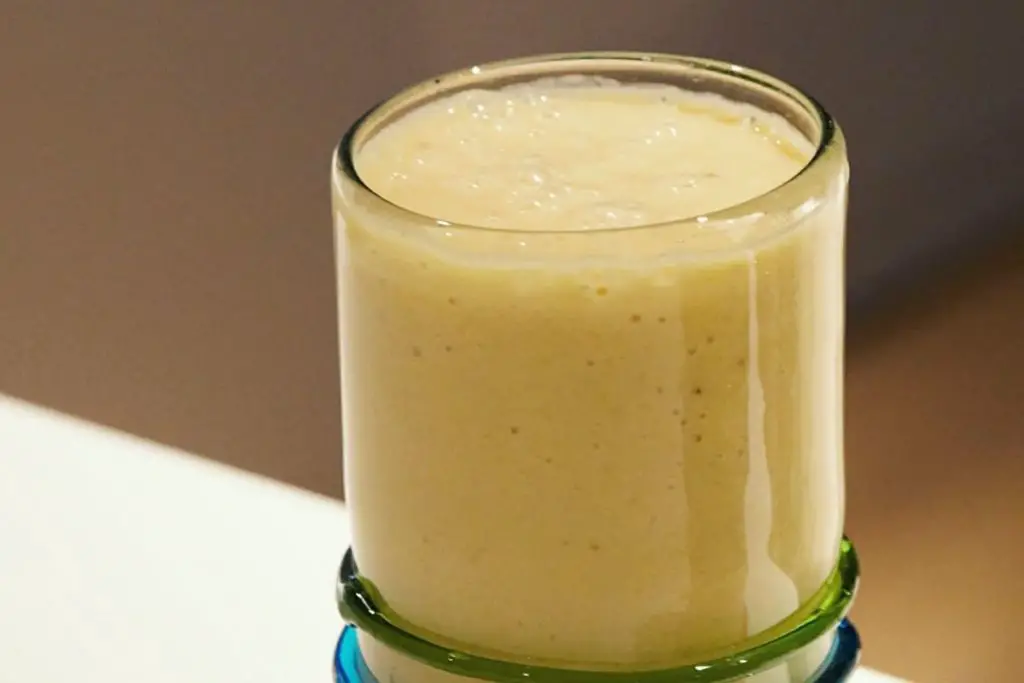 I never thought a Tropical Smoothie could have so many benefits. The name screams sugar and a sweet flavor. However, you get a beautifully tangy flavor and additional benefits with Sauerkraut in this smoothie. 
This smoothie adds a beneficial plant fiber component that boosts the probiotic benefits when paired together. 
Try this smoothie today at Real Simple. 
Nutrition may vary.
Nutrition: Calories -126 | Carbs – 24.8g | Fat – 2.5g | Protein – 1.2g
6. Green Sauerkraut And Kefir Smoothie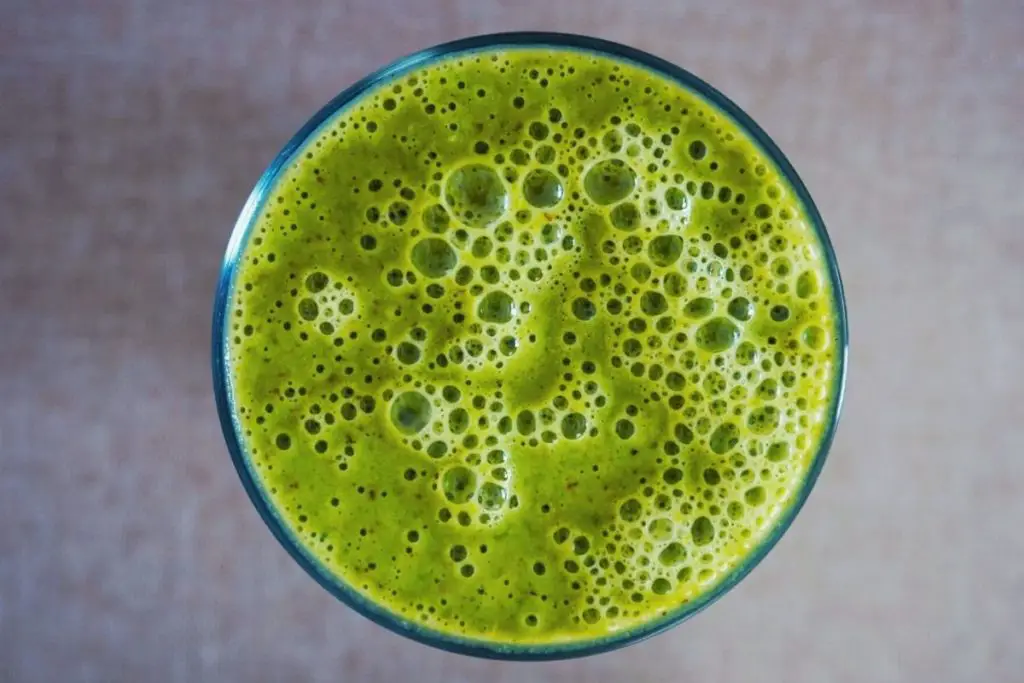 Another smoothie that packs in probiotics in a single great-tasting smoothie. This smoothie ties in another probiotic powerhouse, Kefir. 
Kefir is a fermented drink similar to soured milk and drinkable yogurt. While yogurt is known to be a popular probiotic snack choice, Kefir is the better option. Kefir offers multiple and diverse strains of bacteria and yeast compared to traditional yogurt.  
Some benefits of Kefir are:
Improves the function of your digestive system.
Enhanced bone health.
If this recipe tastes slightly bitter because of dandelion greens, you can add more Kefir.
Try this probiotic-packed smoothie at Monamifood today. 
The nutrition below may vary.
Nutrition: Calories – 234 | Carbs – 39.2 | Fat – 3.2g | Protein – 15.5g
7. Banana and Almond Milk Sauerkraut Smoothie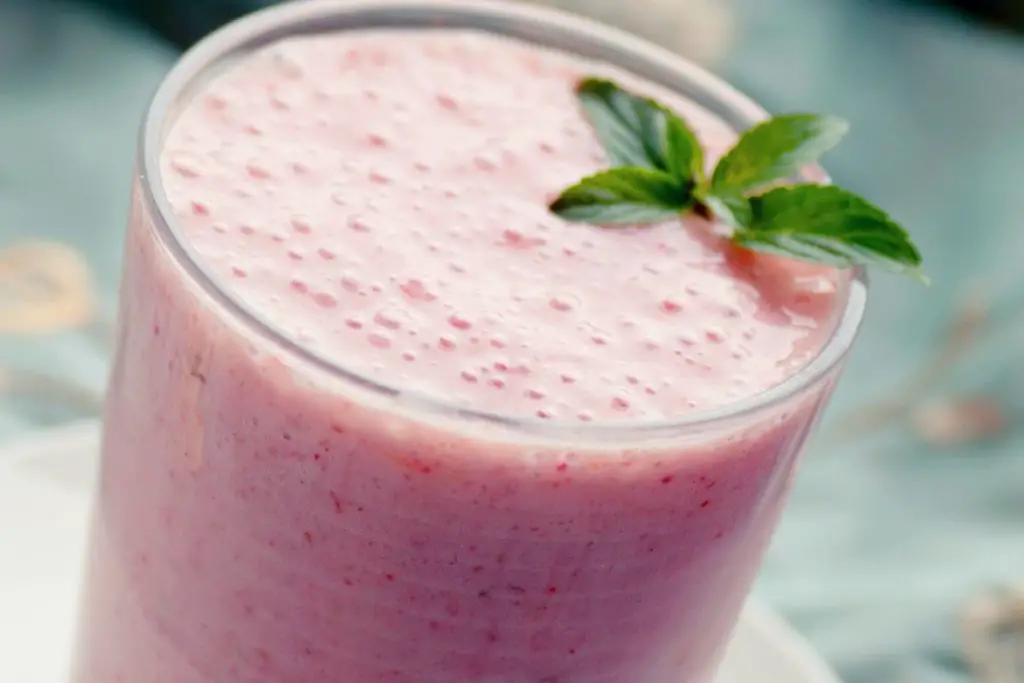 This Strawberry, Banana, and Sauerkraut smoothie is my absolute favorite. Overall these fruits are the easiest to like or add to a smoothie. They're packed with nutrients and sweet enough to not feel bothered by the taste of kraut.
Besides the fruit, the Honey in the smoothie truly hides the taste of the Sauerkraut, and you forget it's in there. 
For a boost in Protein, our friends, Country Road Magazine, recommends adding some Chia Seeds or Hemp Hearts to the smoothie. 
Besides Protein, these each have added benefits. 
Chia seeds are considered a Superfood because of all that it offers, for example:
Contains 1/3 of the daily fiber intake requirement.
Increased chance of weight loss due to reduced cravings from the fiber.
The fiber also prevents constipation and promotes regularity for a healthier digestive tract. 
Lower blood pressure and improved cholesterol levels. 
Hemp Seeds (Hearts) are another superfood, and rightfully so due to what seems like an endless list of benefits:
Omega 6 and 3
They contain more than 30% of protein.
Vitamin E
Reduced risk of heart disease.
Reduces symptoms of PMS and Menopause.
Aids your digestive system. 
Check out this Strawberry Banana Sauerkraut smoothie today, and don't forget to add a superfood of your choice! 
The actual nutrition below may vary slightly.
Nutrition: Calories – 312 | Carbs – 72g | Fat – 3.3g | Protein – 3.3g
Read Also: 7 Broccoli Smoothies For Weight Loss That Actually Work
Final Thoughts
There you have it; Sauerkraut is more than topping on a bratwurst. It is a highly nutritional staple to keep stocked in your kitchen and add to your smoothies if done right. 
Try all the probiotic sauerkraut smoothies on this list, and let us know which was your favorite.