Skip the deep fryer: Make these delicious and easy air fryer doughnuts instead!
So, you wanna know how to make some delicious yet easy air fryer doughnuts? Well, you've come to the right place. Although the name may be misleading, an air fryer does not actually fry your doughnuts. In fact, it bakes them to perfection without leaving them drenched in oil like the traditional deep fryer method.
Here's how you can easily make air fryer doughnuts that are both healthier and delicious.
How To Make Easy Air Fryer Doughnuts: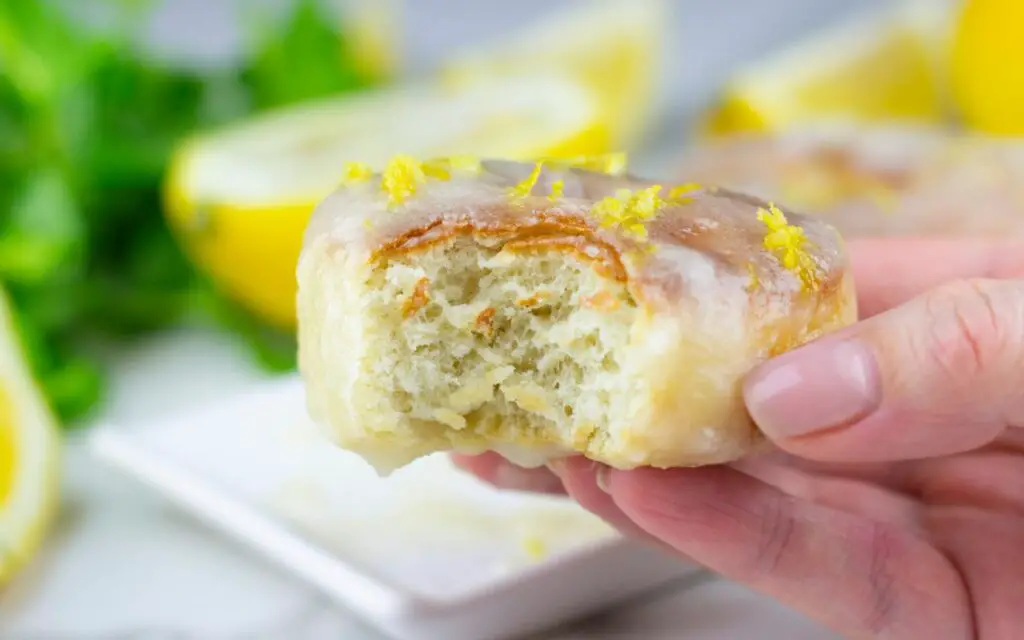 First things first, let's talk ingredients. You'll need all-purpose flour, sugar, salt, nutmeg or cinnamon, an egg, lukewarm milk, melted butter, and dried yeast. These are all pretty standard ingredients, so you probably have most of them in your kitchen already.
For the exact amount of all the ingredients, skip to the recipe car below:
Jump To Recipe
Once you've got all your ingredients ready, it's time to mix them together. Combine the flour, sugar, salt, and nutmeg or cinnamon in a bowl and give them a good mix. Then, add in the egg, lukewarm milk, melted butter, and dried yeast and mix it all together until it forms a dough.
Now, it's time to let the dough rise. Roll it into a ball, cover it with a kitchen towel, and let it sit for about 30 minutes. Once it's had time to rise, roll it out to 1/2 inch thickness on a lightly floured kitchen counter.
Top Tip: For best results, avoid rolling the dough too thinly, as it can result in flat doughnuts. The ideal thickness of the dough should be about 1/2 inch to 1 inch (2.5cm) to achieve fluffy and soft doughnuts.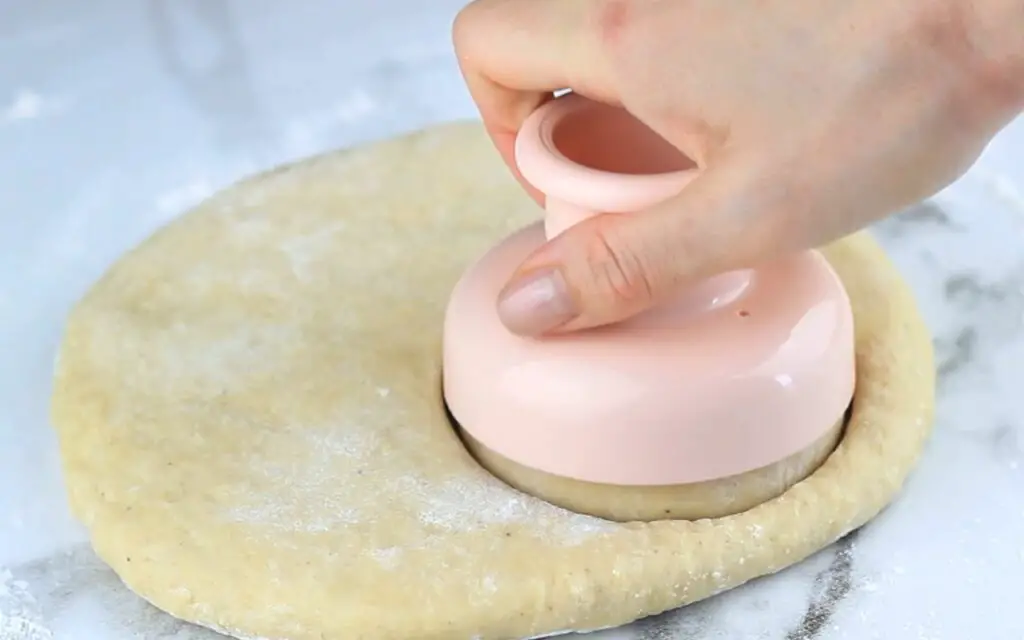 Next up, it's time to cut out the doughnuts. You can use a doughnut cutter like the one below or a 3-inch and 1-inch biscuit cutter. Cover the cut-out doughnuts with a kitchen towel and let them rise for another 30 minutes.
TAP ON IMAGE TO VIEW PRICE
Finally, it's time to air-fry those bad boys! Place the doughnuts into the air fryer basket, and air fry them for about 3 minutes at 180°C or 356°F until they're golden brown.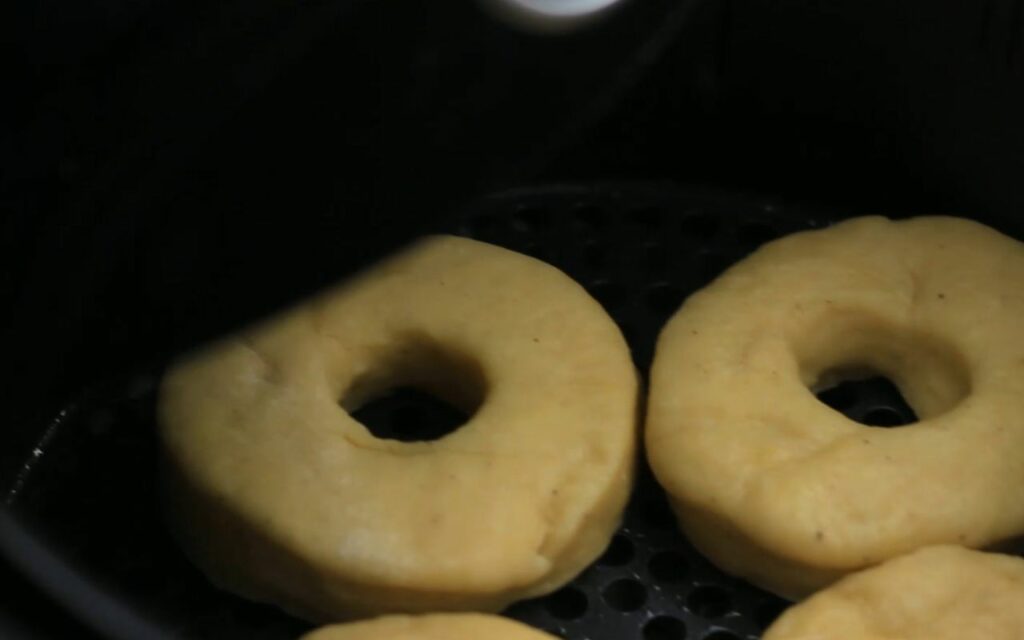 Top Tip: To prevent doughnuts from sticking to the air fryer basket, lightly grease the basket with cooking spray or butter before placing the doughnuts in it. You can also try placing a sheet of parchment paper at the bottom of the basket to prevent sticking.
And, to make them even more delicious, I like to add a glaze.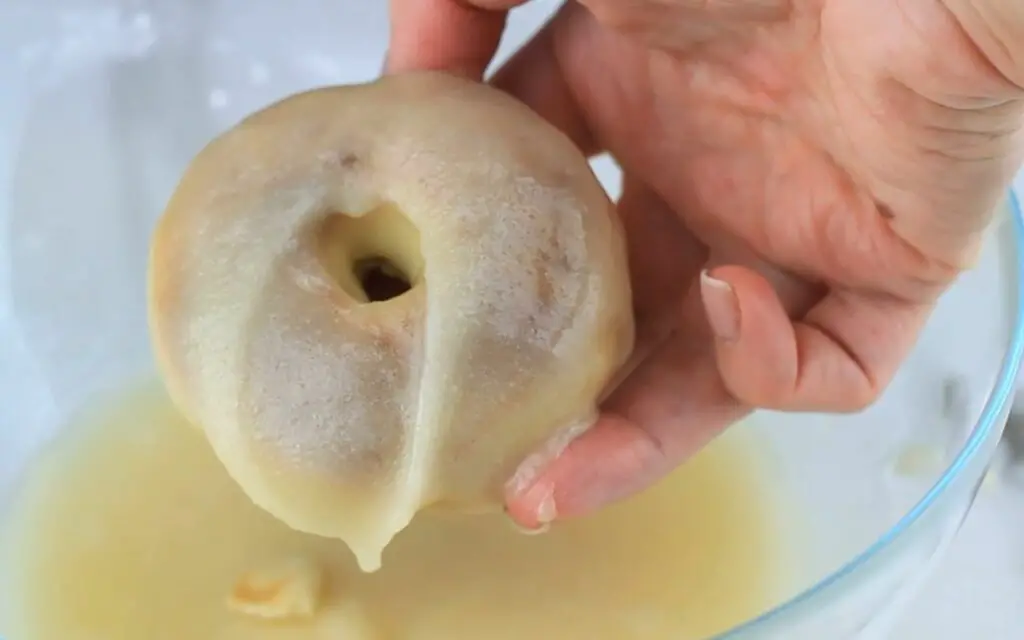 To make a simple classic doughnut glaze, mix together powdered sugar, melted butter, warm milk, and vanilla extract to make a tasty glaze. Toss the doughnuts in the glaze, and voila! You've got some delicious air fryer doughnuts that are sure to impress.
Make Different Doughnut Toppings
Get creative with your air fryer doughnuts and try out these delicious toppings.
Cinnamon Sugar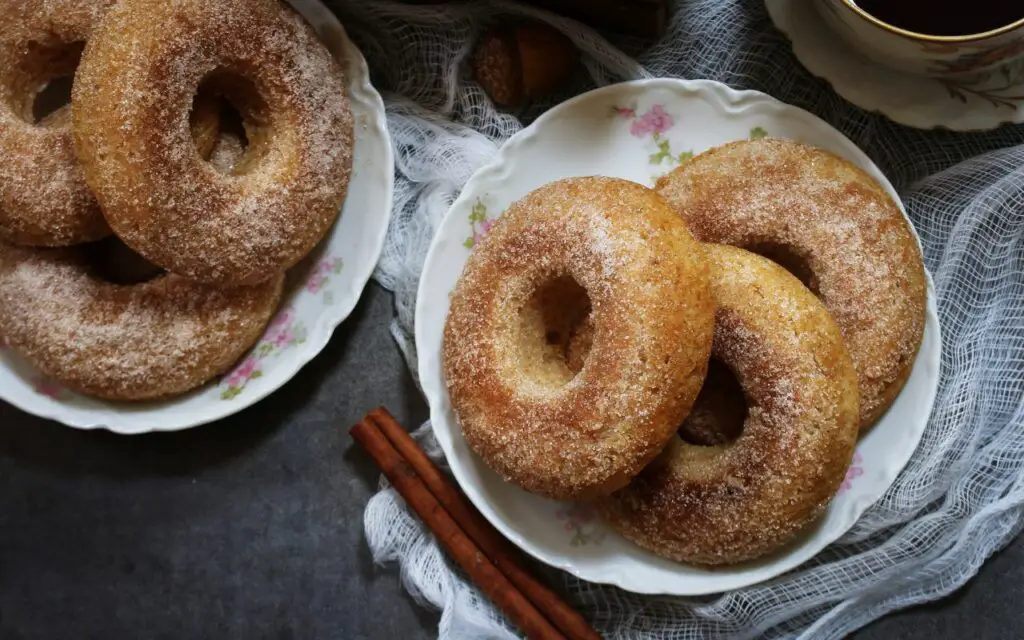 Let's start with the classic cinnamon sugar topping. It's a fan favorite for a reason – it's simple, delicious, and easy to make.
Just mix together 1 cup of sugar with 3 tablespoons of ground cinnamon, or reduce the cinnamon to 1 tablespoon for a lighter cinnamon flavor. Dip the doughnuts into melted butter and sprinkle the mixture generously over your freshly air-fried doughnuts and enjoy the sweet and spicy combination.
Chocolate Glaze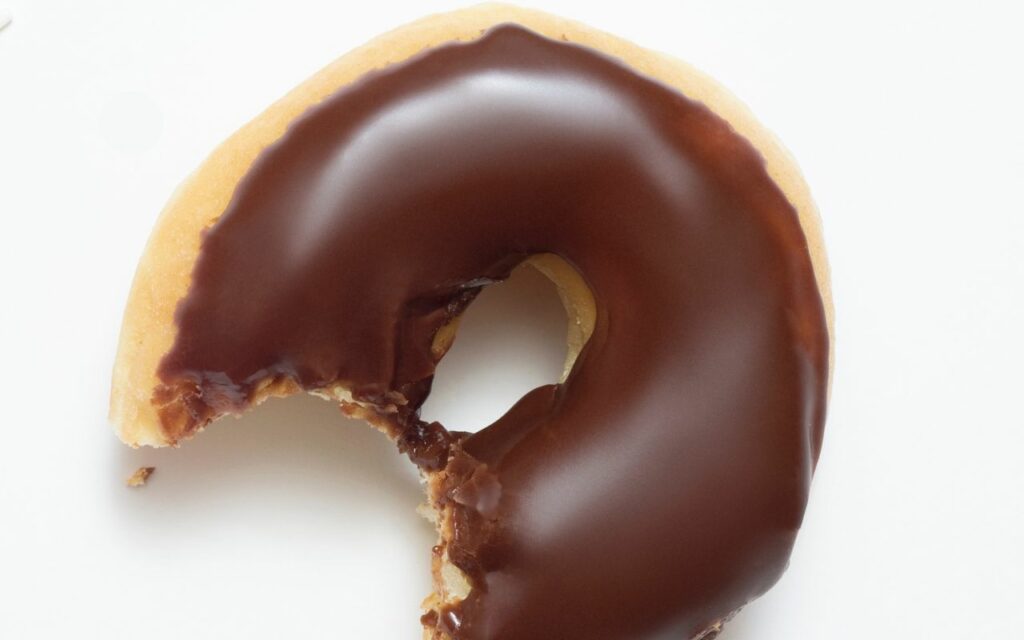 Chocolate lovers, rejoice! Adding a chocolate glaze to your air fryer doughnuts is easy and delicious.
For the chocolate glaze, you will need 1 cup powdered sugar, 2 tablespoons cocoa powder, 3 tablespoons heavy cream (or substitute milk), 1/2 teaspoon vanilla extract, and 6 tablespoons water.
To begin, sift the dry ingredients (powdered sugar and cocoa powder) to remove any lumps. You can use a fine-mesh sieve and shake it into a bowl or use an actual sifter.
Then, whisk all of the ingredients together until smooth, adjusting the liquid as necessary. The liquid specified (6 tablespoons) should create a smooth, glossy texture, but you may need a bit more liquid. Add liquid a teaspoon at a time until the correct texture is reached.
Once you've made your delicious chocolate glaze, simply dip your freshly cooked doughnuts in the glaze while they're still warm, using a fork or tongs to coat the doughnuts fully, then set them on a wire rack to cool and allow the glaze to set.
Check Out Also: How To Make Best Air Fryer 3 Ingredient Peanut Butter Cookies.
How To Store Leftover Air Fryer Doughnuts?
To store leftover air fryer doughnuts, wait until they have cooled completely and then place them in an airtight container or resealable plastic bag. They can be kept at room temperature for up to two days or in the fridge for up to a week.
You can also freeze them for longer-term storage, up to two months, by wrapping them tightly in plastic wrap and then placing them in an airtight container or freezer bag. Just be sure to let them thaw completely before reheating.
Learn more about baking in an air fryer here >>>
Summary
Well, there you have it – I hope I've convinced you to try making these easy air fryer doughnuts! With just a few ingredients and a trusty air fryer, you can have fresh, warm doughnuts in no time. And let's be real, is there anything more satisfying than biting into a freshly made, warm homemade doughnut?
Plus, with all the different topping options, you can get creative and try something new every time. So, don't be afraid to get messy and have fun with it – after all, it's doughnut-making, not rocket science! Happy Baking!