It is time to stop eating unhealthy and skipping meals when you are pushed for time. Here are the 9 most balanced and nutritious meal replacement shakes that give you a complete meal in just one serving.
Not long ago, meal replacement shakes used to be solely restricted to Olympians and top athletes. Now there are many options to choose from so anyone can have all nourishing liquid meals on the go.
Below I have selected the most nutritious and balanced mixes on the market today that are suitable for a wide variety of diets and lifestyles.
Most Balanced And Nutritious Meal Replacement Shakes
1. Vibrant Health Maximum Vibrance Plant-Based Meal Replacement
TAP ON IMAGE TO VIEW PRICE
Advertised as a true "futurefood", Vibrant Health's meal replacement shake mix is a multivitamin, probiotic, enzyme, and protein supplement all in one.
One scoop makes the mix into a snack-sized serving, and two scoops contain the nutrition of a full meal.
Available in both chocolate chunk and vanilla bean flavors, this shake is more than just another supplement.
In addition to keeping you full and energized throughout the day, Vibrant Health also intends to boost your overall nutrition, energy, digestion, and immunity. They do this through their use of vitamins, minerals, probiotics, enzymes, and pea protein- a fantastic source of plant-based protein. 
This supplement is also gluten-free and free of artificial sweeteners, making it a guilt-free and delicious shake.
Most Popular For Keto
2. Perfect Keto Protein Powder With Collagen Peptides And MCT Oil
TAP ON IMAGE TO VIEW PRICE
Perfect Keto is excellent for low-carbohydrate diet followers.
This popular high-fat meal replacement powder is available in three flavors: chocolate, unflavored, vanilla, and chocolate caramel.
Each serving boasts 10 grams of protein, sourced from all-natural, grass-fed collagen peptides. In addition, each serving contains 4 grams of fat and MCT (medium-chain triglyceride).
The Perfect Keto shake mix is also sugar-free. It uses a blend of erythritol, stevia, and coconut oil powder to create a delicious flavor. 
It makes a great nutrition snack as well as an excellent post-workout drink and has a creamy, smooth texture.
For many people following a low-carb diet, the need to curb sugar cravings is a priority. This low-carb Keto shake can help manage sugar cravings while also keeping you lean.
It contains dietary fiber to keep you full longer and stop the temptations of overeating throughout the day.
This nutritious protein shake uses only natural flavors and is as versatile as it is delicious. 
It can be mixed with coffee to create a nutrient-dense latte, or made into a shake by combining it with nut milk in a shaker or blender.
This shake is an easy and convenient way for busy individuals to add keto-friendly protein to their daily routines.
Best Price
3. Orgain Meal Replacement Powder – Plant-Based And Organic
TAP ON IMAGE TO VIEW PRICE
Orgain makes two flavors of their on-the-go meal shake: creamy chocolate fudge and vanilla.
In addition to being vegan, dairy-free, gluten-free, lactose-free, kosher, and non-GMO, each serving will give you 20 grams of protein! 
Each package contains 2.01 pounds of nutrition powder, which in turn contains 8 grams of dietary fiber (all organic, of course) and no added sugar. One serving gives you 220 calories.
Orgain shake is a great source of essential vitamins like vitamins C and B6, riboflavin, iron, thiamine, and pantothenic acid. It's great for both women and men and also great for children.
This nutritionally complete food powder can serve a variety of purposes. Such as being used for smoothies, breakfast shakes, and of course, for your meal replacement drinks when you are busy or on a diet.
This powder is also great for muscle and weight gain and as a pre-and post-exercise drink.
Best Vegan 
4. Vega One Organic All-in-One Shake
TAP ON IMAGE TO VIEW PRICE
Available in a wide range of flavors (Berry, Chocolate, Coconut Almond, French Vanilla, Mocha, and Plain Unsweetened), Vega appeals to the masses with its 17-serving container of a dairy-free, gluten-free, non-GMO all-in-one shake mix.
This mix contains multi-source protein, vitamins, minerals, probiotics, antioxidants, and vegan omega-3 fatty acids.
If that isn't enough, each serving contains 20 grams of plant-based proteins, sourced from pea protein, sunflower seed protein, and pumpkin seed protein.
You can also receive 50% DV of 8 essential vitamins and minerals in one serving, making this a true all-in-one nutritional shake, as Vega advertises.
Additionally, it is an excellent source of vitamin C and vitamin A. You can blend a serving of Vega One with your favorite fruit to add even more nutritional value to this delicious shake.
There's a reason that Vega is one of the United States' best-selling plant-based protein brands. It is USDA-certified organic, non-GMO verified, vegan, low glycemic, gluten-free, non-dairy, and non-soy.
Give it a try for yourself!
Most Balanced For Keto
5. LYFE FUEL Keto Meal Replacement Shake
TAP ON IMAGE TO VIEW PRICE
Lyfe Fuel has created a vegan and gluten-free, plant-based protein shake with organic superfood greens. It's also dairy and soy-free.
This shake is available in both a chocolate flavor and vanilla chi, and the mix will create 28 meals.
Each serving has 18 grams of rice and pea proteins, so it's sure to keep you full and sustained throughout your busy day. And because it contains 25 whole food ingredients, you can feel good about what you're putting in your body.
According to Life Fuel, this shake is intended to be consumed in the morning, at breakfast time, to kickstart your day. The shake has the right consistency and smooth texture and isn't too sweet.
It's also known for being low in carbohydrates and sodium, and won't cause any bloating or gas.
It also works well as a base for smoothie and energy bites recipes.
With a full spectrum of vitamins and minerals, digestive enzymes, probiotics, and a high vitamin D, you really can't go wrong with the Lyfe Fuel Keto Meal Replacement Shake.
Best Organic 
6. Garden of Life Complete Health Shake
TAP ON IMAGE TO VIEW PRICE
Coming in four flavors (chocolate, lightly sweet, vanilla, and vanilla chai), the Garden of Life Meal Replacement powder is vegan and gluten-free.
One shake comes with enough mix for 28 servings, each of which contains 20 grams of plant protein.
Garden of Life also includes an amazing 44 superfood powders. Nutritious foods like veggies, grass juices, fruits, and a lot of fiber. This will help you stay nourished and satisfied throughout the day!
This shake is intended for post-workout recovery, and as such, it will help build lean muscle and boost energy.
The powder contains 21 different minerals and vitamins, as well as a whopping 1.5 billion CFU enzymes and probiotics! This makes the shake very easy to digest.
Adding to the draw of this protein powder, it is gluten-free, fully organic, entirely vegan, and contains no dairy or soy.
It is also Informed Choice Certified, and non-GMO. At only 115 calories per serving and less than one gram of sugar, the Garden of Life meal replacement is lacking in no categories.
Give it a try!
Perfect For Women
7. FitMiss Delight Protein Meal Powder
TAP ON IMAGE TO VIEW PRICE
Unlike other powders on our list, this mix is marketed directly toward women.
A nutritional shake containing whey protein, fruits, vegetables, and digestive enzymes is intended to support both weight loss and lean muscle mass.
It's available in cappuccino, chocolate, and vanilla chi flavors.
FitMiss's protein powder is clinically proven to help control your appetite. It contains a veggie-based protein that supports appetite control and thus helps you lose weight.
Additionally, this shake mix contains optimal levels of digestive enzymes, from fruits, vegetables, vitamins, and minerals.
This product is gluten-free, low in carbohydrates, and contains milk and soy. It comes in a two-pound container and is known for being great tasting.
Additionally, each serving contains only 90 calories and can optimize your metabolism, making it the perfect meal replacement or mid-day snack.
Best Tasting 
8. RSP TrueFit – Nutritionally-Complete Powdered Food
TAP ON IMAGE TO VIEW PRICE
RSP TrueFit is made with all-natural whey protein. It contains fiber and probiotics, and is gluten-free and also non-GMO.
This naturally sweetened meal replacement shake pretty much has all the bases covered.
Available in perhaps the most interesting and exotic flavors we've covered yet. Comes in flavors like chocolate, cinnamon churro, vanilla, and unflavored.
This mix is sold in both two-pound and four-pound containers.
TrueFit's mix is based on grass-fed protein- 25 grams of whey protein are in every serving!
There are also 5 grams of chain amino acids per serving and 4 grams of glutamine. It can be used as a primary meal replacement, a post-workout supplement, or a general protein shake.
The blend created by TrueFit contains 12 non-GMO fruits and vegetables, 8 grams of fiber, as well as probiotics to aid digestion and create a metabolism-boosting experience.
The whey protein used in TrueFit supplement mixes comes from cows farmed in California and Wisconsin, which are never treated with any growth hormones. As a result of this protein, TrueFit can promote faster workout recovery as well as support weight management by keeping you more satisfied between meals. It can also increase energy and enhance focus.
Finally, this mix contains all the nutritional essentials for both men and women and is designed to improve gut health through the addition of 8 grams of sweet potato fiber as well as quality fats from natural whey and MCT oils.
It also includes no artificial colors or preservatives, further upholding the company's mission of creating all-around great supplements.
Most Popular In the UK
9. Huel Nutrition Shake With Starter Kit
TAP ON IMAGE TO VIEW PRICE
This starter kit from Huel includes everything you need to get started with their delicious shakes.
It includes two pouches of vanilla shake mix, which is 100% vegan, and comes with a scoop for the powder, a shaker to quickly create your meals, and a booklet with instructions, guidelines, and recipes.
Each pouch contains 3.85 pounds of meal powder, which is enough to make 14 meal shakes, or 28 total when both packets are taken into consideration.
What Is Huel Made Of?
Huel is made of only real foods. It is high in protein and fiber and is very low in sugar. Huel is made from sustainable ingredients, such as oats, pea protein, brown rice protein, flaxseed, kombucha, sunflower, kelp, acerola cherries, and coconut.
Huel provides a balance of proteins, carbs, fats, fiber, and all 27 essential vitamins and minerals, making it not only a convenient choice for on-the-go but a healthy one as well.
Protein In Huel
Its essential amino acid content comes from two sources of vegan protein: brown rice and pea protein.
There is also some protein content that comes from the oat powder. Going by an average daily intake of 2,000 calories, Huel powder will provide you with 148g of protein each day. 
This amount is suitable for maintaining optimal health as well as building and maintaining physical fitness.
Huel Carbs
The carbohydrate content of Huel Powder originates from super-fine oat powder and tapioca. Oats are known to have a low glycaemic index.
There are enough oats in Huel Powder to maintain your energy levels and keep you full until your next meal. 
How Much Fibre In Huel?
Huel Powder contains between 116% and 152% of the recommended daily dose of fiber. Huel Powder's fiber comes in two forms; soluble and insoluble.
All the fiber comes from natural food ingredients, mostly oats and flaxseed, and provides more fiber than is contained in most modern diets.
The high-fiber levels in Huel Powder will help to ensure the formation of healthy, solid stools.
Read Also: Is Peanut Butter Powder Better Than Protein Powder?
Nutritionally Complete Liquid Meals: Benefits And How It Works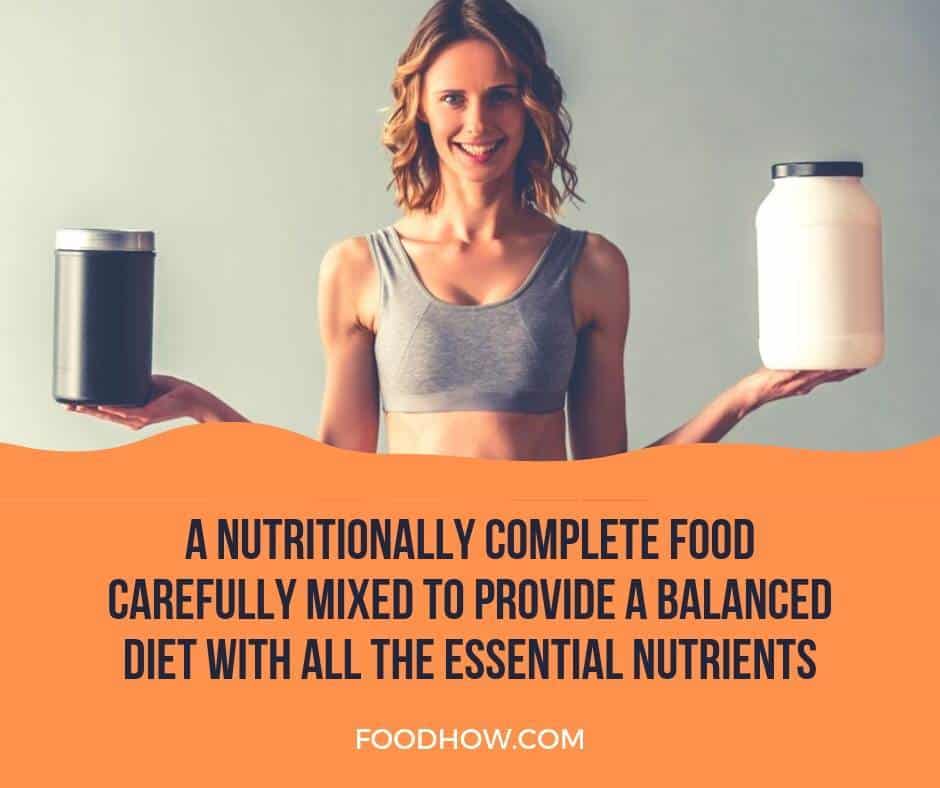 Replacing some meals with shakes can be the kick-start you need to lose weight, achieve your ideal body, and move towards a healthier lifestyle. But, you may ask, when is the best time to take them?
Experience has shown us that meal replacement shakes, can have a powerful effect on changing your appetite and your attitude to food.
Those people who have been successful at weight loss and managed to sustain it will tell you that it is not just about reducing your calories to achieve your weight loss goals. 
Many people do just this and achieve their Ideal weight with relative ease. However, they then put it all straight back on again. This 'Yo-Yo' dieting can actually be bad for your health.
Rather than concentrating on calories, you should instead focus on your meals; try to reshape your eating habits, so they become more healthy and longer-lasting.
A great way to achieve this is actually to increase the number of meals you have per day. That's right, increase; but you make them smaller. This will help you control your hunger better throughout the day and reduce the risk of you succumbing to snacks. It will also make sure you are getting all the nutrition your body needs. 
Of course, for many people with busy lifestyles, this will seem beyond them; you don't have enough time to cook three meals, let alone five, right?
Meal replacement shakes can help you here because they are quick to make and quick to consume.
Great, but what meals do you replace with your shakes for the best results? 
Rather than think about replacing individual meals, think about the best times that you can take your shake.
What's The Best Time To Take Meal Replacement Shake?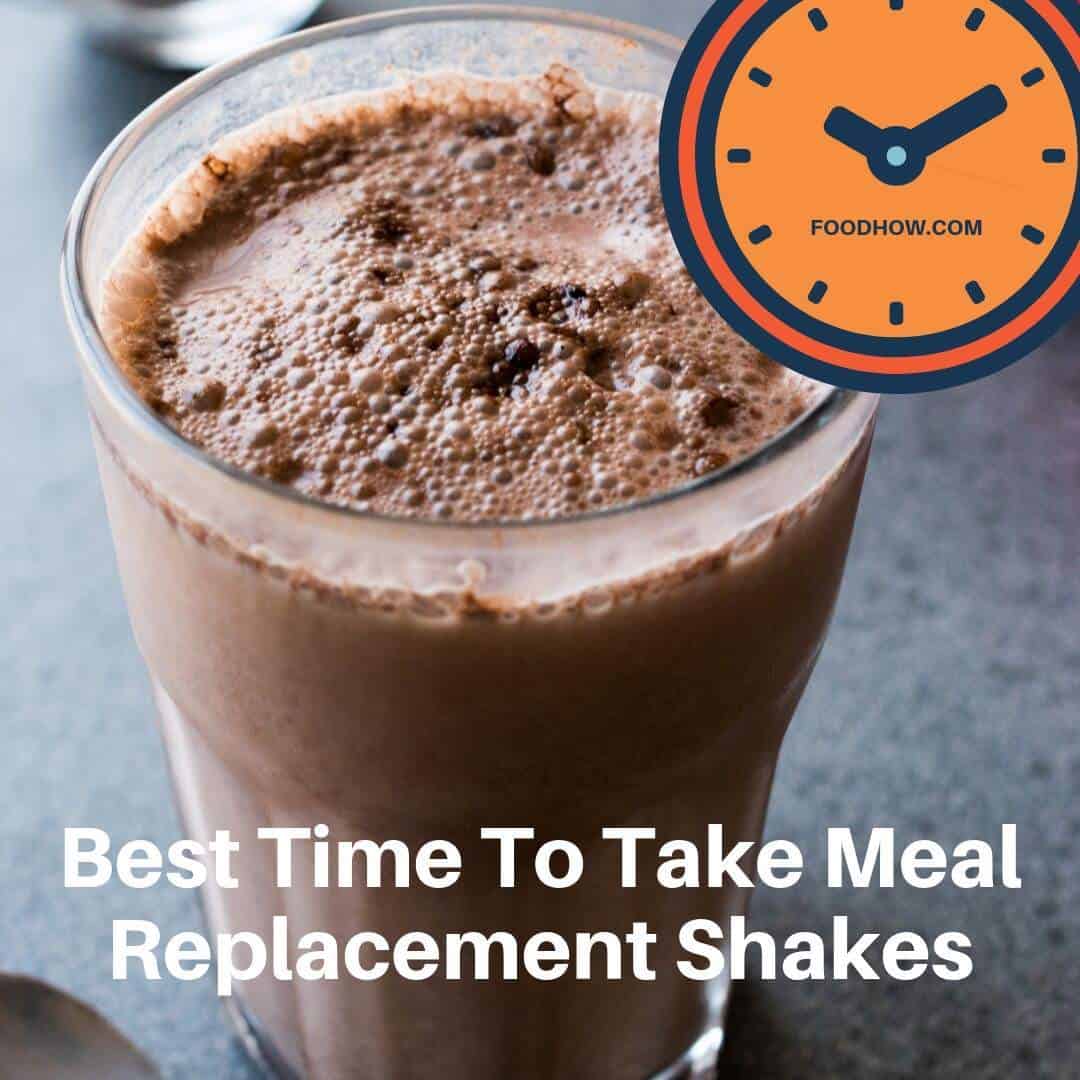 This is a common question people ask me when considering taking meal replacement shakes. 
These nutritionally balanced drinks can keep you satisfied for up to 3 hours. They are full of nutrition and can be used to replace any of the 3 main meals, or taken between them.
Here are 4 of the best times to take a meal replacement shake:
1. For A Filling Breakfast
Forgoing breakfast is really setting yourself up to fail in your weight loss campaign. If you don't eat breakfast, your cravings will be uncontrollable by mid-morning.
This puts you in a dangerous situation; you're more likely to choose junk food for lunch or end up going to the vending machine before that.
This is all too common and, generally, is because many people just don't feel hungry when they first get up. Either that or they simply don't have the time to cook breakfast. 
So, this is a perfect time to take a meal replacement shake. They are quick to make, so great if you've got an early train to catch.
Shakes are light, so you don't have to have built up a massive appetite to drink them. They are also packed with really healthy vitamins and nutrients; perfect to start the day off with.
Having a nutritious shake first thing in the morning is the only opportunity for some people to have breakfast due to their busy lives. 
Having a shake at this crucial time helps them fend off their hunger demons and set themselves up for a healthy lunch. You can even replace your high-calorie morning coffee with a meal replacement shake; they come in all sorts of flavors.
2. For A Healthy Lunch
Lunchtime can lead many people off the rails as far as healthy eating goes. Convenience food at your desk; lunch out with the boss; junk food bought in by a colleague; all these things are difficult to avoid.
And, of course, there's always the time pressure; gotta get that last job done by the end of the day! We are guided, as if on auto-pilot, to the fast-food counters.
For days like these, your safe haven can be found in a meal replacement shake. Your preparation in the morning (or the previous night) is really simple; just a scoop of shake mix into your bottle, and you're ready to go.
When you're ready to drink, it just needs water added and, as the name suggests, a good shake. With a little more preparation, you can add some fruit to make a delicious smoothie.
3. Pre or Post Workout
You will find that there is whey protein in many nutrition shakes. This is high in amino acids and helps repair muscles and recover after a workout. 
Having a meal replacement shake before or after your workout will help you recover and exercise regularly, thus promoting your weight loss.
4. For A Healthy Between-Meals Snack
This is the cover-all option. To get your five smaller meals that were recommended above, you will have to do something between your main meals.  Better a meal replacement shake than some unhealthy, high-calorie snack.
Remember, you can add other ingredients to your shakes like fruit or vegetables. This provides you with another opportunity to have your meal replacement shake; as part of your 5-A-Day schedule. 
Meal replacement shakes are easy to store and simple to make. This convenience makes them an easy replacement for any of your five small meals throughout the day.
Water or milk are the best things to add to your shake powder. This will keep them a low-calorie and healthy option. You can expect around 200-400 calories per shake, which is low considering you are getting all the nutrition your body needs.
Difference Between Meal Replacement And Protein Shake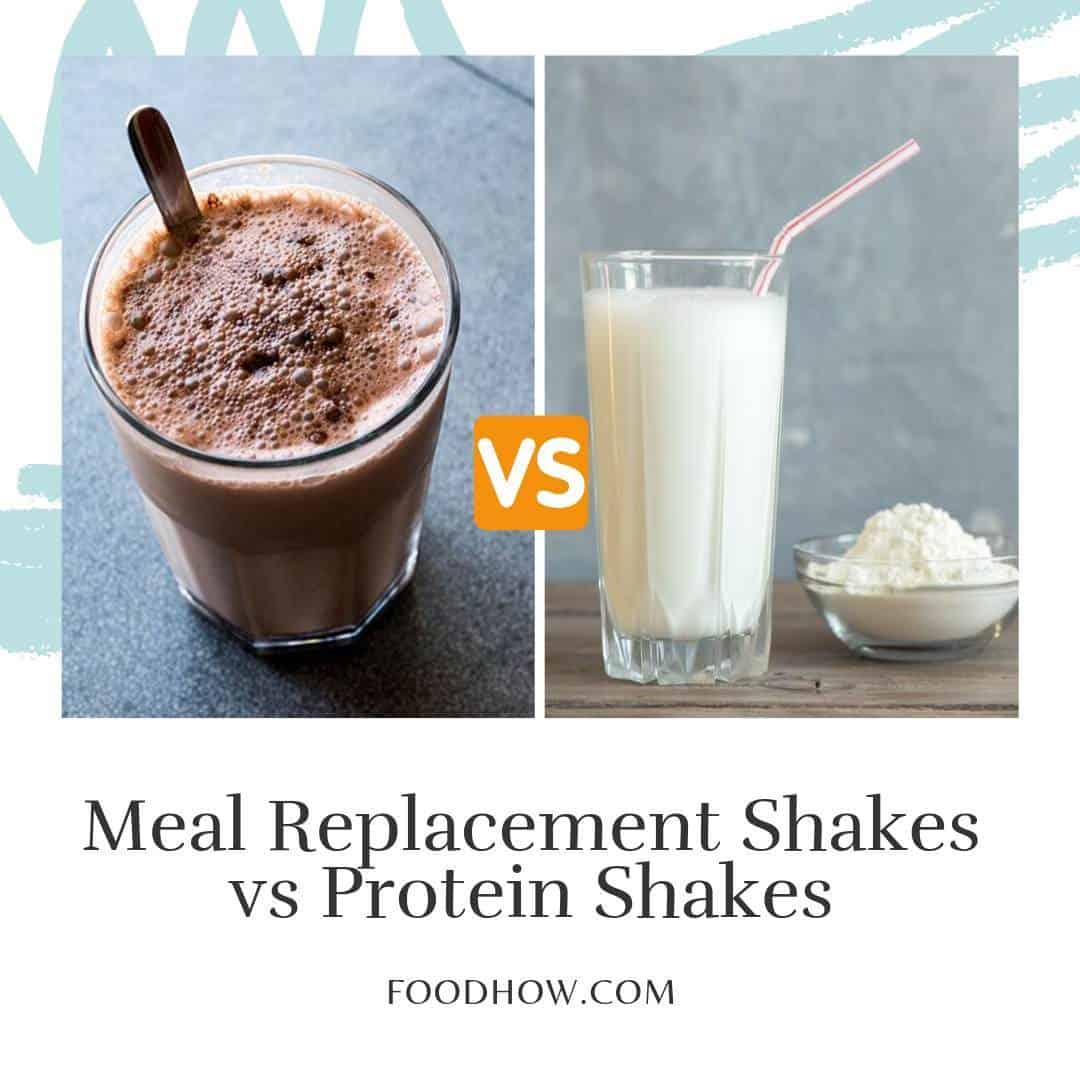 They may sound like the same thing, but they're not, and they're used for different reasons. This is most obvious in the meanings of their names. Meal replacement shakes to replace meals – Protein shakes provide protein.
Let's look at each one in turn.
First off, Meal Replacement Shakes:
Used For Weight Loss. Meal replacement shakes help you maintain a calorie deficit. This means you take in fewer calories than you burn. These nutritionally balanced drinks are low-calorie, and they should not have any extra sugar or fat added to them. The most effective meal replacement shakes can make you feel full as they contain a hunger blocker.
Used As A Meal Replacement. These on-the-go meals should provide you with all the nutrition you need as a normal meal would. This is how it can replace an actual meal, and you can lose weight while staying healthy. 
Contains Some Protein. These balanced meals are designed for effective weight loss without having to go to the gym. Of course, routine exercise is always good, so many meal replacement shakes contain some protein. This will help you lose your fat but maintain your muscle.
Can Contain A Hunger Blocker. Remember that a nutrition drink has to have enough calories to replace a meal. But, it also has to create a calorie deficit, so it needs to be lower in calories than your normal average meal. Incorporating a hunger blocker will protect you from cravings and increase your calorie deficit.
Contain Multivitamins. Your recommended daily intake of vitamins is often difficult to meet. Complete meal shakes can help you with this as they contain multivitamins as well as all the other nutrients required from a decent meal.
If you need one of the following, you should opt for a meal replacement shake:
Weight loss.
Lower your intake of calories, but maintain your level of nutrition.
Help to fend off hunger attacks.
Next up, Protein Shakes:
Used To Tone Your Body. To get more muscle, you need to exercise. The process of exercising rips and tears your muscle. As it grows back, it gets bigger. To help with muscle recovery, you can drink protein shakes. This will assist in you building lean muscle and keeping your body toned and firm.
Not A Meal Replacement. Protein shakes are supplements, not replacements. Its main job is muscle repair and recovery, so it will not provide you with all the nutrition your body needs. When you take protein shakes, you still need to maintain a healthy, balanced diet.
Bursting With Protein. It can be difficult to get enough protein into your diet, particularly if you are a vegetarian or vegan. Protein shakes are ideal for bridging this gap in your diet. 
Low Calorie. Protein shakes are not meals, as was mentioned above. So, they do not need to contain a lot of calories. You still need to maintain a healthy diet and eat regular meals when taking protein shakes.
Contains Other Vitamins. In addition to protein, which is the majority ingredient in the shake, these provide a host of other vitamins and ingredients to boost your recovery post-exercise.  
If you need one of the following, you should opt for a protein shake:
Build lean muscle or tone your body.
Muscle repair before or after your workout.
Low-calorie protein.
This should now inform you about the differences in terms of use, application, and ingredients between these two shakes.
What Are The Benefits of Meal Replacement Shakes?
A meal replacement shake will provide you with all the nutrition of a regular meal. 
They can come either ready-made in a can or a bottle; or as a powder that you can mix with water or milk yourself.
The majority of meal replacement shakes contain around 200-400 calories.
They also contain protein, fiber, vitamins, and other nutrients.
Meal replacement shakes are convenient, easy to store, and simple to make. 
They are healthy, low-calorie, and can be consumed on the go.
Ingredients in powders can vary substantially depending on the brand.
So, the simple and most common answer to that question is that meal replacement shakes are fast, nourishing, and convenient. They are easy to make; they are easy to store; they are easy to have on the go. Because they are so accessible, you can use them easily to fend off those diet-damaging hunger attacks.
One of the biggest setbacks for people on weight loss programs is the time it takes to prepare their recommended foods and snacks. When life gets in the way, and you just do not have the time, it is so much easier just to opt for the fastest option.
Very often, this may be some sort of processed food, and this can really set you back on your weight loss journey. Most processed foods are packed with sugar, salt, fat, carbohydrates, and artificial additives, but severely lacking in nutrition.
To compound this, the high sugar, salt, and fat levels trigger pleasure receptors in the brain, making you want more. Over-eating is almost a certainty.
Good quality, properly prepared foods will actually help you lose weight compared to the processed options. But, of course, good food takes time to prepare.
Nutritious on-the-go liquid meals can help solve this problem, simply by providing something healthy that takes up literally none of your time. They are easy to drink on the go and are infinitely more healthy than fast or convenience food.
To Summarize…
Meal replacement shakes are convenient. 
They are a healthy alternative to fast food.
 On-the-go liquid meals contain nutrients that you might not be getting from your diet.
They are designed to give you everything you need in terms of the nutrition you get from a regular meal.
Cutting back on your calorie consumption can mean you fail to get all the nutrition you need. Meal replacement shakes fill this gap. 
Your on-the-go meal shake should contain vitamins, minerals, fiber, and some protein.
Other nutrients contained in a meal replacement shake are calcium, iron, potassium, and vitamin D. All of these can be lacking in regular diets.
Nutritionally complete food shakes give you all the nutrition that you should be getting from a regular meal. Because they are lower in calories compared to a regular meal, they will increase your calorie deficit and help you lose weight.
Meal Replacement Shakes And Weight Loss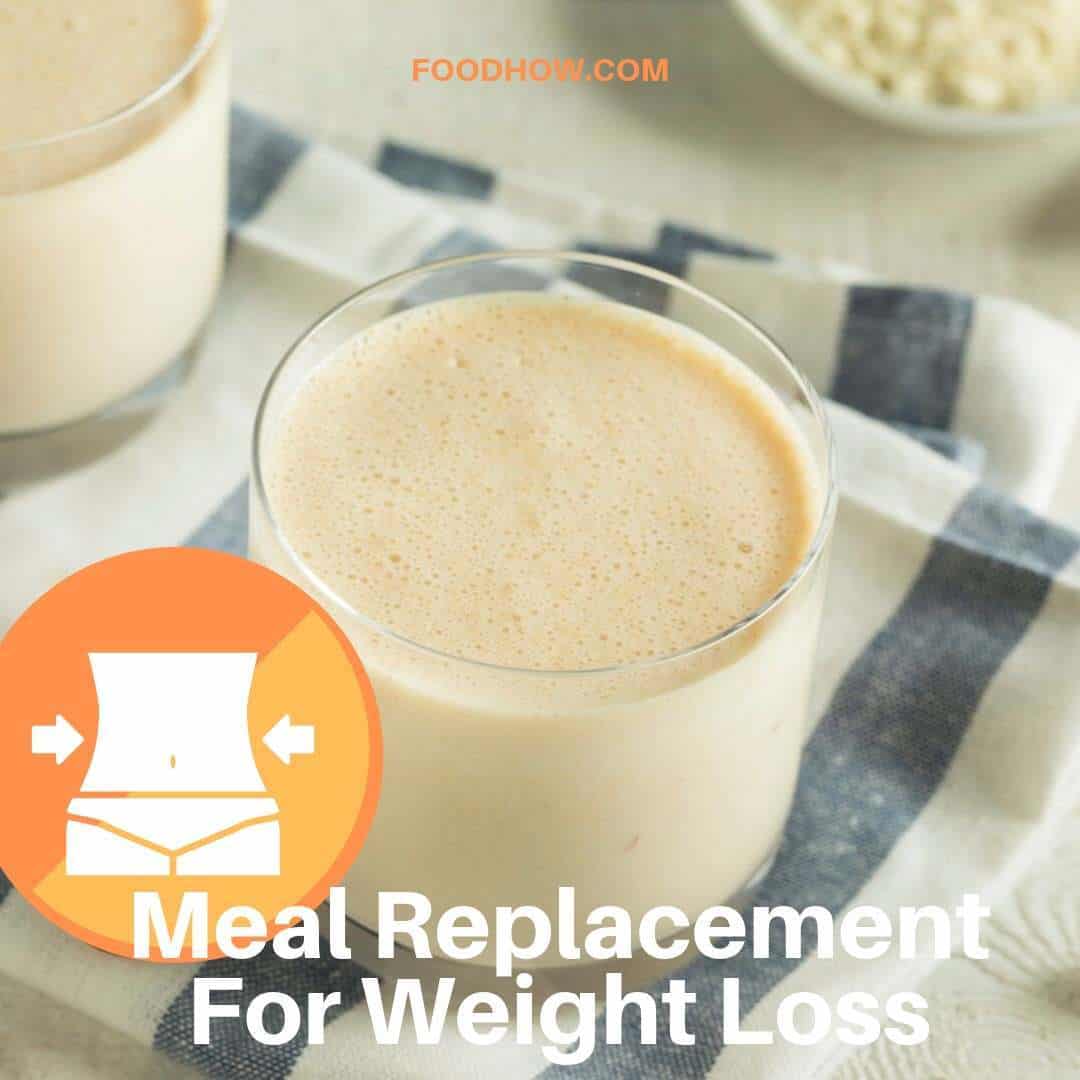 Most people are in agreement that the key to reducing your weight is reducing your calorie intake. However, maintaining a low-calorie diet can prove tricky, particularly when those hunger attacks kick in.  
Nutritionally balanced food shakes can give you a feeling of being satisfied, of being full while taking in a reduced amount of calories. 
One such study discovered that adding balanced nutrition drinks to a diet resulted in an average of 5.6lbs (or 2.4kg) more weight loss over a period of 3 months compared to participants who followed a regular low-calorie diet. Also, throughout the trial, there were fewer people to drop out of the group that took meal replacement shakes. 
Other studies have produced slightly different results. One reported that four participants from seven concluded that they had lost considerably higher amounts of weight compared to when they had been on a traditional diet.
Another set of results indicated that those on meal replacement shakes lost the same amount of weight as those people on a low-fat calorie-controlled diet.  
One study reported that there was no significant difference between the two groups. Not one of the studies concluded that food replacement shakes resulted in participants losing less weight.
Losing weight is great as we all know, but it is keeping it off that really matters. Balanced nutrition drinks have proved to be a great way to maintain your ideal weight once you have reached it.
So, once again….
Meal replacement shakes can reduce your calorie intake.
Meal powders can boost your weight loss.
Some contain protein, which can help you stay lean.
Not all nutrition shake powders are the same quality or have the same ingredients.
Benefits Of Protein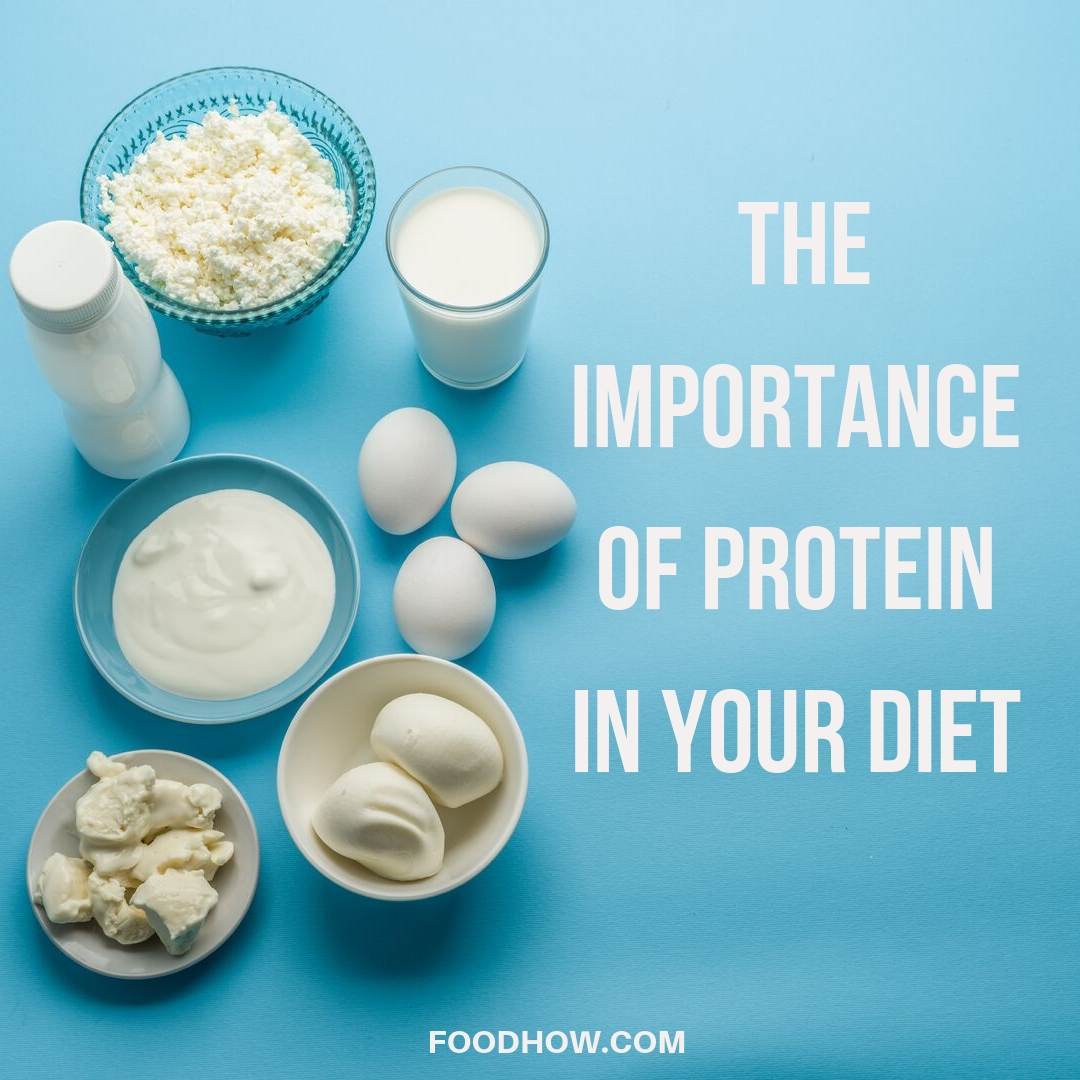 Many meal replacement shakes are high in protein. This can be beneficial in many ways:
Protein is a key nutrient for weight loss and a lean, toned body.
High protein intake leads to greater satiety – the feeling of being full.
Consumption of protein can lead to a reduction in calories.
Consuming a moderate amount of protein each day will reduce your cravings and your desire to eat just before sleep – the worst time to eat for weight loss.

Diets high in protein will give you other benefits on top of weight loss: a leaner body, less body fat, a toned and firmer body, and greater success at maintaining weight loss.
Studies comparing people on high protein meal replacement diets and people on high carbohydrate meal replacement diets found that there was no significant difference in the results of the two groups over a period of 12 weeks.
However, the group using high-protein nutrition shakes, on average, lost more body fat. Their LDL (also known as bad cholesterol) levels were lower than the other group.
Again, not all meal substitute shakes are the same. To get the full benefits from them, make sure that you choose high protein and low sugar content.
Disadvantages Of Meal Replacement Shakes
We have already discussed the benefits of meal replacement shakes, the main ones being their convenience for people with busy lifestyles and their positive effects on sustainable weight loss.
There are, however, a few potential issues with meal replacement shakes that we should point out to you here:
A small number of meal replacement shakes may contain ingredients that are not healthy for you, but the majority only use the most healthy and wholesome ingredients.
A small number of meal replacement shakes may contain added sugars, artificial flavoring, chemical preservatives, corn syrup, or hydrogenated vegetable oils.

Some replacement shakes contain more sugar than protein, but they are still marketed as weight-loss shakes. Make sure that you read the label carefully and satisfy yourself with the shake's contents before buying.

These shakes may not provide a long-term solution to your dietary needs. As soon as it is possible, you should consider returning to a conventional diet.
While providing many essential nutrients and vitamins, meal replacement shakes cannot totally replace a healthy meal of whole foods in the long term. 
Meal replacement shakes may lack some antioxidants, enzymes, and plant compounds that whole foods contain. This is because these are difficult to get into a bottle or can.
Taking meal replacement shakes may not be sustainable due to your social life. Many social events involve food, so you turn up with your shaker might not go down too well. 
Meal replacement powders do not miraculously cure poor eating habits. Successful long-term weight loss requires a commitment to long-term lifestyle changes. Whilst meal replacement shakes can help you lose weight, they will not change your eating habits; only you can do that. Returning to your old eating habits will, inevitably, lead to you regaining the weight you've lost.
To minimize these potential problems, look for supplemental nutrition drinks that contain some fiber also. Many contain fiber, but much less than a proportion of fruits, legumes, and vegetables do.
Make sure, too, that your nutrition shake contains only a couple of grams of sugar from natural sources.
Check the ingredients carefully and make sure that you understand everything that is going into your body. This is good advice for whatever you are eating or drinking.
How To Choose The Best Meal Replacement Shake?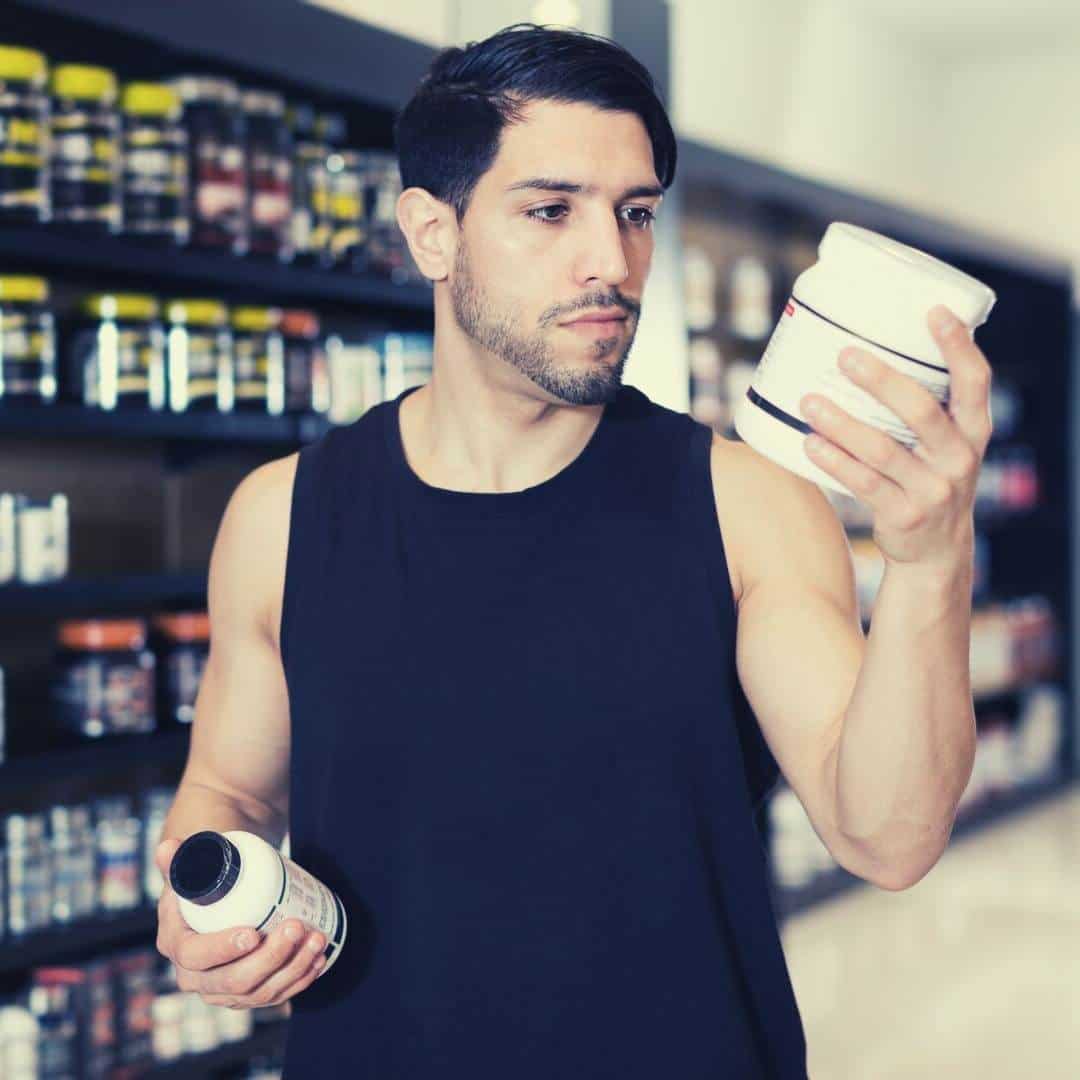 The main piece of advice was mentioned above; read and understand the ingredients on the back of the product. Forget what miracles it promises on the front – concentrate on the details from the back label.
And, here is what you should be looking out for from a good nutrition shake:
Minimum 15 grams of protein per serving.
Minimum 3 grams of fiber per serving.
Under 10 grams of sugar per serving.
Zero corn syrup.
Zero hydrogenated vegetable oils.
Minimum of  33% of your daily vitamins and minerals requirements.
Contains protein.
Conclusion
Not all shakes are the same; not all meal replacement blends are the same, and protein powders are not the same as nutrition shakes.
Make sure you know what you're consuming; ignore the claims on the front of the bottle and carefully read the details on the back.
All-In-One Nutrition Powders have tons of benefits, including their convenience, their portability.
These nutrient-dense powders are a healthy means to help you lose weight. You now know the best time to take your shake to achieve excellent weight loss results. Whether that is sustainable is down to you.
Read Also: Best Stimulant Free Pre Workouts (zero caffeine)!