If you want to stretch your food budget without compromising nutrition, try these delicious dirt-cheap meals that go a long way. These budget dinner ideas are great for a large family meal prep and make great leftovers saving you time and money.
1. Turkey Meatloaf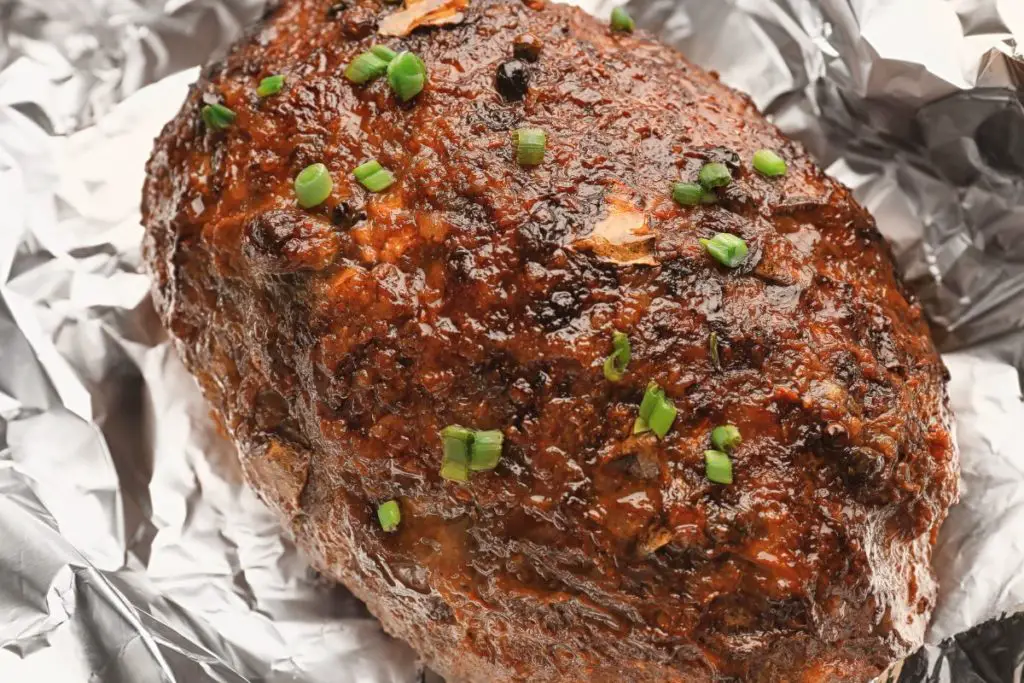 Eating turkey has many benefits, one of which is that it is an excellent and affordable source of good-quality protein. Ground turkey, in particular, is far cheaper than whole turkey breasts, yet it boasts of an incredible nutritional profile—low calories and rich in vitamins B12 and B1.
This easy-to-make and healthy meatloaf recipe uses ground turkey and keeps it moist and flavorful with the addition of green peas.
Pair with a side of mashed potatoes, and you have a delicious, cheap, and balanced meal that can fill up an entire family and last for days. It is also a great low carb, high protein meal per dish.
Check out the full recipe and ingredients here: Best Low Carb Turkey Meatloaf With Almond Flour Recipe.
2. Easy And Filling Spanish Omelet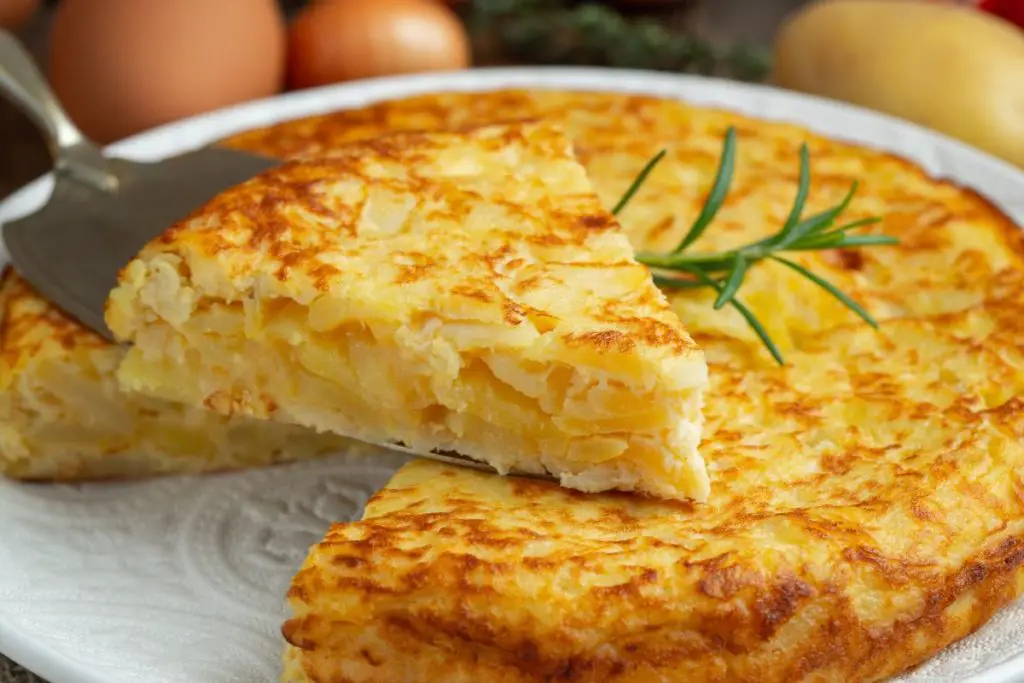 This easy but nutritious Spanish omelet is a dish made up of 8 eggs, potatoes, and other vegetables. It is a popular dish in Spain and is typically served for breakfast or lunch. It is perfect for serving hot and cold, making it a great leftover dish for meal prep and lunch boxes.
And include one of these easy side dishes, and you will have a quick and easy dinner dish that will last up to 4 days in the fridge.
Check out the full recipe here: Best Spanish Omelet With Vegetables (Easy Recipe).
3. Beef And Black Bean Chili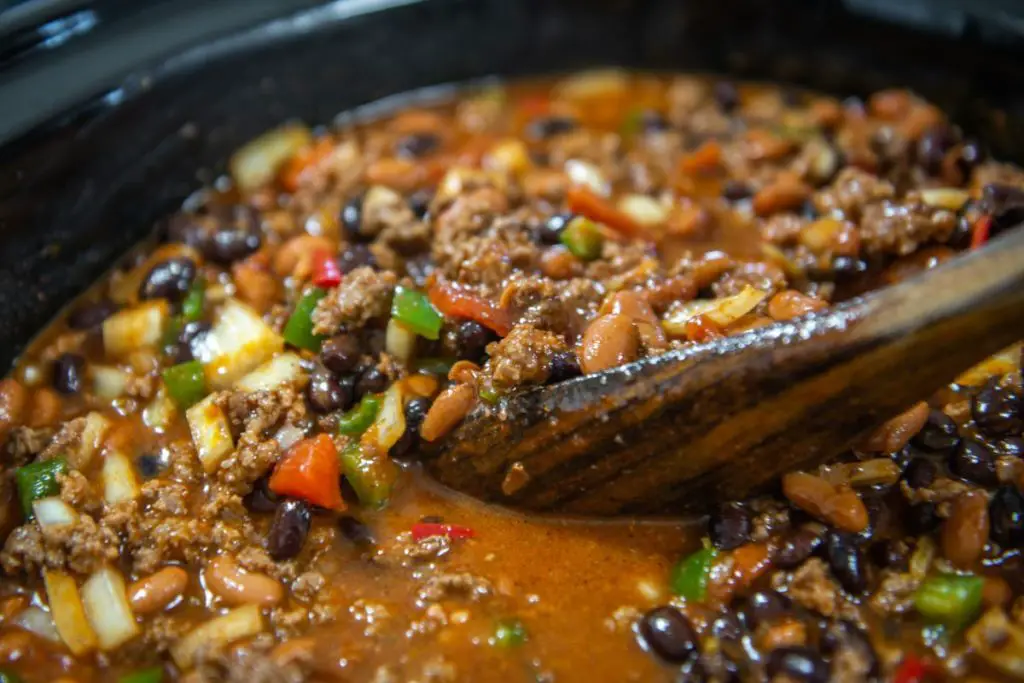 Beans are an incredibly popular food worldwide, and it's not a surprise—they're a nutritious, delicious, cheap, and reliable source of both carbohydrates and protein. Likewise, they also contain vast amounts of fiber, making them the ideal all-rounders.
Incorporating affordable black beans into the classic slow cooker chili recipe can bulk up your meal in no time and stretch the beef enough to feed large families. Or keep plenty of leftovers, if you'd prefer.
Easy to make, nutritious, and low in saturated fats, this delicious beef, and black bean chili would be even more affordable if you use any of these four cheap cuts of beef that are absolutely perfect for the slow cooker.
For the complete list of ingredients and instructions, take a look over at Better Home & Gardens.
4. Chicken Broccoli Alfredo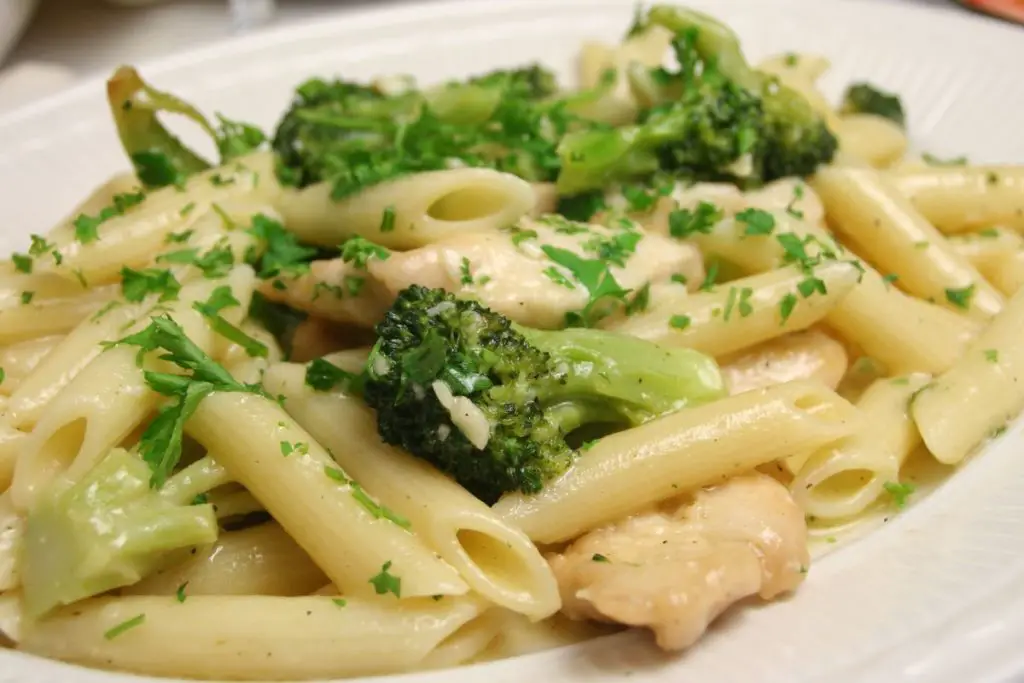 This recipe is a favorite everywhere—after all, who doesn't love chicken, pasta, or alfredo sauce? Granted, broccoli is not everyone's cup of tea, but I guarantee you that after trying this meal, it will be.
Store-bought alfredo sauce may not be the healthiest option for your pasta, but a homemade one is certain to reduce saturated fats a lot. Pairing it with chicken and fresh broccoli—a relatively inexpensive vegetable—can make a delicious and healthy meal that provides fats, proteins, and carbs in one go.
Best part? It's effortless and fast to make!
Follow Laura Fuentes' instructions at her website here.
Read Also: Cost of 6 Month Food Supply for a Family of 4 (Simple Survival Kit).
5. Bean With Bacon Soup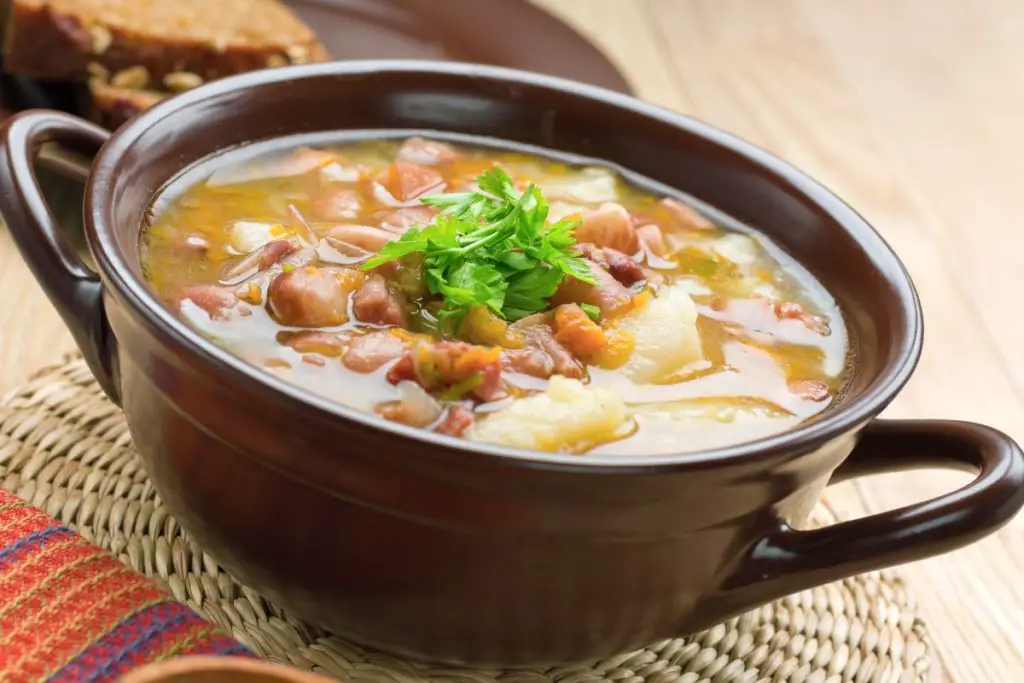 Yes, beans go a long way, and once again, they take the starring role in the list by showcasing their excellent cost-effective qualities and unparalleled versatility—this time in the form of soup.
Hearty, warm, fulfilling, and deliciously inviting—this bean with bacon soup is easy to make in large batches and requires only a few ingredients. I suggest you prepare in the slow cooker again, as it allows the flavors to develop while you invest your time elsewhere.
The basic ingredients? Bacon, beans, tomato paste, onion, garlic, squash, carrots, and chicken stock cube. You can add or take as much as you need, but I guarantee you that following the recipe will keep you coming back for more.
Little House Living has complete directions and pictures included—make sure to look!
6. Healthy Turkey Chili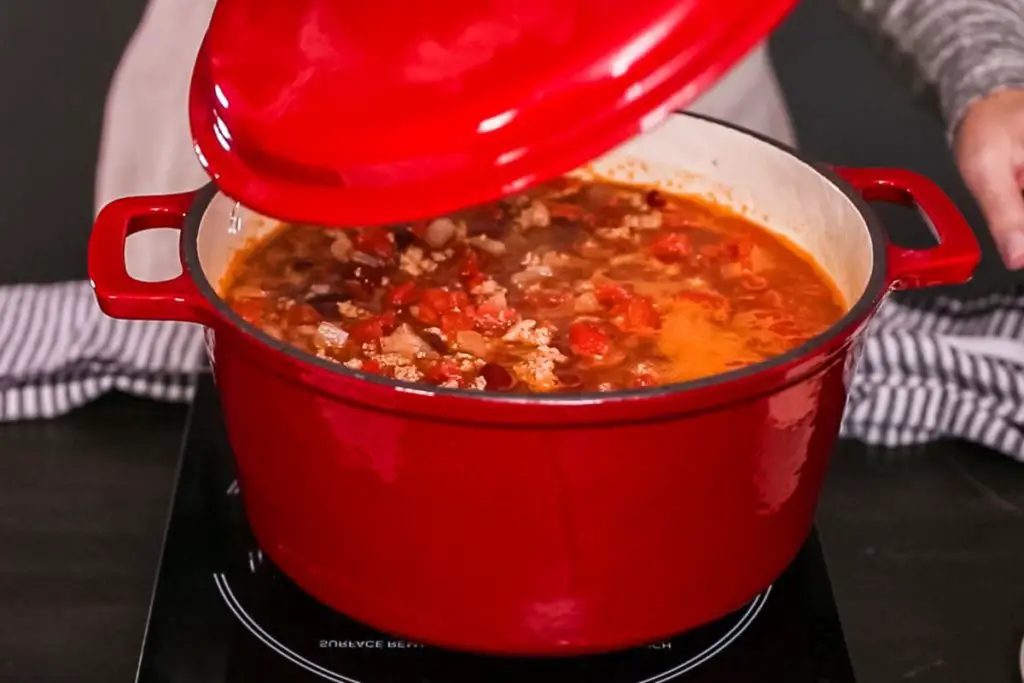 With a prep time of just 20 minutes and a hands-off cooking method, this healthy turkey chili recipe is fulfilling, easy, healthy, delicious, inexpensive, and plentiful—just the whole package.
Thicker and with profound flavors, you can customize the recipe to add your preferred seasonings as you see fit. However, the recipe calls for cumin, pepper, and cayenne powder. A dash of celery, onion, and green pepper provide the greenery, while the expected hot chili beans add that spicy burn.
Check the full instructions over at Taste of Home—it includes ingredients for up to 12 servings!
7. Vegetarian Hoppin' John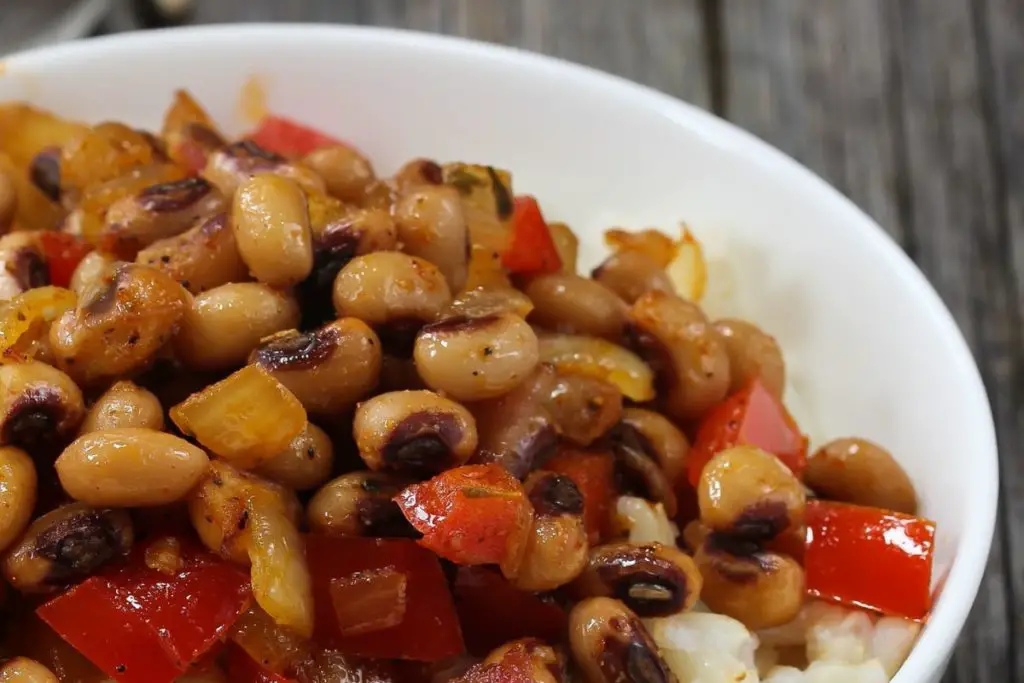 Believe me—you don't need to wait for New Year's Day to indulge in this delicious treat with gusto. And regardless of what your instincts may say, you don't need that piece of bacon either.
This vegetarian version of this Southern comfort food is just as delicious and welcoming as the traditional deal. You only need to replace the conventional bacon or ham with a plethora of colorful yet affordable veggies such as peppers, corn, and tomatoes.
The result is a beautiful, colorful meal that is perfectly balanced, easy to make, and costs an average of $2.5 per serving—check it out in full detail at Better Homes & Gardens!
8. Pesto Ravioli With Spinach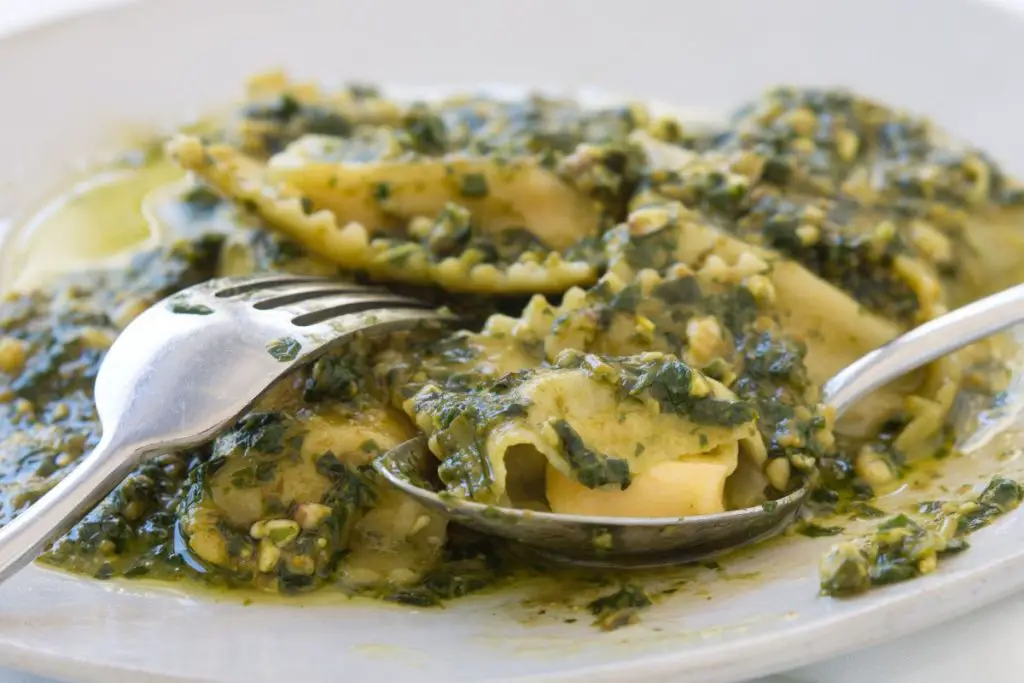 A jar of pesto from the supermarket is relatively cheap, but of course, you can make your own from scratch if you want to.
Indeed, it is herby and bright from the basil and rich from the pine nuts and cheeses, but not all fats are made equal—since most of it comes from nuts and olive oil, it is overwhelmingly monounsaturated, which makes it a good type of fat. Likewise, it is a rich source of antioxidants.
Since it is relatively affordable and delicious, pairing it up with ravioli, spinach, and tomatoes makes for a balanced meal that is also high in carbs and has reasonable protein levels.
Intrigued? Make sure to check the full recipe over at Eating Well—including the nutritional profile and more.
9. White Bean Tuna Salad
Canned tuna varieties such as albacore, light tuna, or skipjack are cheap and reliable protein sources. What's best, they have plenty of health benefits despite the bad reputation—the only downside is higher sodium levels.
This white bean tuna salad provides twice the amount of protein by combining both, creating a fulfilling meal that feels exceptionally fresh. Drizzle with olive oil or your favorite dressing and prepare with your preferred herbs—such as arugula, spinach, or parsley.
For the final touch, pair up with this 4 ingredient crusty air fryer bread.
Take a look at the complete recipe over at Better Homes & Gardens!
10. Easy Sausage Gumbo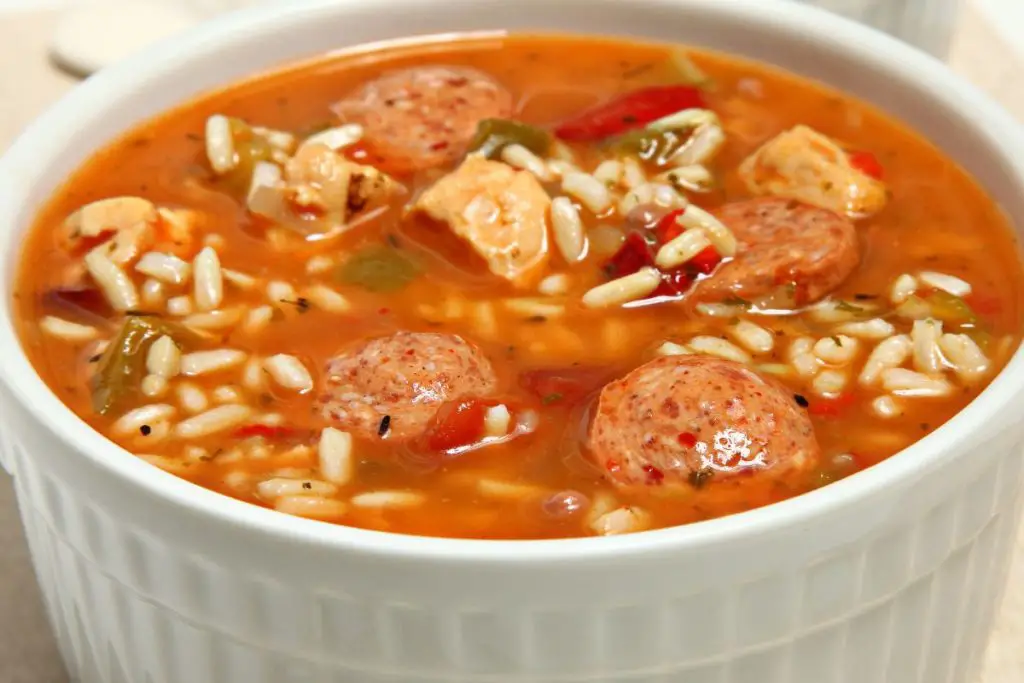 Gumbo is one of those meals that is easy to prepare in big batches and tastes just like heaven after reheating.
Everyone has their particular gumbo recipe, but this version is incredibly cost-effective—it's meant for eight people and costs $12.50 to make, which puts it on an average of $1.5 per serving; talking about meals that go a long way!
The non-negotiable aspects of the recipe are the shredded chicken, smoked sausage, and chicken bouillon cubes. The rest? It can be up to you according to what you prefer.
Make sure to visit Easy Budget Recipes for a full breakdown of ingredients and costs!
Read Also: 11 Best Blogs For Cheap And Healthy Meals For The Whole Family.
In Summary
These simple budget meals are great for a large family because it is cheap and easy to make. The preparation is uncomplicated, and most of these can be cooked in a slow cooker. Additionally, these dishes are hearty, satisfying, perfect meals that go a long way.