Rye bread has a darker color and deeper hearty flavor than most other loaves of bread. It is very nutritious and naturally high in fiber.
There are a lot of misconceptions about what you can and cannot do with rye bread. Some people believe that you cannot toast rye bread without making it hard and flavorless, but this is not true. In fact, toasting rye bread is a great way to add flavor and delicious crispy texture to the bread.
There are multiple ways to toast rye bread. Place the slices of rye bread on a wire rack or baking sheet and toast in the oven at 350°F (176°C) for 5-7 minutes. You can also use a toaster oven or stovetop skillet to toast the bread.
Here are 7 nutritious and delicious toasted rye bread sandwich ideas that are perfect for breakfast, brunch, or lunch:
1. Toasted Rye Bread Topped With Scrambled Eggs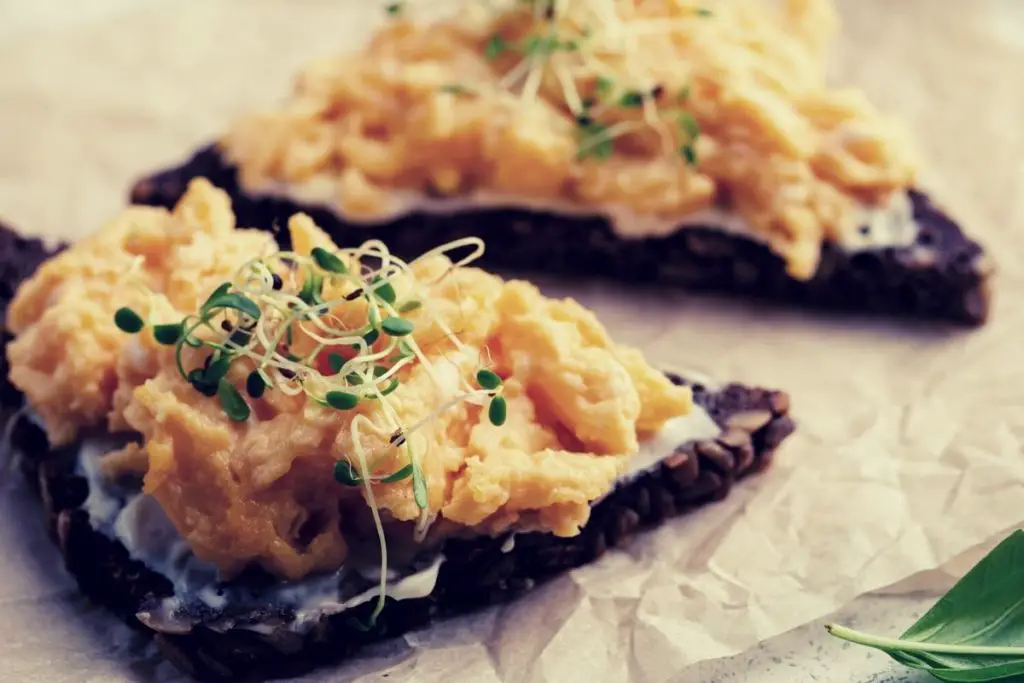 An all-time favorite breakfast option such as toast with moist and fluffy scrambled eggs can turn into a wholesome experience with the right ingredients, the right recipe, and your favorite rye bread.
For an out-of-the-ordinary breakfast or brunch experience, include just a tad of cream cheese and some edible microgreens, sprouts, or shoots for garnish. The varied textures and flavor profiles match the earthy and distinctive taste of rye. 
Ingredients:
Rye bread.
3 eggs.
Cream cheese for spreading.
Tablespoon of butter or clarified butter.
A tablespoon of heavy cream.
Sprouts, or shoots for garnish.
Salt and pepper to taste. 
Instructions: 
To make this breakfast sandwich absolutely mouth-watering, you need to make sure that your scrambled eggs are moist and fluffy. In the video below, I will show you how to make perfect scrambled eggs that will go perfectly on rye toast.
Toast the slices of rye bread in the toaster or in the oven.
Whisk the eggs and heavy cream in a bowl.
Place the pan over medium heat and melt the butter.
Add the egg mixture to the hot pan and start folding with a rubber spatula.
Remove from heat while the eggs are still soft and slightly moist.
Spread a layer of cream cheese on the toast and place the scrambled eggs on top of the toasted rye bread. 
Season to taste with salt and pepper.
Garnish with sprouts or other greens that you like.
2. Avocado Poached Egg On Rye Toast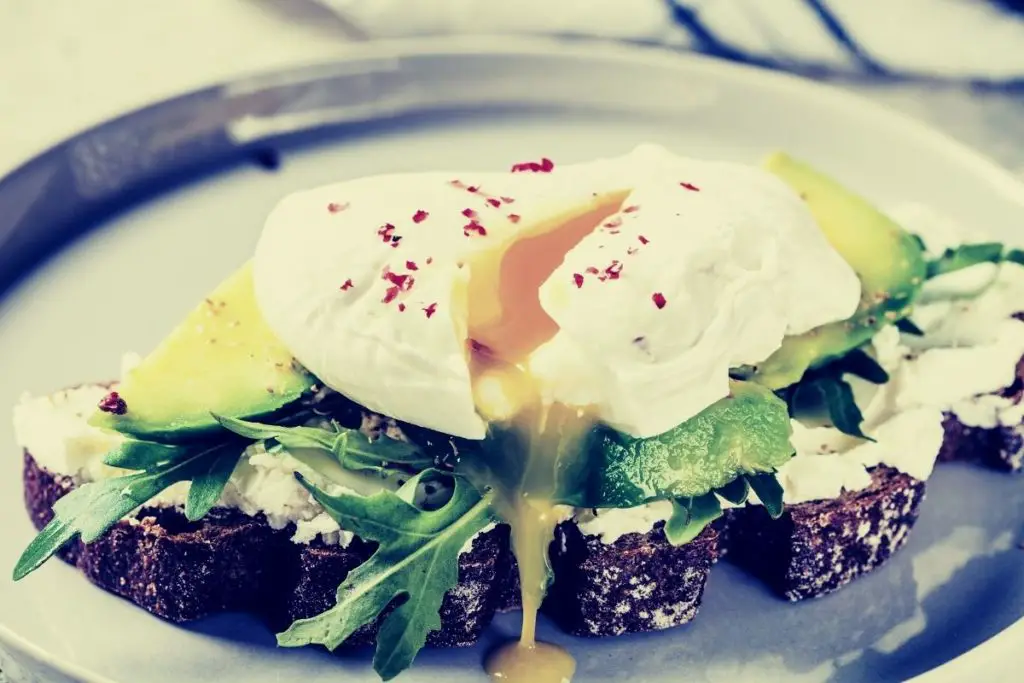 It's not a secret that sourdough bread has enjoyed a resurgence in popularity, not in small part to its countless health benefits. Rye sourdough, in particular, is an ideal choice, as it packs a punch when it comes to nutrition compared to wheat.
Its distinctive and potent taste might make it hard to pair up. Still, this recipe proves that the complex flavor profile of rye sourdough toast might just make it your next favorite brunch option.
And there is no better topping than a perfectly poached egg.
Ingredients:
2 eggs. 
Rye sourdough bread.
1/2 avocado.
White vinegar. 
Seasoning of choice. 
A handful of rocket leaves or other leafy greens of choice.
Instructions:
In a small saucepan, pour water, salt, and white vinegar. Bring the water to a gentle simmer, ensuring it does not boil or create large bubbles. 
Crack your egg in a cup and swirl the simmering water to create a whirlpool. Immediately after, lower the egg in the middle of the whirlwind. 
Cook the egg for a few minutes until it rises to the top.
Remove from the water and place on kitchen paper to remove excess moisture. 
Add the avocado on top of the toasted rye bread.
Add the leafy greens of choice. 
Carefully place the poached egg on top, and add your seasoning of choice.
3. Avocado Bacon Egg On Toasted Rye Bread
As you may have realized by now, rye and avocado are a match made in breakfast heaven. However, those perfectly cut slices are not your only option for a delicious brunch with these two savory ingredients. 
In fact, smashed avocado might be the best way to get maximum flavor and minimum worries. How so? It allows three different combinations of these two ingredients—with a fried egg, tomatoes, or bacon.
Ingredients: 
Rye bread. 
1 ripe avocado. 
3 eggs.
2 tomato. 
3 slices of cooked bacon. 
Salt and pepper to taste.
Instructions: 
Toast the rye bread slices and set them aside.
Cut the avocado in half, remove the flesh, and mash it into a paste texture.
Spread the smashed avocado on top of the rye toasts.
Spray a nonstick skillet with cooking spray, then fry the eggs sunny side up or over easy.
Remove eggs and place on top of avocado toast. Season to taste. 
Slice the tomatoes. Place on top of the toast.
Season to taste.
Cook two slices of bacon to taste. Place on top of the rye bread slice. 
4. Rye Bread French Toast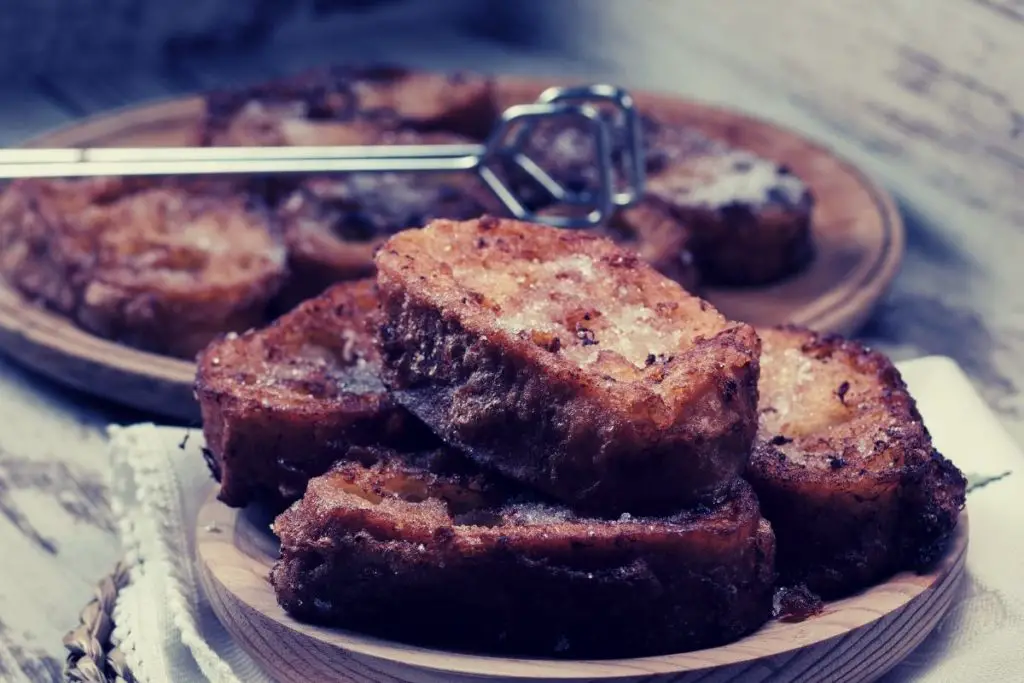 This recipe is tailor-made for rye bread, particularly sourdough. Why? It's simple—the dense and sturdy texture of rye sourdough can withstand the soaking process, and the flavor combination naturally enhances the slightly nutty taste of rye.
Ingredients:
Rye sourdough bread.
3 eggs.
1 tablespoon coconut sugar.
1 teaspoon vanilla extract.
Splash of almond milk.
1 banana.
Maple syrup to taste.
Butter for frying.
Instructions: 
Whisk together eggs, coconut sugar, vanilla, and almond milk in a bowl. Soak the slices of sourdough in the mixture
Heat the butter over medium heat, then place the soaked slices on the pan. Fry each side until golden brown.
Place the banana slices on top, then drizzle with maple syrup.
Read Also: How To Make French Toast Without Bread? (9 Finger-Licking No-Bread Recipes).
5. Toasted Eggy Rye Bread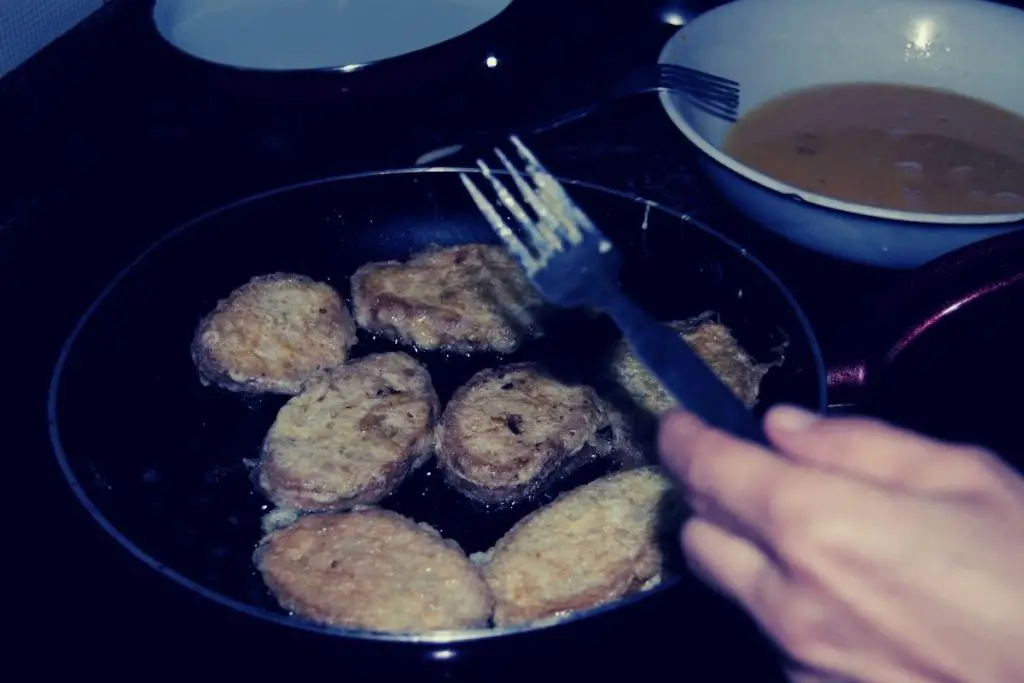 Simplicity is often the key to perfection, and that's certainly true with this delicious eggy rye bread recipe. 
It's beyond tasty—you can even call it eggcellent—and ridiculously easy to make. However, the best part is the unlimited possibilities you have. This eggy bread is easy to mix and match with other flavors, including ketchup, fried mushrooms, ham, fruits, cheese, salmon, and many others. 
Ingredients:
Rye bread, preferably sourdough. 
Eggs for soaking.
Seasoning to taste.
A side dish of your choice.
Instructions:
Heat the oil or butter on a pan over medium heat. 
Crack the eggs in a bowl and mix with your preferred seasoning. 
Soak the bread in the egg mixture for half a minute on each side. 
Fry over medium heat until golden brown. 
Serve with a side of your choice.
6. Toasted Rye Garlic Bread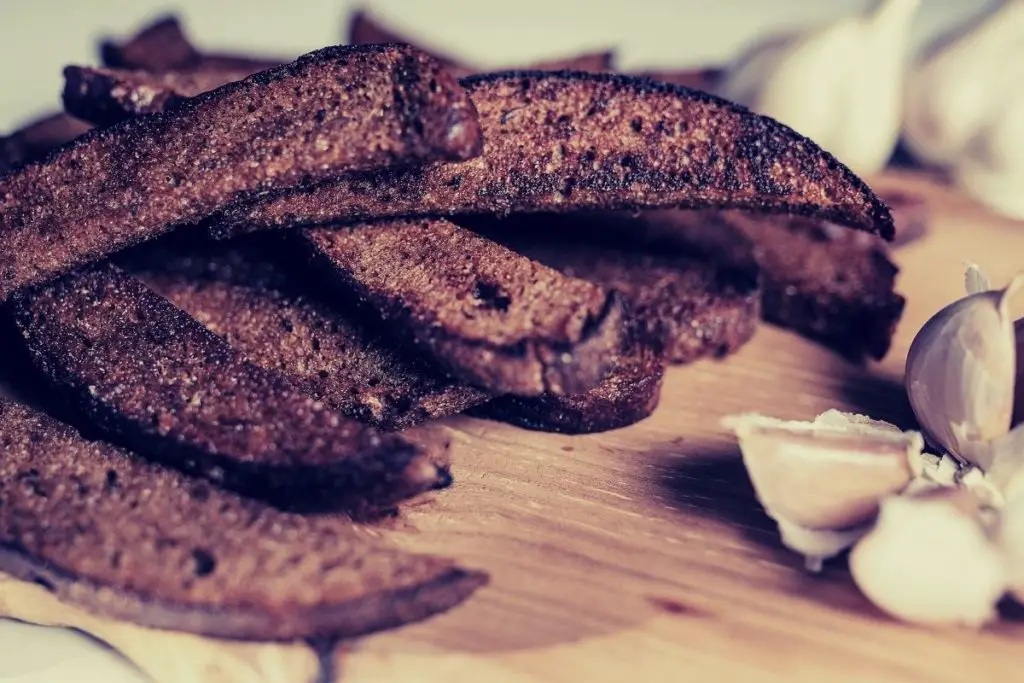 Estonian and Latvian cuisine brings a delicious brunch or snack option for rye bread enthusiasts— Küüslaugu Leivad or Ķiploku Grauzdiņi. But don't worry, you don't have to spell it to eat it, and the recipe is something you're surely very acquainted with: garlic bread.
The intense flavor of rye bread perfectly matches the pungent raw garlic. It creates a strong savory combination that many easter Europeans swear by—and so will you!
Ingredients:
Rye bread. 
Butter or oil for frying.
Garlic, to taste. 
Instructions: 
Cut rye bread into slices approximately an inch wide (2-3 cm).
Add a generous amount of oil to a frying pan on medium-high heat. 
Fry the bread slices on both sides for 2-3 minutes till crispy and brown.
Remove bread from heat and absorb excess oil with paper towels. 
While the bread is warm and crispy, rub a generous amount of cut garlic cloves on both sides of the bread. 
And don't worry about the garlic smell. Here Are 11 Smell Busters Of How To Get Rid Of Garlic Breath.
7. Banana And Almond Butter 'Bruschetta'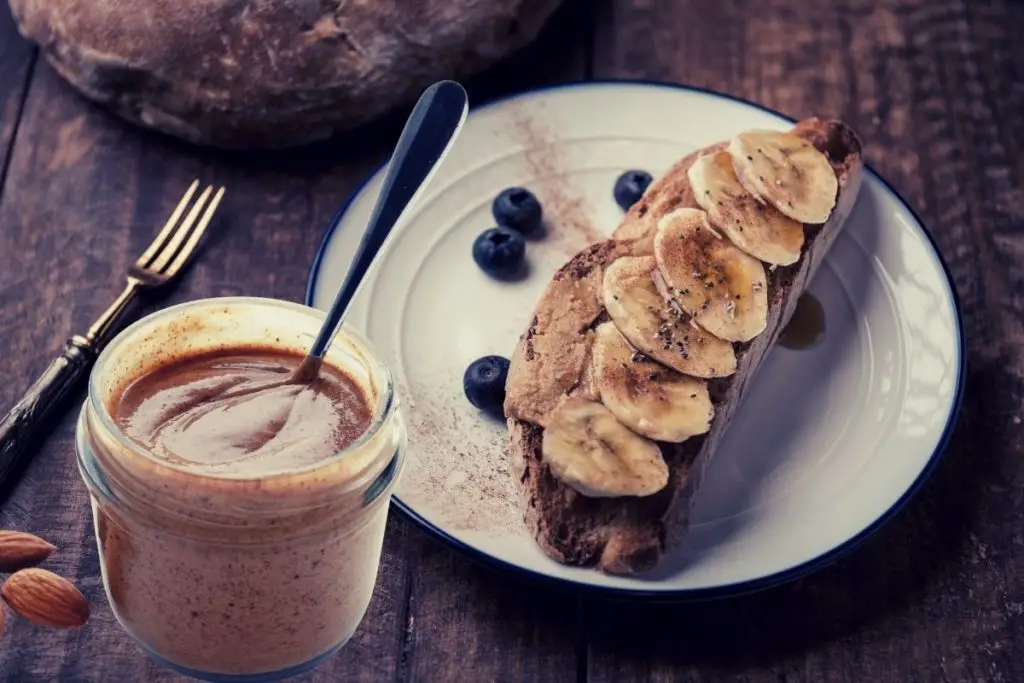 Anyone familiar with rye bread knows its taste is best described as earthy and slightly nutty. Thus, why not pair it up with actual nutty flavors? 
Enter almond butter bruschetta with rye bread—nutty, flavorful, and with a hint of sweetness that is simply irresistible. Plus, it's easy to make!
If almond butter is too sweet for you, tahini is a very nutritious and healthy alternative.
Ingredients:
Rye bread slices. 
1 tablespoon of almond butter per slice (or tahini).
Bananas, blueberries, raspberries, or figs, (optional).
Ground cinnamon to taste.
Instructions: 
Toast the slices of rye bread till firm and crispy on the surface. 
As soon as the bread is crispy spread the almond butter on top of each toasted slice.
Top with preferred fruit. Blueberries, bananas, raspberries, or figs are excellent choices.
In Conclusion
Rye bread has a delicious earthy flavor. Similar to other whole-grain bread, it is an excellent source of minerals and vitamins, including potassium, magnesium, antioxidants, and phosphorus.
In addition, toasted rye bread is a versatile and delicious food that can be enjoyed for breakfast, brunch, or lunch. These seven recipes are just a taste of what you can make with rye bread. I hope you will give them a try!
Read Also: How To Season Avocado Toast (Best Herbs & Spices).