Rhubarb season is in full swing, and you have pots of these tangy stalks simmering on the stovetop. But what can you do with all that stewed rhubarb?
Here are 16 clever and delicious ways to use stewed rhubarb.
How To Make Stewed Rhubarb?
First, master the basics. Before you can use stewed rhubarb in a fun and delicious way, you need to master the basics. Luckily, making stewed rhubarb is a simple and straightforward process, requiring only 3 ingredients and a few steps, so the basics aren't hard to master.
Here Is How To Make Stewed Rhubarb (simple, delicious, and easily customized).
Ingredients:
Fresh Rhubarb (or frozen rhubarb)
Sugar or (honey, Agave syrup, Maple syrup)
Water
Optional: lemon zest, lemon juice, and cinnamon sticks
Instructions:
Treat your rhubarb as you would celery. Remove the leaves as they contain oxalic acid, which is not good for you, and also remove the white bit at the bottom of the stalks. If you purchase your rhubarb from the supermarket then it has already been prepped for you and you only get the edible part.
Both red and green stalks work well for this recipe.
Wash the stalks and slice into small chunks, about ¼ inch, and place in a saucepan or a pot.
Add sugar, water, and seasonings of your choice (I like lemon zest, lemon juice, and cinnamon).
Bring to it to boil, then turn the heat to low-medium and leave to simmer for 15 minutes.
While simmering, occasionally stir until the rhubarb has turned into a thick sauce.
Taste it and see if it is not too tart, if it is then add a bit more sugar. You may still have some chunks, and its consistency will be similar to that of a strawberry sauce. If the junks are hard, simmer for another 5 minutes.
Did You Know? Rhubarb picked on early spring has tender peels, but towards the end of the season, the skin becomes thick and tough to eat, requiring peeling and longer cooking time before becoming soft.
Stewed rhubarb can be used for many things. It tastes delicious on its own, but it can be served over dinner rolls, poured over ice cream, pancakes, eaten with oatmeal or granola, or dumped over angel food cake as a substitute for strawberry sauce.
This sweet and tangy stew has so many uses, below are some clever ways to use stewed rhubarb, each tastier than the last. 
1. Make Rhubarb And Ginger Crumble
The classically British flavors of rhubarb and ginger crumble, are perfect for a low-fat, no-guilt, sweet tea-time treat.
The sweet crumble, with its ginger flavor undertones, balances the sourness of the rhubarb.
The best thing about this recipe is that you won't have to toil away for hours in the kitchen looking to use up your stewed rhubarb- the maximum time you need to make the crumble is 45 minutes. Some cooling, some garnish, and some low-fat whipped cream, and you have a low-calorie dessert ready to go.
For all the ingredients and step-by-step instructions to guide you through the process, go to thehomecookskitchen.com.
TIP: Any crumble topping is improved by a healthy, generous garnish of chopped or roasted nuts like pecans or almonds. This not only goes with the ginger-rhubarb flavors but adds great texture to the crumble.
2. Bake Rhubarb Marbled Madeira Cake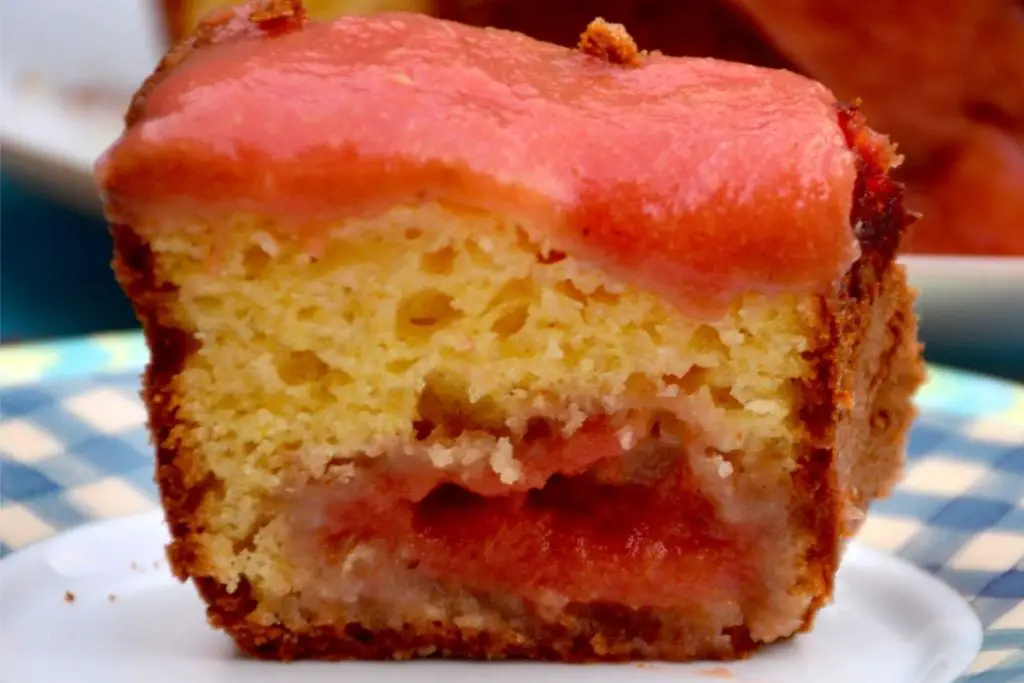 Tired of the same old lemon or chocolate and vanilla marbled cakes? The perfect expansion of your palate can be achieved via the subtle tartness of the rhubarb with the glorious texture of Madeira cakes.
Less spongy and denser, this dessert combines the stewed rhubarb with the refined, firm marbled Madeira. It's the perfect alternative to the classical but repetitive flavor of tea cakes or marbled cakes and is sure to impress during Christmas as well.
For the full recipe, go to Priceless-Magazines.
3. Try Stewed Rhubarb Chia Parfait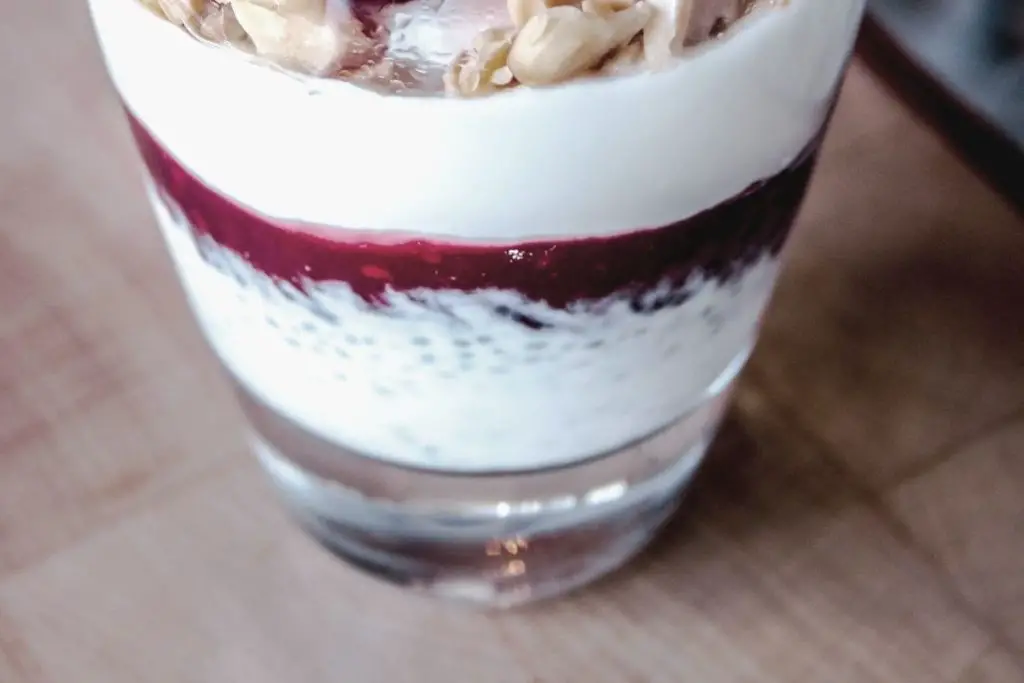 Parfaits are the ultimate can-never-say-no-to dessert, but a hint of tangy rhubarb in them makes them even better.
Use graham crackers (or any biscuit of your choice), layer your stewed rhubarb jam or emulsion with low-fat Greek yogurt, and you got a yummy snack!
The addition of fibrous, micronutrient-rich chia seeds makes these parfaits a favorite of those folk who are looking for some extra antioxidants and protein.
For the best guide to making these, refer to this recipe.
TIP: Adding chia seeds to the stewed rhubarb emulsion increases their quantity and makes them more filling- thus inducing you to eat less dessert and get some nutrients into your body without affecting the taste.
4. Mix In Some Oats With Vanilla And Chia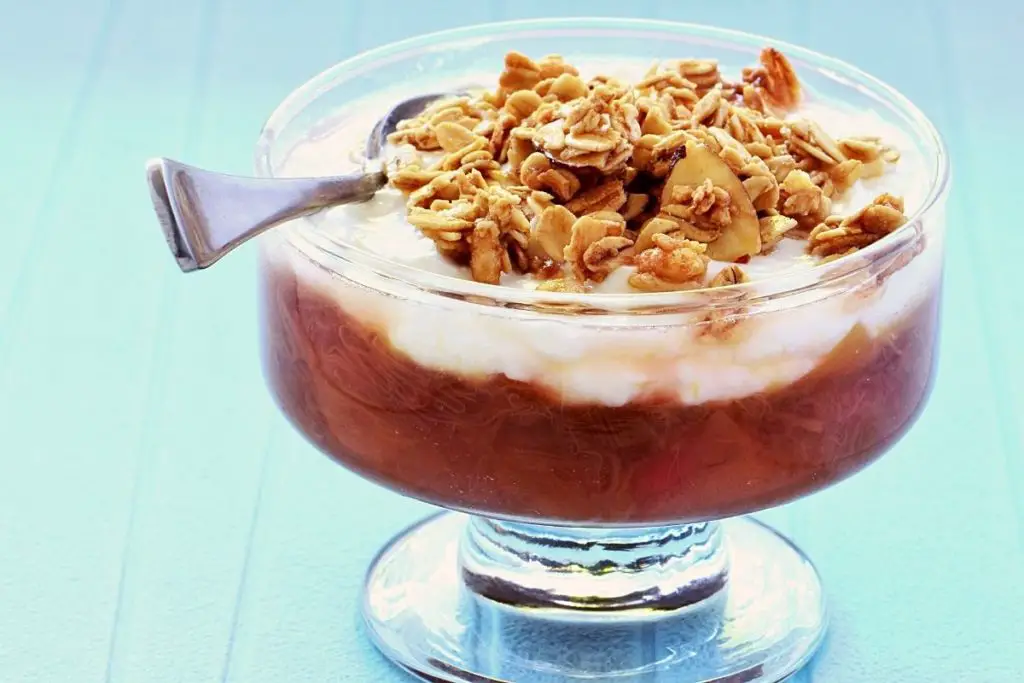 Think oats are bland and boring? This is the perfect opportunity to put your stewed rhubarb to good use. Rhubarb doesn't just brighten this dull breakfast; it makes generally bland foods loads better by adding an enjoyable tangy flavor profile.
A Delicious, yet most-balanced breakfast is achieved by mixing a good portion of warm oatmeal with the stewed rhubarb.
For the complete recipe, click here.
TIP: To make the overnight oats, layer your favorite yogurt, fruit, and the rhubarb stew emulsion with the oats and let it rest overnight. Sprinkle your chia seeds on top after taking the oats out the following day- avoid including it as part of the layers because it becomes slimy.
5. Bake A Rhubarb Pie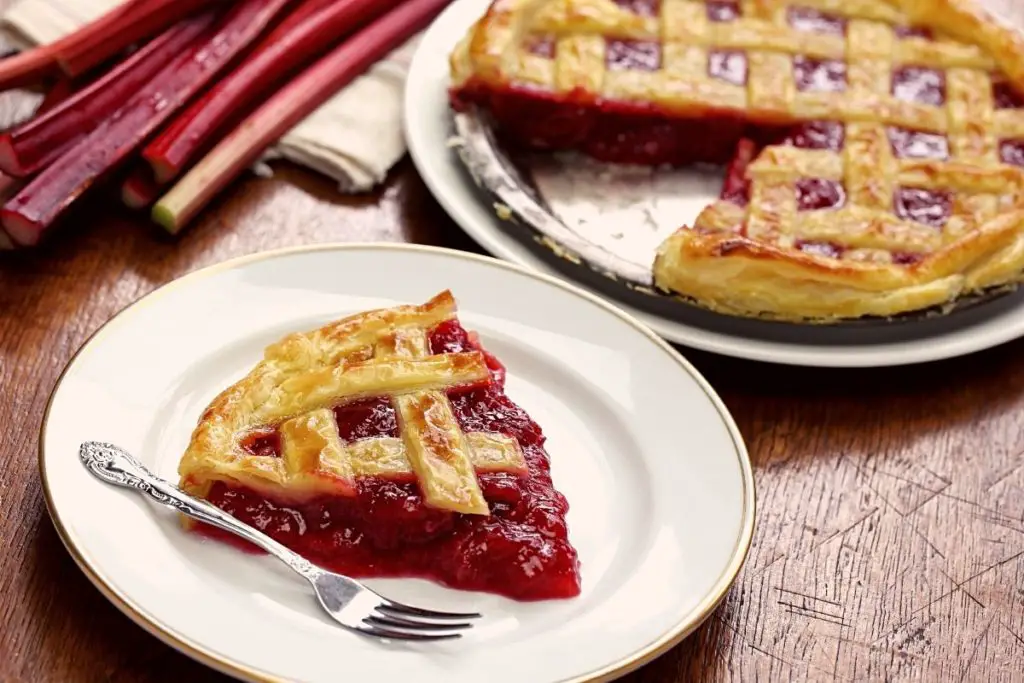 Pies are incredible with the correct tart layering them, and freshly stewed rhubarb adds a depth of sourness and tang to the generally sweet crust.
This mouth-watering pie is a delicious game-changer and a perfect way to use up all that stewed rhubarb.
To make the pie as perfect as it can be, check out the full recipe at irishtimes.com.
6. Make Rhubarb And Greek Yogurt Popsicles
These are the perfect healthy snack to slurp away at during particularly hot summers. Not only will the tartness of the rhubarb and the silkiness of the yogurt make a fantastic snack, but you will also save a ton of money that you would likely have spent buying popsicles that are terribly loaded with sugar.
For the full recipe in all its glory, click here.
TIP: Facing trouble removing the popsicle mold from the freezer and loosening the popsicles? Dip the bottom half of the mold in warm water and gently ease the popsicle out.
7. Blend A Rhubarb Strawberry Smoothie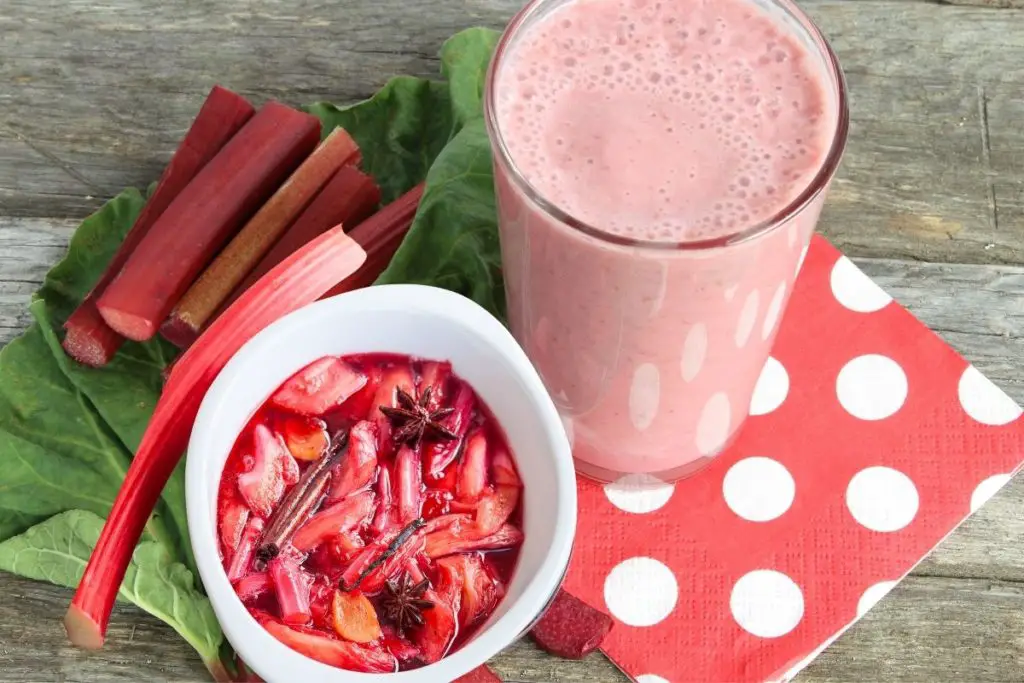 The typical fruit put in smoothies is delicious, but stewed rhubarb smoothies are even better, especially with ripe strawberries in the mixture.
The health enthusiast will be happy to note that just this smoothie alone fulfills 75% of the daily recommended vitamin C intake.
Use the recipe here to make it in the correct proportions and obtain the best taste.
Read Also: 7 Broccoli Smoothies For Weight Loss That Actually Work
8. Make Rhubarb Jam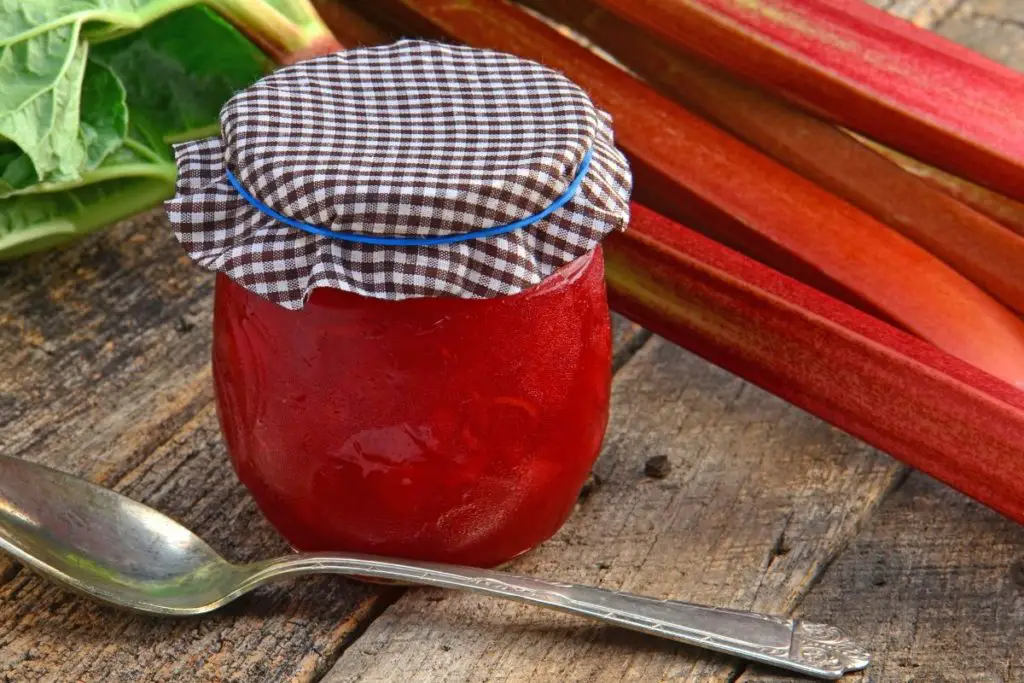 With variations like rhubarb vanilla jam, strawberry jam, and even rhubarb ginger jam, the best use of your stewed rhubarb is through emulsifying it into jam. This nutritious jam is wonderful with fresh artisan bread, bagels, and pastries.
To make it, follow the recipe here.
Tip: Instead of using thickeners, which contain chemicals that may taint your fresh jam, just let the rhubarb boil down into the consistency you want and refrigerate it.
9. Cook Some Rhubarb Applesauce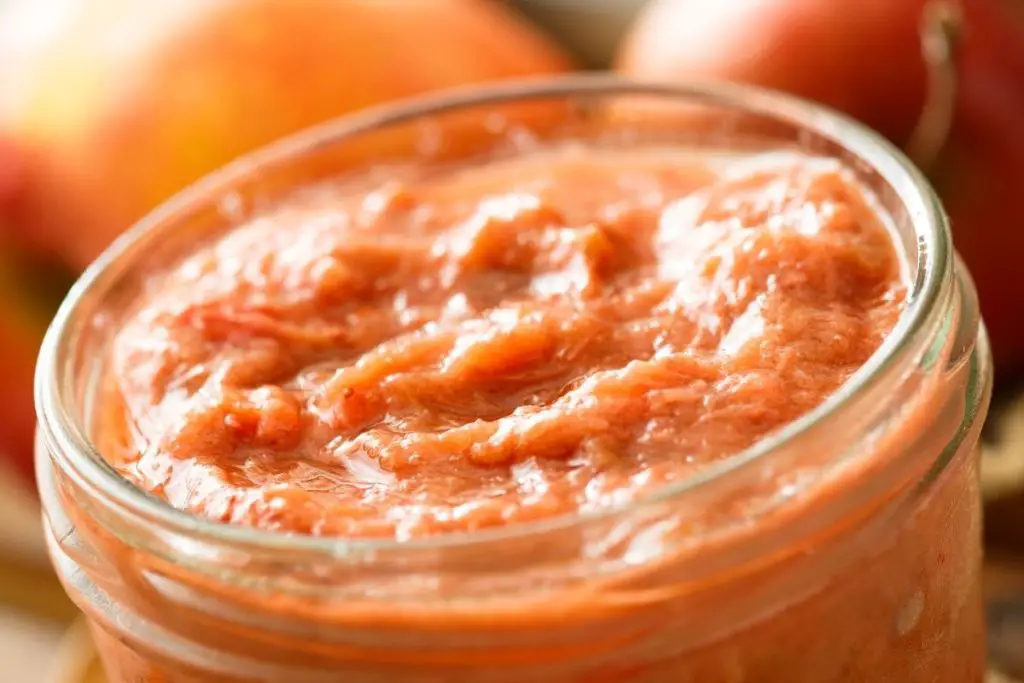 If you like applesauce, you'll love rhubarb applesauce. Everyone in your family will love it, too, even your kids. Rhubarb applesauce is a perfect dish to keep on hand for a quick breakfast, healthy dessert, school lunch, or an after-school snack. 
The best thing about rhubarb applesauce is that it's just as easy to make as stewed rhubarb. The process is basically the same – you just add apples.
Two Peas & Their Pod have a simple recipe to follow that calls for Granny Smith apples, but you can use a different apple if you'd like.
For rhubarb applesauce, you definitely want to use spices. There's nothing more comforting than applesauce with a few cinnamon sticks and a touch of nutmeg, so make sure you add those to your rhubarb applesauce. Add lemon zest, too, to brighten the flavor. 
Because rhubarb applesauce is so similar to stewed rhubarb, many of the uses are the same. You can easily add this to oatmeal or granola, pour it over ice cream or yogurt, or in any other recipe in this list.
You can also use it as a base for a smoothie bowl and add other fresh fruit chunks to the mix. Get creative!
10. Make A Stewed Rhubarb Cake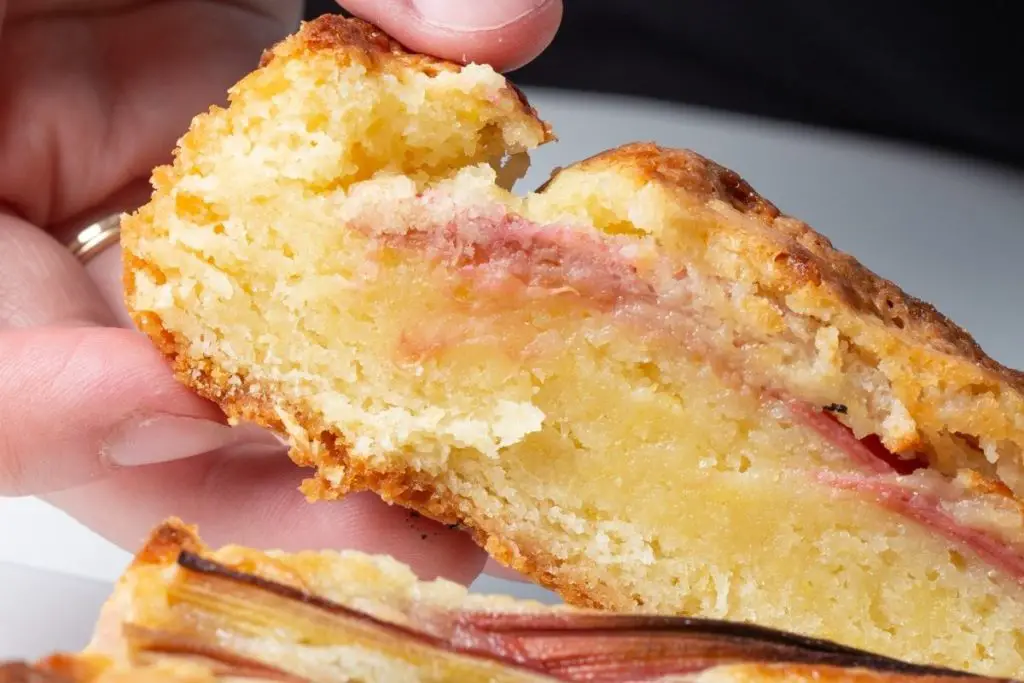 Fruity cake lovers, listen up: this stewed rhubarb cake is a great alternative to other fruity cakes like strawberry, lemon, or cherry. It doesn't just use the flavor of rhubarb like most fruity cakes – it uses the actual stewed rhubarb.
This custard cake marries delicious textures and gives you a sweet and tangy dessert without being too rich. 
To begin this recipe from The Kitchen McCabe, stew your rhubarb as you would normally (recipe above). The rest of the recipe entails beating egg whites, folding in batter, and scattering the stewed rhubarb across the top before baking.
If you're deft with a whisk, the result will be a scrumptious cake that rivals any other cake you've ever made.
Bring it to a potluck, serve it to friends after a dinner party, make it as a treat for your kids, or keep it all to yourself. However you choose to consume it, and whether or not you choose to share, you'll be happy you made this cake. 
11. Mix It Into Your Pudding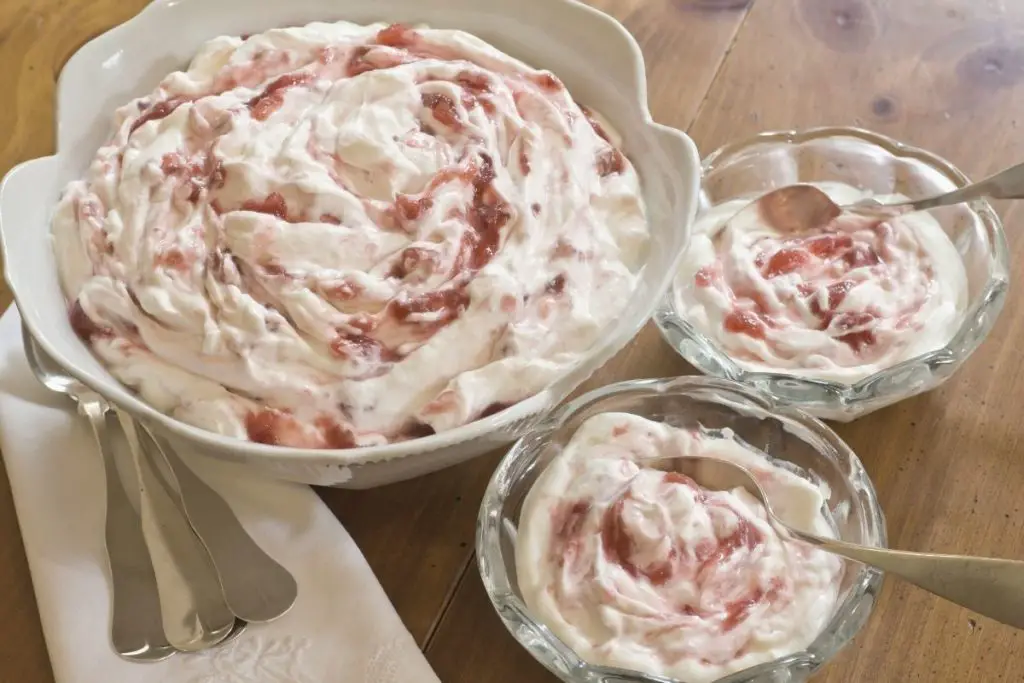 If you want a super simple way to use your stewed rhubarb, but are looking for something a little different than just the basic recipe, try mixing it with your pudding or custard.
The true beauty here is that you don't even need to follow a recipe – you just mix it into whatever pudding or custard you whipped up. It's so easy but so good and will make your pudding a little more fun. 
12. Pour It Over Duck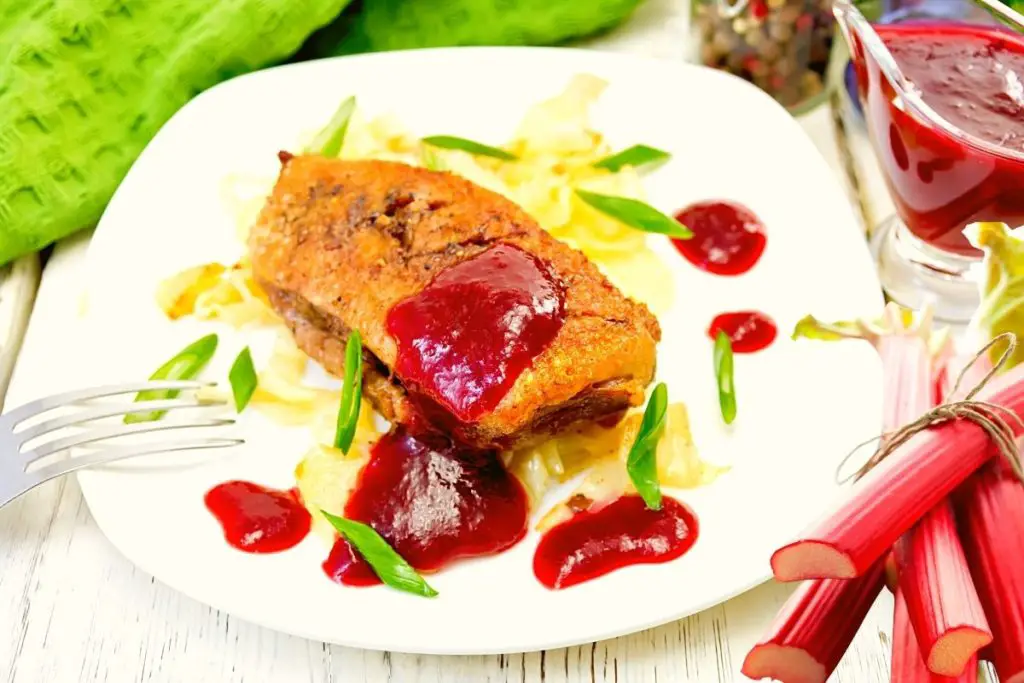 Given its taste and regular uses, it's easy to assume stewed rhubarb is used exclusively in desserts and sweet recipes. Still, it's a super versatile ingredient, making it perfect for a savory dish, too. For your next meal, try it with duck. This will be a welcomed break from your typical meal rotation. 
While you could pour stewed rhubarb over a roasted duck for a simple and tasty meal, I suggest making this recipe from Great British Chefs, which features a duck breast, stewed rhubarb puree, and walnut granola. It's so divine; your taste buds will be begging for more. 
As I said, this recipe features a puree, so you'll be taking your stewed rhubarb one step further and pulsing it until fine. This recipe also calls for star anise and vanilla while stewing your rhubarb, adding a new dimension of flavor. 
Along with the stewed rhubarb puree, you'll be making walnut granola. The name is a little misleading, as you won't be using actual walnuts, just walnut oil. The granola is elevated with deep-fried garlic crisp crumbles, making you feel like a gourmet chef when you're finished. 
13. Enjoy Stewed Rhubarb With Some Fish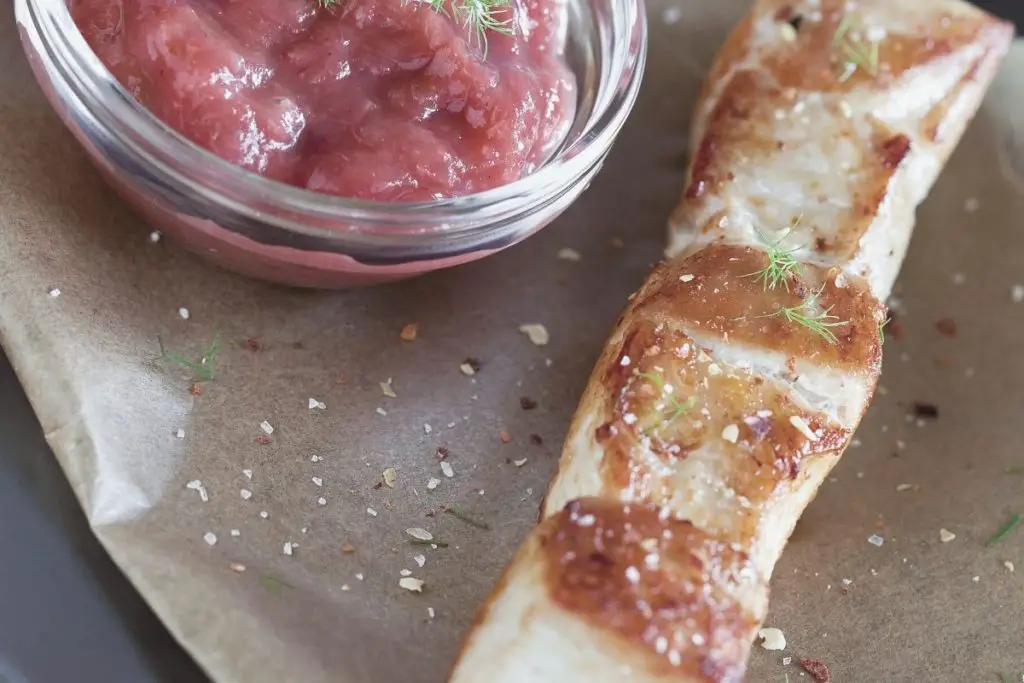 If poultry isn't your thing, no worries. Stewed rhubarb will taste just as good over fish. Salmon, halibut, and swordfish are all excellent options for a filet, but Taste of Home has a simple recipe for cod that you're sure to love. 
In this recipe, the stewed rhubarb is tweaked to include red onion, Dijon mustard, and a variety of spices.
Stew your rhubarb as per usual, then add the other ingredients at the end. This will make for a spicier bite, but it'll be balanced well by the cod. 
14. Have A Chilled Rhubarb Soup (Not Savory)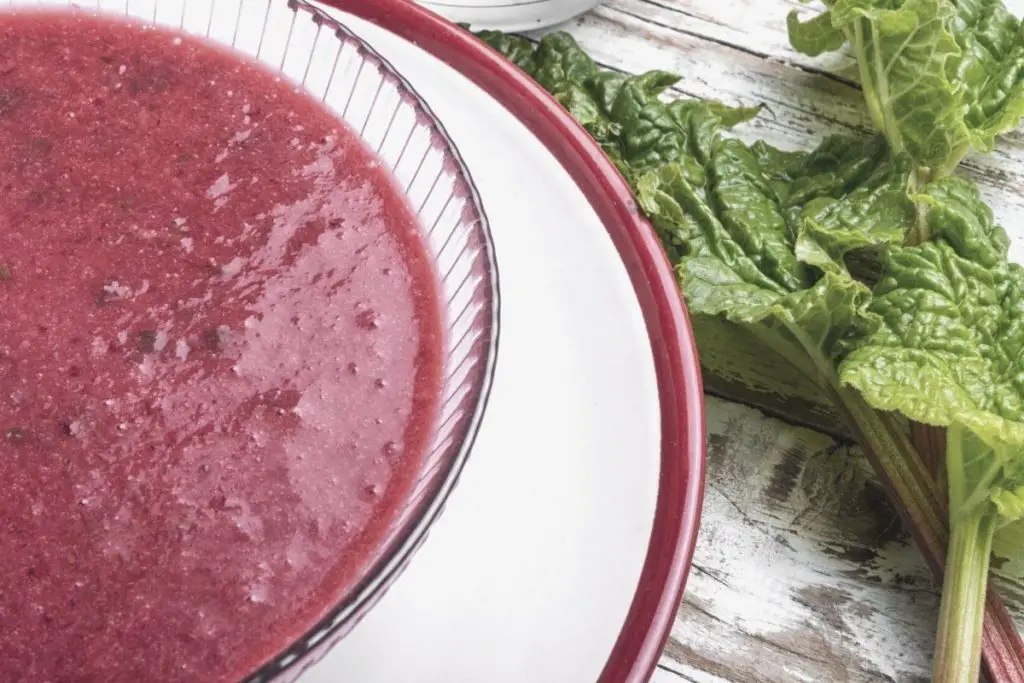 Once you learn you can puree your stewed rhubarb, you access an entirely new world of ways to use this delicious stalk.
Eating Well offers a recipe for Chilled Strawberry-Rhubarb Soup, and my mouth is watering just thinking about it. 
This recipe is simple. Blend your stewed rhubarb with strawberries and some spices. Seriously, that's basically all you have to do for this beautiful soup.
Enjoy it with a salad, a sandwich, or even an English muffin. 
15. Stew Some Berries With Your Rhubarb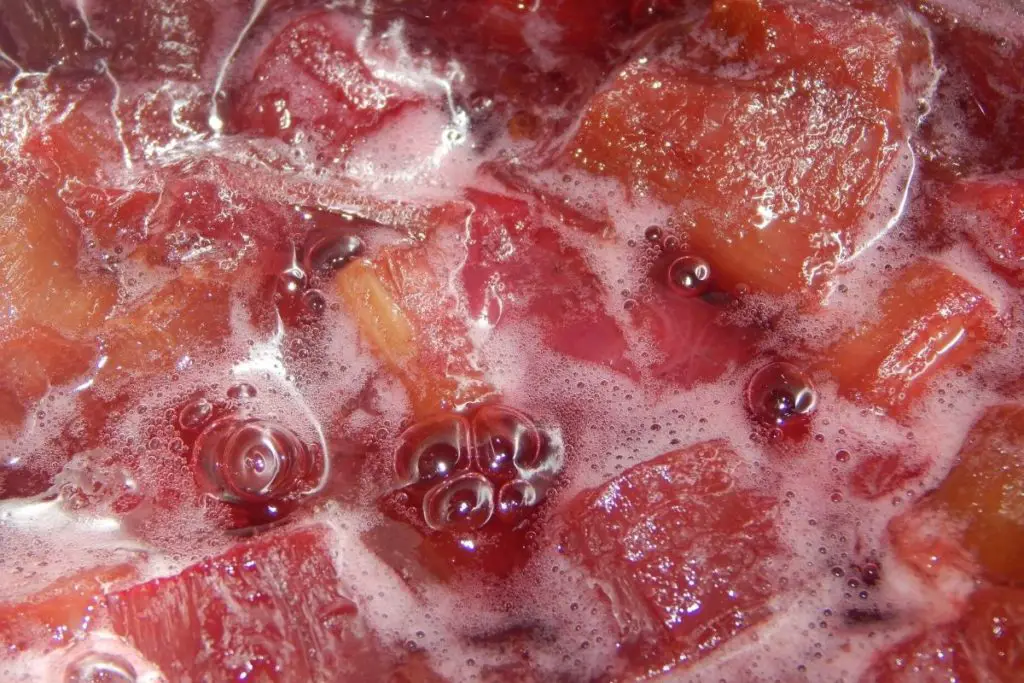 If you want to upgrade the plain stewed rhubarb recipe, add some berries. Like the rhubarb applesauce, this recipe is similar to the basic stewed rhubarb recipe but with an added element, making it a welcome variation.
You can probably come up with a recipe on your own, but Ina Garten has one available that I love. 
Ina's recipe is a little different than typical stewed rhubarb recipes, as she brings her water to a boil then simmers, rather than keeping it on low-medium heat the entire time. She also uses salt along with sugar and uses bigger chunks than normal – ¾ inch instead of ¼ inch. 
The trick to this recipe is to wait until the rhubarb is completely stewed to add the berries and other juices. They'll cook down a bit from the residual heat, but leaving most of their texture intact will nicely complement the soft rhubarb. 
Like the basic stewed rhubarb and rhubarb applesauce, this recipe will taste fantastic over lots of things – oatmeal or granola, yogurt, ice cream, cake, cheesecake. You'll even love it with a dollop of any of these whipped cream alternatives, just as the recipe suggests. Or just eat it plain!
16. Use It In Salsa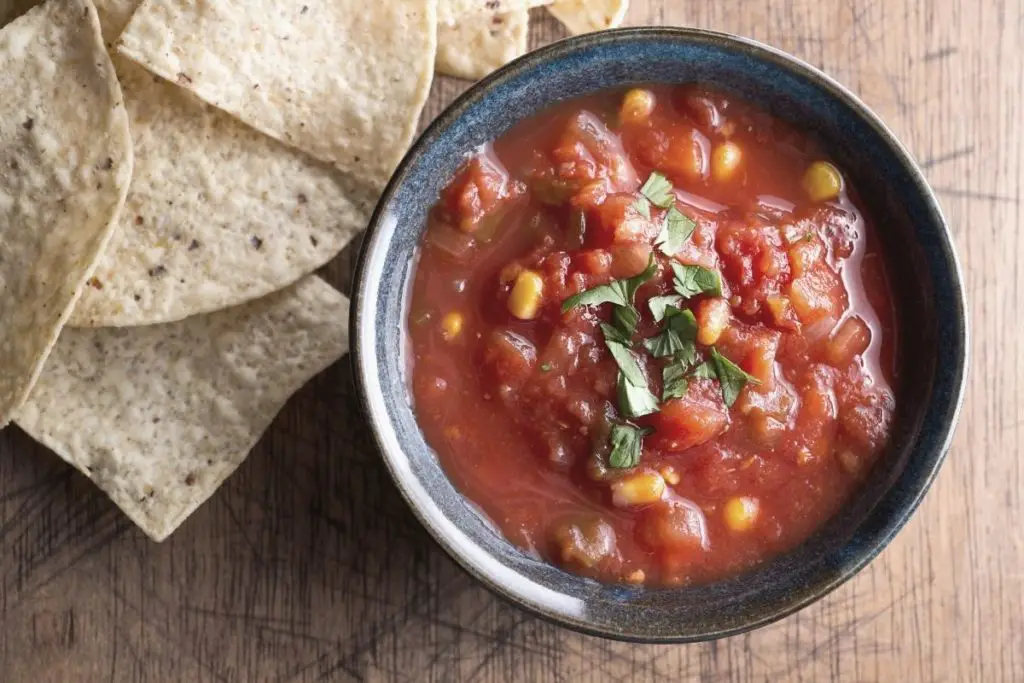 Use the excess stewed rhubarb to make some salsa. It's easy to find salsa recipes for raw rhubarb but much more challenging for stewed rhubarb. But no worries, I've got suggestions. 
There are a few different ways to incorporate stewed rhubarb into a salsa. Stew some other vegetables along with the rhubarb, or separately, and puree. Tomatoes, onions, jalapenos, mangos, strawberries, and pineapples are all perfect options, depending on whether you're after a sweet or savory salsa. 
If you'd rather not puree, strain your stewed rhubarb to separate it from the juice, chill it, and add it to either combination above of fruits and vegetables.
Season either with salt, pepper, minced garlic, lime juice, chili pepper, and cilantro. If you also made a rhubarb margarita, you've got the perfect appetizer for a taco night. 
Can I Use Stewed Rhubarb Instead Of Fresh In Baking Recipes? 
There are endless ways to use rhubarb, whether stewed, fresh, or frozen. I gave you 16 ways to use it, but there are so many more recipes available to make and enjoy. 
Stewed rhubarb can be used in place of fresh rhubarb, but it depends entirely on what you're making. The texture of the two is completely different, so read the recipe thoroughly and decide whether the dish will turn out if you use stewed rhubarb when it calls for fresh. There are certain times when you should follow the recipe exactly as written, though.
In baking, follow the recipe. Fresh rhubarb is crunchy, similar to celery; cooking it will alter the texture, like when it's stewed. If a recipe calls for fresh rhubarb and it later is cooked somehow, the rhubarb will soften, so it's not necessary to use stewed. In most other cases, it's up to you.
How Long Can You Keep Cooked Rhubarb In The Fridge?
If you stewed a large portion of your rhubarb, you're probably curious as to how to store it. You definitely need to keep it chilled, whether in the refrigerator or freezer; otherwise, you run the risk of it going bad. Keep it in an airtight glass container, like a mason jar or a Pyrex container. 
Stewed rhubarb will last in the refrigerator for up to 2 weeks, potentially longer depending on the amount of sugar you used to make it. In the freezer, it will stay good for up to one year.
If you store your stewed rhubarb in the freezer, make sure you mark your container with a date, so you know exactly when you began storing it. 
Storing your stewed rhubarb is a great way to get more use out of it, and with something so delicious and so many ways to use it, you want to use it as much as possible.